A detailed summary of Bhutan's COVID-19 management and plans moving forward
With offices and all businesses open, movement of vehicles allowed and critical services resumed from 21st March 2022, Bhutan braces for a full opening.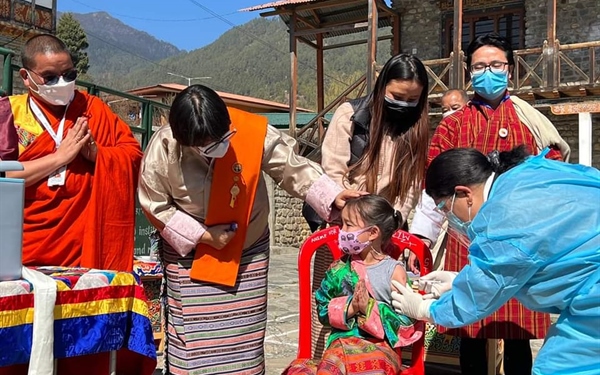 With major relaxations in effect from 21st March 2022, Bhutan seems just one phase away from the full reopening of the country from the COVID-19 restrictions imposed since the nation went into its second lockdown of 2022 on 23rd February. This was in line with the announcement made by the Prime Minister during his address to the public on 2nd March 2022. 
Prime Minister Dr Lotay Tshering had said that relaxation would start from mid-March after the completion of the examination for class 10 and 12 and the rollout of vaccines for children between ages 5 and 11. He had also declared that starting mid-April, the country will not resort to lockdowns even after the detection of COVID-19 cases in the community except in two special cases: reaching the hospitalisation rate and bed occupancy in COVID-19 isolation wards threshold.
People held the fort with hope for a complete opening of the lockdown the day after class 12 finished their examination and an end of the week-long nationwide vaccination program for children between 5 to 11 years old on 12th March 2022.  However, the announcement from the Prime Minister's Office on 12th March stated that a phase-wise relaxation would follow suit in a strategic way forward to try and prevent infections as much as possible without lockdowns, continue to provide vaccines to as large a percentage of the population as possible, and medical care to all positive cases. 
Bhutan is opening up gradually

As per the phase-wise opening announcement dated 12th March:
Businesses were allowed to operate till 7PM and constructions could take place, as long as it did not involve movement beyond the zone by 13

th

March.

Take-away restaurants could operate until 7pm and routine specialist health clinics to be established at mega-zones by 21

st

March.

Taxis could ferry people within the mega zone and identified government, corporate and private employees could attend from their offices.

Except for entertainment centres, all other business entities could open by 28

th

March.

Lift mega-zone movement restrictions altogether, movement of private cars to be allowed, and start opening up routine services at JDWNRH by 4

th

April.

All offices to be fully operational by 11

th

April.

Schools to open across the country. Businesses could operate until 9pm and all sporting activities to be allowed without spectators by April 25

th

. 

Starting April 25, quarantine period for international travellers who are fully vaccinated, with RT-PCR negative certificate will be reduced to five days. Those who are unvaccinated will have to undergo quarantine for 10 days. 

Starting April 25, domestic travellers from high to low-risk areas will have to undergo five days of "home quarantine" and produce RT-PCR negative result.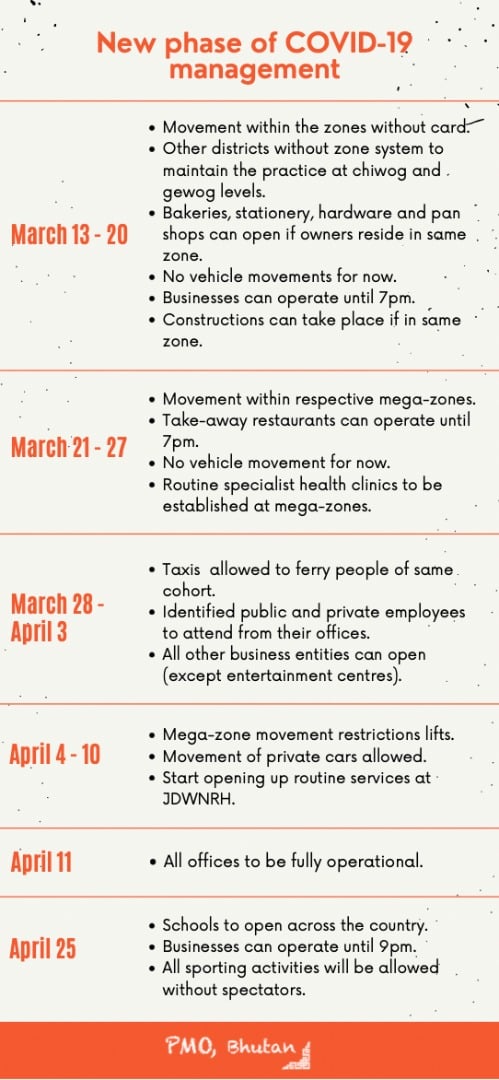 Many expressed online that it was a long unnecessary road to unlocking and recommended to reconsider the timeline of the phase after isolating the vulnerable section and taking care of their protection. The Prime Minister during a Q&A Session with the media responded that the timeline issued can be revisited depending on the ground situation. The surge of COVID positive community cases in the next few days and with about 169 students who were giving examination being infected, it painted a grim picture. 
A cautious approach to reopening
Nevertheless, reasoning that the trend over the days had been encouraging with most individuals choosing to remain indoors, despite relaxation within zones in Thimphu and similar pattern being observed across the districts, relaxation beyond the zone was made. 
In this Second Phase of March 15, the supposed end of March month relaxations came in effect:
Except for the entertainment centres, all business entities, including snooker and video game parlors could operate with 7PM as curfew.

Taxis could operate within the mega-zone. They could crossover to other mega-zones for passengers with emergency reasons such as medical, death and vaccination purposes. 

The RT-PCR validity for the drivers of all goods carriers, including trucks and all other utility vehicles, was increased from seven to 14 days.
Grief gripped the nation and gave a reality check of the start COVID-19 situation the country is still in when the Health Minister updated the nation on two more deaths from COVID-19 on 17th March. One was an infant (1 month 22 days old baby boy) infected with COVID-19 who succumbed to cardiac complications and the other was a 62-year-old female with breast cancer and other underlying medical conditions.
Bhutan's COVID-19 relaxations as of 21 March 2022
Bhutanese waited with batted breath but welcomed major additional activities for Thimphu and other Dzongkhags under various phases of restrictions on 19th March. As of Monday, 21st March 2022:
Except for the entertainment centers all business entities, including snooker and video game parlors can operate with 9PM as revised curfew.

Gym, yoga and similar fitness centres can open for clients residing within the same mega-zone.

In Thimphu, all private and public firms, companies and agencies can open with 25 percent of the total staff. Heads or supervisors will decide and issue an order stating the names of the employees. The order can be used as a permit to travel to and from workstations. No e-pass is required.

All private and public offices in the Dzongkhags that have remained closed so far must open from Monday, 21

st

March.

Jigme Dorji Wangchuck National Referral Hospital is offering all the services starting Monday. Similarly, all hospitals and health facilities across the country must continue to offer unhindered routine services. It merits a special expression of gratitude to the JDWNRH team and all health workers for the unconditional service.

Critical services such as notary, visa, biometric and related services must open.  Driving tests and the International English Language Testing System for those seeking to travel outside must be facilitated. All individuals availing of these services can produce evidence for movement.   

In addition to taxis, the movement of private cars within the respective mega-zone is allowed. Those who need to drive beyond the mega-zone for emergency reasons must produce documents or any evidence for verification on the ground.

All public buses are operational to facilitate travel.

All inter-district travels are allowed.

Domestic travellers from high-risk areas and districts can now undergo home quarantine and not facility quarantine. The quarantine duration is seven days until further notice.
The safety and well-being of Bhutanese remains a priority
According to the press release from the Prime Minister's Office, His Majesty The King's foremost concern during the new phase in the national strategy to manage the COVID-19 pandemic is the health and wellbeing of those individuals who are most vulnerable to COVID-19, particularly due to health comorbidities. Reverse Isolation Facilities have thus been put in place in all 20 Dzongkhags of Bhutan upon Royal Command. 
With effect from 21st March:
Individuals across the country who are most vulnerable to COVID-19 will receive special care under the Reverse Isolation Program, an initiative under the Royal Command. 

The vulnerable group will be cared for in identified facilities or at their own homes.

Dedicated health professionals and personal caregivers, in coordination with relevant health facilities, will ensure the wellbeing of the individuals in isolation.
The Ministry of Health also informed the general public that a new system to register Vulnerable Population groups has been incorporated under the Bhutan Vaccine System (BVS) and to register a vulnerable individual, one can visit 𝗯𝘃𝘀.𝗺𝗼𝗵.𝗴𝗼𝘃.𝗯𝘁. 
Healthcare system in place to support the community
Only a few restrictions are left from the list in the earlier announced phases and word from the Prime Minister's Office has it that more activities are to be considered after a week or depending on the improvement of the situation. Alongside the phase-wise management:
Dedicated COVID-19 hospitals are ready with isolation beds at the national and regional levels in addition to the existing hospitals.

A national COVID-19 management team in Thimphu, and regional teams in the east and south are established.

A Virtual Clinical Management Team (vCMT) has been activated where a group of doctors are attending to every positive case in the country.

A formal control room, Health Emergency Operation Center, has been set up at Thimphu (former JSW law school), which is interlinked to all hospitals and will monitor the situations of positive cases, symptomatic cases and hospitalization in real-time, round the clock.
Red homes for positive cases in Bhutan
There will be red homes for those who test positive as long as the pandemic is there and it will be sealed (10 days suggestion). With this calculated stride, Bhutan braces itself for a full-blown opening locally.
When can tourists enter Bhutan?
For the international travellers, the lift of the 5 days quarantine will depend on the global lifting of the pandemic as per the Prime Minister. According to the Foreign Minister and Chairman of the Tourism Council of Bhutan (TCB), the country may allow quarantine-free entry by autumn this year should the situation continue to improve. 
While there is a shared sense of relief among the citizens for the unlocking, Bhutan is far from having won the pandemic fight even two years into the battle. Especially with the continued rise in community cases. This calls for communities and individuals to shoulder the responsibility of protecting themselves and communities at large from infection. Remember that all have an obligation to a common interest bigger than anyone's self-interest. Wear masks, avoid gathering and follow all the COVID-19 norms to support the government in 'successfully overcoming the critical period'
---
---