Bhutan Prime Minister urges children aged 5 to 11 to get their first vaccination
Bhutan's nationwide vaccination drive for children will be held from 6th to 12th March 2022.
On the recommendation of astrologers, a female child born in the year of the bird received the first paediatric dose of the Cominarty (Pfizer - BioNTech) COVID-19 vaccine on March 6, 2022 at 10.30am. The event held at Jigme Namgyel Lower Secondary School kickstarted Bhutan's nationwide vaccination rollout for children.
Health Minister Dechen Wangmo, health officials and a few children from the Motithang zone were present at the event. 
"This is a significant milestone as our children from ages 5 to 11 will finally be protected from the disease we have been fighting for over two years," Prime Minister Dr Lotay Tshering said.
"We are talking about 83,227 children in this age group and I urge everyone to come forward. The vaccine coverage of our children will add confidence to the ongoing COVID-19 management," he said. 
So far 65,718 children have registered for the vaccine and there aren't any serious adverse effects following the immunisation. The campaign has started across the country, and for Thimphu, the vaccine will be rolled out zone-wise from today. The COVID-19 vaccination sites in Thimphu Thromde is open from 9am - 4pm.
MOH also requested for the general public not to rush for the vaccination as there are enough vaccines for all the children. 
For those who haven't registered their child (between 5 to 11 years of age), they can do so through the Bhutan Vaccines System.​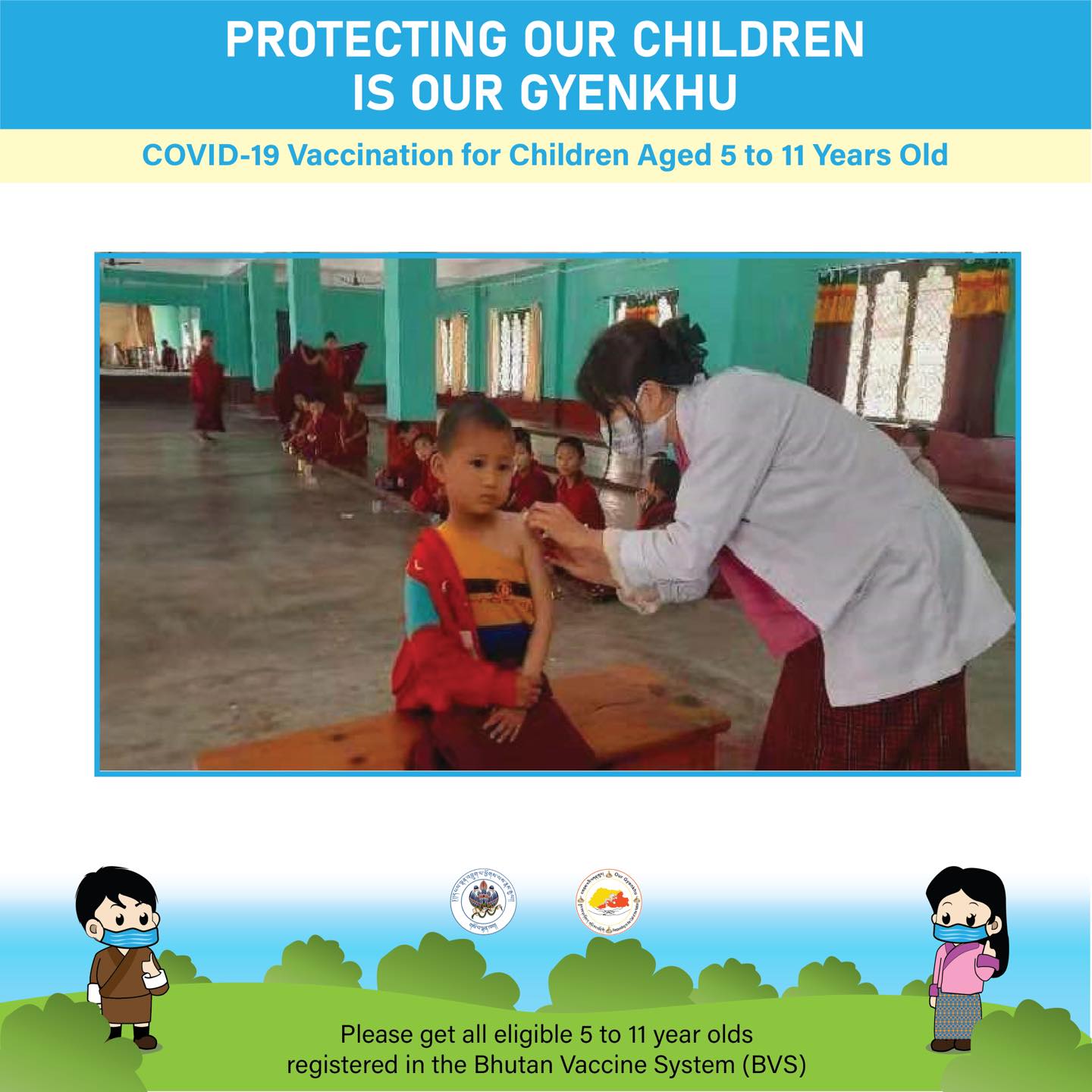 Why do children between 5-11 years old need to be vaccinated?
Vaccination can help reduce the risk of infection and severe disease in children.

Children can also suffer from 'long COVID' and vaccines are proven to reduce the risk of 'long COVID'.

Children spend a lot of time in schools or preschools where infections can spread quickly as they interact with other children. Vaccination will reduce the risk of transmission in schools, and disruptions to education.

It will help to reduce the risk of transmission within households.
---
---