Bhutan's Prime Minister Dr Lotay Tshering Spoke At Climate Action Summit In New York
"We call on all countries to submit enhanced climate pledge and long-term low greenhouse emission development strategies," he said.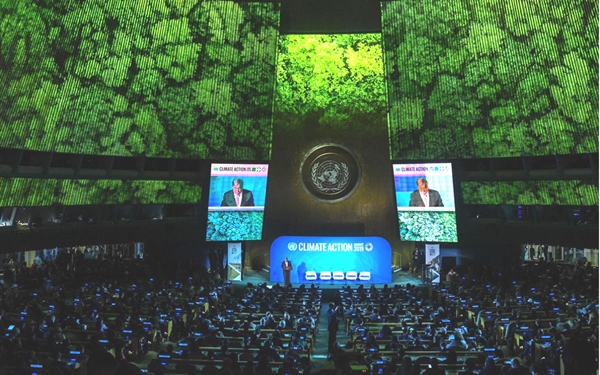 (Source: Lifegate)
By Tshering Dorji | Kuensel
"Patients who don't listen to doctors' advice are certain to come back with incurable diseases."
Speaking at the Climate Action Summit in New York on September 23, Bhutan's Prime Minister Dr Lotay Tshering used this analogy to convey to global leaders that if concrete actions are not taken now, the world will be inflicted with 'incurable diseases'.
What Bhutan's Prime Minister Dr Lotay Tshering said
Speaking on behalf of the Least Developed Countries (LDC), Lyonchhen Dr Lotay TShering said LDCs are ready to come forward with enhanced Nationally Determined Contributions (NDCs), National Adaptation Plans (NAPs) and long-term low carbon climate resilient strategies by 2020. But this, he said cannot be achieved without the support of the international community.
"LDCs can do it. My country, Bhutan, is a good example," he said.
Leaders of many countries, including the Prime Minister of India, Narendra Modi has pledged to cut down on the usage of coal power, promote renewables and clean transport.
In addition, more than 77 countries have committed to become carbon neutral by the next two decades and bend the emission curve to meet the goals of the Paris Agreement - to keep global temperature rise below 1.5 degrees.
However, the Prime Minister said that 1.5 degrees is not 'good enough' anymore.
"We call on all countries to submit enhanced climate pledge and long-term low greenhouse emission development strategies," he said.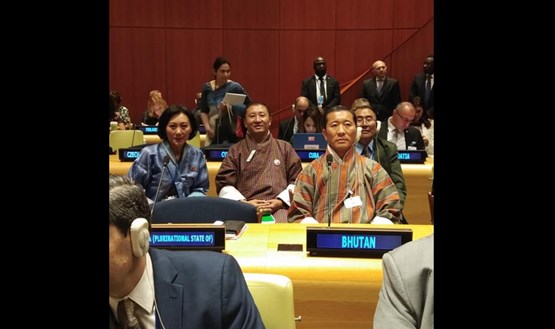 Photo: Facebook/Prime Minister's Office - PMO, Bhutan
Lyonchhen said that Bhutan's philosophy of Gross National Happiness, which emphasises on development with values, has helped the country to move quite early on climate actions.
"Today, we are carbon negative." He also boasted of the Bhutan's 72% forest coverage and legally protected biological corridor.
"As I stand here, images of my home, Bhutan comes to my mind. Of lush green forests, snow-capped mountains and clean rivers. But I am also worried. How long will this last? Will our children relish this natural wealth, as much as we did," he added.
Bhutan and the LDCs have already embarked on a shared 2050 vision for a climate resilient future, to deliver climate-resilient pathways by 2030 and to achieve net-zero emissions by 2050.
This will be implemented through the LDC Initiative for Effective Adaptation and Resilience (LIFE-AR), which aims to develop an over-arching vision for adaptation towards a climate resilient future by 2050, in line with LDC needs and priorities. This initiative will require USD 450m over next 10 years.
"We ask the international community to join us. We ask you to invest in our institutions, capabilities, net-zero economies and technology."
Youth around the world went on strike
Prior to the climate summit, close to 100,000 youth from across the world went on a climate strike in New York, demanding urgent actions on climate change from the global leaders and businesses.
"This is not a climate talk summit.  We have had enough talk. This is not a climate negotiation summit because we don't negotiate with nature. This is a climate action summit," the UN Secretary General, Antonio Guterres said in his opening remarks.
Source: United Nations
However, observers said that the summit is nothing more than another talk. Commitments, some said are easy to make but there is no accountability and immediate action.
The Secretary General said young people are here with solutions, insisting on accountability, demanding urgent action. 
"They are right. My generation has failed in its responsibility to protect our planet.  That must change."
Greta Thunberg, a 16-year-old Swedish environmental activist shamed leaders of being selfish and not caring for the future generation. In 2008, she took time off school to demonstrate outside the Swedish parliament, holding up a sign calling for stronger climate action.
"This is all wrong. I shouldn't be up here. I should be back in school on the other side of the ocean. Yet you all come to us young people for hope. How dare you? You have stolen my dream, my childhood with your empty words," she said.
"You say you hear us and you understand the urgency… if you really understood the situation and still kept on failing to act, then you would be evil and that I refuse to believe."
A college student in New York, Maria Martenez said youth have to intervene when adults act like children.
"We are asking for them to do something right now," Maria said. 
"I am disappointed that the US has stepped back from that role of leadership but I'm confident that youth recognise that it's not just climate issue but political, human rights, safety and that really affects everyone," she added.
Bhutan's youth envoy's message at the Climate Action Summit in New York
While Bhutan enjoys a carbon negative status, Bhutan should not set back from addressing climate change issue, according to a youth envoy from Bhutan, Ugyen Tshomo.
Source: Youtube/TED
She is the winner of one of the 100 green tickets that the UN has issued to youths across the world, many of whom, including Greta has travelled to New York with minimum carbon footprint.
"Bhutan is bearing the cost of maintaining this carbon negative status by losing our agricultural land areas for forest coverage and prospective economic development. Yet we are suffering from the consequences of climate change issues from the global emission contributions," she said.
"As a recipient of this green ticket, I am more mindful of my actions than before," she said, revealing that she took two less flights.
After returning home, she aspires to work on the local sources of air pollution and create educational and public advocacy programs on climate change.
"I identify myself as a planeteer. I am inspired by meeting real life planeteers like Secretary General Luis Alfonso de Alba and the young climate activist Greta Thunberg for their unwavering dedications and voices to reach wider audiences towards climate actions."
Bhutan is blessed with visionary leaders who champion environmental causes.  
"The source of inspiration to take climate action starts from my own home country. For countries where the leaders are deviated from taking climate actions, I feel it pertinent to address climate issues."
This article first appeared in Kuensel and has been edited for Daily Bhutan.
---