Bhutan To Observe 'Zero Waste Hour' Once A Month To Achieve A Zero Waste Society by 2030
The National Environment Commission's campaign 'My waste, my responsibility', was launched by Her Majesty The Gyaltsuen on 2 June.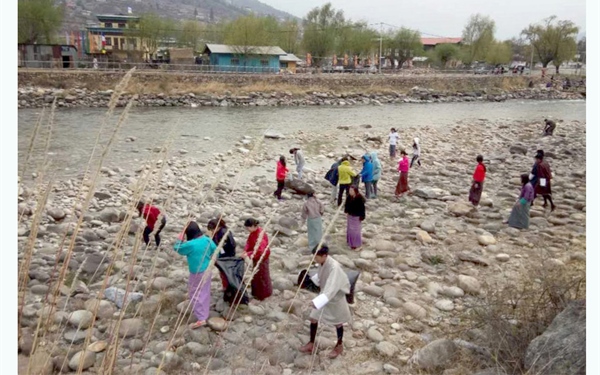 (Source: Clean Bhutan)
By Choki Wangmo | Kuensel
On the second day of every month, Bhutan will observe at least an hour of 'Zero Waste Hour' to achieve its vision of a Zero Waste Society by 2030.
The National Environment Commission (NEC)'s campaign 'My waste, my responsibility', was launched by Her Majesty The Gyaltsuen on 2 June which coincides with the Coronation Day of His Majesty The Fourth Druk Gyalpo.
The campaign is expected to instil a behavioural change for proper waste management and for Bhutanese to practice a sustainable consumption lifestyle.
What will happen during the 'Zero Waste Hour'?
The zero waste hour will be observed during office hours and all the offices, institutions, organisations, and individuals are mandated to clean their surrounding areas.
Ms. Akira Sakano is the Chair of the Board of the Directors of the Zero Waste Academy Japan, a non-profit organisation established in 2005 which drives the  implementation and advocacy of the 'Zero Waste policy'. In this TEDx talk, she will share how an individual can start participating in a Zero Waste program.
Source: Youtube/TEDx Talks 
According to a statement from the NEC, Bhutan is still struggling with waste management. This is due to the general public's lack of civic responsibility, although the system was established 23 years ago.
Moreover, investments in waste management activities by the government, private sectors, civil society organisations, and individuals have not been effective as the focus was solely on solid waste management.
The processes of reducing, reusing, collection, transportation, and treatment of waste has been confronted with numerous challenges at every step, due to inadequate knowledge, awareness and immense financial, technological, and capacity demands of the process, according to the NEC.
Aims of the 'Zero waste hour'
The 'Zero waste hour' is expected to help inculcate a sense of social responsibility in an environmentally sound manner and reduce the illegal dumping of waste in open areas.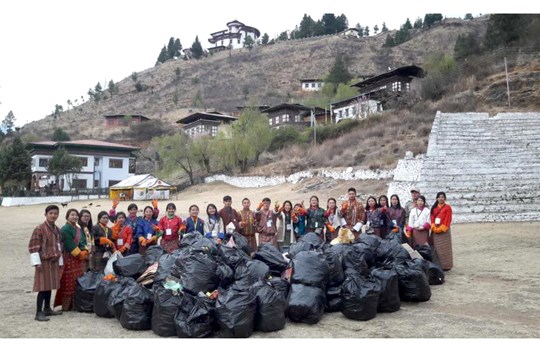 Photo: Clean Bhutan
Along with the NEC, the Ministry of Home and Cultural Affairs will also coordinate with the dzongkhags (districts), gewogs, thromdes, NGOs, CSOs, UN agencies, Bhutan Film Association, media houses, and other implementing partners.
"These bodies will carry out monitoring and evaluation activities and submit reports annually," said the Chief of Waste Management Division in NEC, Thinley Dorji.
This article first appeared in Kuensel and has been edited for Daily Bhutan.
---