Paro International Airport is certified as a safe airport for travellers
Paro International Airport was awarded the Certificate of Accreditation by Airports Council International (ACI).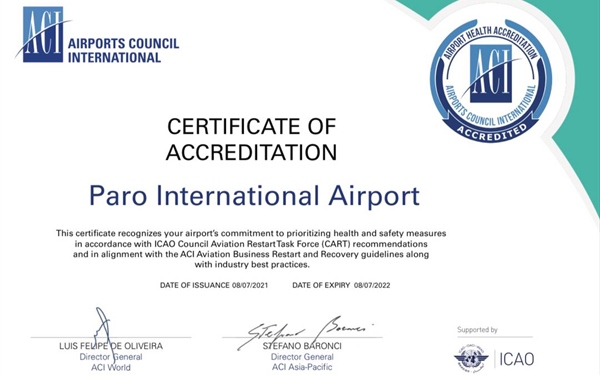 On July 14, 2021, Paro International Airport was awarded the Certificate of Accreditation by Airports Council International (ACI). The accreditation was received as part of ACI's Airport Health Accreditation programme after evaluating that Paro International Airport has shown to provide a safe airport experience for all travellers.
The measures taken at Paro International Airport are in line with the recommended health measures established in the ACI Aviation Business Restart and Recovery guidelines and ICAO Council Aviation Recovery Task Force Recommendations, along with industry best practices.
The accreditation is valid for the next 12 months 'till July 8, 2022.
The programme is designed to help reassure travellers that airport facilities remain safe and that precautions are being taken to reduce any health risks.
Upon news of the COVID-19 outbreak in China at the end of December 2019, Bhutan has taken swift action to take precautionary measures. Paro International Airport has taken precautionary measures since January 15, 2020. Infrared fever scanners were installed promptly, and health questionnaires were distributed to thoroughly screen passengers.
Today, the airport has stepped up the measures even further to prevent any transmission.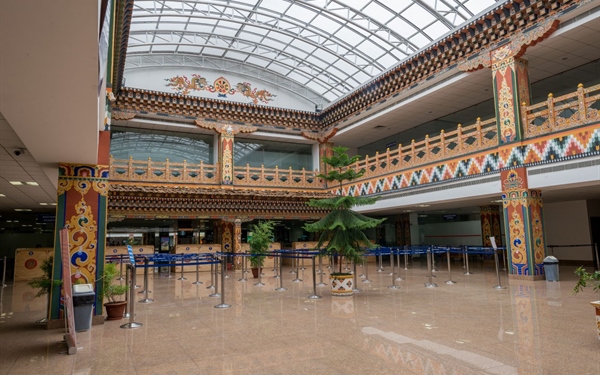 What are the precautionary measures currently undertaken at Paro International Airport?
1. Every staff working at the airport will undergo a PCR test every two weeks.
2. All the frontline staff (ie: staff handling the loading and unloading of cargoes, custom officials, etc) are required to stay in the containment centre to avoid mingling with others.
3. All staff working at the airport are required to wear double face masks and a face shield for maximum protection.

4. Drukair crew members are required to stay in the containment centre for 21-day (sponsored by Drukair) and subsequently in the quarantine facility (state-sponsored) for one week. Covid tests will be conducted during the last day, and one can only get discharged upon getting a negative test result. After discharge, the crew members need to stay at home for another one week to prevent mingling with the public. If the test result turns out to be positive, the personnel will be transferred to an isolation ward in the hospital.

5. All parcels and goods will need to go through a disinfection process and be put under quarantine for 24 hours.
6. Drukair provides passengers with a bottle of hand sanitiser on-flight, as well as a mask upon landing at Paro International Airport.
This is evidence that Bhutan as a country is making huge efforts to ensure the wellbeing and personal safety of all people at all costs.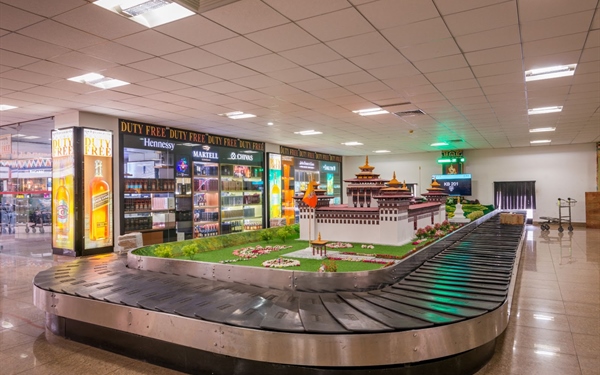 How is the COVID-19 situation in Bhutan?
Since the detection of the first positive case on March 5, 2020, Bhutan had a total of 2,380 positive cases, with 2,207 recovered and 2 deaths. Both deceased have existing medical conditions, including an 82-year-old woman from Samtse who passed away yesterday. 
The government is gearing up for the second nationwide vaccination drive scheduled to take place next Tuesday, July 20. Given the successful first nationwide vaccination drive in March this year, the coordination for the second booster shots will be much easier. 
Prime Minister Dasho Dr Lotay Tshering urge the cooperation of those who are eligible for vaccination to step forward to get vaccinated in order for the country to achieve herd immunity. 
Bhutan has also recently received 500,000 doses of Moderna vaccine from the United States through COVAX Facility and 121,900 doses of AstraZeneca vaccine from Denmark. More vaccines are expected to arrive in the country in the coming weeks.
While tourism is still restricted in Bhutan, it is hopeful that some tourists will be allowed to enter the country again after the second vaccination drive. 
---
---