Suhas Gopinath - World's Youngest CEO Gave An Inspiring Talk On Innovation & Technology In Bhutan
"Technology is a means of survival in the competitive modern world with modern problems," said Suhas Gopinath.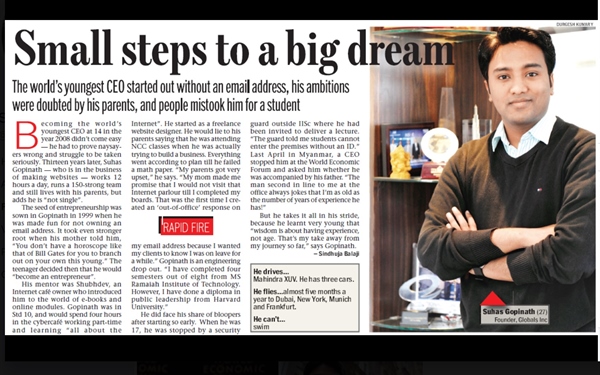 (Source: Fcebook/Suhas Gopinath)
By Choki Wangmo | Kuensel
Organised by the Royal Institute for Governance and Strategic Studies (RIGGS) in collaboration with Thimphu TechPark, Suhas Gopinath, 31 from Bangalore in India conducted an interactive session at the Tech Park on July 15.
Suhas Gopinath is the world's youngest CEO. He took charge as CEO of Globals Inc at the age of 17, three years after founding the company.
Suhas currently serves on various boards such as the ICT Advisory Board of the World Bank Group, Ministry of Science & Technology, Govt. of India, Social Peace Foundation and the IIT Bombay Entrepreneurship Cell.
Suhas is also a recipient of numerous awards such as the Karnataka State's Rajyotsava Award, Incredible Europe Award (Austria) and Social Innovator Prize (Singapore).
He is also the Young Global Leader of the World Economic Forum and he strongly believes in the importance of keeping up with technology. 
"Technology is a means of survival in the competitive modern world with modern problems," said Suhas Gopinath.
Suhas Gopinath have a talk at Tedx Delhi 2013
Source: Youtube/TEDx Talks
Sharing his life experience to a group of professionals and officials from related agencies, Suhas Gopinath said that the effective use and enhanced technology would help solve problems in the world efficiently.
"The pressure on depleting natural resource would be reduced even more," he said.
Suhas Gopinath's passion and perseverance paid off
Recalling his teenage days as a persistent and a determined young boy from a middle-income family in South India, he shared of how he had trouble explaining the positive impacts of internet to his family, who considered using it as a moral sin.
While schooling, after Suhas Gopinath was excluded from a club of computer users and failing to persuade his father to buy one for him, he visited an internet café in the neighbourhood with whatever pocket money he had instead.
"I first started using the internet and learnt web design and programming in the café."
Inspired by Bill Gates, he missed classes, failed in mathematics at high school, and hid his interest in technology from his worried mother.
He taught himself to make websites with the help of books, and made his first website: www.coolhindustan.com, at the age of 14. 
Chase Your Dreams: Suhas Gopinath at TEDxTughlaqRdChange
Source: Youtube/TEDx Talks
Today, Suhas holds a Diploma in Global Leadership and Public Policy from the John F. Kennedy School of Government at Harvard University.
Suhas Gopinath became the world's youngest CEO
It was indeed a blessing in disguise when his CV and application for opening a new company was rejected in South Asia due to his age limit as his maiden company was allowed to operate in the US and he was made the CEO.
"To survive in a competitive and hyper agile world, people should be shamelessly aggressive users of technology," Subash Gopinath added.
A shy and introverted young boy, he said that he had to resort to painting his moustache and to appear bold and matured every day.
"But it is important we leave our comfort zone and never quit."
What Globals Inc does
Worth USD 500 million, his company - Globals Inc is recognised as the fastest growing technology company that focus on education.
Under his leadership, Globals Inc expanded into non-English speaking markets, with a focus on Emerging Markets such as India, Africa and the Middle-East.
Source: Youtube/globalsinc
Being a programmer himself, Suhas was highly passionate about innovation and technology, and co-created educube™ (formerly known as educationERP.net).
His team is involved in developing software to reduce corruption in fund usage in remote schools of India.
"In remote schools with free feeding facilities, the headmasters created ghost students and sold most of the products in the black market. The software helped to maintain accountability in the system," he explained.
With new innovations and perseverance, Suhas Gopinath expects to solve corruption in land inheritance and fake wills as well.
Words of advice from Suhas Gopinath
He encouraged Bhutanese IT professionals and young entrepreneurs to be determined in the face of myriad challenges.
"Bhutan is surrounded by the two fastest-growing economies in the world. She has challenges as well as opportunities."
According to a participant, Thinley, the talk has broadened her understanding of technology and she expects to use what she has learned effectively as an entrepreneur.
"The talk was inspiring and was delivered with humour."
This article first appeared in Kuensel and has been edited for Daily Bhutan. 
---