Bhutan is leading in the vaccination race
"Bhutan is now a beacon of hope for the region, at a time when the COVID-19 pandemic has upended lives and devastated families." - Dr Will Parks, UNICEF Bhutan representative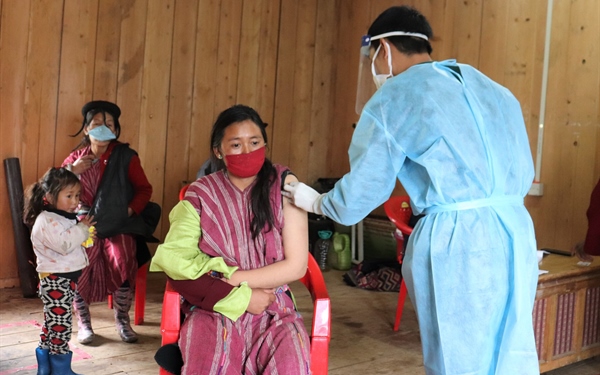 (Source: UNICEF)
(UPDATE: Aug 2)
COVID-19 vaccination for children aged 12 - 17 years old has been rolled out in nine districts: Thimphu, Paro, Samtse, Chukha, Samdrup Jongkhar, Sarpang, Pemagatshel, Dagana and Zhemgang.
The vaccination for the remaining 11 districts will be officially announced at a later stage.
A total of 473,715 people have been vaccinated which means 95.6% of the eligible population (65.5% of the total population) have been fully vaccinated in Bhutan.
(UPDATE: July 28)
Within a week, Bhutan has fully vaccinated 90% of its eligible adult population with the second booster shot. The kingdom has one of the highest vaccination rates in the region; 61.8% of the total population in Bhutan are fully vaccinated. More than 454,000 shots were administered over the past week. The numbers will continue to increase gradually as people in hard-to-reach areas, such as the nomadic tribes, receive their vaccination.
95% of the people opted for the heterologous vaccines (AstraZeneca vaccine for the first shot and Moderna vaccine for the second shot), while 5% opted for the homologous AstraZeneca vaccine for both shots.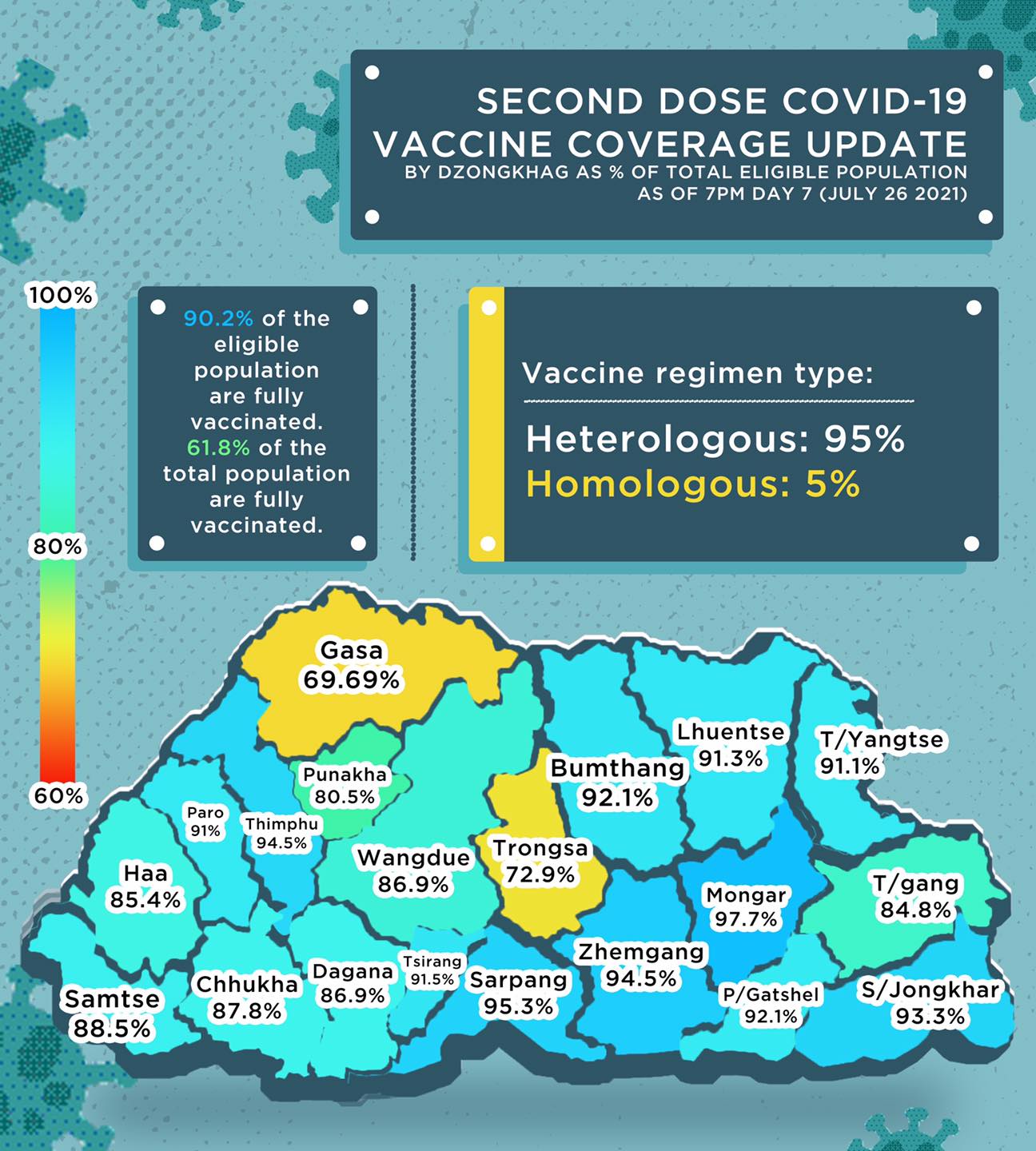 (Photo: MOH Bhutan)
However, as of July 27, the Moderna vaccine is no longer offered to individuals aged 18 and above. The remaining Moderna vaccine will be reserved for children aged 12-17 in the high-risk areas. The vaccination of all children along the high-risk areas will start on the auspicious day of July 29 except for children in Phuentsholing and Samtse who have received their vaccination on July 24 due to the districts having relatively higher risks.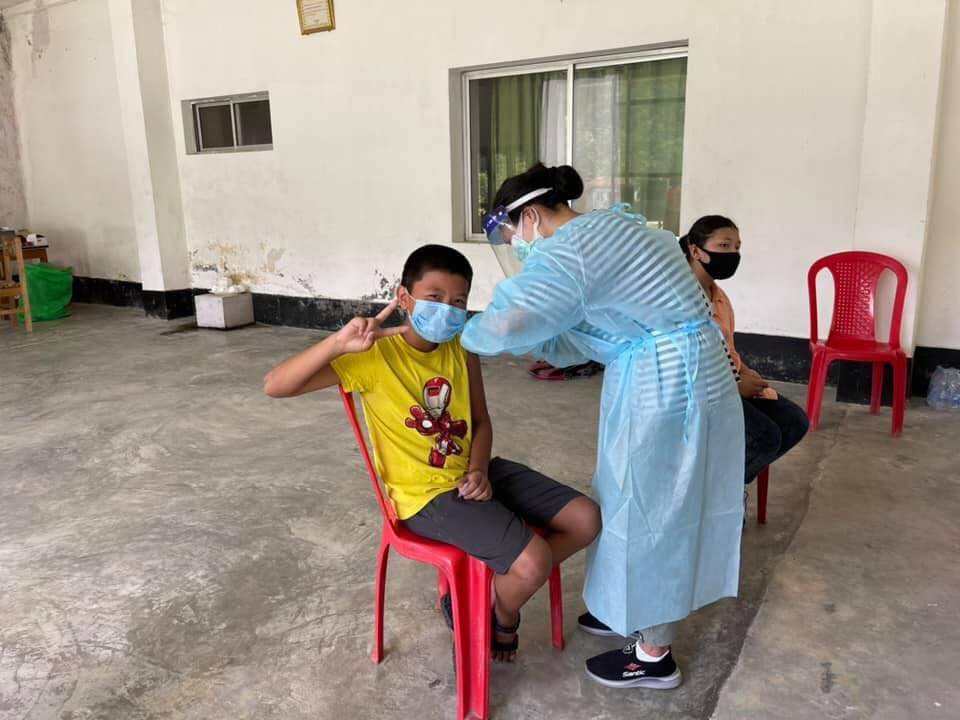 (Photo: MOH Bhutan)
People living in rural areas are not left behind. Healthcare workers and volunteers trekked for hours to reach the local communities, despite the monsoon. There is also a home-based vaccination system where individuals who have mobility issues will receive vaccination in their homes.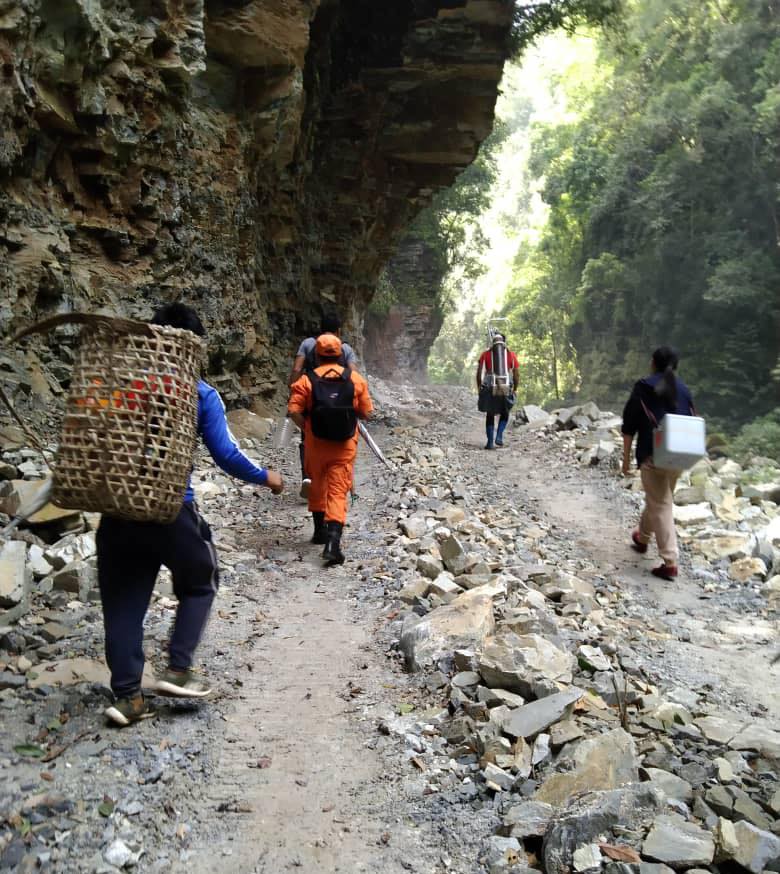 (Photo: MOH Bhutan)
In turbulent times when vaccines remain scarce in many countries, Bhutan has done exceptionally well. The government of Bhutan reached out to over a dozen countries to secure enough vaccines for the vaccination campaign.
UNICEF's Bhutan representative, Dr Will Parks, hailed the ambitious vaccination drive as a "great success story for Bhutan".
"We really need a world in which the countries which have surplus vaccines really do donate to those countries that haven't received (shots) so far," he said in the capital Thimphu.
"And if there's anything that I hope the world can learn, is that a country like Bhutan with very few doctors, very few nurses but a really committed king and leadership in the government mobilising society — it's not impossible to vaccinate the whole country."
For now, vaccines are our only hope to end the COVID-19 pandemic. But many countries are still grappling with poor vaccination coverage and vaccine shortages. Countries with surpluses are encouraged to come forward to assist with the much-needed supplies. According to WHO's latest available data, 4 million health workers in South Asia are not fully vaccinated.
Thus, the pandemic battle is far from over — for Bhutan, for its neighbours, and for the world. But one thing that Bhutan has shown the world is that with great support from vaccine donors, great solidarity and great preparation, it is possible to organise a vaccination drive in a systematic way and leave no one behind.
In the interview of Prime Minister Dr Lotay Tshering with ABC network, the prime minister shared how the kingdom vaccinated its population within a week.
---
---