Cordyceps Collection – How It Has Transformed The Lives Of Some Villagers In Bumthang
In traditional Chinese and Ayurvedic medicine, the cordycep is believed to fight fatigue, have anti-inflammatory and anti-aging properties.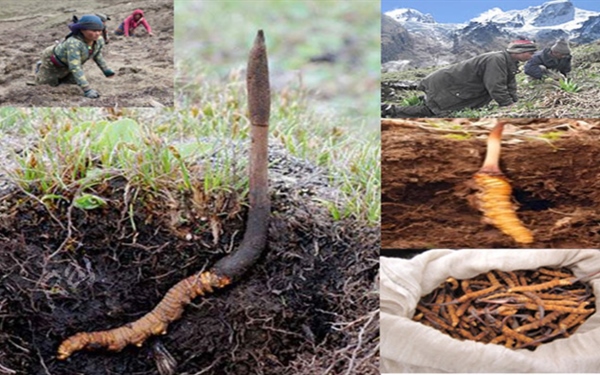 (Source: Rajendra Nhisutu)
By Kipchu | Kuensel
The livelihood of the people of Chhoekhor Toed in Bumthang has been transformed since the collection and sale of Cordyceps in the country was legalised in 2004. 
A huge amount of money acquired from Cordyceps collection has been spent on household ration, construction of houses and on children's education.
At this time of the year, most houses at Chhoekhor Toed in Bumthang remain locked.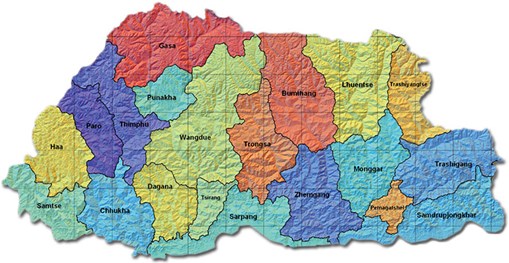 Location of Bumthang
Source: Map of Bhutan
Only students and some elderly people can be seen in the villages, as most of the young people are in the mountains, collecting Cordyceps - the prized fungus.
This year Cordyceps collection permits were issued to more than 900 collectors in Bumthang, of which most of them are people from the Chhoekhor Gewog.
What is Cordyceps sinensis?
Cordyceps sinensis, also known as Chinese caterpillar fungus, is a parasitic fungus found in Hepialus worms. During winter, the fungus spores enter the worm and develop its mycelium by absorbing the worm's nutrients.
The worm later died when fully filled with the fungus mycelium. Upon maturity in the summer, the fungus grows out of the worm's head to a length of about 3 to 10 cm.
Health benefits and medicinal uses of Cordyceps
There are many claimed health benefits of Cordyceps – the likely reason why they are very expensive.
Cordyceps are touted to have possible anti-cancer properties. Researchers at the University of Nottingham found that cordycepin, a compound extracted from Cordyceps, effectively stopped the growth of several types of cancers.
Source: Business Insider
At low doses, Cordycepin interfered with the production of proteins required for cell multiplication and tumour growth. At higher doses, Cordycepin directly induced cell death.
Moreover, in traditional Chinese and Ayurvedic medicine, cordyceps is believed to fight fatigue, have anti-inflammatory and anti-aging properties.
Cordyceps collection has greatly improved the lives of the people
After the legalisation of the harvesting of cordyceps by the Royal Government of Bhutan in 2004, it has been harvested extensively in the preserved pristine alpine meadows of Bhutan.
"In the past, all our household income was dependent on agricultural works and we used to plough our fields with oxen. Now, after the legalisation of Cordyceps collection, everyone is well off. Every household has 2 to 3 cars now. Each year, there are about 3 new houses constructed here," Dorji Tenpa from Nangsiphel said.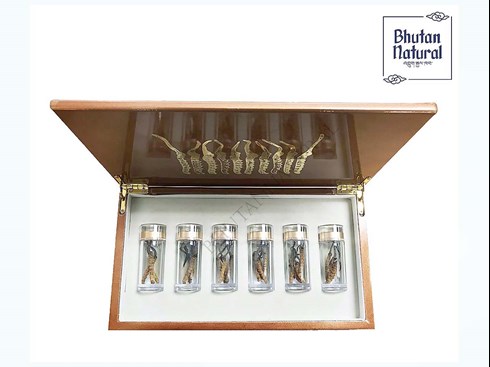 Bhutan's best wild Cordyceps are produced in naturally cold environment at high altitudes in the districts of Bumthang and Laya.
Photo: Bhutan Natural
Every year, families earn a few hundred thousand ngultrum, which are spent on household items and other necessities. The number of cars has increased exponentially in the last decade or so. Now, there are over 100 cars in Chhoekhor Toed alone.
"There has been a considerable improvement in the standard of living. Most families are well-to-do now. Lots of houses have been constructed and we could educate our children well. Moreover, we have also bought cars for our family," Ugyen Tshomo from  Gorjay said.
The negative impact of Cordyceps collection
Even though Cordyceps collection has improved the livelihoods of the people, there are also environmental concerns over degradation of forests, shrub lands,, littering and other problems caused to the high alpine environment.
Moreover, the decreasing number of yak herders as more and more nomadic herders settle in the villages each year for cordyceps collection, is also a cause of concern.
This article first appeared in BBS and has been edited for Daily Bhutan.
---