Historic hybrid chess tournament pits Bhutanese against American players
In the inaugural Bhutan and US Friendship Bridge Tournament on September 2, ten local chess players engaged in competition against counterparts from the Westfield Chess Club located in New Jersey, USA.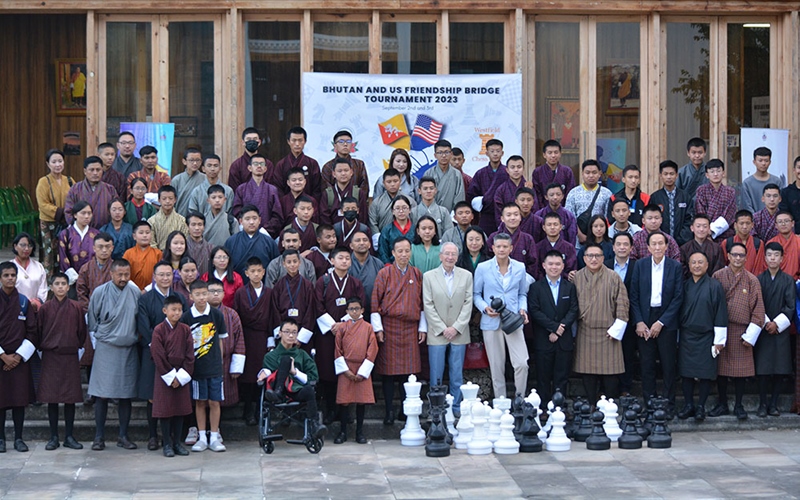 (Source: Kuensel)
The tournament took place over a span of two days at the Royal University of Bhutan in Thimphu.
The central objective of this tournament was to unite chess players from Bhutan and the United States, fostering healthy competition and the development of enduring friendships.
The event was organized through a collaborative effort between the Bhutan Chess Federation (BCF) and Alexander Hu, a board member of the New Jersey State Chess Federation and president of the New Jersey Reach Program, along with Haibo Hu, the president of the New Jersey Westfield Chess Club.
Alexander Hu expressed enthusiasm about bringing this innovative event to Bhutan, highlighting its significance as a distinctive occasion for chess enthusiasts from diverse cultures to unite and celebrate their mutual passion for the game. He also expressed hopes that the tournament would contribute to strengthening the bonds between the two countries.
The tournament featured a time control of 25 minutes per player, with a 5-second increment. Players vied for the title of "Friendship Bridge Champion," and prizes were awarded to the top three players from each country.
Furthermore, BCF established a partnership with Phuenzhi (Four Friends) as the designated official tournament venue for all interested participants.
Anticipated to leave a lasting impact, the Bhutan and US Friendship Bridge Tournament of 2023 is poised to become a remarkable event, forging enduring memories and reinforcing the connections within the chess communities of both Bhutan and the United States.
Article first published on Kuensel.
---
---