Dragon Boys' Resilience Shines Through: Bhutan's World Cup Journey
Following the 4-0 defeat in Hong Kong, the prevailing anticipation was that Bhutan's national team would need to score at least five goals without conceding in order to advance to the next round of the FIFA World Cup Qualifiers.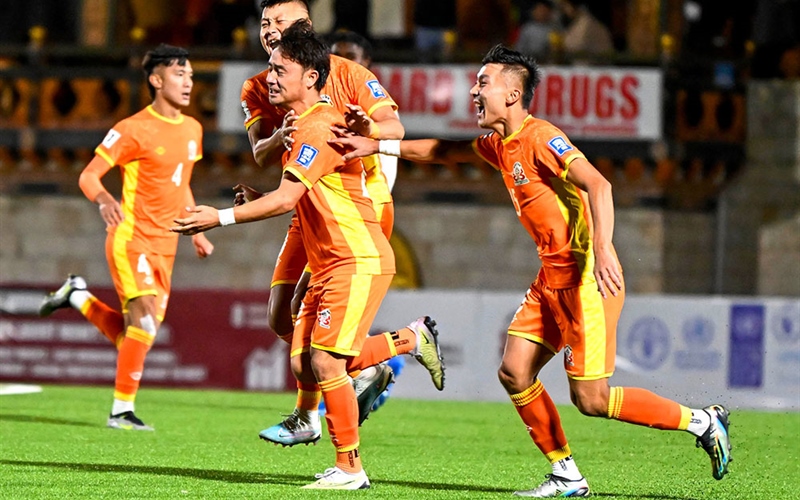 (Source: Kuensel)
Although the Dragon Boys did not secure qualification, they exited the qualifying round with their spirits high.
On Tuesday evening, Bhutan triumphed over Hong Kong with a 2-0 victory, drawing the enthusiastic support of thousands of fans, including the British business tycoon and commercial astronaut, Sir Richard Branson. Branson was spotted wearing a Bhutan national team jersey and cheering alongside the home fans. The billionaire entrepreneur was in Bhutan for a 10-day visit aimed at raising funds for the charity Big Change, which focuses on improving education.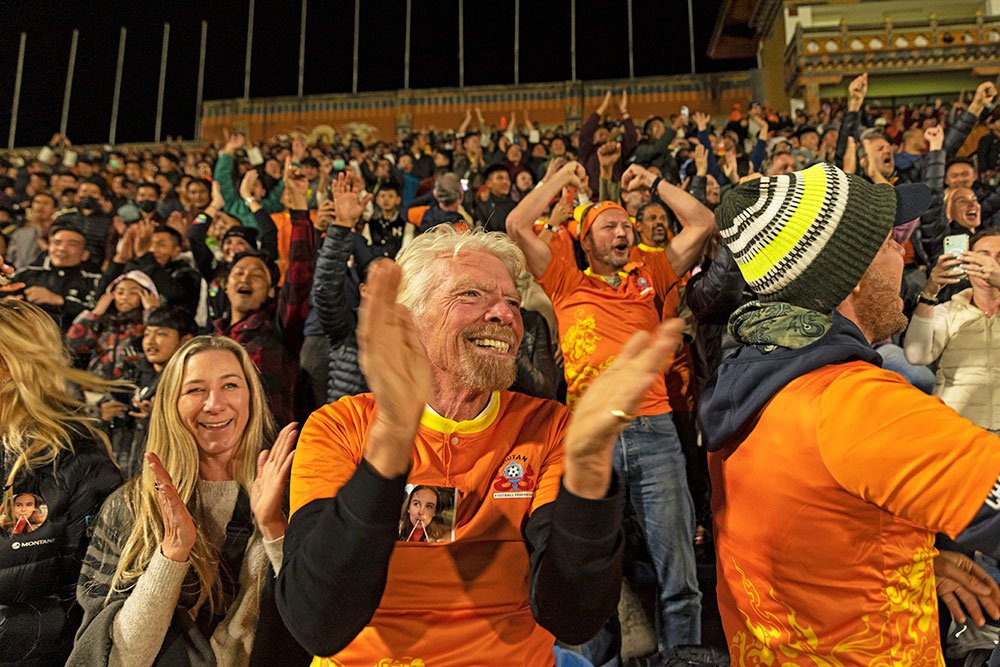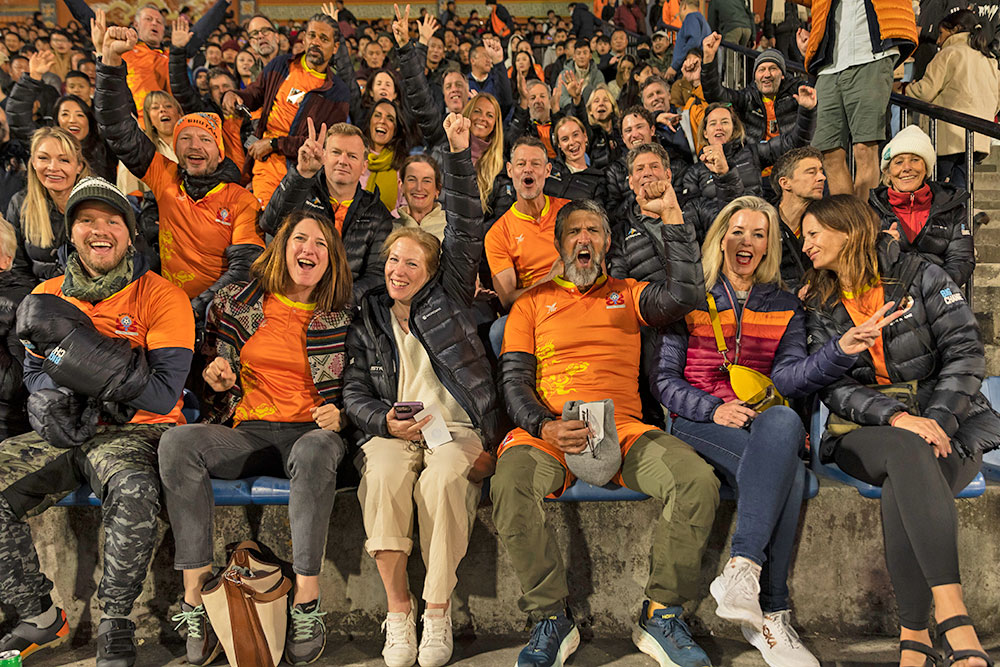 Photos: Kuensel
Sir Richard Branson and 39 participants from around the world, including his son Sam, are in Bhutan for 10 days as tourists to undertake a Strive Challenge. The founder of Virgin Group and the tourists are participating in a 4-day hike and 3-day cycling to raise funds for the charity Big Change, which focuses on transforming education so that every young person can thrive.
Despite Bhutan's second-leg win of 2-0 at the Changlimithang Stadium in Thimphu, it wasn't enough to overcome the deficit from the first leg on October 12. Hong Kong only needed a draw to secure their qualification.
Inside the Changlimithang stadium, the atmosphere was electric, with over 5,000 spectators, including foreigners, passionately supporting Bhutan. The combination of the drum beats, crowd excitement, cool autumn evening, and the artificial turf provided Bhutan with an added advantage.
Bhutan's captain, Chencho Gyeltshen, raised hopes of a remarkable victory when he scored in the 28th minute with a header from a cross by Sherub Dorji, sending the crowd into a frenzy. The first half ended 1-0 in favor of Bhutan, despite their dominance in possession without clear-cut chances to extend their lead.
Bolstered by their lead, Bhutan adopted a more aggressive approach in the second half. This pressure paid off in the 49th minute when the Dragon Boys doubled their lead through midfielder Lobzang Chogyal. Lobzang seized the opportunity and unleashed a powerful shot following a pass from defender Nima Wangdi, marking a memorable personal achievement.
Aware that a Bhutan victory with less than four goals would suffice, the visitors resorted to defensive tactics, including time-wasting strategies, to run down the clock. Bhutan's experienced goalkeeper, Hari Gurung, stood tall against the few chances created by the visitors.
This victory marked Bhutan's first win over Hong Kong after suffering three consecutive defeats against one of Asia's top teams. In the 2015 qualifiers, Bhutan had lost 7-0 and 1-0 to Hong Kong in away and home matches, respectively, and suffered a 4-0 loss on October 12 in the first round of the current qualifier.
Remarkably, despite the pressure to win, the Dragon Boys played a fair game, receiving no cautions, while three yellow cards were issued to the visitors, including their coach, who voiced his complaints from the sidelines.
Bhutan's coach, Pema, expressed satisfaction with his team's performance, noting that their high pressing game plan had been executed effectively. He acknowledged that defeating a team like Hong Kong was a challenging feat and expressed optimism about their future international competitions.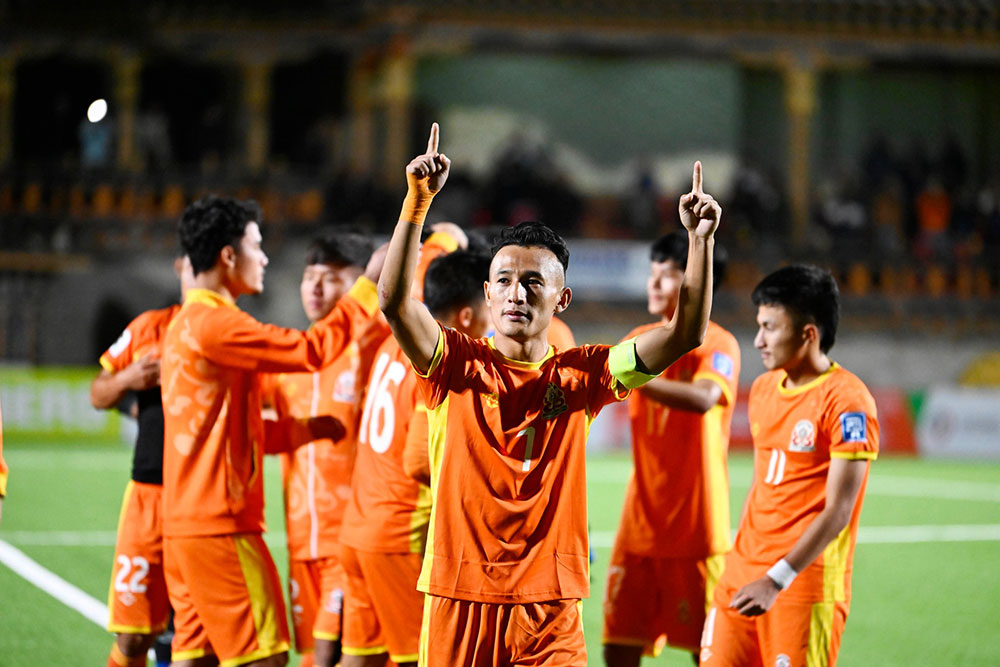 Photo: Kuensel
In contrast, Hong Kong's coach, Jorn Anderson, acknowledged that Bhutan played superior football compared to his team and praised Bhutan's determination. He expressed relief at winning 4-2 on aggregate but rejected altitude and the artificial turf as excuses for the loss. He noted that his team had limited experience playing in high-altitude locations.
Looking ahead, Coach Jorn Anderson expressed optimism about his team's performance in the next group stage of the competition.
---
---