More Bhutanese youths are engaged in football
Sitting at the 186th position in the FIFA rankings, Bhutan looks to improve its rankings in the years to come.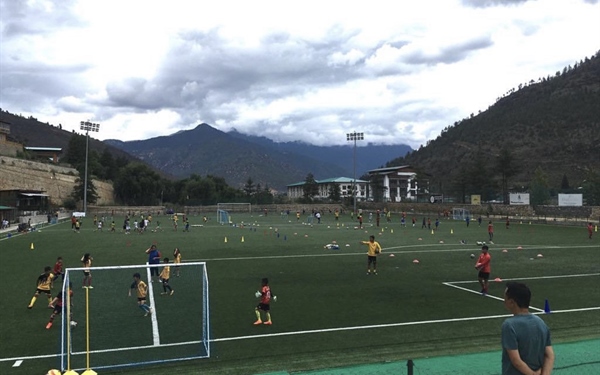 Sitting at the 186th position in the FIFA rankings, Bhutan looks to improve its rankings in the years to come. With around 300 youth in Thimphu engaged by football clubs and football academies, that dream may not be far off.
It is difficult to point out when exactly football was introduced to Bhutan, but it can be assumed that the game was introduced when the first schools were opened in Bhutan sometime during the 1950s. The sport was most probably introduced to Bhutanese students by foreign teachers.
Football has since come a long way, from children playing with a football made from old clothes and two rocks serving as a goal post to FIFA certified fields hosting both international matches and the domestic league. A lot of youth now have access to these facilities, and the various clubs and academies conduct training camps.
Paro FC at the moment trains 138 youths, they hold training sessions 4 times a week, and they look to have more sessions in the future according to their head coach Puspalal Sharma. The training and guidance provided at the Paro Football academy for their junior program have paid dividends this year with their Under 12, Under 10 and Under 8 Teams winning the Mini Dragon League Championship. They are currently dominating the competitions in the ongoing BFF Youth League.

Transport United FC have 100 youth enrolled in their youth training program, they recently completed their coaching course for coaches who will be sent to Phuentsholing, Samtse and Tsirang to begin training the youth in each district.
Some clubs such as Takin FC prefer to keep the number of youth trainees smaller at 30 per training season to ensure adequate attention and guidance.
A growing number of training centres comes with its own challenges. Coaches complain that the main challenge of hosting such training sessions is the lack of infrastructure as there are few training grounds available. With most of the stadiums occupied by either the home team training or being rented out for use by the public, it leaves very little time for the youth program, and they are mostly conducted at odd hours. However, teams with their own playing fields fare much better than the rest and can provide quality training to their youth trainees.
With the ever-growing popularity of youth engagement in football, both parents and coaches all hope that the government will contribute to developing the standard of football by investing in setting up more infrastructure. Pelden Namgyel, a parent whose son is currently enrolled under such a program is happy that his son is engaged in a healthy activity that will teach him discipline, teamwork and keep him away from running afoul of the law. He remarked that with continued support from both the government and the public, Bhutan may produce high-caliber footballers in the future, "who knows? we may have the next Messi or the next Cristiano Ronaldo in the making if we provide the opportunities for our children."
---
---