In the Buddhist Kingdom of Bhutan, are Bhutanese mostly vegetarians?
Many foreigners perceive Bhutanese to be mostly vegetarians owing to its status as a Buddhist kingdom.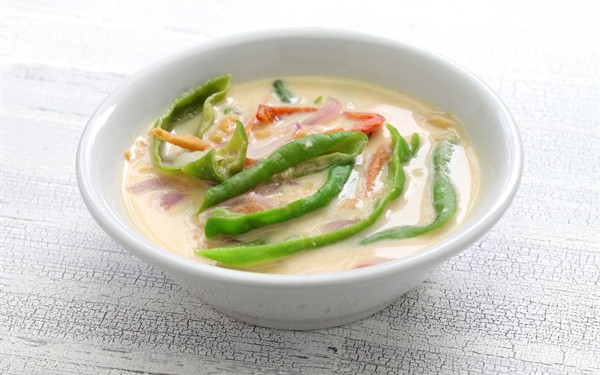 The predominant religion in Bhutan is Buddhism and given that Buddhism prohibits eating meat because of killing of animals violating the First Moral Precept and meat being considered an intoxicant to the body, which violates the Fifth Moral Precept, it's expected that Bhutanese will be vegetarians. Buddhism also believes in life after death. That instills in Bhutanese a belief that the animals whose meat we consume could have been loved ones in past lives. These aspects make people perceive Bhutanese as mostly vegetarians.
However, meat is, by far, culturally rooted in Bhutanese cuisine. This could go back to times when people in a climatically cold region had to cross mountains for trade purposes and agricultural work needed more energy which resulted in a high carbohydrate and fat food habit.
Then again, if you have no qualms about a carb-on-carb diet, you should be good to go even if you are a vegetarian travelling to Bhutan. No kidding! Every meal will have rice and potato cheese curry on the menu. That doesn't mean that meat lovers will have difficulty in finding a non-vegetarian meal. For a country with a major portion of its population practicing Buddhism, surprisingly meat is also a delicacy.
As diverse as Bhutan's culture, there are a myriad of Bhutanese meals. The main of many Bhutanese meals is rice. Side curry dishes and Suja (butter tea), milk or tea accompany it. Bhutanese eat this combination of rice and curry with Suja/milk tea for all three meals in a typical local home. On regular days, there will mostly be red rice with a vegetable curry and ezay (chili sauce). On certain occasions, there will be red and white rice with a variety of curry. Zaow (puffed rice) is a snack that Bhutanese eat with their cup of suja on cold mornings.
To purchase Bhutanese red rice, check out Bhutan Natural online store.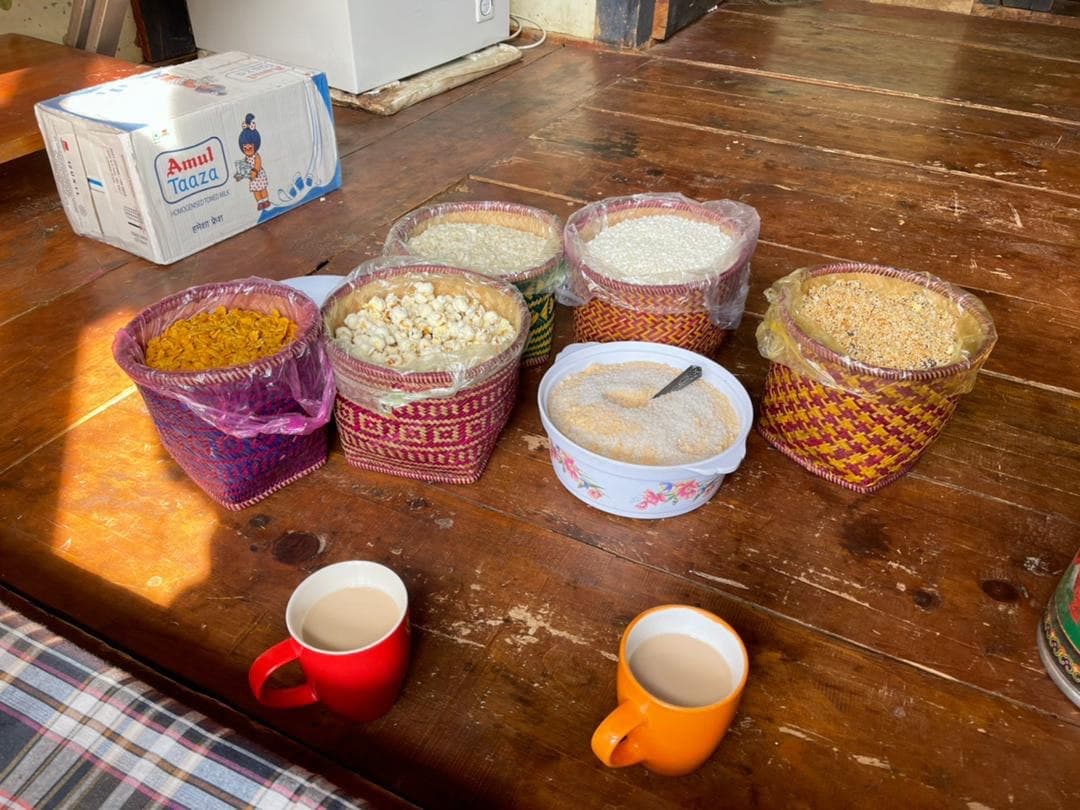 Suja (butter tea) and zaw (roasted puff rice)
Ema datshi (chili in cheese sauce), Kewa datshi (potato cheese) and Shamu datshi (mushroom cheese) are some popular curry choices for vegetarians easily available in every restaurant. Datsi maa ngo (deep fried cottage cheese) is a vegetarian's specialty. Ema datshi is the most famous dish for having chili as a vegetable rather than a spice, that it is called the national dish in jest.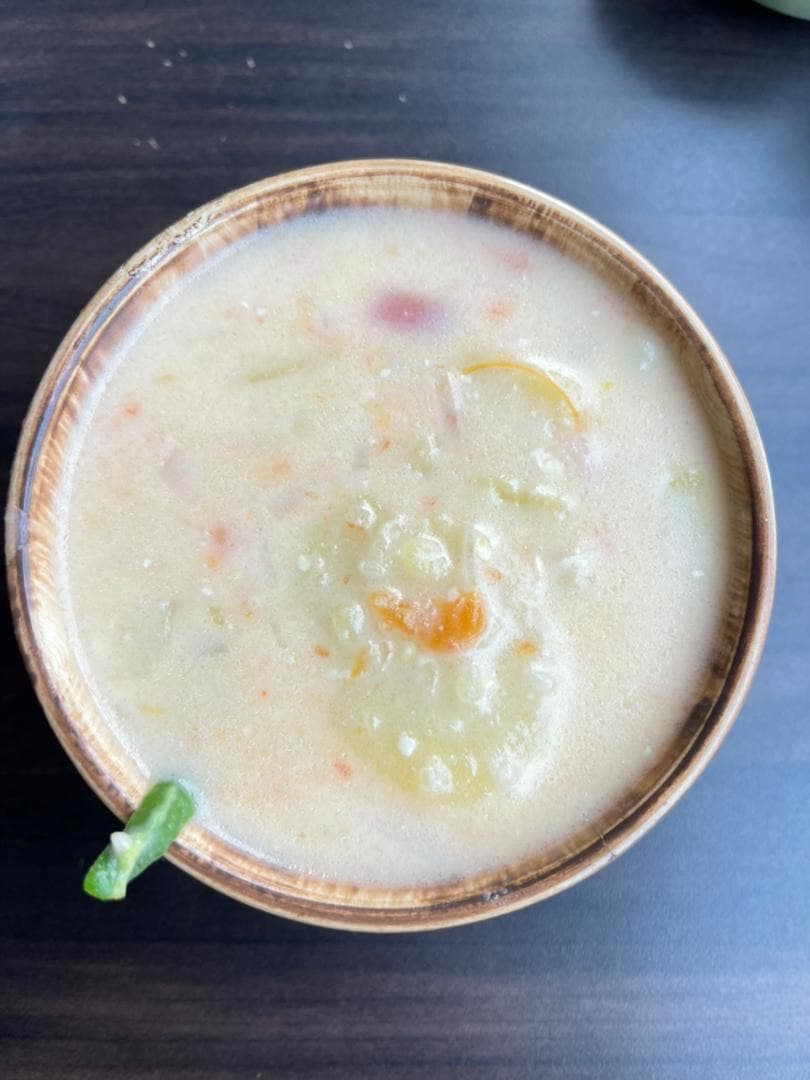 Kewa datshi (potato cheese)
Whether your meat preference is pork or beef, the many Bhutanese meat dishes won't disappoint you. Shakam Paa is a personal favourite among Bhutanese who love beef. It's a dried beef dish cooked with red chili, slices of radish or beans and spring onions. For those who enjoy pork, phaksha paa and sikkam paa are divine. Phaksha paa is slices of pork cooked with red chili and radish while sikkam paa is sun dried pork served fried. Sikkam Paa is the most sought after and served on special occasions. Jasha Maru (chicken curry) is major among those who don't eat pork and beef.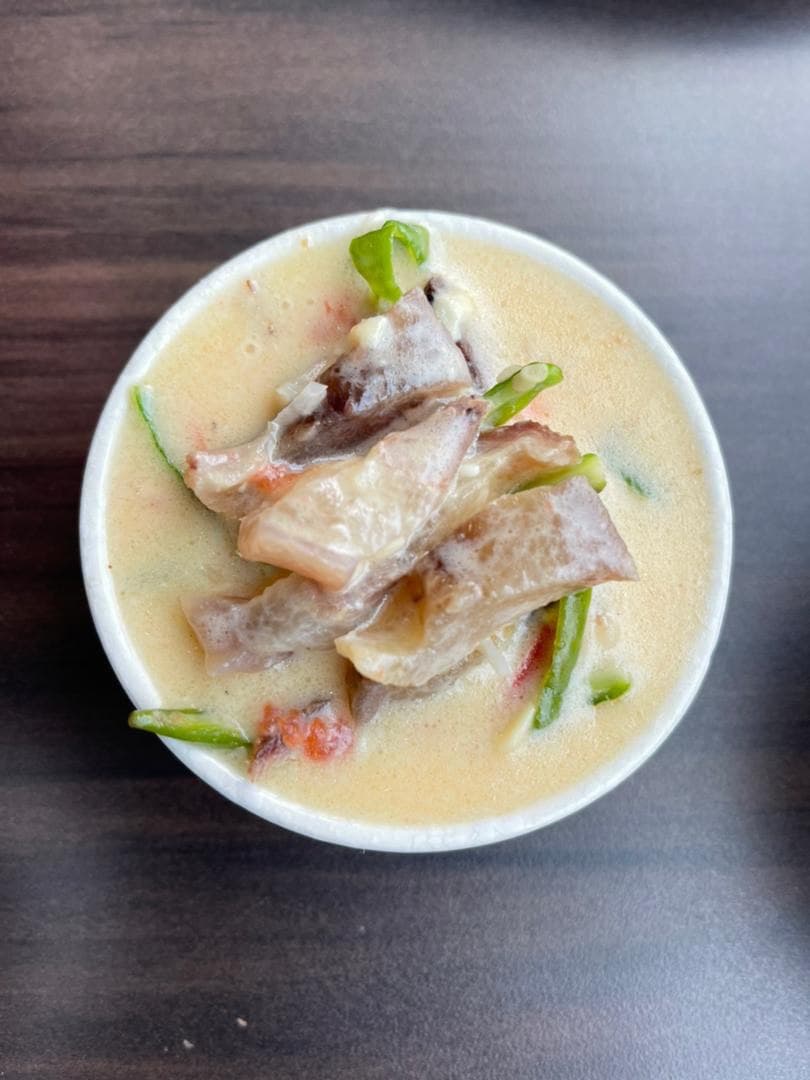 Sikkam datshi (pork with cheese)
Bhutanese cuisines for vegetarians have been limited comparatively. With a boom in the food industry in Bhutan, many restaurants and cafes with western cuisines have found a strong foothold giving vegetarians equal options. Thus, finding a restaurant or a café that serves a good vegetarian meal should be least of your worries if you are travelling to Bhutan.
From using chili as the main vegetable in ema datshi to putting cheese in almost every vegetable curry made, Bhutanese cuisines can be as mystical as the country and if you have a chance to try, you must make it a point to taste them once in your lifetime.
Learn how to cook the popular ema datshi, chilli cheese dish that's loved by many. 
As much as Bhutanese love rice and cheese, the cuisines wouldn't top the healthiest diet list. 'A call on the nation to redefine its dietary habits, the key to improved health, which  in turn will help the nation realize its collective aspiration of national happiness as a result of diminishing common health ailments' a social media campaign called Healthy Drukyul: new leaf, new lease on life is initiated by Prime Minister Dr Lotay Tshering. 
The social media campaign was launched with its first live post on its social media pages on July 30th 2020 and currently has contents around key messages from the Prime Minister himself, information to sensitize people on healthy diets and stories of change from the public.  
View this post on Instagram
---
---