The different types of prayer flags in Bhutan
Colourful prayer flags (dhar) are one of the most prominent features of Bhutan. These Buddhist prayer flags can be found fluttering throughout the Kingdom. They are considered sacred and holy and should be treated with utmost respect.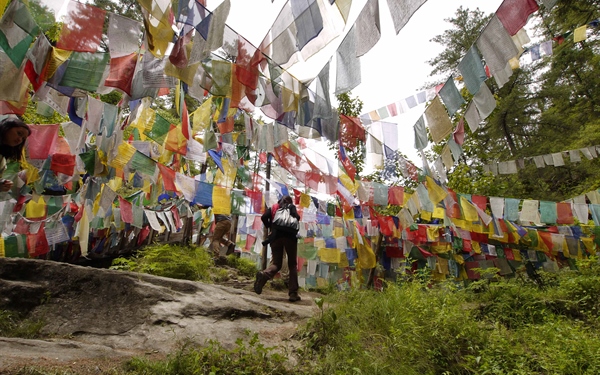 As a traveller to the Kingdom, one would quickly notice the different prayer flags that come in various shapes, colours and sizes. From mountain passes, bridges, monasteries, stupas, temples, mountain peaks and homes, one is greeted with the sacred prayer flags everywhere. These vivid flags not only add colours and vibrancy to the place but it is infused with much religious and cultural significance. 
The prayer flags are made of block-printed fabric using traditional printing techniques from centuries ago. They are inscribed with auspicious and sacred emblems, symbols or mantras. Each type of prayer flag carries its own significance and blessings. Not only the person who mount the flag will receive good karma but all the sentient beings will benefit from the blessings carried by the wind.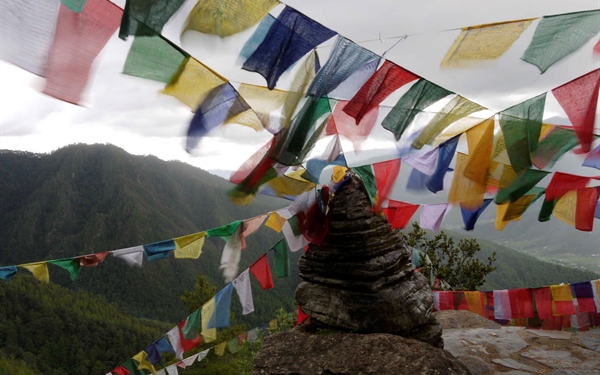 The reason why they are hung high above is so that the fluttering will emit positive spiritual vibrations. The prayers are carried and spread by the wind like silent prayers. 
It is no wonder that the sight and sound of a fluttering prayer flag can invoke such a sense of calmness and protection. 
When raising a prayer flag, the attitude and intention is very important. One should keep in mind the selfless motivations that "May all sentient beings everywhere receive benefit and find happiness."
There are five colours for the prayer flags in Bhutan. The meaning of the five colours of the prayer flags in Bhutan represent the five basic elements of nature: earth, fire, water, air and sky. The five colours can also represent the five basic emotions (joy, fear, sadness, disgust, anger) and the five directions (east, north, west, south, center).
Meaning of the different prayer flag's colour:
White (air) - Good fortune and purifying negative karma (Vajrasattva)
Blue (sky/space) - Health and longevity (Tsa La Nam Sum)
Yellow (earth) - Victory over obstacles (Gyaltsan Semo)
Green (water) - Compassion (Praise to the 21 Taras)
Red (fire) - Wish fulfillment (Sampa Lundrup)
Below are the types of prayer flags that can be found in Bhutan.
Lungdhar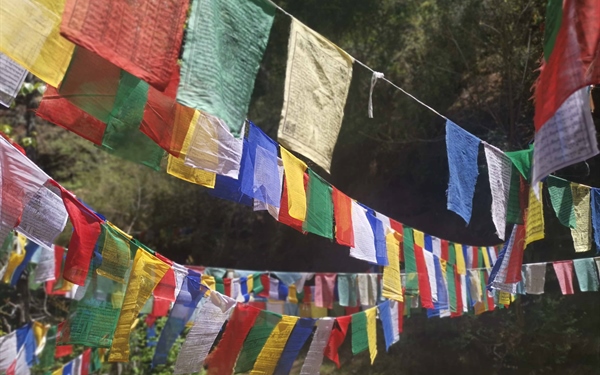 Lungdhar are the square or rectangular colourful flags hung horizontally or diagonally with a string. It is usually raised on wooden poles or flung on ropes. The flags are connected along the top edges. Colourful Lungdhars are commonly found all over Bhutan from mountain passes, bridges, around the monasteries or stupas. 
Dachog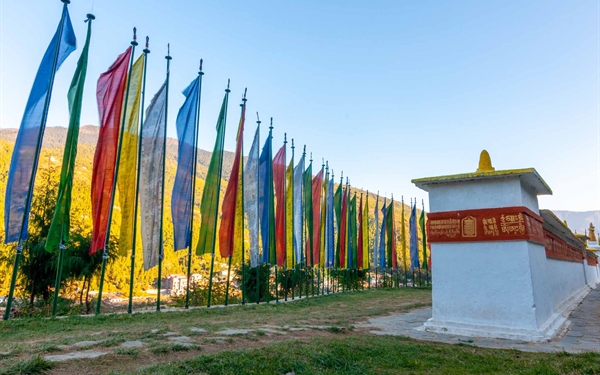 Dachog or locally known as Darshing are the tall vertical flags attached to poles planted in the ground. They are mostly found huddled close together and planted around mountains and forests. 
Manidhar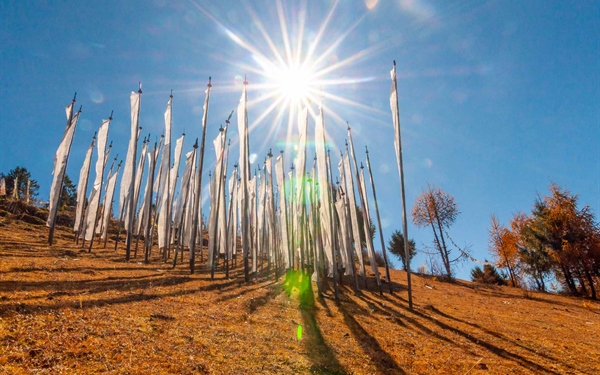 Manidhar are tall white prayer flags vertically attached to the poles. They are raised after a person has died as a remembrance for the deceased. It is believed that there are blessings from hoisting 108 (auspicious number) of Manidhar prayer flags. Although hoisting one flag is just as beneficial.
Lhadhar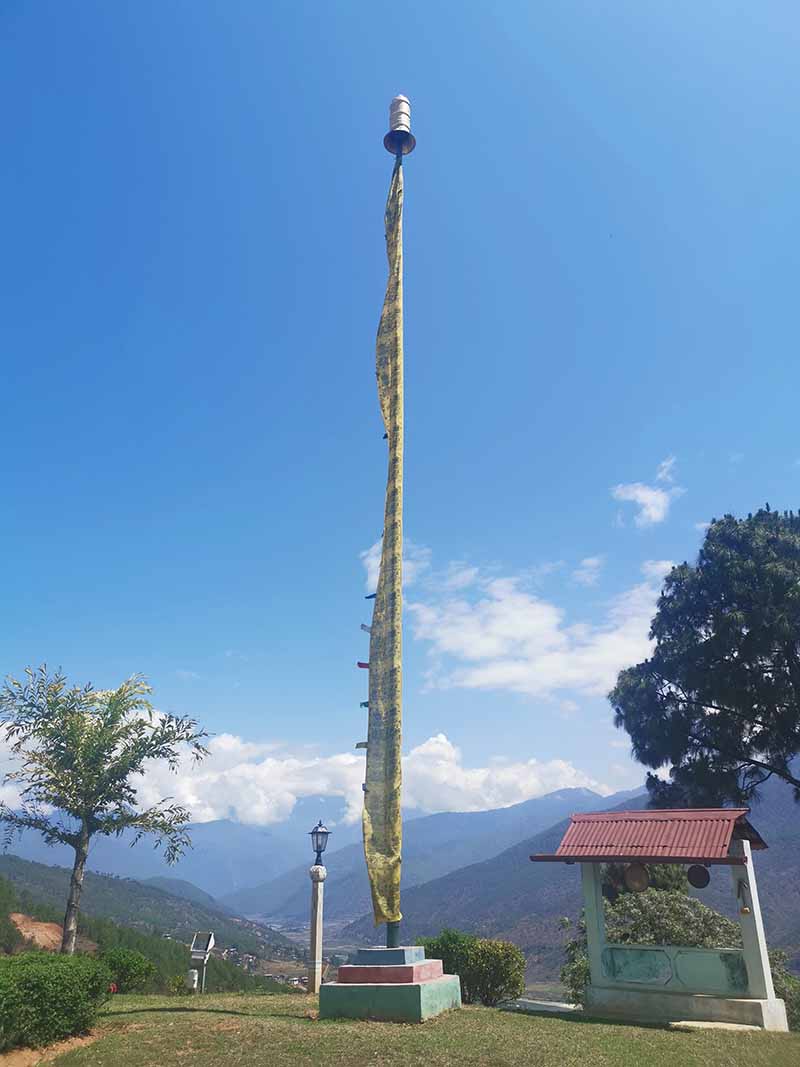 Lhadhar are the large tall vertical flags. They usually have no text and contain ribbons of red, yellow and blue. Lhadhar are displayed in front of important places such as monasteries and palaces. Visitors must dress formally when entering these places. Lhadhar represent victory over the evil forces and are commonly inscribed with the four mythical animals, tiger, snow lion, dragon and Garuda (celestial royal bird). 
Goendhar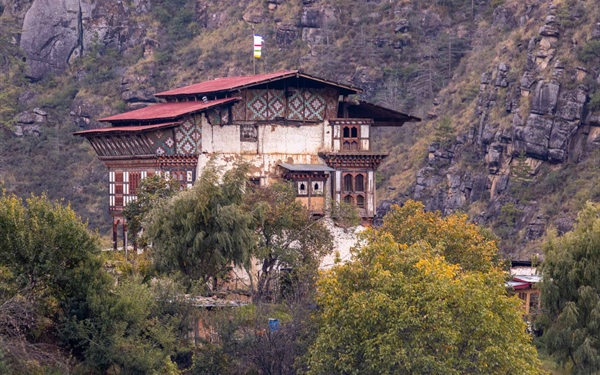 Goendhar are white small prayer flags placed on the center of a traditional home's rooftop. It is rectangular in shape with green, red, yellow and blue ribbon attached to the edges. These flags are blessings for the welfare, prosperity and harmony of the family. 
Gyeltshen Tsemo (Banner of Victory)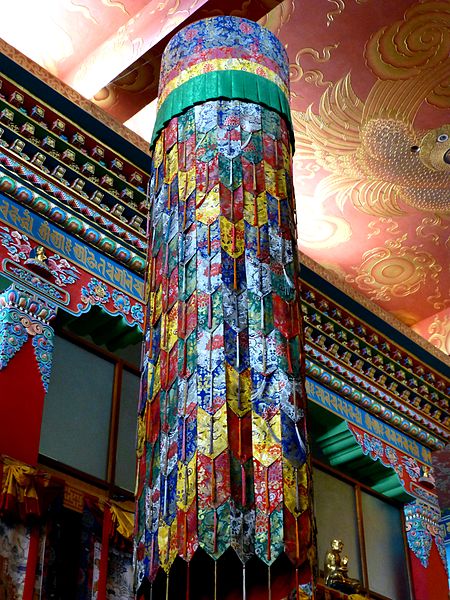 Gyeltshen Tsemo is a cylindrical banner with mantras printed on it. It inscribed with Tashi Tagye (eight auspicious signs) are used in ritual and religious processing proclaiming victory over evil. Sometimes, it can also be seen at archery matches to proclaim victory after the match.
Symbols, mantras and prayers
Traditionally, the center of the flag carries the symbol of Lung Ta (wind horse) bearing three flaming jewels (ratna) on its back. The three flaming jewels symbolise the Buddha, the Dharma (Buddhist teachings) and the Sangha (Buddhist community). The wind horse is surrounded by the four powerful animals also known as the Four Dignities: tiger, snow lion, garuda (celestial royal bird) and dragon.
Surrounding the Lung Ta are various versions of approximately 400 traditional mantras, each dedicated to a particular deity. In addition to mantras, prayers for a long life of good fortune are often included for the person who hoists the flags. 
Sometimes, the prayer tag Om Mani Pae Mey Hun (or Om Mani Padme Hum), a popular ancient Buddhist mantra is also inscribed on the flags. 
Om- The sacred syllable
Mani- Jewel
Padme – Lotus
Hum – Spirit of enlightenment

The mantra does not have one specific meaning but a combination of values like compassion, ethics, patience, diligence, renunciation and wisdom. It is said that if you recite the mantra during meditation, it can cure pride, jealousy, ignorance, greed and aggression.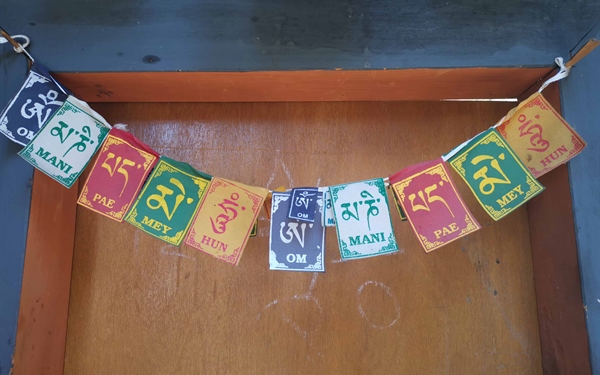 If you'll like to buy these colourful Buddhist prayer flags, lungdhar/lungta, you can purchase from Bhutan Natural online store.