What are the 13 traditional Bhutanese arts and crafts?
"Were I to epitomise Bhutanese art with one word, that word would be colour... The attention to detail, the symmetry of figures…and above all, the bold colour treatment are perfectly combined." — G.N. Mehra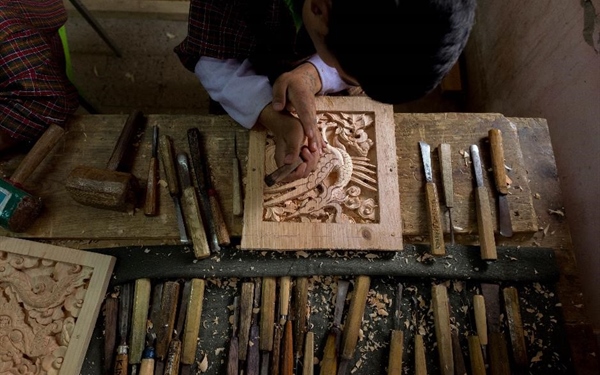 Think Bhutanese art, think tapestry of colours. The vibrant shades imbue every painting, woodwork, sculpture, embroidery, and imagery.
Although the crafts have evolved over the ages, the ethos remains. For the Bhutanese people, each piece of art they create represents a connection to the spiritual, a milestone en route to enlightenment.
To them, the craft speaks for itself. That's why the artist is usually anonymous. If the piece bears a name, it is the name of the person who commissioned it, not the artist's.
Believed to have been introduced by Pema Lingpa in the 15th century, arts and crafts (zorig chusum) is an integral part of Bhutanese culture. The 13 different arts and crafts were categorised in the 17th century during the reign of the fourth desi, Tenzin Rabgye.
The thirteen traditional arts and crafts in Bhutan are as follows:
1. Carpentry (Shingzo)
2. Masonry (Dozo)
3. Carving (Parzo)
4. Painting (Lhazo)
5. Sculpting (Jinzo)
6. Bronze-casting (Lugzo)
7. Blacksmithing (Garzo)
8. Ornament-making (Troeko)
9. Cane and bamboo making (Tsharzo)
10. Weaving (Thagzo)
11. Tailoring, embroidery, and Applique (Tshemzo)
12. Woodturning (Shagzo)
13. Paper-making (Deh-sho)
Carpentry (Shingzo)
The distinctive architecture in Bhutan is breathtaking. From dzongs, temples, monasteries, palaces, to bridges, carpentry is central to Bhutanese architecture. Expert carpenters known as Zo Chen and Zo Wo construct these treasures through careful mastery.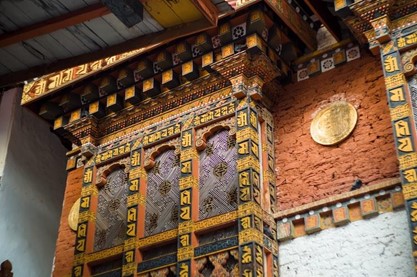 Masonry (Dozo)
Masons and carpenters complement each other. Every structure we see in Bhutan was constructed with a combination of wood and stone. The masons prepare the stones necessary for these endeavours.
Meanwhile, the senior master-mason, Zope, supervises the construction. But before that, he sees to the preparation of traditional Bhutanese mortar. This mortar is very durable, and its secrets have been passed down through generations.
An example of a Bhutanese stone structure is Chorten Kora in Trashiyangtse.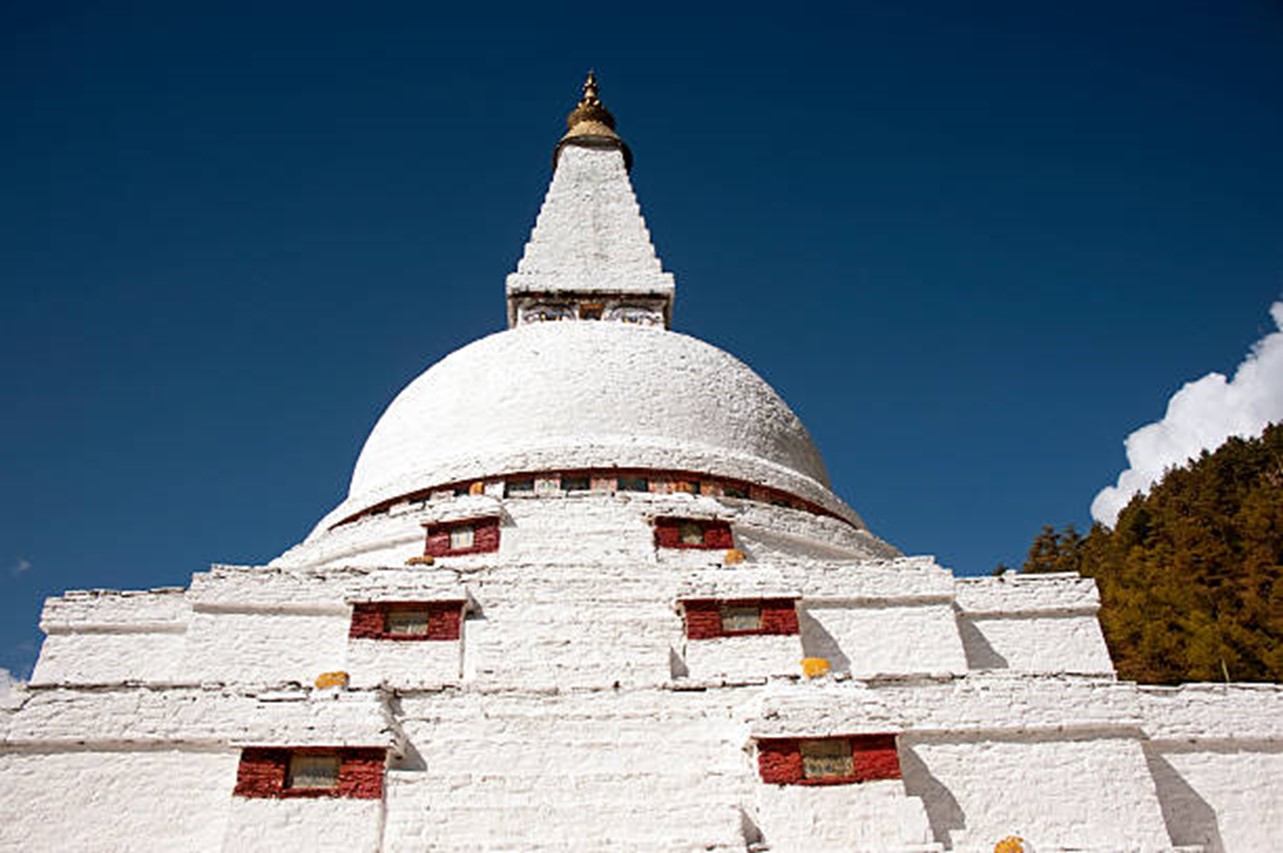 Carving (Parzo)
And once the structure is standing, it's the carvers' turn to shine. With impressive precision, they engrave beautiful carvings on the stone and wood. Nevertheless, carving is not limited to buildings. Carvers also work on religious texts, furniture, altars, and slates. You can also find their masterpieces on the wooden masks worn during the popular Bhutanese tshechu festivals.
In temples throughout the country, you'll find carvings of the Buddha on slates. On top of that, wooden sculptures featuring the eight lucky signs are popular in Bhutan. Also commonly found are carvings of phalluses in all shapes and sizes.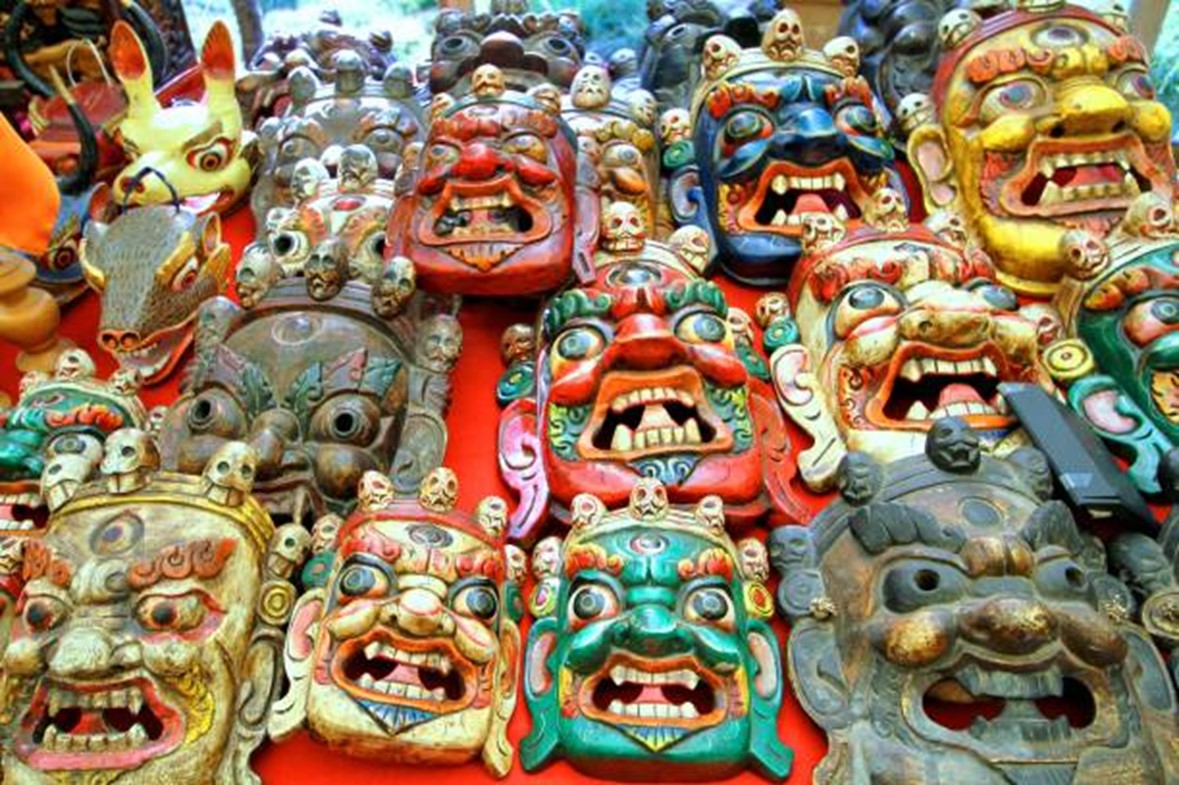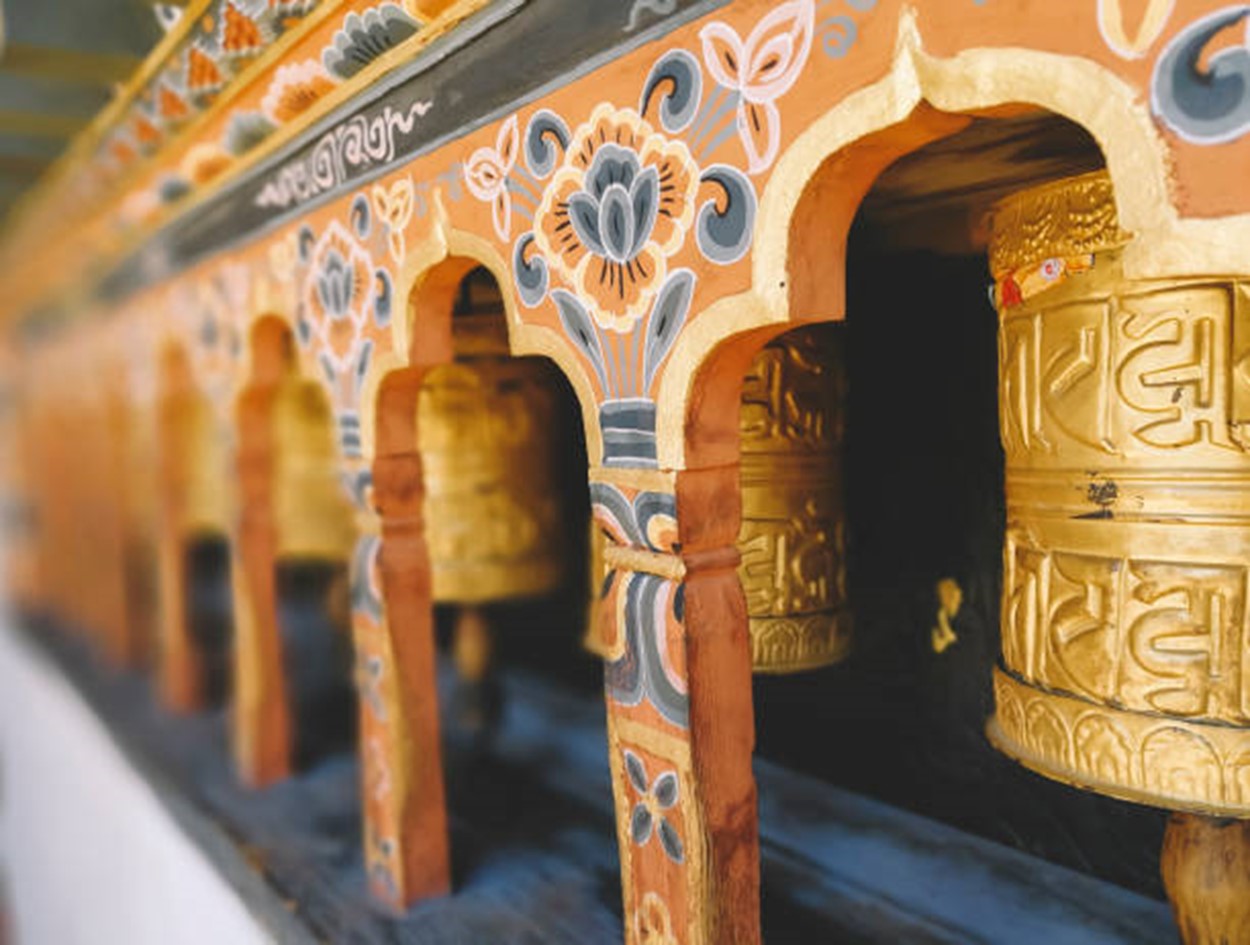 Painting (Lhazo)
Bhutanese painting is an ancient art that has been part of the Bhutanese culture for generations. They typically depict human beings and their interaction with nature. Master painters, known as lharips, have their work displayed in dzongs, temples, and monasteries everywhere in the form of murals and frescoes. Paintings can also be found with images of the Buddha or other deities.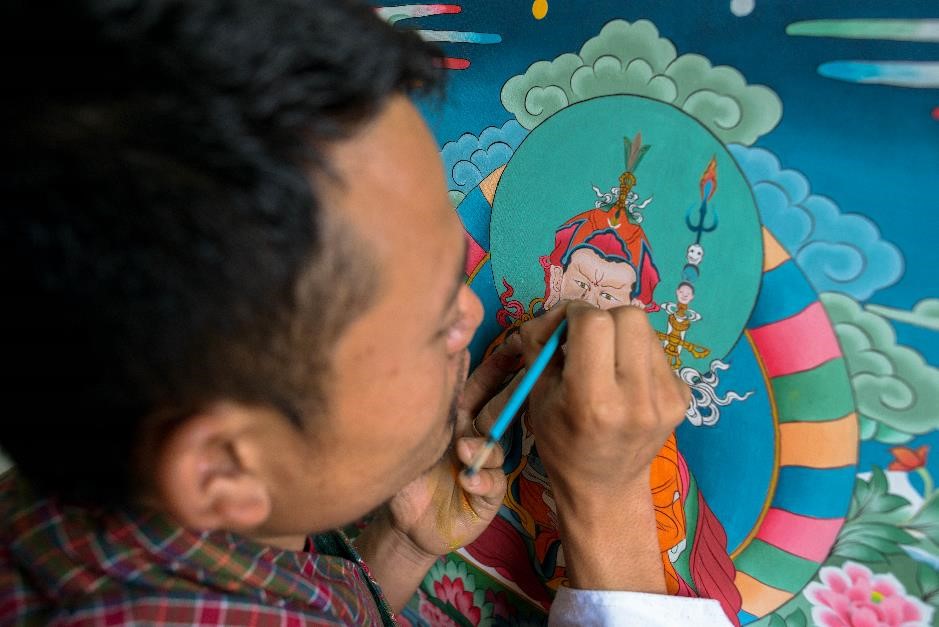 You can also find paintings of phalluses on the walls at Sopsokha Village.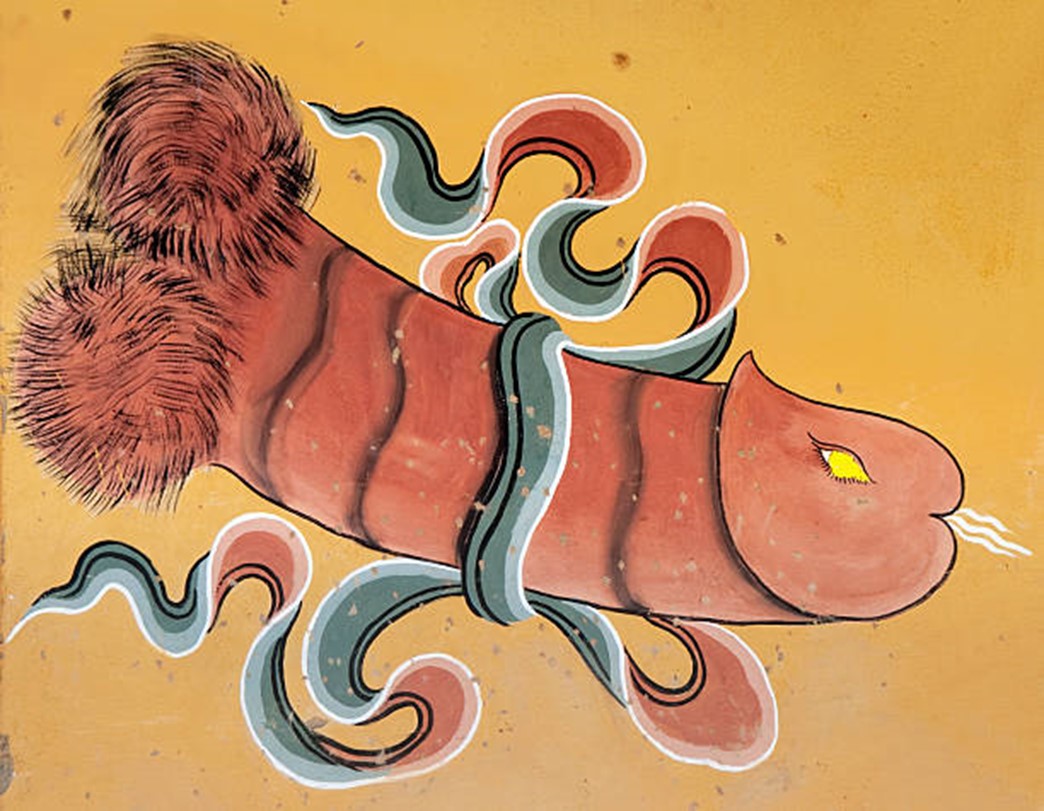 Sculpting (Jinzo)
In Bhutan, sculpting includes the crafting of religious statues, ritual objects, clay masks, pottery, also material for construction — mortar, plaster, and rammed earth. Usually, sculptors use clay, traditional deh-sho paper or the bark of a Daphne tree to birth their masterpiece.
One popular clay product is the traditional earthen pot, made in Gangzur Gewong in Lhuentse, eastern Bhutan. Other than that, the tsatsas that can be found all over Bhutan are the fruits of the sculptors' labour. Tsatsas are sacred objects moulded from clay and ashes. They are normally painted red, white, or gold.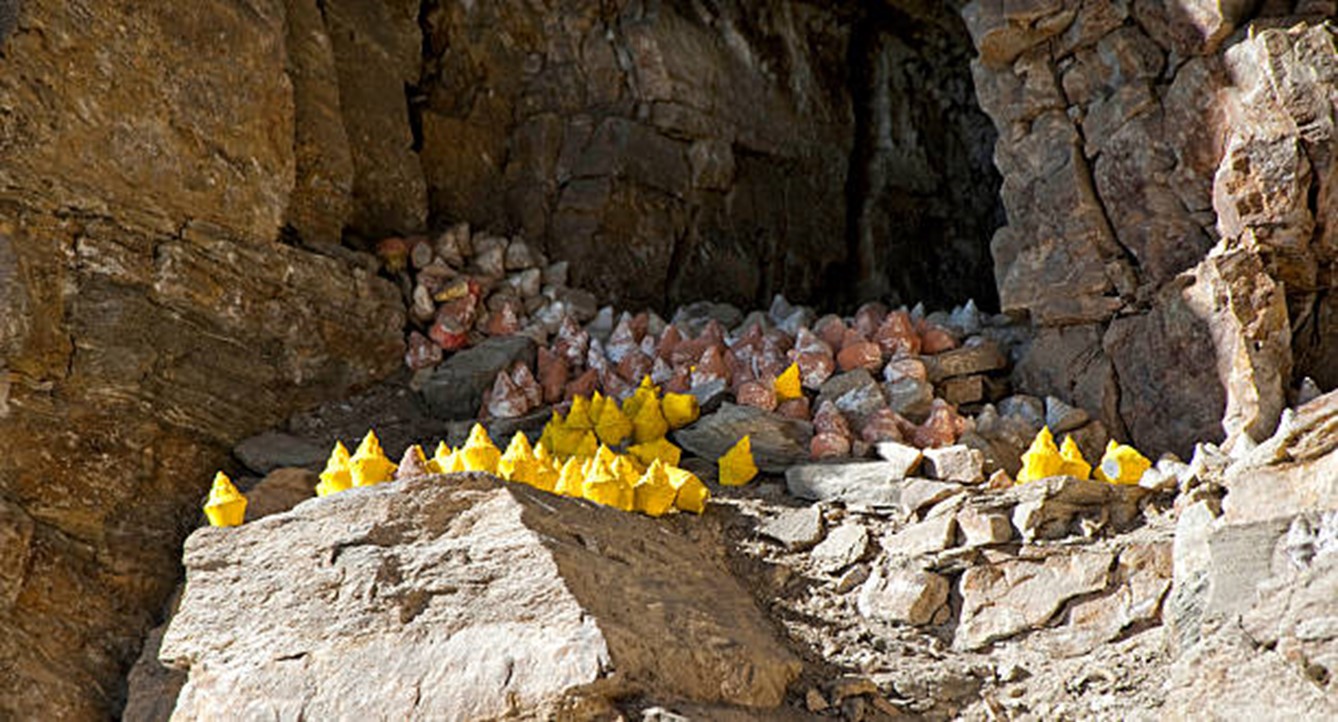 Bronze-casting (Lugzo)
The statues, sertog (pinnacles on the roof), and ornaments found at religious sites are coated with a layer of bronze, a skill known as lugzo. There are two methods to this, done using sand or wax.
Gyalsey Tenzin Rabgye, the 13th Je Khenpo, crafted 1,000 Buddha statues — including the main one at Punakha dzong — using wax.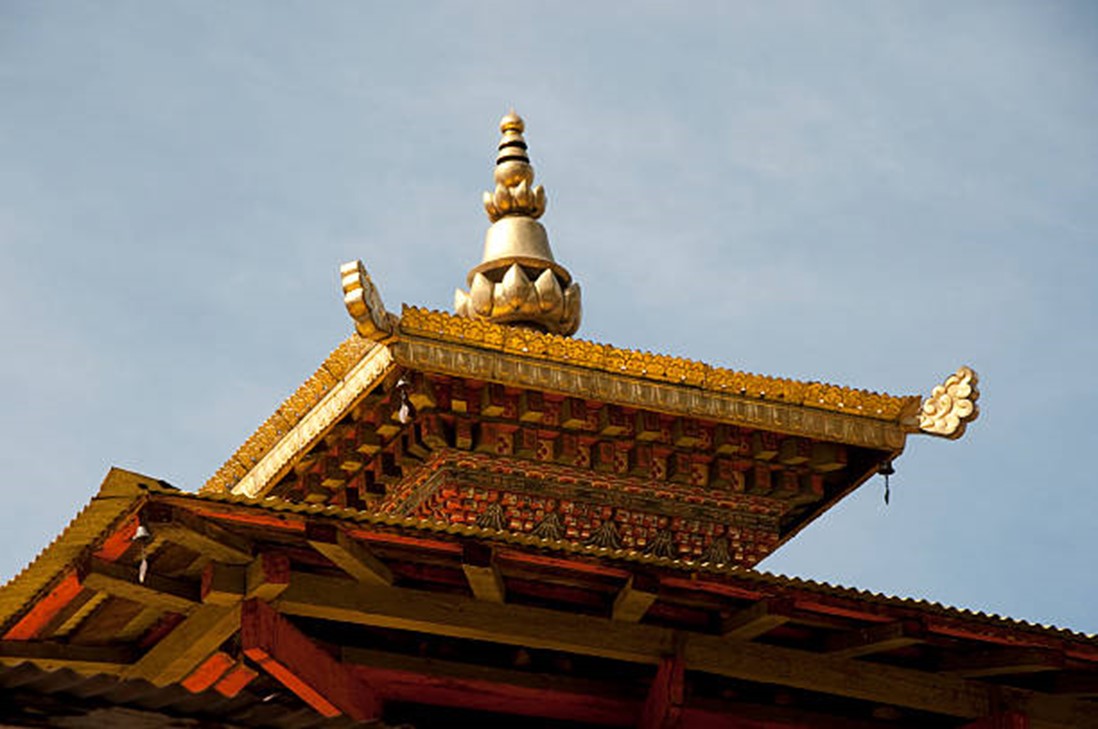 Blacksmithing (Garzo)
It is believed that the Tibetan saint Dupthob Thangtong introduced blacksmithing to Bhutan in the late 14th century. He had a special talent in casting iron chains and constructing bridges. 8 suspension bridges in Bhutan are credited to him, including the bridge over Paro River linking the highway to Tachog Lhakhang in Paro.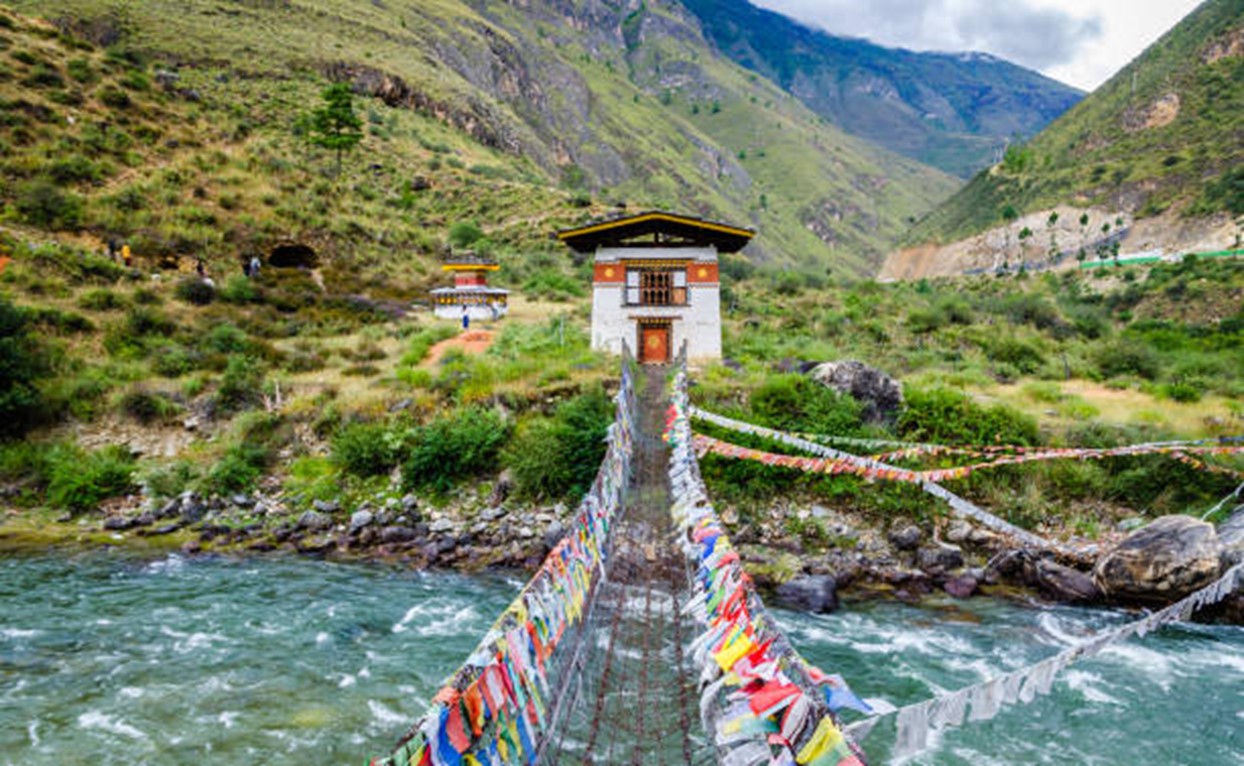 Ornament-making (Troeko)
Troeko is the art of using gold, silver, or copper to make traditional ornaments. Typically, stones such as turquoise or corals are fused with gold or silver to shape an accessory.
Meanwhile, craftsmen involved in making jewellery are called Troko Lopen. They make all kinds of jewellery including necklaces, earrings, brooches, rings, and containers for doma.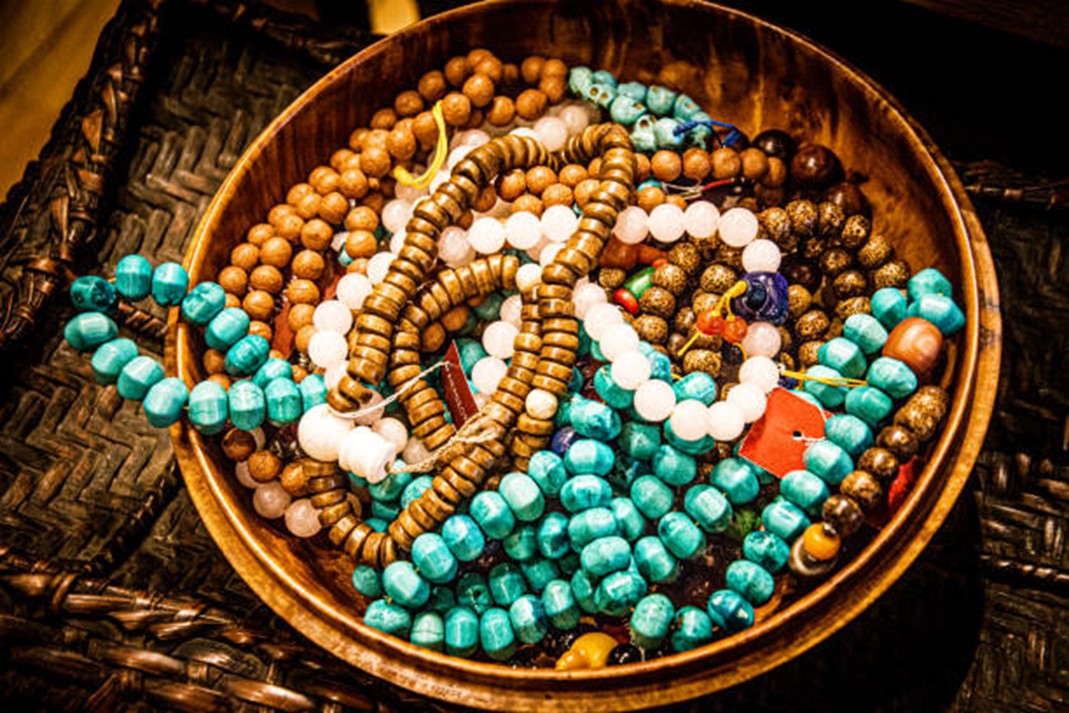 Cane and bamboo-weaving (Tsharzo)
The Bhutanese are also skilled at weaving cane and bamboo into household objects. The skillful craftsmen fashion products like bangchung (a container for snacks), covers for artefacts, lagchu (quiver), tshogtrhung (vessel for serving food), barekhu (container for wool and threads), and patsha dromchung (jewellery holder).
For the people in Trashigang, eastern Bhutan, Taharzo is their primary livelihood.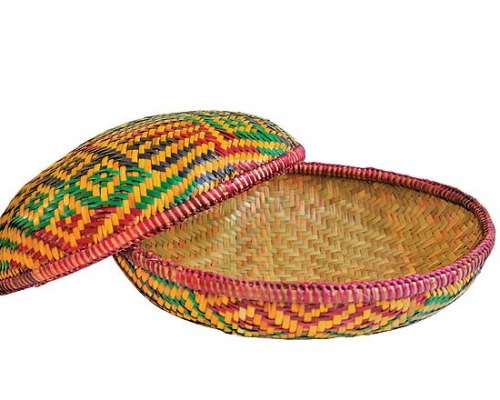 Weaving (Thagzo)
Weaving is one of the oldest crafts in Bhutan, honed over the years. Different regions in Bhutan have different weaving styles. They each produce textiles with patterns unique to their district. There are three different types of looms: backstrap loom, horizontal-framed loom, and card loom.
To learn more about the strong weaving culture, visit the following places that are specially tailored for tourists. You might even get some hands-on experience at Bhutanese weaving.
Chencho Weaving House, Paro
Yathra Weaving Centre, Bumthang
Khaling National Handloom Development Centre, Trashigang
Royal Textile Academy, Thimphu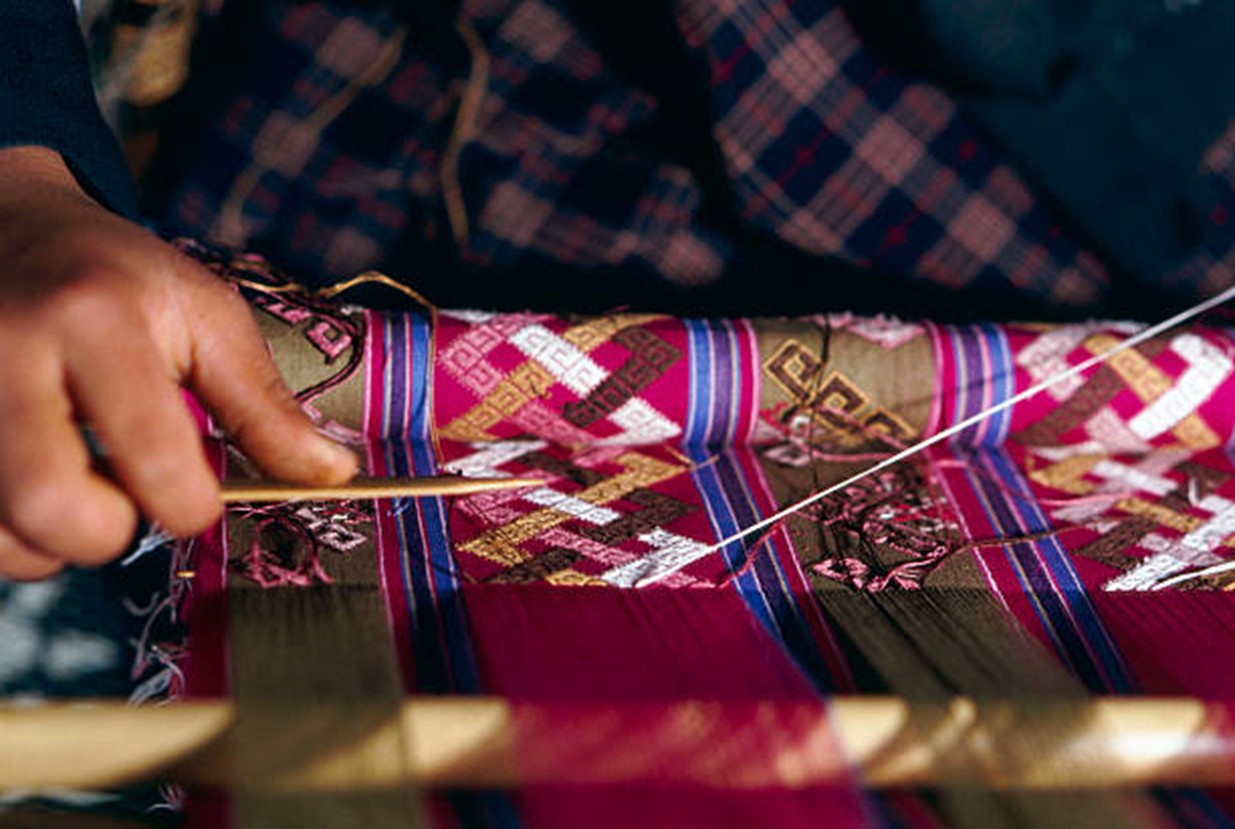 You can also buy traditional kira from Bhutan Natural online store.
Tailoring, embroidery, and Applique (Tshemzo)
This art has 3 forms — tailoring, embroidery, and applique. Tailoring refers to stitching all forms of garments, including the national costume of kira and gho. On the other hand, embroidery and applique is practiced by the monks in making religious scrolls: the thangka.
The thangka (also known as thongdrel) is believed to be holy. This giant embroidered silk banner featuring an image of Guru Rinpoche is unfurled at the end of some religious events. It is considered so sacred that the mere sight of it can cleanse the viewer of their sins.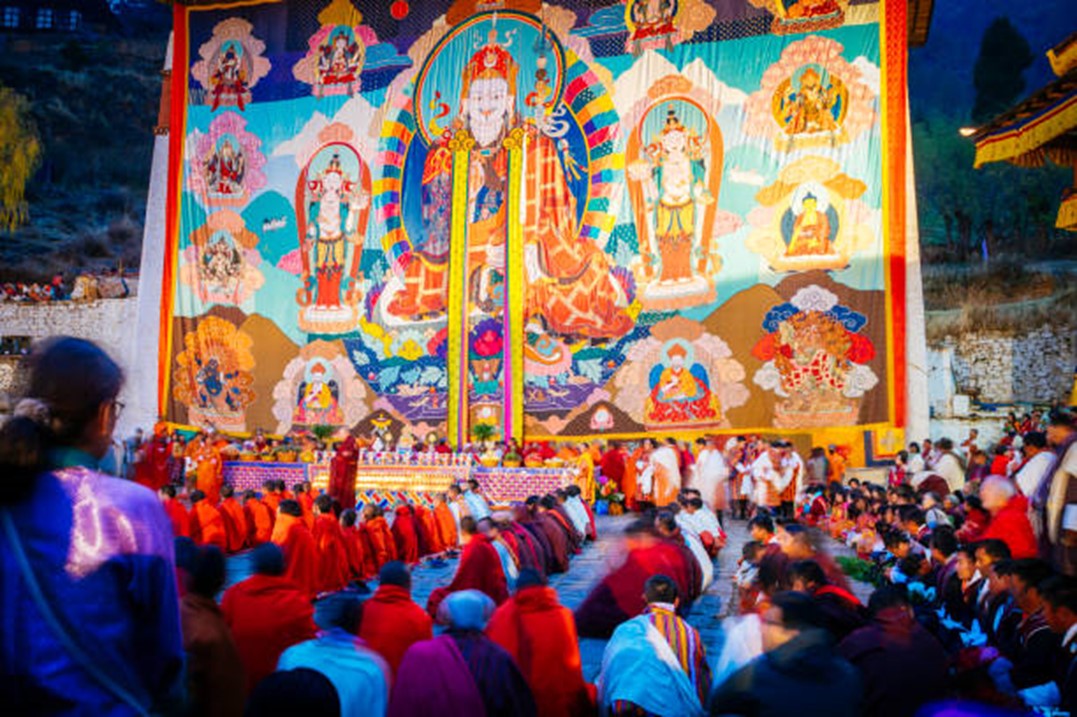 Woodturning (Shagzo)
Woodturners, known as Shagzopas, are mainly from Trashiyangtse in eastern Bhutan. They produce a range of items like dapas (wooden bowls), dza phobs (wooden cups), and ara (alcohol) containers.
They form these items out of wood. Dza (special wooden knots) are high in demand as raw material for this craft.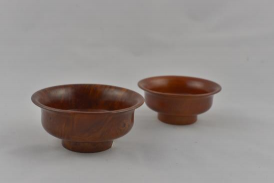 Paper-making (Deh-sho)
To make paper, the Bhutanese use a traditional method that has been passed down for many generations, where the barks of Daphne and Dekap trees are used to manufacture paper. These papers were once used in monasteries for manuscripts and prayer books.
Fascinated by paper-making? Do visit Jungshi Handmade Paper Factory in Thimphu.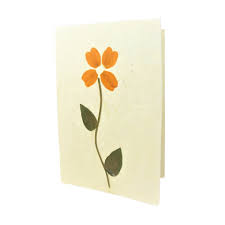 To learn more about the 13 arts and crafts of Bhutan, visit Trashiyangtse Institute of Zorig Chusum
Established in 1997 in eastern Bhutan under the then National Technical Training Authority, the goal of the institute is to preserve the 13 arts and crafts and promote these skills among the Bhutanese youth.
At the institute, you may watch as the students perfect their craft. The fruits of their labour can be purchased at the shop.
Shop till you drop, and impress your friends and family back home with some stunning Bhutanese craft as souvenirs.
---
---