8 most popular festivals in Bhutan that you should check out
Bhutanese festivals are colourfully vibrant affairs that draw crowds from all over the world.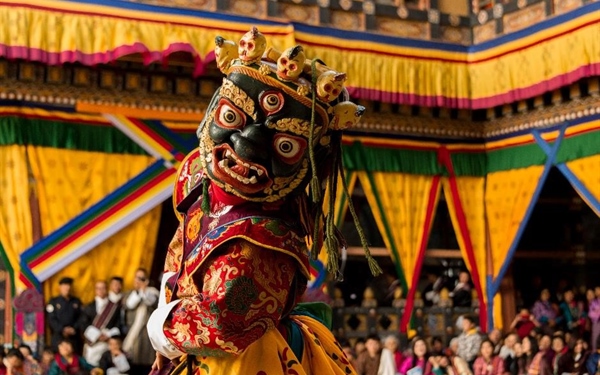 In Bhutan, festivals are grand events.
They are a tapestry of colours and vibrance, celebrated with so much vigour they draw crowds from all over the world.
Tshechu or Tsechu is Bhutan's most important religious festival. The Bhutanese word literally means 'tenth day'; it is celebrated on the tenth day of various months according to the Bhutanese lunar calendar. They honour Guru Rinpoche, the saint who introduced Bhutan to Buddhism in the 8th century. Every year, tsechus are held in various temples and dzongs all across the country.
For the Bhutanese, attending a tsechu is a mark of their devotion to Buddhism. By attending the festival, they collect merit points that bring them one step closer to enlightenment, the ultimate Buddhist goal. 
Of course, on top of tsechus, Bhutan has an abundance of other festivals. Today, let's talk about 8 of their more popular ones. The ones you've got to attend for bragging rights.
Paro Tsechu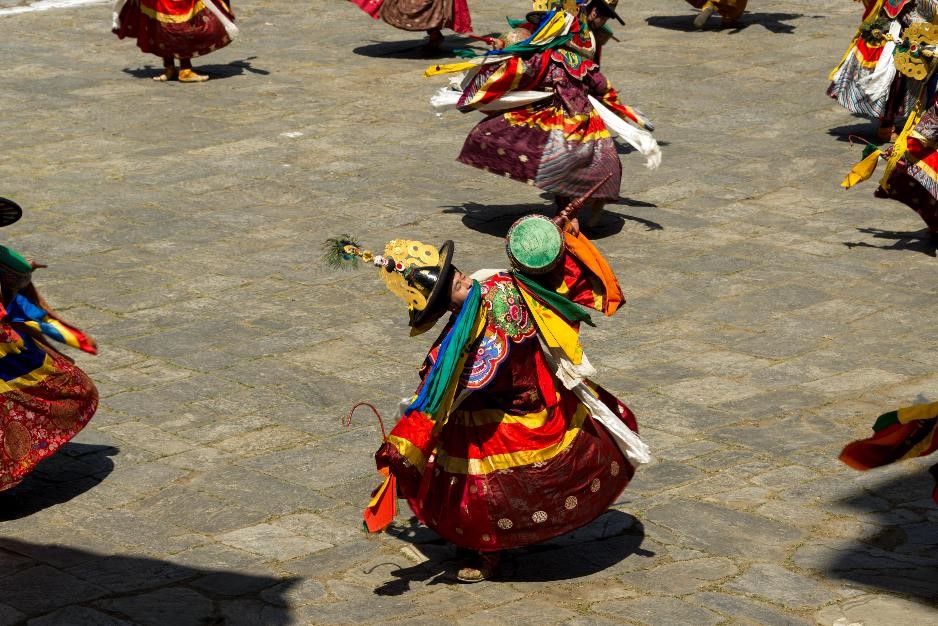 Paro Tsechu is a popular mask dance festival in Bhutan. Held annually, Bhutanese attend to receive blessings and wash away their sins. Each mask dance is based on a different story—some that happened in the 8th century during the life of Guru Rinpoche.
Early in the morning on the final day of Paro Tsechu, the monks display a giant thangkha (embroidered painting) of Guru Throngdel and his eight forms. Thongdrols are stunning Buddhist art that are considered so sacred that simply seeing one will cleanse the viewer of their sin.
Where: Paro Dzong, Paro
When: April
Duration: 5 days
Nimalung Tshechu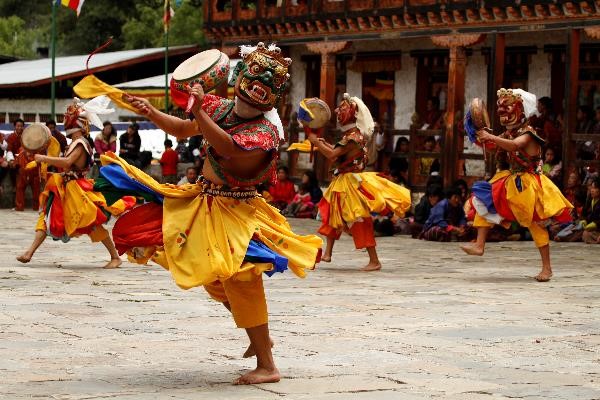 Expect lively folk dances and vibrant costumes. The festival usually starts off with a mask dance to implore the gods for their blessings. On the final day, visitors are honoured with a display of a Guru Tshengye Thongdrel.
Where: Nimalung Buddhist Monastery, Bumthang
When: June
Duration: 3 days 
Haa Summer Festival (July)
This is a fairly new festival, established only in 2012 to celebrate the culture, heritage, sports, and religion in Bhutan. Primarily, the festival is dedicated to the nomads of Haa Valley. There are segments during the festival when pictures and paintings are used to depict the lifestyle of the nomads.
If you fancy, you can even participate in fun activities like yak riding, folk dancing, and food tasting.
Where: Haa
When: July
Duration: 2-3 days 
Thimphu Tsechu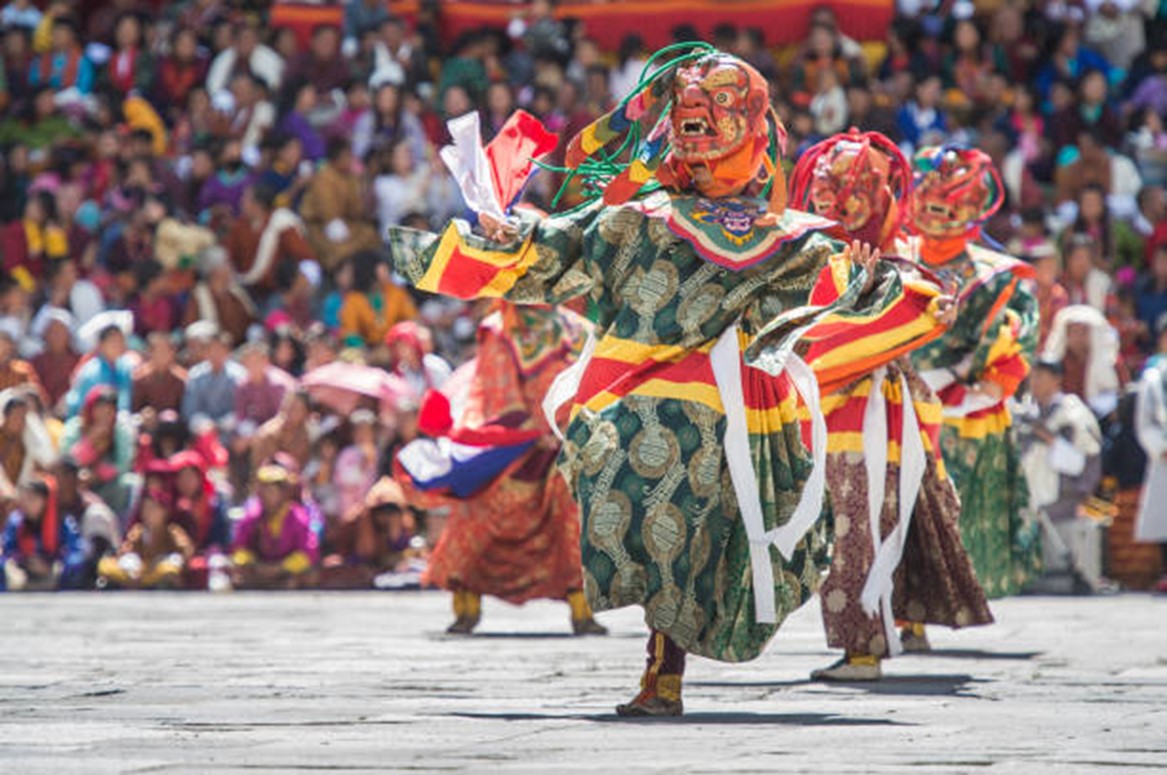 Thimphu Tsechu is celebrated to commemorate the birth of Guru Rinpoche and is one of the biggest festivals in Bhutan. Thousands of people from neighbouring districts travel to the capital Thimphu to witness the festival.
Days before the actual festival, there is intense prayer and rituals to invoke the gods. Fast forward to the festival, the crowd is entertained by different performances, including by Atsaras who are Bhutanese versions of clowns. An Atsara wears a red mask with a big phallus hanging from the top of his head.
However, the duties of the Atsaras transcend being merely comical. The dancing and jesting is to drive away evil spirits looking to cause harm during the festival. The Atsaras are also the master of the event and see to the smooth running of the festival. Furthermore, during Thimphu Tsechu, they perform short skits with social awareness messages.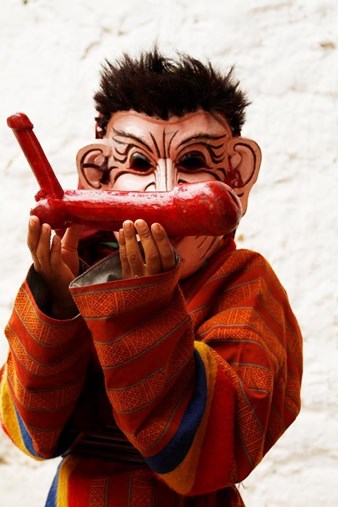 Where: Tashichho Dzong, Thimphu
When: September
Duration: 3 days
Jambay Lhakhang Drup
Jambay Lhakhang Drup is one of the main festivals of Bhutan. Mask dances are performed to celebrate the establishment of Jambay Lhakhang Monastery and honour Guru Rinpoche.
A significant part of the festival is Mewang, the fire ceremony, which features the locals dancing under a flaming structure made of dry grass. Nonetheless, the highlight is the 'Dance of Treasure', where mask dancers and monks perform naked.
Where: Jambay Lhakhang Temple, Bumthang
When: October/November
Duration: 4 days
Black-Necked Crane Festival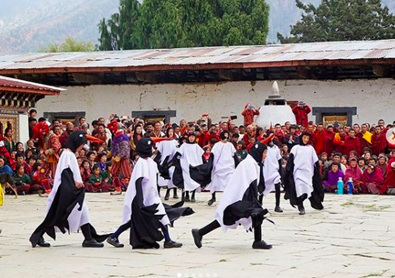 The objective of this festival is to create awareness on protecting the endangered black-neck cranes.
There are folk songs and dances of black-neck crane themes, on top of environmental conservation-themed dramas by school children.
Where: Gangtey Gompa courtyard, Phobjikha valley
When: November
Duration: 1 day
Druk Wangyel Tshechu (December)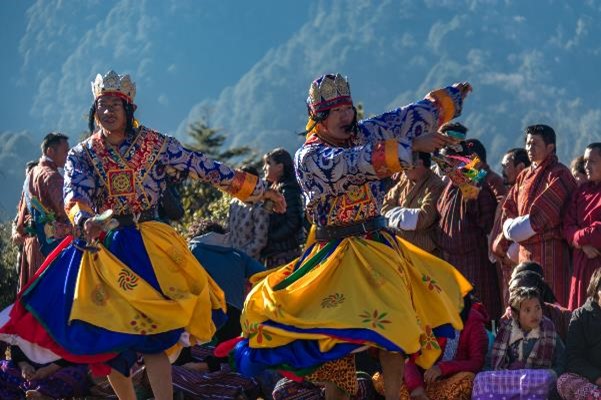 This special festival is held as a tribute to the fourth king, Jigme Singye Wangchuck, for his wisdom and to celebrate the military's victory against the Assamese insurgents.
Unlike other festivals, the performances are by the Royal Bhutan Army instead of the monks or commoners.
Where: Near Druk Wangyal Lhakhang located near the scenic Dochula Pass
When: 13th December
Duration: 1 day
Takin Festival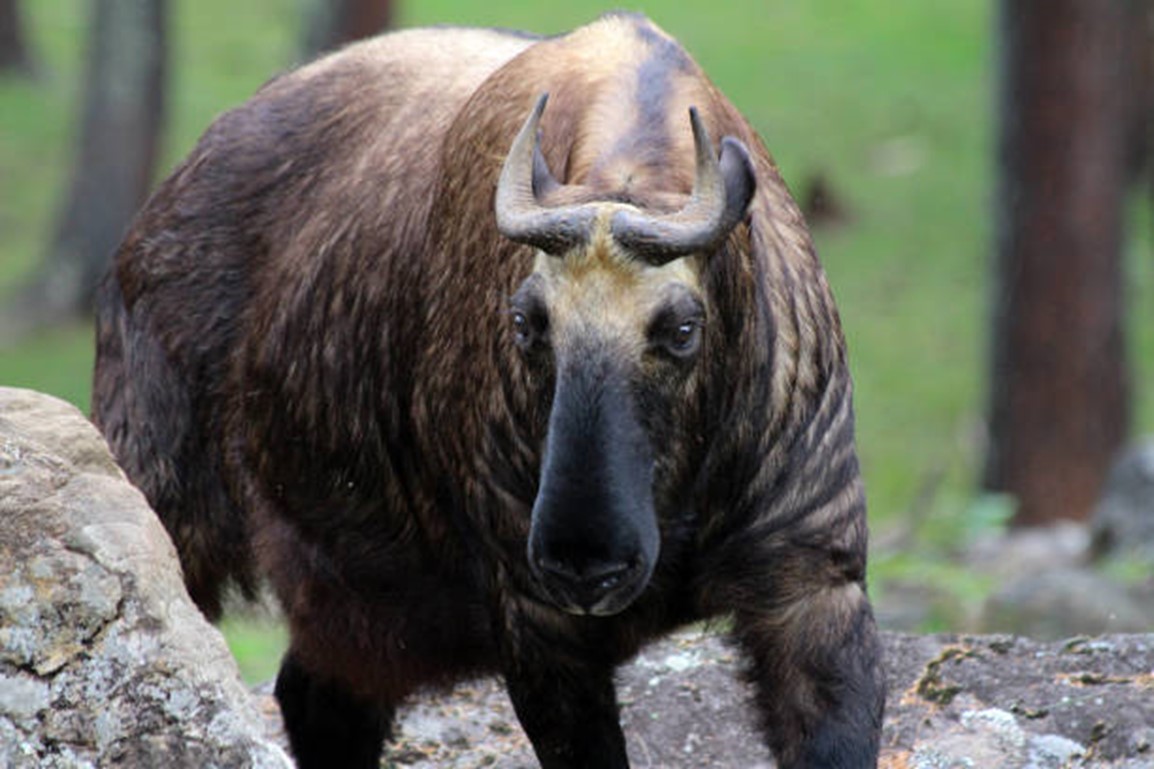 This interesting festival gives visitors a chance to watch Bhutan's national animal, the takins, graze in their natural habitat.
The festival helps nomadic tribes make their livelihood for the remaining months. They pitch tents woven from yak hair and cook traditional dishes. Available for purchase are handmade crafts, yak butter, and yak cheese.
The best part is that you get to watch a performance of the Bhutanese takin up close.
Where: Jigme Dorji National Park of Gasa Dzongkhag, Gasa
When: February
Duration: 3 days
Other Festivals
Of course, Bhutan has way more than 8 festivals. They are each interesting in their own way.
Here are some others to check out: 
Wangdue Phodrang Tshechu Festival
Punakha Tshechu and Drubchen Festival
Matsutake Festival
Jomolhari Mountain Festival
Nomad Festival
Wangdue Phodrang Tshechu Festival
Sakteng Festival
Ura Yakchoe
A useful tip is to plan your trip around the festival you look forward to attending. Spring, summer, autumn, winter—there are festivals all year round!
Here are the popular festival packages in Bhutan for tourists and 15 other reasons why you should visit Bhutan after the pandemic settles down. 
---
---