15 reasons why Bhutan should be in your travel bucket list post-COVID-19
Bhutan, a small Himalayan nation tucked away in the South Asian region makes a perfect travel destination post-COVID-19.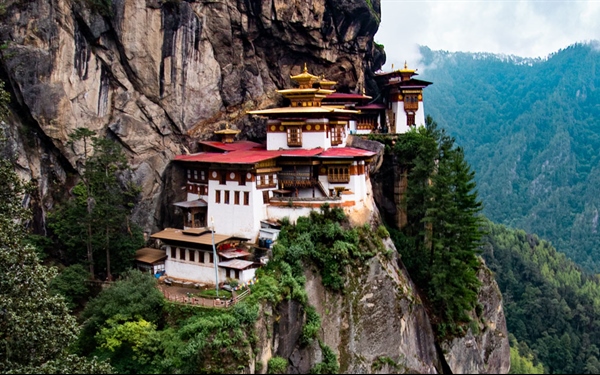 While global tourism is still pretty much at a standstill for most countries, many globetrotters are already itching for their next getaway. 
Here are 15 reasons why you should visit Bhutan after the pandemic.
1. Excellent handling of COVID-19 pandemic
This tiny Himalayan Kingdom has frequently been admired as one of the COVID-19 success stories. While many countries struggle to prevent a widespread outbreak of the novel coronavirus, Bhutan has managed to keep the people safe. The success story is attributed to the guidance of an extraordinary and selfless King, swift government response, mutual trust, unity and support amongst the Bhutanese. Since the first imported COVID-19 positive case on 5 March 2020, a year on, the country has a marvellous 99% recovery rate with only one fatality thus far.
Check out the CNN video
here
that features the amazing feat of Bhutan's COVID-19 preparedness and battle against the pandemic.
2. A very safe travel destination for travellers
The crime rates in Bhutan are relatively low compared to many other countries in the world. Little crimes and violence are reported in the country. Furthermore, if you are planning to visit the country, you are required to book your trip through a licensed tour operator. Even if you are a solo female traveller, you can have peace of mind and know that your safety and well-being is taken care of while you soak in the breathtaking landscapes.
3. They take happiness seriously
Bhutan is well-known for its Gross National Happiness (GNH) philosophy used to measure a country's progress and development. Instead of measuring economic output through the usual Gross Domestic Product (GDP), Bhutan's focus on the citizen's well-being and 'happiness' is extremely holistic. All development policies and plans are required to be aligned with the GNH tenets. The concept of happiness in Bhutan is very much derived from the contentment that the Bhutanese feel about their lives. It is also largely influenced by the Buddhist values of simplicity and compassion. When you are in Bhutan, you'll notice that Bhutanese are generally witty and have a great sense of humour. Be prepared to share lots of laughter during your trip.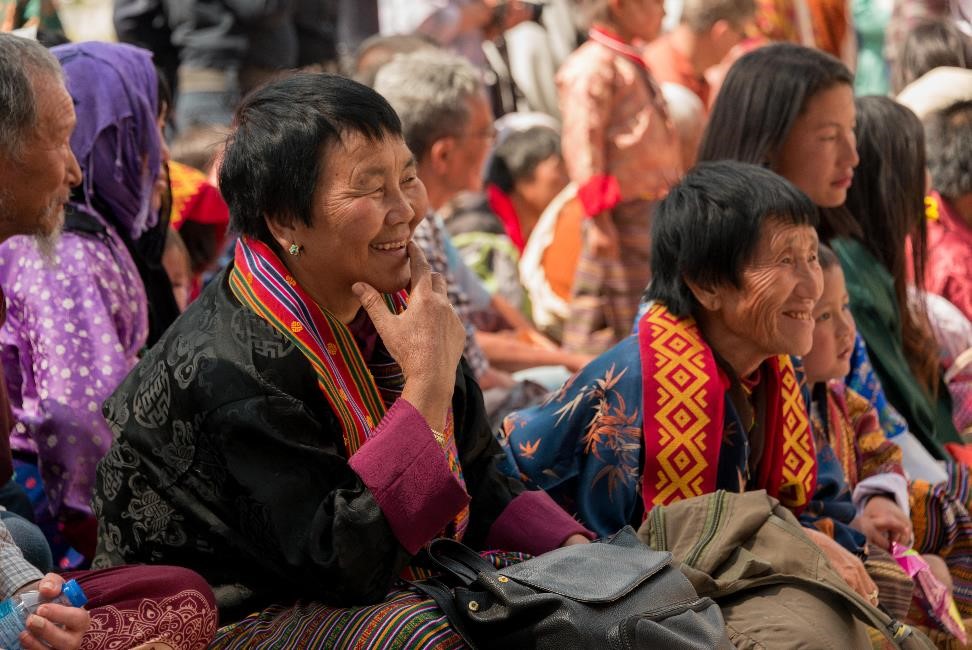 4. Bhutan is a world champion in environment sustainability
Bhutan is clearly one of the greenest countries in the world. The constitution mandates that at least 60% of the country has to be under forest cover. Right now, about 70% of the country is covered by forests. It is truly a paradise for all the nature lovers! The Kingdom also holds the significant title of being the only country in the world that is carbon negative. The Bhutanese's love for mother nature and efforts in environmental preservation is a role model to the world.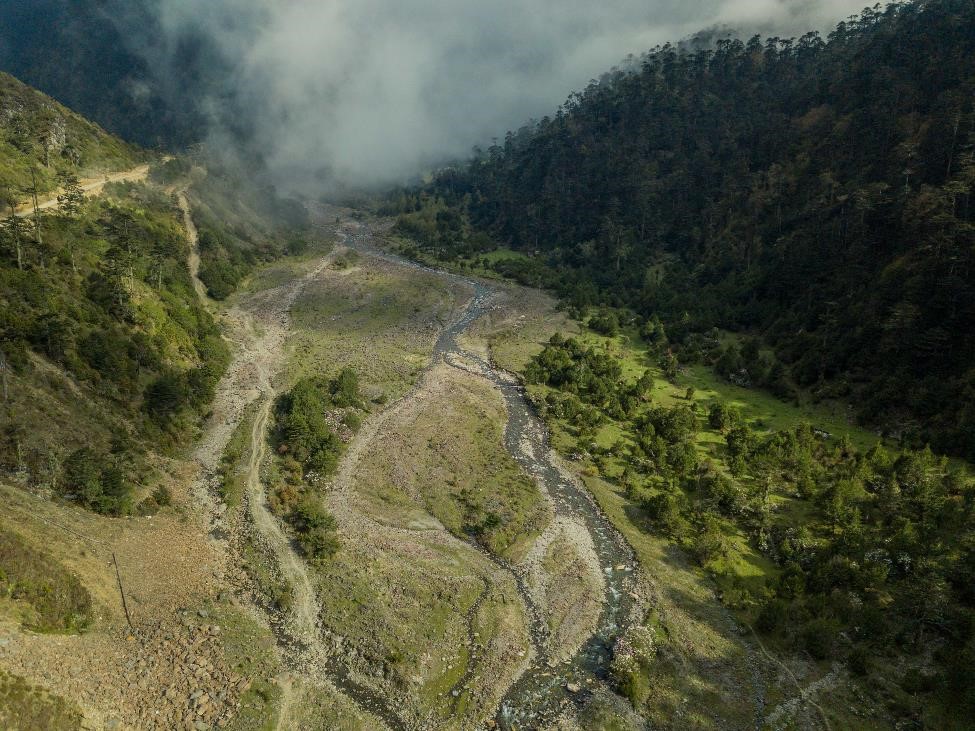 5. Friendly dogs
The stray dogs in Bhutan are as chill as the people. In the day time, you will see plenty of dogs basking in the sun, simply enjoying the peace and serenity. Somehow, they only become more active in the evening. Sometimes you can hear them barking and having a meeting during the night (get ready your earplugs if you are a light sleeper). But generally, the dogs in Bhutan are extremely friendly and harmless.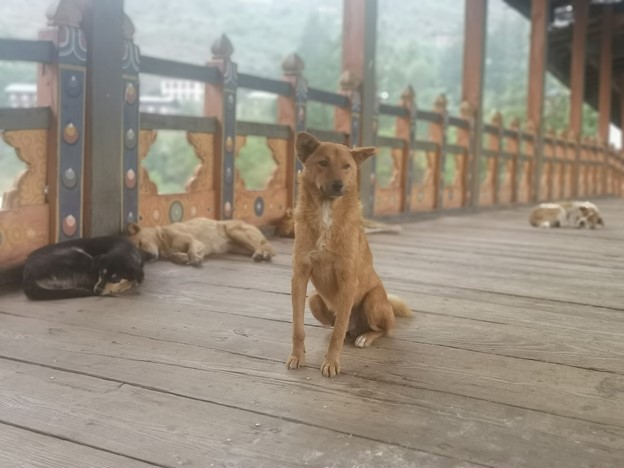 6. Bhutanese are compassionate and hospitable
Some travellers will tell you that Bhutanese are some of the most hospitable people that they've ever met. It's not surprising as Bhutan is a Buddhist nation where the values of compassion and kindness are deeply rooted in their daily lives. You'll meet guides who are eager to share with you more about their family, food, cultures and traditions. And locals who would stop to attend to injured dogs on the road.

7. A spiritually rich nation
When you arrive in the Kingdom, you'll quickly notice that the country is infused with deep spirituality and humility. Colourful prayer flags can be seen fluttering in every corner, giving you a sense of calmness and peace that is hard to describe. Blessings and prayers for all sentient beings are continuously offered in the many temples and monasteries throughout the country.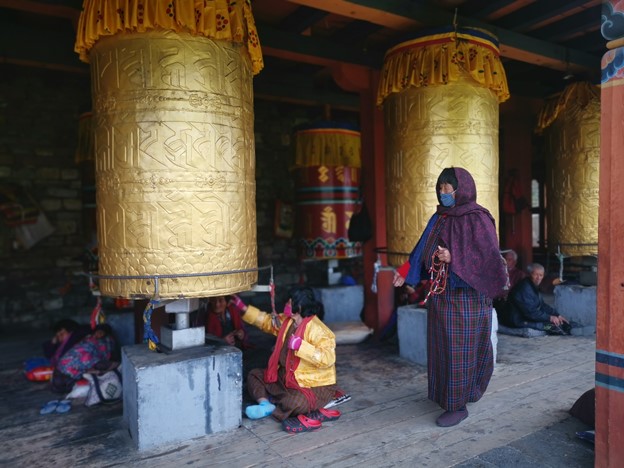 8. LGBTIQ friendly
On 10 Dec 2020, Bhutan took historic steps towards
decriminalising homosexuality
. A joint sitting of both houses of Bhutan's Parliament approved a bill to legalise same-sex relationships. This makes the Kingdom the latest Asian nation to take steps towards easing restrictions on homosexuality. Once the amendment gets approval from the King, Bhutan will join its Asian peers such as Taiwan, India, South Korea, Thailand and Cambodia in allowing people to have equal rights to love and companionship.
9. World-class architectures
Bhutan's architectural feats have constantly won praises and admiration. The moment you alight from the aircraft, you are bound to be wow-ed by the distinctive architecture. The multi-coloured wood, small arched windows and sloped roofs are very prominent features of the Kingdom's architecture from its traditional houses, temples to ancient fortresses. In fact, Bhutan's splendour architecture has
inspired other building designs around the world
including the design of one entire university campus in Texas.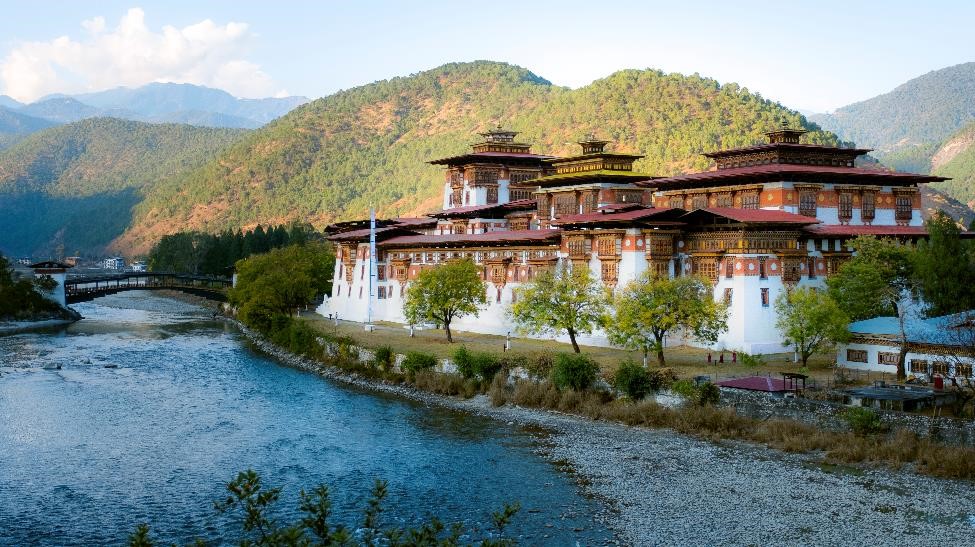 10. They talk about phalluses openly
The penis and
phallic symbols
can be seen in all sizes and colours. These ubiquitous symbols are seen flanking doorways, hanging off rooftops or painted on the corners of homes. Thanks to the 'Divine Madman' teachings, traditionally, Bhutanese believe that these phallic symbols help to ward off evil spirits and drive malicious gossip away. It's also a symbolic reference to fertility and good luck. You can even buy phallus keychains, phallus paintings or wooden phalluses as souvenirs in the handicraft shops.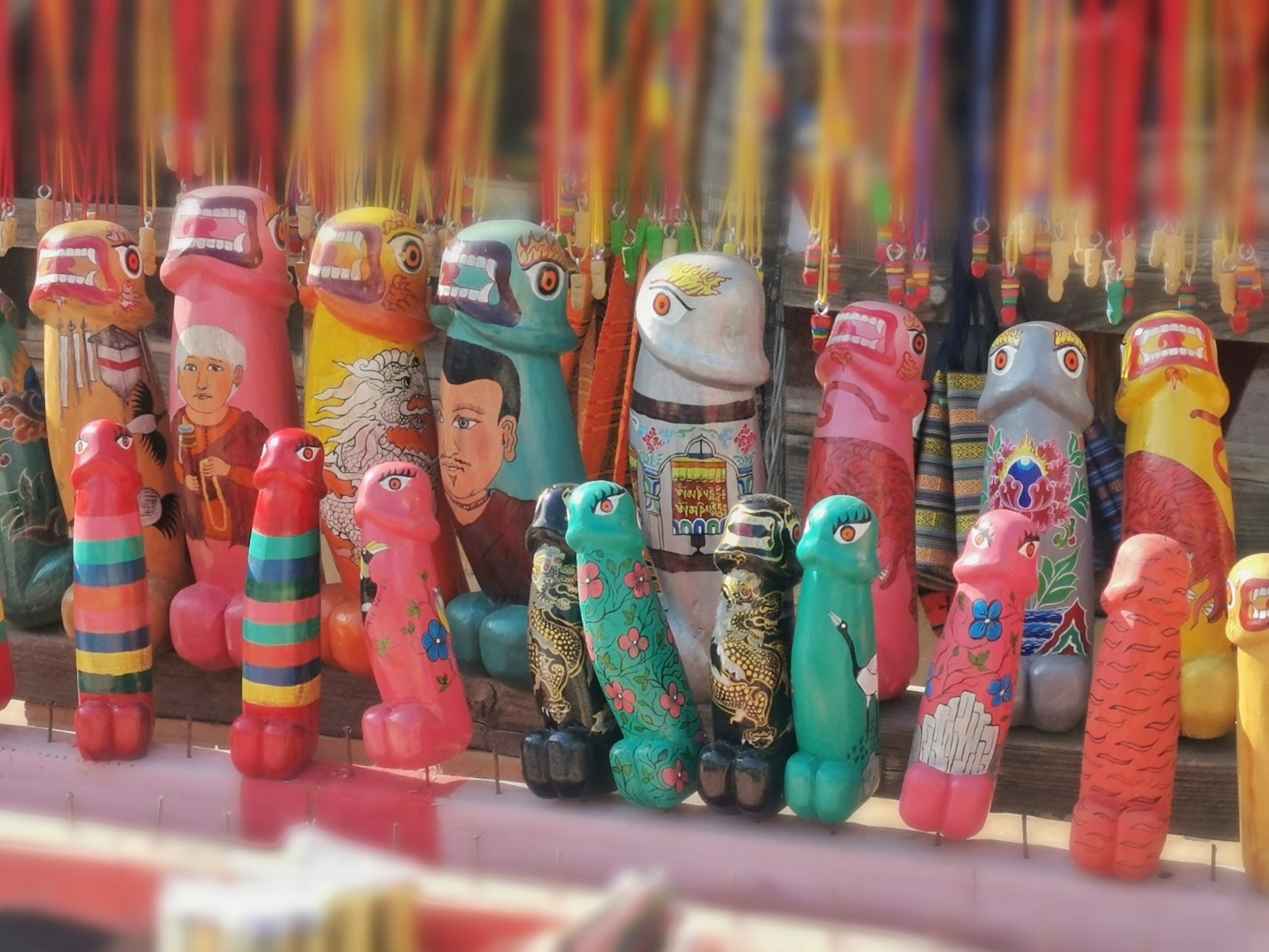 Chimi Lhakhang (Fertility Temple)
is an excellent place for you to learn more about the history of this unique symbol in the country.
11. Shopping is a breeze, no need for haggling
Bargaining is not a Bhutanese tradition. Unlike many destinations in the South Asia and Southeast Asian region, you are not required to put your bargaining skills to the test. Generally, the prices in the different shops don't differ substantially in Bhutan. That's a huge relief for those of us who have yet to master the art of bargaining.

12. Home to spectacular Himalayan mountains
Bhutan is an ideal location for avid hikers and trekkers as it is home to many breathtaking Himalayan mountains. Compared to its neighbour, Nepal, popularly known for hiking, there are definitely much fewer crowds hiking in Bhutan. Some of the renowned Himalayan mountains in Bhutan include Jitchu Drake, Jomolhari Kangphu Kang, and the highest unclimbed mountain in the world, Gangkhar Puensum. Even if you are not an adventurous soul, you'll still be treated to the sight of gorgeous mountains on a clear day as you stroll through the capital city.

13. Respectable Royal Family that is loved and revered by the locals
As you interact with the locals, you will come to realise that they have a deep admiration and respect for the King of Bhutan. The current reigning monarch, the fifth King, King Jigme Khesar Namgyel Wangchuck, fondly known as the People's King is a beloved monarch in Bhutan. The visionary King with extraordinary leadership qualities, compassionate, down-to-earth personality and selflessness is undoubtedly the force of unity behind this small Buddhist nation. You can find photographs of the handsome King hanging perfectly in Bhutanese's homes, shops and offices. If you are lucky, you might even bump into the King while you attend the vibrant festivals or during your hike up the sacred Tiger's Nest monastery. There have been incidents shared by lucky travellers where they had the most memorable brief encounters with His Majesty during their trip in Bhutan.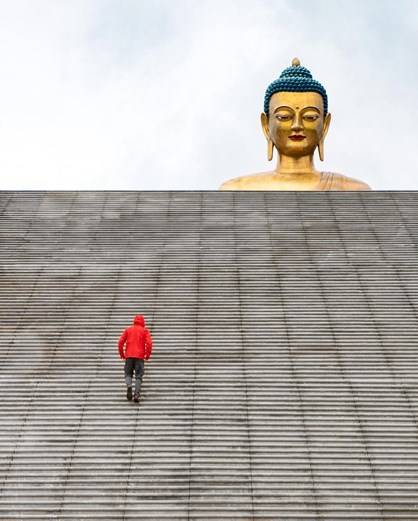 Go and experience the magic of Bhutan for yourself!

For now, you may put the Kingdom into your bucket list and enjoy breathtaking Bhutan virtually.
Bhutan Travel Guidebook
For more information on Bhutan, you may purchase a copy of
Bhutan Travelog
, a handy travel guidebook for all travellers who are interested to visit the Kingdom.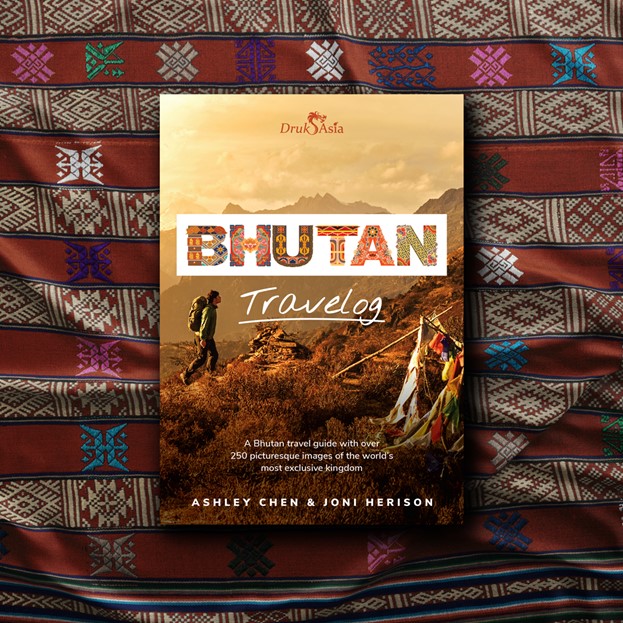 ---
---