Bhutan's national parks and wildlife sanctuaries
Bhutan is a green country with a rich environment, magnificent mountains, beautiful landscapes, and rich wildlife and gurgling rivers. It is the only carbon negative country which absorbs more than 6 million tonnes of carbon per year.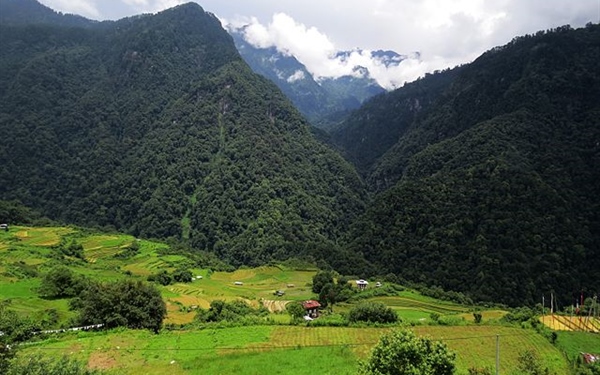 Bhutan places environmental conservation at the core of its national policies and programmes. 2nd June is celebrated as Social Forestry day in Bhutan. On this day, the Fourth King of Bhutan, His Majesty Jigme Singye Wangchuck was coronated in 1974.  Since 1985, the coronation day has also been declared as Social Forestry day to encourage tree plantation and to impart values about the importance of our natural environment.  To commemorate the birth of the first crown prince of Bhutan, Gyalsey Jigme Namgyel Wangchuck, 108,000 trees were planted on 2nd June 2015. Each individual tree was sealed with a wish and prayer for the prince. On that day, Bhutan set a Guinness world record for planting 49,672 saplings within an hour.
As per the constitution of Bhutan, it is a mandate to maintain 60% of its land to be covered by forest.  Today, Bhutan's total forest cover is 83.90 percent—70.77 percent trees and 13.13 percent shrubs. About 51 percent of the area is designated as national parks, nature reserves, and other protected areas. Environmental sustainability is vital for the economic, emotional and spiritual well-being of the people.
Currently, there are five national parks, four wildlife sanctuaries and one nature reserve that covers 51.32% of the country's area. National parks are preserved in Bhutan to save the wildlife and their natural habitats, as well as to preserve the natural environment.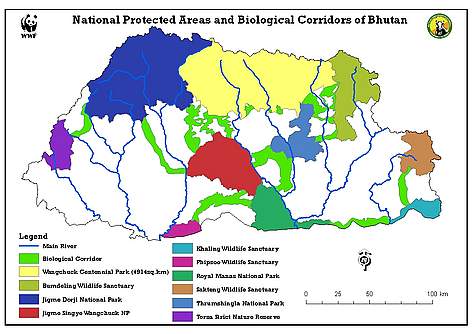 Source: WWF Bhutan

Wangchuck Centennial National Park
Wangchuck Centennial National Park in northern Bhutan is the largest protected area with an area of 4914 square kilometres. The park area covers the popular districts of Gasa, Trongsa, Bumthang, Lhuntse and Wangdue Phodrang. Wangchuck Centennial National Park park was established in honour of Wangchuck Dynasty, founded in 1907 for selflessly leading Bhutan for a century.
The park accommodates nearly 244 species of rare vascular plants, 23 species of large mammals and 134 species of migratory and local birds.  The park is home to rare and protected species, which include the Royal Bengal Tigers, Snow Leopards (Uncia uncia), Himalayan Musk Bears and black bears, Takin (Budorcas taxicolor whitei), and Common Leopards (panthera pardus) in the lush green forests of the park. The Tibetan Wolf (Canis lupus chanco) can also be found in the park. 
The park also has the headwaters of four major river systems of Punatsangchhu, Mangde Chhu, Chamkhar Chhu, and Kuri Chhu. Permanent snow-covered mountains such as Gangkar Puensum, Rinchen Zoegila and Jazayla are located in the park. Almost 85% of the park remains under snow cover for about four months during the winter.
The major tourist attraction in the park is Annual Nomads Festival, which is held in Bumthang district to celebrate the unique culture and traditions of nomadic highlanders from north-eastern and north-western regions. Tourists and travellers can also take up 10-day cultural tour to visit Bumthang, explore Drapham Dzong in the upper Chokhor valley, and Dhur Tshachu, a hot spring in Dhur village to have a rejuvenating bath.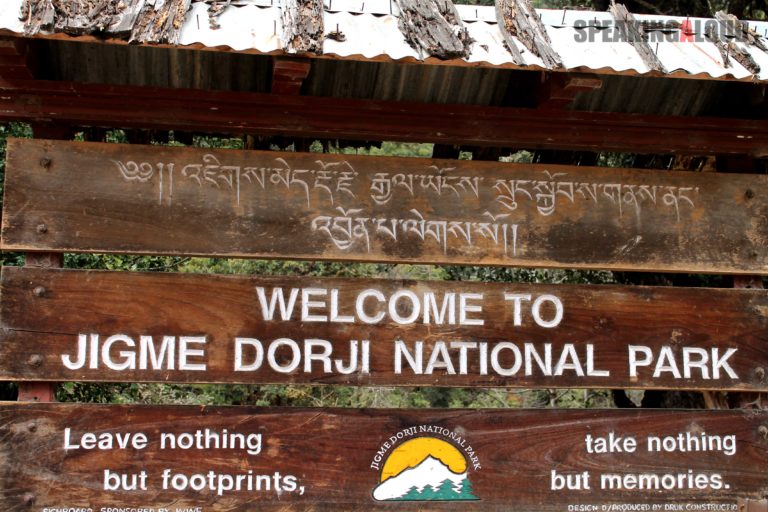 Jigme Dorji National Park
Jigme Dorji National Park is located in the north western part of the country and is the second largest national park in Bhutan. The national park is spread across an area of 4349sq km covering the districts of Gasa, Thimphu, Paro, Wangduephodrang and Punakha. It is named after the late king Jigme Dorji Wangchuck and it was established in 1974.
Jigme Dorji National Park is blessed with rich flora and fauna. Some of the most popular wildlife in the park include the clouded leopards, snow leopards, Indian leopards, Bengal tigers, black musk deers, black bears, red pandas, sambar and barking deers. 
The park is also home to a wide variety of Himalayan herbs used in traditional medicine. It is the only park where all the Bhutan's four National Symbols, tree; Cypress (Cupressus corneyana), flower; Blue Poppy (Meconopsis grandis), bird; Raven (Corvus corax) and animal; Takin (Budorcas taxicolor whitei) are found.
Jigme Dorji National Park is a favoured tourist attraction in Thimphu. It is popular for its panoramic view of snow-capped mountains, magnificent landscapes, meadows adorned by beautiful flowers like blue poppy, rhododendron and orchids. There are also a large number of medicinal hot springs within the park, as well as bird watching zones where you can find 300 species of birds.
Jigme Singye Wangchuck National Park
Jigme Singye Wangchuck National Park is the third largest park in the country covering an expanse of 1,723 sq. km. It is centrally located with Royal Manas National Park in the south, Jigme Dorji National Park and Wangchuck Centennial National Park to the north and Phrumsengla National Park to the north east. The park covers partially 5 of the districts - Tsirang, Sarpang, Wangduephodrang, Zhemgang and Trongsa.
Exotic varieties of endangered species such as musk deers, goat antelopes, red pandas, fierce wild boars, golden langurs, rufous necked hornbills, white bellied herons, clouded leopards and tigers can be found in the park. 
Aside from that, Phobjikha valley in Wangdue not only acts as a buffer zone but it also provides essential habitat for about 260 endangered black-necked cranes.
Mangdechhu, Chamkharchhu, Punatsangchhu and Manas rivers flowing through the park support the rich habitat of the park. 
Jigme Singye Wangchuck National Park is popular for an old chir pine forest.
The National Park is well connected with all parts of the country and it is easily accessed by tourists. To explore the rich biodiversity of the park, you can trek through the Adha and Rukha villages, these villages showcase the aboriginal cultural and traditional lifestyles of Bhutanese. Tourists can experience welcoming home-stays by the villagers. 
Nabji-Korphu Trek is another popular and easy trek that takes you around the beautiful Trongsa district with nights to spend in the villages of Nabji , Korphu and Nyimshong. You also visit Nabji Lhakhang, the 'Oath Taking Temple' at Trongsa. 
Royal Manas National Park
Royal Manas National Park is the fourth largest national park in the country covering an area of 1057 sq km. The Royal Manas National Park covers most of the Sarpang district, the western half of Zhemgang district, and western Pemagatshel district in Bhutan. It is also connected to other natural reserves of Bhutan like the Jigme Singye Wangchuck National Park in the northwest, Phibsoo Wildlife Sanctuary in the southwest, Phrumsengla National Park in the northern centre, and Jomotshangkha Wildlife Sanctuary in the south-east.
This pristine, unexplored, natural treasure has now been opened to tourists with the aim of promoting community-based ecotourism in the region. It is a natural marvel that displays the distinct flora and fauna of Bhutan and the Himalayan region.
Royal Manas National Park is home to endangered bengal tigers, asian elephants, one-horned rhinoceros, gaurs, as well as rare golden langurs, clouded leopards, asiatic water buffalos and  dholes. Royal Manas National Park is famous as a birdlife paradise — including four species of hornbills, rufous -necked, wreathed, pied and great Indian. 
The holy Manas River and other small streams flow through the Royal Manas National Park, which form a part of the national park. The Manas River and its tributaries are home to species of rare migratory game fish called mahseer.
To reach the Royal Manas National Park, you have to travel to southern Bhutan in Gelephu. From Gelephu, you need to cross the Indian border to enter Assam, Kokrajhar and then make your way to the border village of Panbang in Bhutan, in order to access the park. November to February (winter season) is the best time to visit the Royal Manas National Park. All seasons, except for monsoon season, are fairly good to visit the national park.
You can explore the park through various activities like – bird watching, river rafting, elephant safaris (will only be arranged by request), camping or walking through the park's Eco Trail. Tourists can also experience Bhutanese lifestyle and culture by taking the hot stone bath at any of the five community-managed eco-camps.
Check out the 10-day Royal Manas National Trek itinerary.
Phrumsengla National Park
Phrumsengla National Park is located in the eastern Bhutan within the boundaries of four districts, Bumthang, Mongar, Lhuentse and Zhemgang. The park covers a total area of 905 square kilometres.
The national park houses many species of mammals including Himalayan black bears, red pandas, royal Bengal tigers, and snow leopards. It is also considered as a perfect place for bird watchers with over 341 species of birds such as rufous-throated wren-babbler, rufous necked hornbills, nuthatches, satyr tragopans, chestnut breasted partridges, Ward's trogons, etc.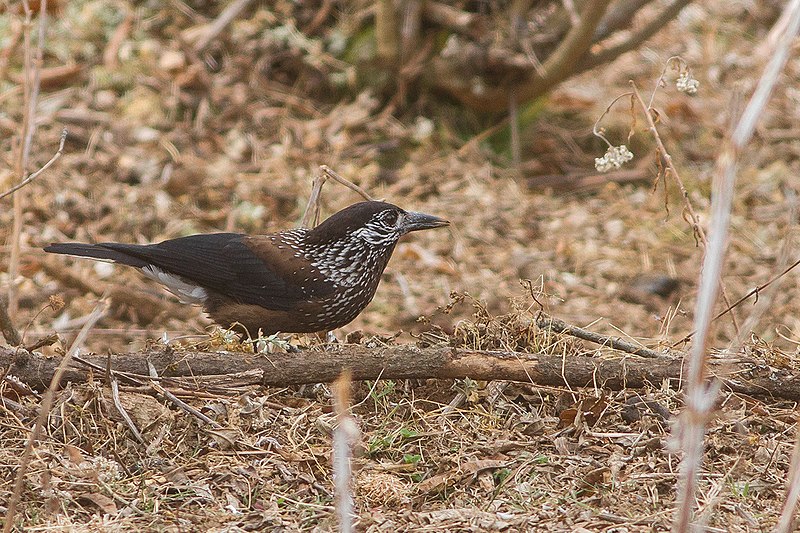 Spotted Nutcracker
The exciting activities that tourists can do when visiting Phrumsengla National Park in Bhutan is nature excursion, sightseeing, bird watching and trekking. The park provides a beautiful view of Bhutan's highest peak – Gangkar Phuensum. 
Rhododendron flowers add beauty to the pristine fir forests at the higher elevation. Rhodungla, Bribdungla, Kheng Shingkhar and Latongla are some of the popular treks. 
Jigme Khesar Strict Nature Reserve
Jigme Khesar Strict Nature Reserve is located in the northwest corner of the country and it covers 609.51 square kilometres, occupying most areas of Haa and Samtse districts. It is the only strict nature reserve or protected area in Bhutan that is uninhabited.
This diverse ecosystem is home to various endangered species such as the Tibetan snowcocks, red pandas, snow leopards and rufous necked hornbills. The reserve also grows only endemic poppies, the White Poppy. 
Sakteng Wildlife Sanctuary 
Sakteng Wildlife Sanctuary is located in the eastern most part of the country in Trashigang district. It encompasses a total area of 740.60 square kilometer covering almost three fourth of Merak and Sakteng under Trashigang and part of Lauri under Samdrup Jongkhar. It is one of Bhutan's protected areas. 
Sakteng Wildlife Sanctuary was created in part to protect the migoi, a yeti-like creature whose existence remains unverified. Yeti is a mysterious creature said to live in the mountains and believed to be 8 feet tall, shaggy ape-man with huge feet and walks backwards.
The sanctuary is also famous for charismatic and endangered species such as the snow leopards, Himalayan black bears, gorals, capped langurs, Himalayan musk deers, and red pandas. There are 20 species of mammal species and 147 species of bird species, commonly sighted bird species in the area are Himalayan blood pheasants, grey backed shrikes, grey headed woodpeckers, common hoopoes , rufous vented tits, and dark-breasted rosefinch.
The sanctuary has 35 species of rhododendrons growing in the wild. The forest contains 203 tree species including herbs, shrubs, and small trees. The national flower, the Blue Poppy (Meconopsis grandis) along with Primula and Gentiana are also found in abundance in the alpine pastures. 
You can explore the sanctuary by taking up Merak-Sakteng trek. Merak-Sakteng trek is the nice trail trekking through the Land of the Brokpa, Bhutan's most remote villages. Merak and Sakteng is inhabited by people known as Brokpas -  men of pastures. The highlanders are the semi-nomadic people of Trashigang district and they use large areas as grazing land for their cattle. You can spend time with locals and learn more about their way of life.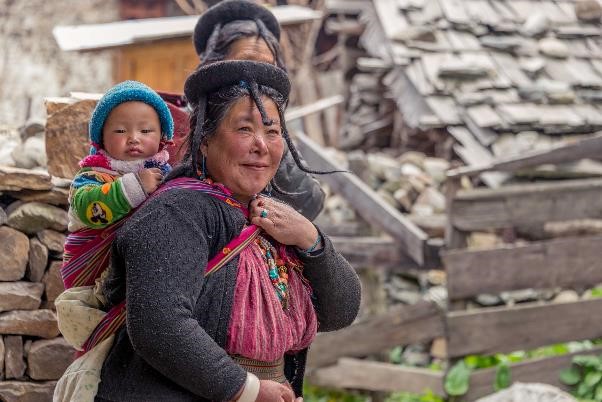 A Brokpa lady carrying an infant in Merak
The sanctuary is also home to a rare plant called the Eastern Blue Pine, as well as the endemic black-rumped magpie bird species. The highlands of Merak and Sakteng are also home to Cordyceps sinensis; a parasitic fungus high in medicinal value. 
Check out the benefits of cordyceps sinensis and you can also purchase cordyceps sinensis online.
Bumdeling Wildlife Sanctuary 
Bumdeling Wildlife Sanctuary is located in the northeastern part of Bhutan, covering most of Tashi Yangtse district and parts of Lhuentse, and Mongar.  The sanctuary is spread in an area of 1538 sq. km.
The sanctuary is the catchments of the mighty Drangme Chu, one of the biggest rivers of Bhutan and the Kholong Chu, which forms the important habitat for the vulnerable black-necked cranes in Bumdeling valley and also contributes to Kholong Chu hydro project. The cranes migrate in the month of November from Tibetan plateau in order to avoid the harsh winter in Tibet and they stay in Bhutan till February before they fly back to their summer habitat.
Bumdeling is home to a great variety of wildlife including many endangered and threatened species, such as red pandas, leopards, Himalayan black bears, musk deers, barking deers, wild boars, wild dogs, foxes, bengal tigers and common leopards.
The area hosts many medicinal plants such as Himalayan yew (Taxus baccata) and Blue poppy (Meconopsis grandis) and endemic species of plants like East Himalayan Pine (Pinus bhutanica), Rhododendron kesangii, Rhododendron bhutanense and Rhododendron flinckii. Moreover, the only endemic butterfly in Bhutan and in the world, the Ludlow's Bhutan Swallowtail is found in Bumdeling Wildlife.
The sanctuary has several cultural and religious sites like Singye Dzong, Rigsum Gonpa, Pamaling, Dechenphodrang, Gonpa Karp, Lhakhang Karp and Sangay Lodrou, which are visited by pilgrims from all parts of Bhutan.
Phibsoo Wildlife Sanctuary
The Phibsoo Wildlife Sanctuary is the second-smallest national park in Bhutan, encompassing an area of 269 square kilometres.  It is located in the Himalayan foothills of south-central Bhutan, (western Sarpang district and south-eastern Dagana district).
Phibsoo is unique in Bhutan for its spotted deers, common peafowls, sal and agarwood forest in the country. It is home to charismatic and globally threatened species such as the Asian elephants, Bengal tigers, golden langurs and rufous-necked hornbills.
There are about 637 species of flowering plants, 28 species of mammals and 132 species of birds recorded.
Jomotshangkha Wildlife Sanctuary
Jomotshangkha Wildlife Sanctuary, which was previously known as Khaling Wildlife Sanctuary is located in south eastern Bhutan covering an area of 334.73 square kilometres. It lies entirely in Samdrup Jongkhar district.
The sanctuary is one of the smallest protected areas after the Phibsoo Wildlife Sanctuary and it is the only non-operational park in Bhutan.
The sanctuary conserves the habitat for Pygmy hogs, tigers, Asian elephants, Hispid hares , hornbills, and other tropical wildlife.
With a wide range of national parks and wildlife sanctuaries, Bhutan is clearly paradise for nature lovers. 
---