Where to satisfy your momo cravings in Thimphu, Bhutan
You can't go wrong with momo. It's almost always the answer to a growling stomach and social events.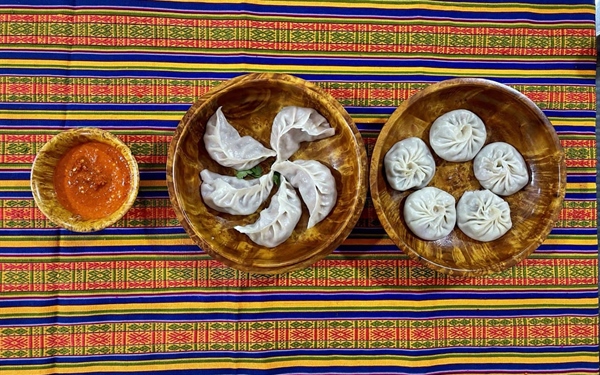 Want to treat your friends?  Momo
Break the monotony of rice-eating culture in Bhutan?  Momo
A quick grab during lunch hour? Momo
A family outing on a Sunday? Momo
A snack with tea for an official gathering? Momo
Getting munchies? Momo.
Momo is a staple snack (if there can be one) in Bhutanese cuisines. Momos are 'dumplings' made from palm-sized wheat dough sheets stuffed with fillings of myriad choices like meat, cheese and or vegetable fillings. Momo has found its footing as the most loved and must-have snack in Bhutan though it's believed to have its origin in Chinese/Tibetan cuisines. There's little doubt why it shouldn't be on the list of the must-try-Bhutanese-dishes while in Bhutan. 
The lethal combination of steamy momo and spicy ezay (pickle made from a good blend of chilli, tomatoes, onions, spring leaves and coriander) is a must-try. And potato momo is also picking momentum in the momo race. 
Here's a quick guide to the types of momo (dumpling) to try while in Thimphu, Bhutan (from the conventional cheese and beef momo to the new ones with a twist such as gravy momo):
1. Steamed vegetarian and non-vegetarian momo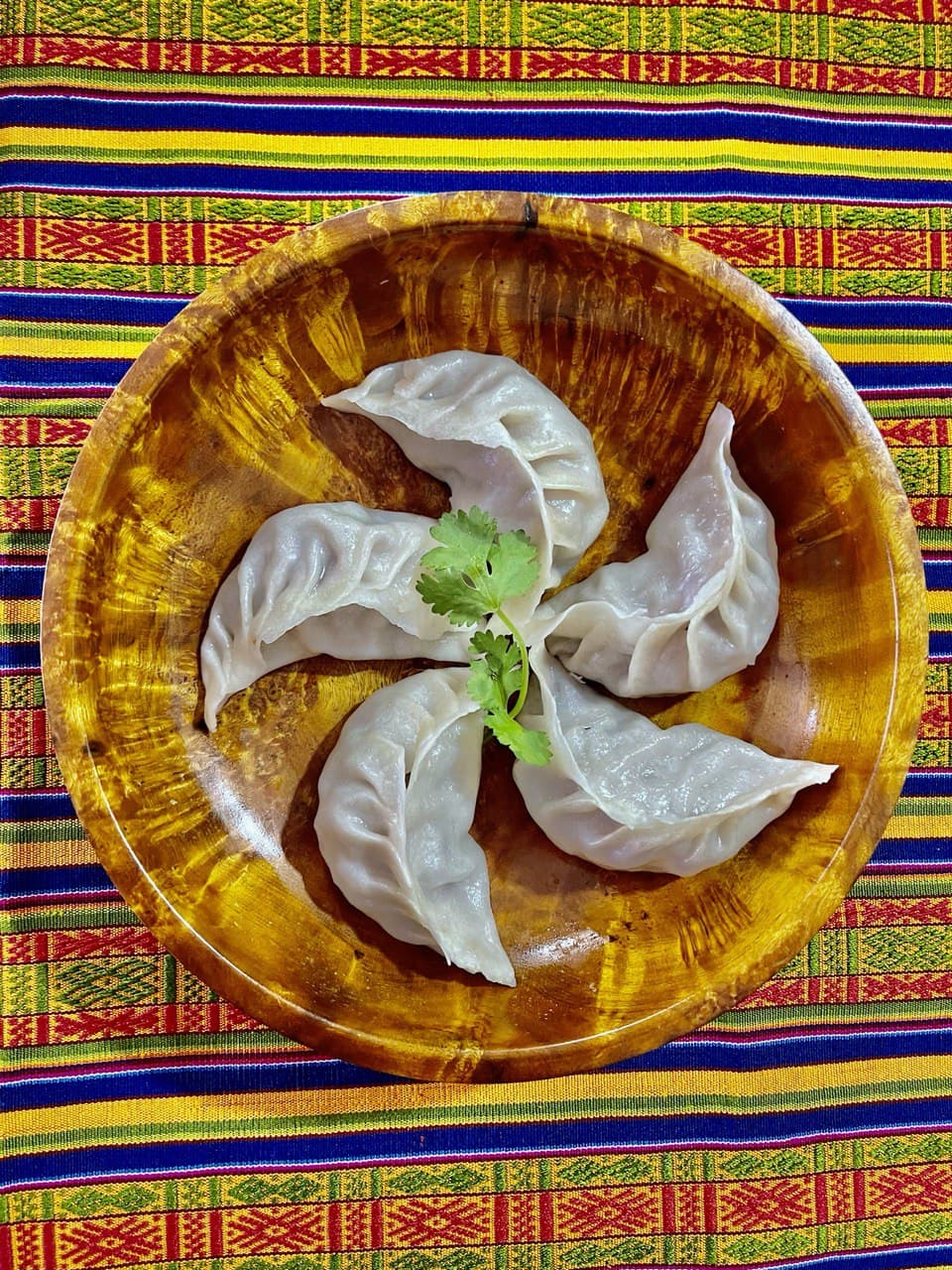 Old is gold. Let's start with the most common and first in the market. The usual vegetarian momo comprises cheese and vegetable filling, and non-vegetarian momo's fillings are either beef or pork. As you dig in, the thin sheet of dough cover will pave the way into juicy minced vegetables and meat combination, leaving an aftertaste of buttery ginger & onion flavour. You can dip the momo in the chilli paste served with the momo for that tinge of spicy flavour. If you order non-vegetarian momo, then you also get a stew or soup to flush down your momo.
Where to eat:
Zombala Restaurant, Main Traffic, Thimphu.
Contact:02324307
2. Gravy momo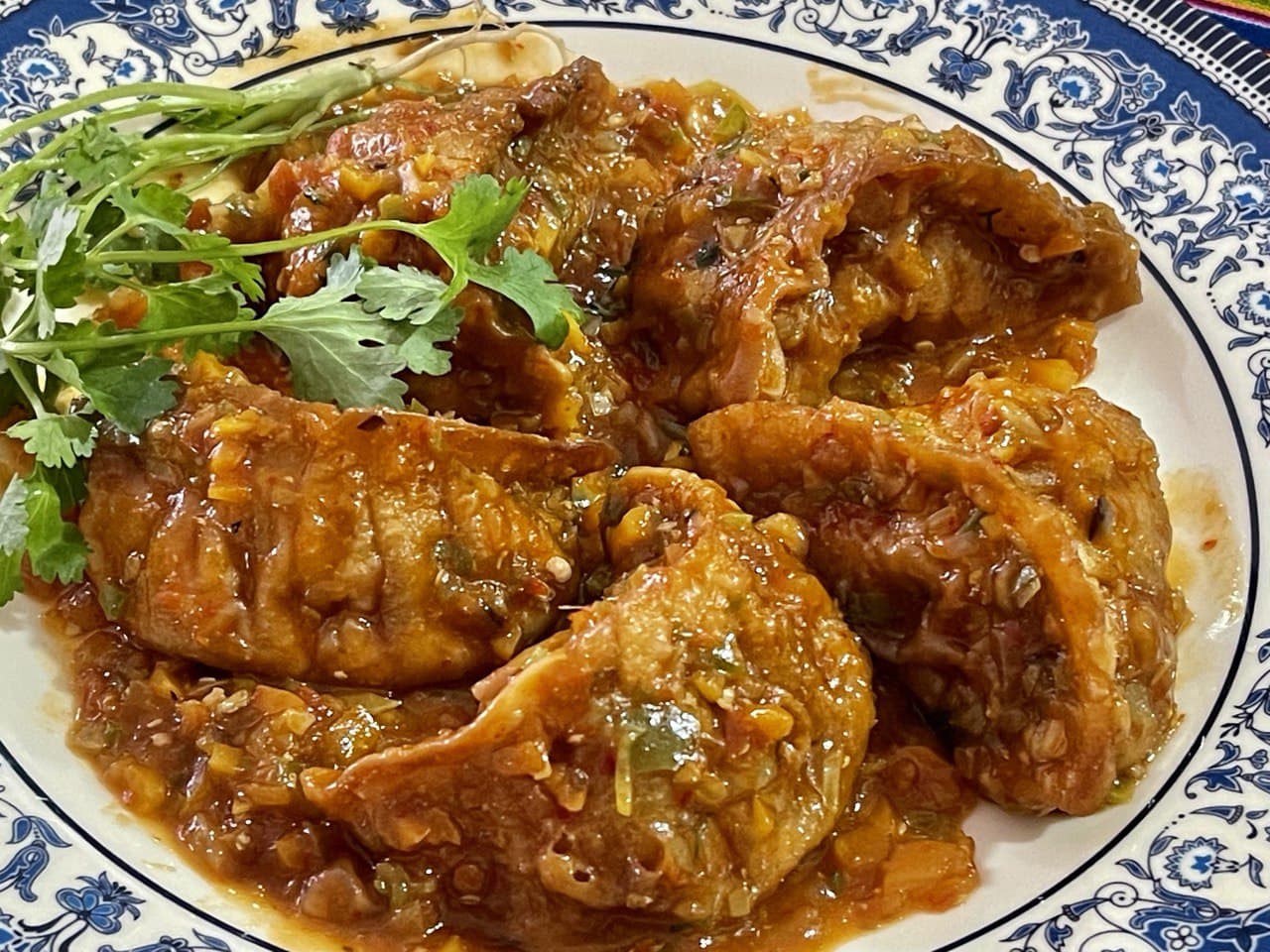 Perhaps my personal favourite on the list — if I have to choose one — is gravy momo. The covering is the same steamed dough with vegetable or meat filling, but it's served dipped in a spicy gravy. The sauce is flour-based with finely chopped spring onion and garlic sprinkled with peppers. As you sink your pearly teeth into the momo, the sauce leaves a mix of eclectic sweet, savoury, spicy and sour flavour, in addition to the delicious taste of momo. Heavenly indeed!
Where to eat: Momo Corner, Opposite Clock Tower. 
3. Paneer momo
A twist to the regular cheese momo, paneer momo is another choice for vegetarians. The dense, crumbly texture of the paneer beautifully blended with spicy flavours is a great change to the otherwise juicy filling. The milky and slightly buttery taste of the paneer prevents the momo from being greasy, making you fully relish the rich flavour.
Where to eat: The Mama, Main Traffic, Thimphu town.
4. Ema datsi momo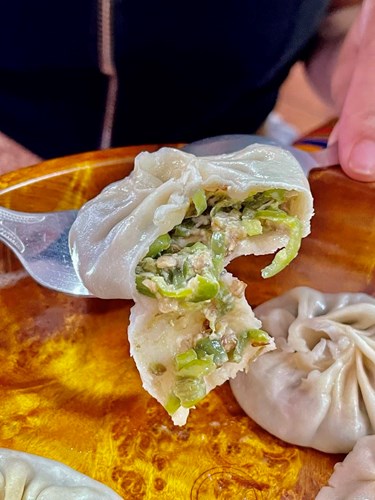 What makes someone a Bhutanese? It's one's love for chilli. Bhutan has a popular dish called ema datsi (chilli cheese), which Bhutanese consume daily with rice. Thus no rocket science to search for reasons why there shouldn't be an ema datsi momo. If you love hot chilli food, you are in for a treat with the ema datsi curry stuffing. It's hot, it's spicy, and it's cheesy!
Where to eat: Coffee Culture, Thimphu town.
Contact: +97517840268
5. Kewa Momo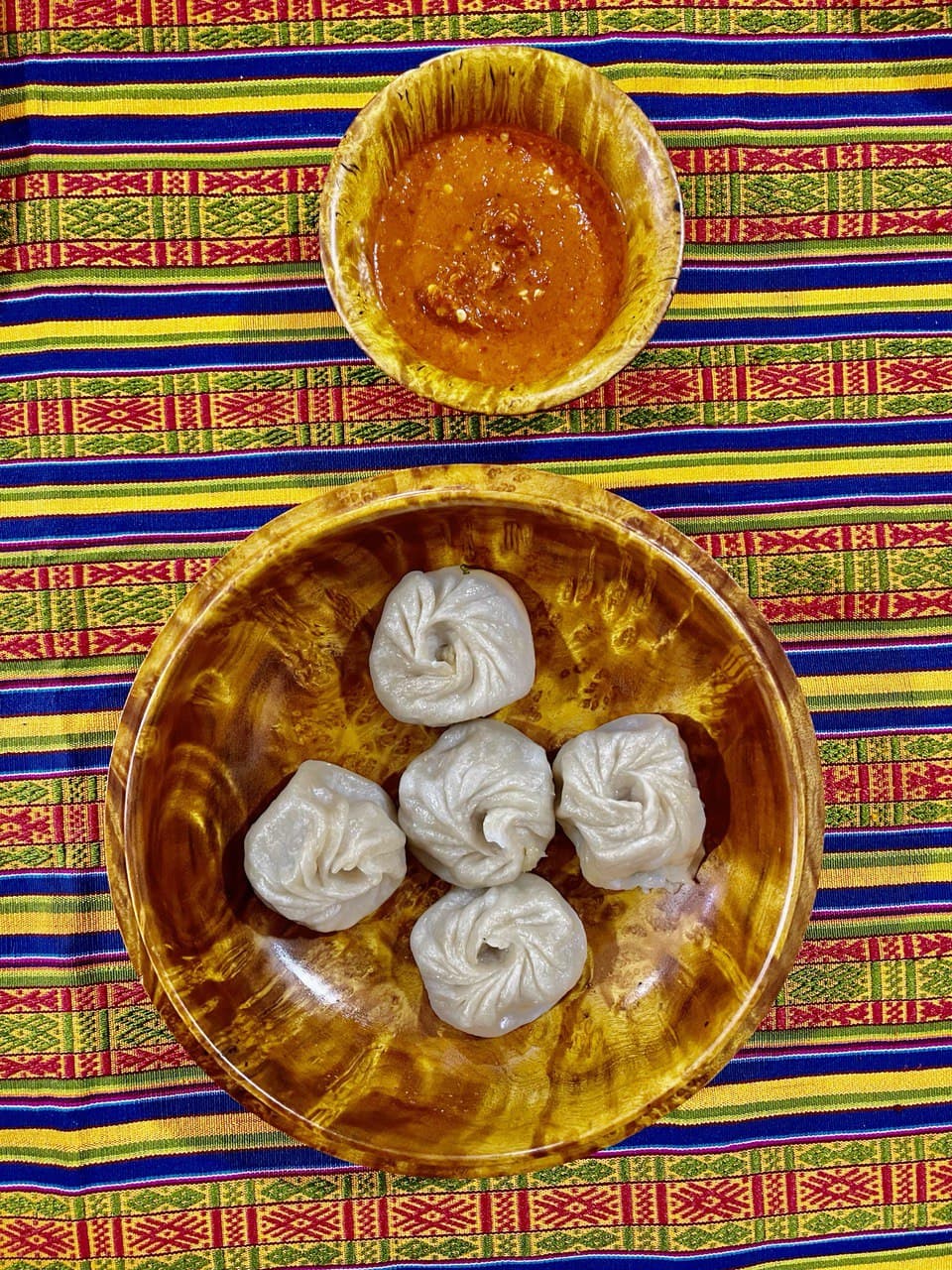 If you love mashed potatoes, this is for you. Kewa momo has mashed potato with garnished ginger flavour that melts in your mouth as soon as you bite the dough cover and chew it. Buttery and not spicy yet succulent. Maybe you could start with kewa momo on your momo-tasting journey.
Where to eat: Burger Point, Thimphu town.
Contact: +97517544044
Quick tips:
The round-shaped momos are vegetarian, and the elongated ones are usually non-vegetarian.


The stuffing inside determines the name of the momo (E.g : cheese momo will have cheese filling).



You can get all momos steamed or fried, alongside gravy or soup.
Momo is delicious, bite-sized food with options of savoury, spicy and buttery flavour depending on the filling, either for a light lunch or as a snack. A plate of momo is a must-have on your next trip to Bhutan. Given the importance of momo in Bhutan and Bhutanese culinary culture, you may spot hawkers selling momo and tea by the roadside, archery grounds and taxi stands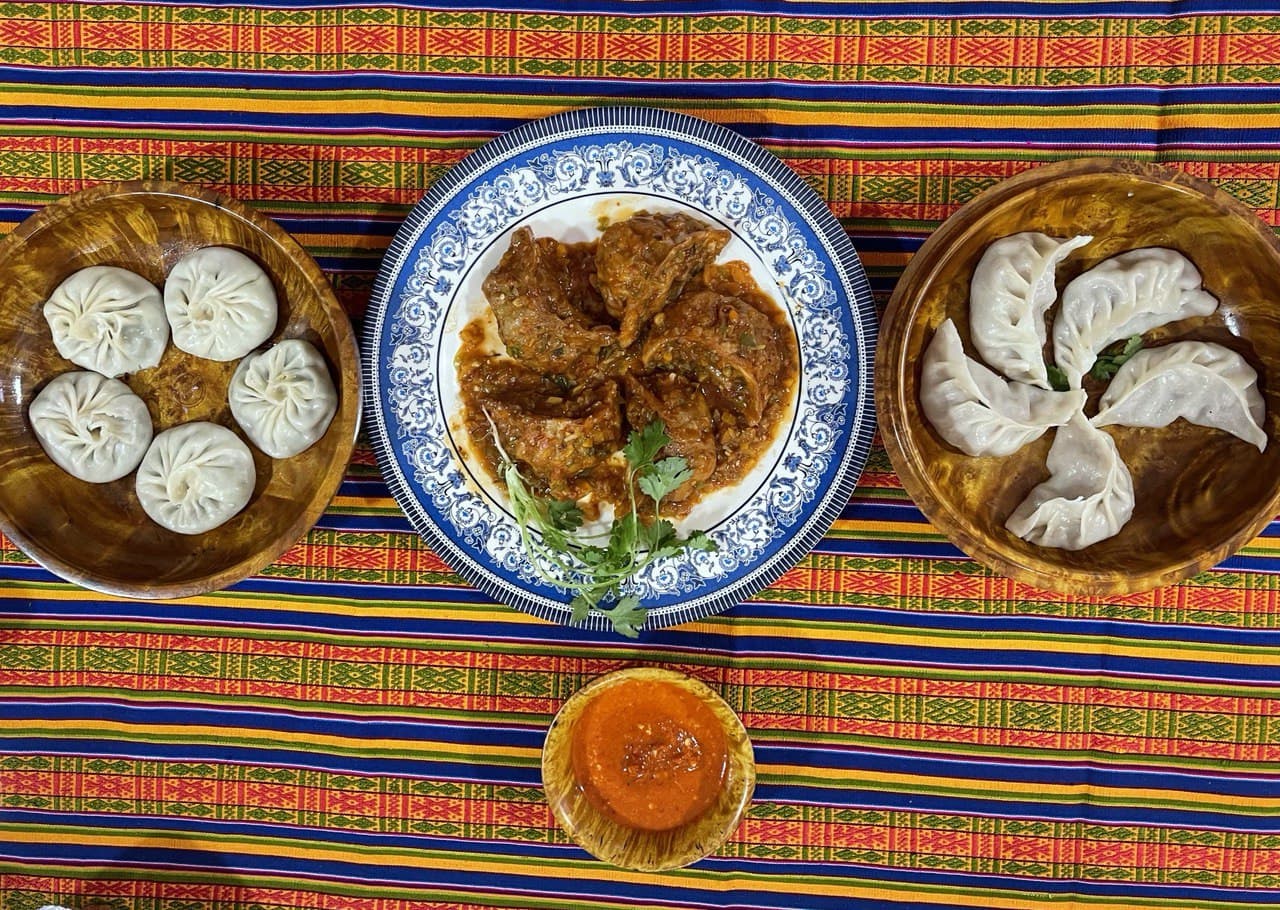 Join the bandwagon of young and old Bhutanese from all walks of life who somehow need to have momo in their diet.
This is how you experience being a Bhutanese when in Bhutan!
Check out the video on the different types of momos in Bhutan.
---