Zoedue – Fermented Cheese Made By The Brokpas Of Sakteng Sees Increasing Demand
Zoedue has become a lucrative business in Sakteng ever since motor-road accessibility improved.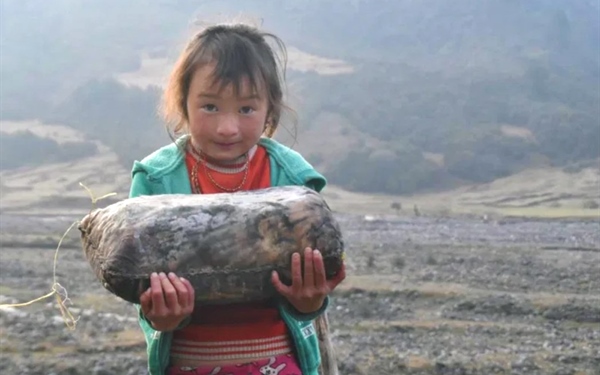 (Source: Sherab Tenzin)
By Kinley Yonten | Business Bhutan
For the last three years, Ap Dorji Drukpa, 61, has been following the same routine every week. He puts fresh cheese into leather bags and leaves them beside the bukhari to ferment.
"It takes one or two months to ferment the cheese but the longer it is kept the better it tastes. Moreover, the longer the fermentation, the higher the medicinal value of the zoedue," he claimed.
Zoedue (fermented cheese) has become a lucrative business in the remote district of Sakteng ever since motor-road accessibility improved.
In fact Ap Dorji Drukpa and others from the Brokpa tribe in Sakteng are not able to produce enough zoedue to meet market demand.
Benefits of selling zoedue for the Brokpas of Sakteng
The Brokpas in Sakteng got involved in commercialising yak products four years ago. The business started off on a small scale with products such as butter, cheese and zoedoe on offer.
Source: Youtube/AsiaHarvest
Today, a sizeable number of villagers are engaged in the production of zoedoe and they are making good money out of it. 
A kilogram of zoedue costs Nu 500-600 in Sakteng but when they sell it in Trashigang, it costs Nu 800-900 per kg.
He added that four years ago they could barely sell one or two packs of zoedoe. However the situation improved when new motor roads were constructed.
"It has been a lucrative business because we have access to motor road now," Ap Dorji Drukpa said.
The villagers have also formed a group to sell zoedue in other dzongkhags (districts) in Bhutan.
"We are not able to meet the demand of zoedue now," he said.
Another Brokpa, Tshering Om, said producing yak products has proven to be a lucrative business.
"A decade ago, during summer we bartered products with grains, vegetables, salt and other necessary items but now, with road accessibility we can do business on our own."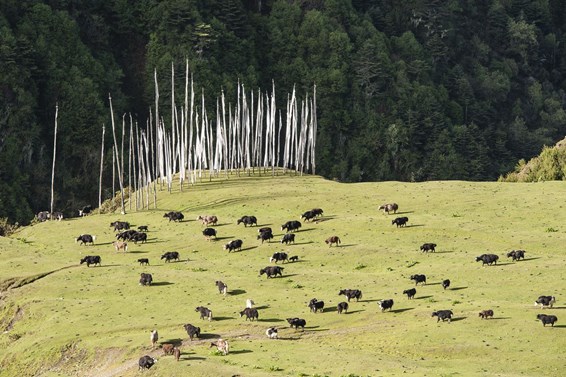 Photo: AJ Heath
She added that now even youths are also taking interest in the business. "The road has made it easier to do business," she explained.
Increasing the production of zoedue to meet demands
A medical team at Sakteng from the Basic Health Unit trained the villagers to make products and store them hygienically. To keep the business afloat for all times to come, the gewog (village) administration is helping villagers to seek loan from banks.
Currently, villagers are occupied in making zoedue and other products which are worth Nu 50,000 – 70,000 for the upcoming Eastern festivals in Bhutan.
According to Mangmi, Lhuendrup, the gewog has distributed machines to churn the milk and even containers for storage. 
"Awareness has been created to keep their products hygienic and which will be able to help the villagers to sell their products in Arunachal Pradesh,"
Currently, around 70% of the Sakteng residents still graze yaks and cows to make their living. To expand their business, around 115 households in Sakteng have even sold some of their yaks to buy boleros so that they could transport their products to other dzongkhags.
This article first appeared in Business Bhutan and has been edited for Daily Bhutan.
---