A French's connection and deep love for Bhutan
We talked to Dr Francoise Pommaret about French Friends of Bhutan and the France-Bhutan relationship.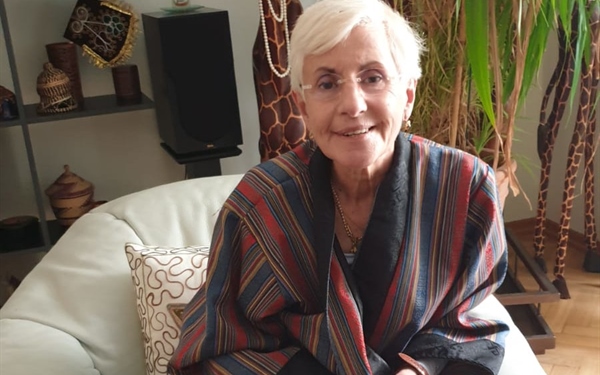 Daily Bhutan had the pleasure of (virtually) meeting with Dr Francoise Pommaret, PhD, French ethno-historian and Tibetologist. She is the director of research at the Centre national de la recherche scientifique (CNRS) with a special focus on Bhutan. She is also the author of Bhutan: Himalayan Mountain Kingdom, a guidebook that will take you on a fascinating journey through the country.
On top of that, Dr Pommaret is an adviser to the Institute of Language and Cultural Studies (ILCS) at the Royal University of Bhutan and the Honorary Consul of France in Bhutan. She is also the president of the French Friends of Bhutan Association (Les Amis du Bhoutan).
We were very excited to speak with her.
Text has been edited for clarity.
Thank you for meeting with us, Dr Francoise. Tell us about French Friends of Bhutan, the association you founded to promote Bhutan to the French.
French Friends of Bhutan was founded in 1987. Back then, nobody in Europe had heard of Bhutan, and we wanted to promote Bhutan to the French people. Today, we have a group of about 100 faithful, dedicated members.
We are non-profit, non-religious, and are not travel agents. Sometimes when we get questions about visiting Bhutan, we refer them to agents with a tour operator licence who can serve them properly. On the contrary, we are a platform for people to meet and bond over their interest in Bhutan.
Every two years, all the associations in Europe meet. This year, the event will be held in Hungary. Two years ago, it was in France.
Share with us the activities that French Friends of Bhutan has participated in over the years.
We have a mailing list, in English and in French. Participants on our mailing list receive news whenever there is an event. Every Wednesday and Saturday evening, I share articles from the newspaper or press reviews on Bhutan with the English-speaking crowd. Recently, we've been sharing our material with other associations in Europe at their request. It's hard work but equally rewarding. 
We have a website too, as well as a very active Facebook page with approximately 1,000 members, including some Bhutanese. I personally post daily.
How has French Friends of Bhutan made a difference in the lives of the Bhutanese people?
When a Bhutanese comes to France, we help them find accommodation and facilitate their visit. We write to the embassy in Delhi to make the necessary arrangements.
In Bhutan, we have long-term programmes that have been running since the 90s. For one, we help primary and secondary school children from disadvantaged families, offering them a scholarship to buy uniforms, school shoes, gym shoes, and other school supplies. Our goal is to take the children until at least Class 10, and our generous sponsors have at least a 10-year commitment to this cause. We also sponsor private kindergartens. 
In total, we have been helping around 60-70 kids. We locate them in areas where I can monitor, like in Bumthang or Trongsa, because I want to know that the cases are genuine before taking them under our wings. We are especially committed to helping the girls.
There are those who drop out of our programme, and that's alright. At the same time, we have some big success stories. One such case is a girl from Bumthang with a humble family background whom we sponsored for 15 years. She recently passed her civil service exam and is now a civil servant. We're so proud of her. 
More recently, we've been helping the adults affected by COVID-19. For those whose rice bowl has been affected by the pandemic, we provide them with financial means and support to start something new. There are those who don't want to study anymore and would like to be an artist; we help them.
We're touched by your love for Bhutan. How did your personal Bhutan journey begin? What drew you to this tiny country in the Himalayas?
I first set foot in Bhutan 40 years ago. There was no flight; we had to enter the country by land via India, and boy, was it a long, complicated trip. Thimphu had a population of only 15k people then, a far cry from today's 150k people. There were no shops, hotels, restaurants, telephones, or TVs — nothing. There were no phones, and the only way to communicate with my loved ones back home in France was to write letters, which took 3 weeks one way. I remember a time when I was stuck in the middle of a landslide on my way to Phuentsholing at the Indian border. We had no phone then, and it was very difficult.
As you can see, life was basic. I washed my hair with soap, because there was no shampoo. There was one type of toothpaste and one type of soap from India — that was all we had.
Despite that, there was a certain charm to it all. The landscape was beautiful, but it wasn't the landscape per se, because we have similar landscapes in Europe. In particular, it was the harmony between the landscape, architecture, local culture, and the people. The fact that the country has never been colonised gives them a certain character. The people are proud; they don't like to be told what to do.
It was wonderful. I felt so welcomed, thanks to the hospitality and kindness of the people.
That sounds like a very different Bhutan back then. 
It was. In the 90s, it all exploded. It was the start of something big. I'm impressed by what they have achieved since — in healthcare, technology, education, law, justice, democracy, transparency of the media, and so much more. 
One big progress we have achieved is maternal mortality. With the phone now, we have managed to save so many lives.
I've seen tourism progress too. When the industry was launched, I trained the first batch of guides. I taught them the history of the Himalayas and other relevant information. Many of them are travel agents today. I was a tour guide myself to fund my research. 
The country wouldn't have survived if it did not open more, so I'm proud of how far they have come. I love Bhutan and her people dearly and will continue to cheer them on as they advance.
What have you learned about the Bhutanese people through your friendship with them?
Family is very important in Bhutan; they consider it a pillar of society. Thus when I tell my friends in Bhutan that I have to leave to care for my parents back in France, they immediately tell me to go. 
The Bhutanese are also very present whenever there is a death. Even if they are not there for your wedding or other occasions, the community makes certain that they are there for you when there is a death. My brother passed away six years ago in France. When my friends heard, they came to my house to keep me company, and offered to stay the night, so I wouldn't have to be alone. They arranged for prayers for my brother although he was not a Buddhist. It was a cocoon of love. I will always remember their kindness.
Another interesting thing to note is that the Bhutanese take marriage lightly. Unlike in other religions, marriage is not a sacrament in Buddhism, so there is no sacred bond. Furthermore, the women are quite independent, so they can leave a marriage easily. In Bhutan, people don't even mention if they are married, because it's not a big deal. In Europe, when I'm invited to an event, it is implied that my spouse is invited too, but that is not the case in Bhutan. 
How is the relationship between France and Bhutan?
Unfortunately, France and Bhutan do not officially have a diplomatic relationship, as France is a P5 country — one of the permanent members of the United Nation Security Council along with China, Russia, the United Kingdom, and the United States. Bhutan has little relations with the P5 countries in an attempt to limit foreign influence within their borders. Most of the official correspondence goes through Delhi in India, who is supportive of Bhutan.
Thus, our association has been a kind of "in between" for France and Bhutan. Given the high number of French tourists in Bhutan, they needed someone who speaks French. Finally, two years ago, Bhutan accepted me as an honorary consul of France in Bhutan, and I have held the position since. 
That's really interesting. On that note, we're nearing the end of our time together today. Anything you'd like to leave with our readers?
Check out Bhutan: Travelog, published by Druk Asia. The book is a welcome addition to the growing literature on Bhutan, this unique country in the Himalayas whose tourism policy is "High value, Low volume". This travelog takes you through beautiful pictures and a pleasant lay-out, to the most famous parts of the kingdom, covering also the great culture of Bhutan. It is a wonderful book to discover this unique place and its people. I highly recommend it.
---
---