All you need to know about alcohol consumption in Bhutan
The Bhutanese love their alcohol. But every Tuesday, known as "Dry Tuesday", the sale of alcohol is not permitted. What's up with that?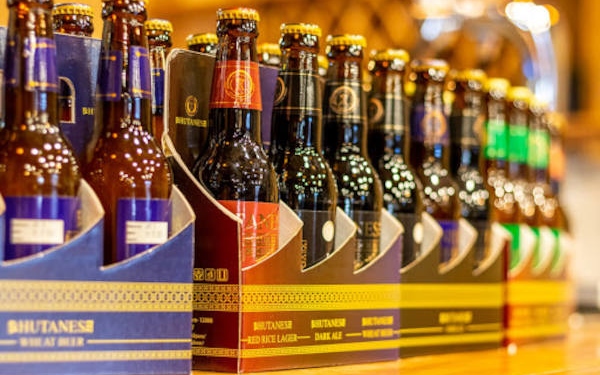 The Bhutanese have a solid alcohol culture. They serve alcohol as a sign of respect. They use it to show honour and hospitality. It is offered to welcome guests, confer well wishes, and send off loved ones. Alcohol is used to wash down the food, consumed as a dessert, and drunk before bed.
The beloved archery tournaments are booze-filled. If it's not already obvious, the Bhutanese love their alcohol. 
Foreigners have been surprised by the high-quality alcohol found in Bhutan. One foreigner assumed incorrectly that Bhutan would be like her neighbouring countries where big international companies controlled the local breweries.
But Bhutan is not the same. Although Bhutan is small, it is home to some of the best alcohol in the region, not to mention a growing craft beer industry. 
Here are some alcoholic beverages you can find in Bhutan:
1. Ara
Ara is the national drink of Bhutan, made with the liquid produced from fermented grains. It is usually creamy, clear, or white in colour.
Other than at religious events, ara can be found in abundance at archery tournaments. Some archers claim that alcohol improves their aim!
2. Chang
Similar to ara, chang is made from fermented grains. In a way, it's traditional beer. Locals brew it at home for personal consumption. It keeps them warm during the cold winter.
3. Bhutanese beer
As mentioned above, Bhutan brews their own beer. In fact, you should plan a visit to Bumthang Brewery or Namgay Artisanal Brewery!
Some popular local beers are:
Druk 11000

Druk Premium Lager

Druk Supreme

Thunder 15000 Strong

Red Panda Weiss Bear
4. Bhutanese liquor
Bhutan also has some nice liquor. They are:
Grain Whiskey

The Silver Jubilee

Special Courier

Prophecy
4. Bhutanese wine
Fun fact. US-based Bhutan Wine Company has collaborated with Bhutanese partners to build the first fine-wine vineyard in Bhutan, known as the Yusipang Vineyard.
Some Bhutanese wine to try are:
Takin Red Wine

Vintria Shiraz Dry Wine

Zumzin Peach Wine
You can purchase Zumzin Peach Wine or K5 Whiskey on Bhutan Natural online store. 
Read more about these popular Bhutanese beverages. 
Tuesdays in Bhutan are known as "Dry Tuesday"
At the risk of sounding like a broken record, the Bhutanese love to drink. There are more than 5,400 bars across Bhutan, even a few clubs in Thimphu. 
However, every Tuesday is known as "Dry Tuesday". On that day, the sale of alcoholic beverages is not permitted. The bars do not sell alcohol every Tuesday. 
Why Tuesday?
British author James Montague tweeted that he asked a Bhutanese barman why they picked Tuesday out of all the days in a week. Was it a Buddhist thing? The barman responded, "No. We had to pick a day."

Source: James Montague @ Twitter
The rationale behind Dry Tuesday is sombre. It was introduced as part of an attempt to curb alcohol abuse in Bhutan.
The negative impact of alcohol in Bhutan
According to a published report, there is one alcohol outlet for every 177 Bhutanese. The easy access to alcohol—may it be illicit or cheap industrial ones—has caused alcohol harm in Bhutan to become a serious problem.
A survey conducted in Bhutan showed that more than 58% of the respondents in eastern Bhutan suffered from alcohol disorders. Of the 36.4% of adults who consumed alcohol in the past year, 10.5% had binged. Furthermore, up to 50% of harvested grain in each household is used to brew alcohol. Also worrying is the growing problem of alcohol-usage in underage youth.
According to Movendi International, Bhutan is facing an addiction epidemic. 
But the Bhutanese government did not rest on their laurels. In 2016, the country established The National Policy and Strategic Framework to Reduce Harmful Use of Alcohol. The report suggested strategies to reduce alcohol harm through ten different areas:
Leadership, awareness, and commitment

Health service response

Community response

Drink-driving policies and countermeasures

Regulating physical availability and quality of alcohol

Regulating alcohol promotion and advertising

Taxation and pricing policies

Reducing the negative consequences of drinking and alcohol intoxication

Reducing health impacts from illicit alcohol and informally produced alcohol

Monitoring and surveillance
In 2020, the Bhutanese government implemented GST Reforms that put a 100% tax on alcohol. According to Movendi International, the GST Bill 2020 imposed a 20% Excise Equalisation Tax on all unhealthy commodities, and a 100% tax on alcohol and tobacco.
Can you carry alcohol into Bhutan?
You can absolutely carry alcohol around in Bhutan. You can enjoy a beer in a public space too. However, there are two things to note:
All foreigners are allowed to carry a maximum of 1 litre of alcoholic spirit on them

Some religious sites and monasteries have restrictions on carrying alcohol within the premises
That said, there is no need to carry your own alcohol into Bhutan, as the country already has an abundance of it, and the Bhutanese would love to share it with you. Bottoms up!
---
---