What's with the unique archery culture in Bhutan?
In Bhutan, archery is more than just a sport. It is a way of life. The dancing, the singing, the drinking—it is a manifestation of the unique culture of Bhutan and her people.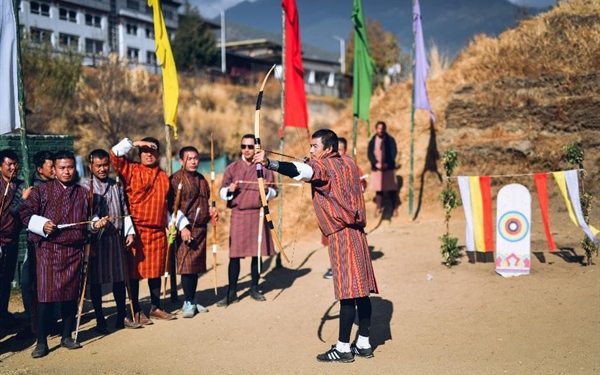 Archery in Bhutanese Myths and Legends
"The Divine Arrow can be seen only when it hits, not when it is shot." ~ Traditional Bhutanese Proverb
During the Duar War between Bhutan and the British in the 19th century, Jigme Namgyal, father of the first king of Bhutan, was believed to have shot an arrow from a mountain after offering prayers to Yeshey Gonpo, the guardian deity of Bhutan.
The arrow flew from the mountains, hurled through the air, and landed right on the forehead of the British general, killing him. Monumental as this tale is, the mark of archery (dha) in Bhutanese legends can be traced further back.
In 600 B.C., an Indian prince, Prince Siddhartha won the hand of the beautiful Princess Yosodhara by emerging victorious in an archery competition with his superior aim and accuracy. This prince eventually became known as the Buddha.
Since then, the bow and arrow has been the Bhutanese's staple, not just in war, but also in religion. Deities are often depicted holding bows and arrows in both their serene and wrathful forms. During the 10th century, Tibetan King Langdarma was persecuting Buddhism.
In response, a Buddhist monk, Lhalung Pelgi Dorji, entertained the king with the Black Hat Dance. During the dance, he feigned a bow, then reached into the large sleeve of his ceremonial dance costume, grabbed a bow and arrow, and killed the king.
As Bhutan ushered in the era of peace, archery became a symbol of festivity and competition. Present day, archery is wildly popular among people from different social stratas. In fact, there is an archery range in even the smallest of villages.
Every weekend, the archery ranges in Thimphu and Paro bustle with life, with archers shooting arrows and onlookers simply enjoying the game by the sidelines.
The most interesting part? Bhutanese practice a different kind of archery.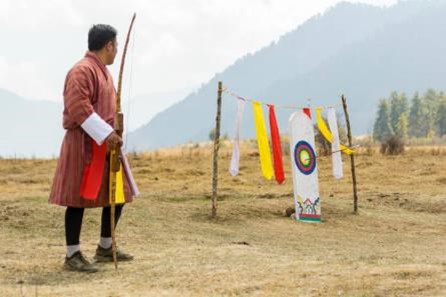 Traditional Bhutanese Archery - Description of the Game
Bhutanese archery is different from Olympic archery.
For one, Traditional Bhutanese Archery has a range that is 145 metres long, double the length of an Olympic range.
Each team has 13 archers and 2 reserves, which adds up to 15 archers per team. Opposing teams stand near the target at the end of the field. They take turns shooting, two arrows at a time. The team scores one point if their aim lands within an arrow's length from the target. Two points if they hit the target. And three points if they hit the bull's eye.
The teams take turns shooting, and the first to reach 25 points wins. However, rules are complicated. For example, a bullseye wipes off the previous archer's score.
The bows and arrows are vastly different from those used in the Olympics. While Olympians have advanced composite bows, the Bhutanese use bows made of bamboo, or sometimes fibreglass. The arrows are made from a reed (hema) gathered from the foothills in Bhutan. Vanes are stuck to the shaft with a glue made of animal hide.
Meanwhile, the targets are made of pine wood with regulated dimensions. The bull's eye is 1 feet from the crown of the target, and the base tapers into a sharp point to be secured in the ground.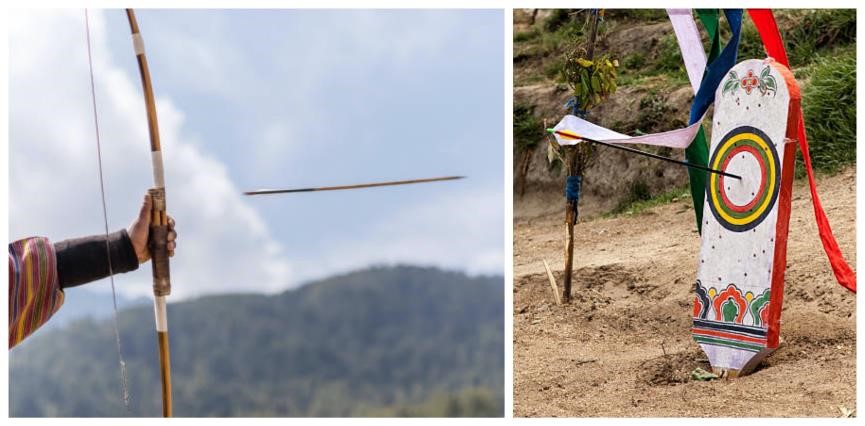 The Festivity of Archery Tournaments
There are two major archery tournaments in Bhutan: Coronation National Archery tournament and Yangphel tournament. Other significant archery tournaments are held during Losar, the Bhutanese and Tibetan New Year.
These tournaments are social events, and they are played between teams, villages, or towns. Consulting astrologers and deities are not beyond the Bhutanese. They pay astrologers large sums of money for consultation on which archers to field for favourable performance; otherwise they curse other archers.
The tournaments are more festive than competition, so they are extremely slow-paced. Games can last for days in modern times; traditional ones can even last a month!
And the dancing, of course. It's not a Bhutanese archery tournament without dancing. Each team usually has their own dancers; cheerleaders, if I may. They cheer for their team and jeer at their opponents. It is very lively and all in good fun.
It's a verbal battle too. This is a chance for archers to display their literary and intellectual skills. They praise their arrows, encourage teammates, and taunt their opponents.
Here's a favourite: Where the vulture flies, my stone shall fly, there to collide (Bjagoed phu sa do chap kay).
It is a taunt, promising a bullseye to reset his opponent's team's score. And every time a target is hit, there is celebration and howling. The archer ties a colourful sash to their belt upon hitting a target. The team lines up, faces the target, and breaks out into traditional song and dance.
Very intense. It's a sight to behold.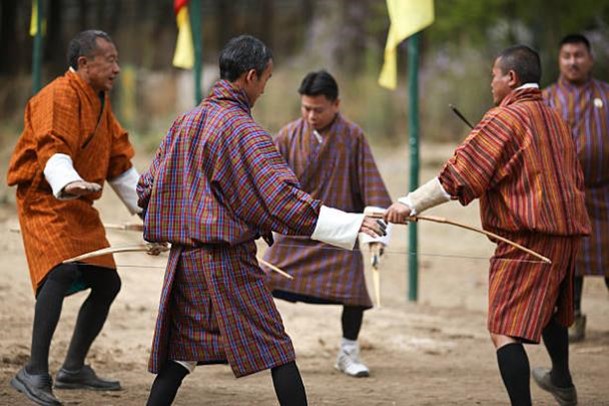 But archery tournaments in Bhutan are not just about archery. On top of song and dance, it's also about food and drinks—an abundantly joyous occasion.
In fact, alcohol is synonymous with these tournaments. Both spectators and archers alike gulp down alcohol throughout the event, especially ara, a local brew. The archers drink to gain courage, they say. Apparently it gives them better aim.
Back then, the second king, Druk Gyalpo Jigme Wangchuck, commanded that archers who do not score a single hit be offered a drink from a barrel of Chaang (locally distilled alcohol). Up till today, people ridicule archers who come up completely empty by saying, "You are left in the barrel."
Joining the Olympics
The Bhutan Archery Federation was established in 1971 and marks the birth of organised sports in Bhutan. In 1983, the Bhutan Olympic Committee was established, and the federation was tasked to oversee the international style of archery.
This lay the groundworks for Bhutan's premiere at the 1984 Los Angeles Olympics. Since then, Bhutan has been sending archers to every olympics.
One archer worth mentioning is Dorji Dema, a Bhutanese female archer who competed in the 2008 Beijing Olympics...while being 3 months pregnant. It was dreadful for her. She couldn't eat and had morning sickness. However, what makes Dorji special is her current resolve: to put together an all-female team to participate in a Traditional Bhutanese Archery tournament.
Typically, women are by the sidelines, cheering and jeering, and serving food. In the past, women were not allowed to touch a bow; it was considered bad luck.
Dorji is looking to change that.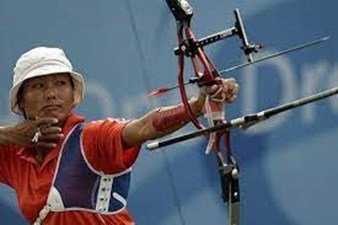 Darts (khuru)
Similar to archery, darts is also a popular pastime in Bhutan.
Teams of 8 to 12 players throw darts at a target. Other players stand near the target in large white cuffs around their wrists, presumably to guide the player by indicating the target.
Just like archery, the game is followed by singing and dancing. It is festive.
And it's fascinating.
Both these games are periscopes into Bhutanese culture. After a while, we realise that archery and darts are not about the game per se, but about the people themselves.
More than skill and form and competition, they are a manifestation of the unique culture of Bhutan and her people.
---