Bhutan Royal Prince assumed his first Royal Duty as Chief Guest at 6 years old
Prince Gyalsey Jigme Namgyel Wangchuck assumed his first Royal Duty as the chief guest at the tender age of 6, gracing the inauguration of Jigme Namgyel Wangchuck Super FabLab(SFL) at Thimphu TechPark.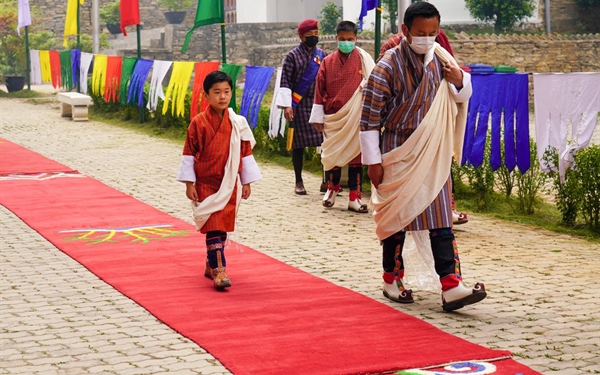 Bhutan stands special for many reasons on the global stage – from the sacred institution of monarchy to the guiding development philosophy of Gross National Happiness. On 4th June 2022, Bhutan made history to have the world's youngest chief guest gracing an event. Adorable 6 years old royal prince, Gyalsey Jigme Namgyel Wangchuck was the chief guest on his first royal duty at the inauguration of the nation's Super FabLab named after the Prince himself, Jigme Namgyel Wangchuck Super FabLab(SFL) at Thimphu TechPark.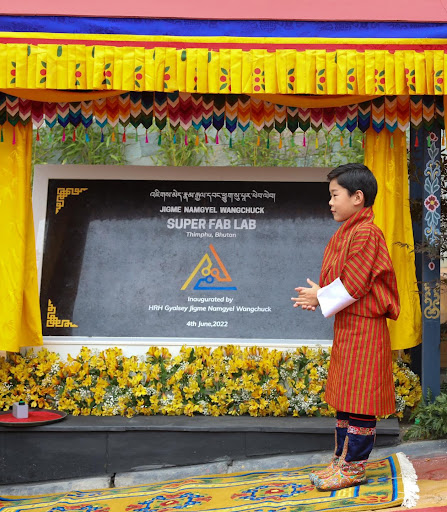 HRH Gyalsey at the inauguration of Super FabLab
His Royal Highness was escorted in chimdrel procession to the venue. The traditional Marchang ceremony was performed. The Prime Minister, other representatives of the government and DHI offered 'Ku Su Thuk' Mendrel. Throughout the event, the Royal Prince was observed displaying immaculate discipline, a sense of responsibility, maturity and engagement.
In an official video released online on His Majesty King Jigme Khesar Namgyel Wangchuck's Facebook page, His Royal Highness could be seen walking around the SFL, testing the equipment and interacting with the staff.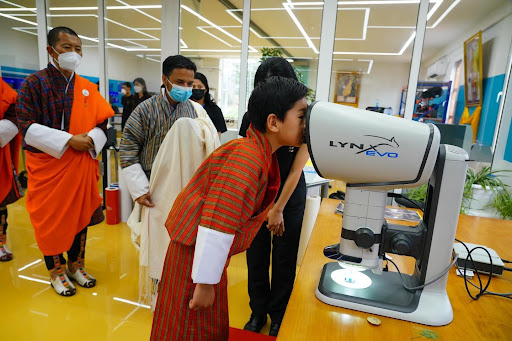 "The SFL and FabLab network in Bhutan was established as part of a series of initiatives in line with the Royal Vision to build platforms that will foster a culture of innovation and creativity. Jigme Namgyel Wangchuck Super FabLab(SFL) is only the third SFL in the world and the second one outside the United States. It's special in that sense. And to have Gyalsey grace the inaugural himself on HRH's first official appearance was an honour," said Ujjwal Dahal, Director of Inno Tech, DHI
A FabLab is a small-scale workshop offering (personal) digital fabrication. Generally equipped with an array of flexible computer-controlled tools that cover several different length scales and various materials, with the aim to make "almost anything". This includes technology-enabled products generally perceived as limited to mass production. There are over 1500 FabLabs around the world. The SFL Bhutan has three FabLabs located at Druk Gyalpo's Institute in Pangbisa, Paro, Jigme Wangchuck Power Training Institute (JWPTI) in Gelephu and the Bio FabLab at the College of Natural Resources (CNR) in Lobeysa.
Jigme Namgyel Wangchuck Super FabLab(SFL) was constructed by DHI in collaboration with MIT and funded by US State Department through Bhutan Foundation. As a SFL, it has high end and state-of-the-art equipment than a FabLab to do a galore of things from basic carpentry and moulding to building the most sophisticated electronics and auto-machine systems to bring the physical and the digital world together. With an aspiration to find and solve local problems, and solutions to build industries, one of the works in progress at the SFL is how to build better rice planters.
In the coming days, DHI Inno Tech plans to run many programs to encourage and bring many creative minds together to build something that solves societal problems. From a 5-year-old to a 70-year-old, any interested individual can come, sit, chat and create something if they desire so. SFL has opened the floodgate to create a conducive working space for talents, and the entry is open for all, irrespective of age and nationality. Even if an international resident is interested in creating a product or service at Bhutan's Super Fab Lab, SFL will be open to such collaborations and opportunities. 
The aim is to provide a platform for people to foster a collaborative community, to come together and build prototypes on issues that they would like to solve. SLF will also provide materials for any individual who would like to test their ideas on a prototype (but not materials for commercial purposes).
"If you look at the vision of His Majesty or the way Bhutan is progressing in leveraging technology and innovation, both SFL and FL and the network of FL will provide a platform for people to meet the vision of creating something. You could go to any of the Fab Labs and fabricate something. This platform is a small step toward the vision of His Majesty in a way to build a technologically driven, resilient economy. Hopefully, that can be leveraged by as many young minds to build something that not only has value in solving problems and making an impact but also has commercial and economic value. Hence, we can build our industry. Otherwise, we will only have the traditional industries. For us to really compete in the future and make our economy resilient, it's important for us to solve the right problems to win the right industry. That's our aspiration," said Ujjwal Dahal, Director of Inno Tech, DHI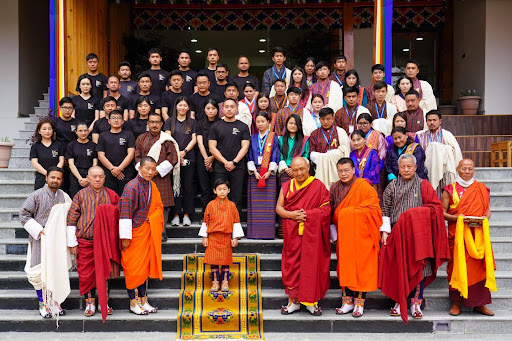 ---
---