Bhutanese artist invited to decorate life-sized tiger sculpture for display in Singapore
Renowned artists showcase artworks to promote tiger conservation issues.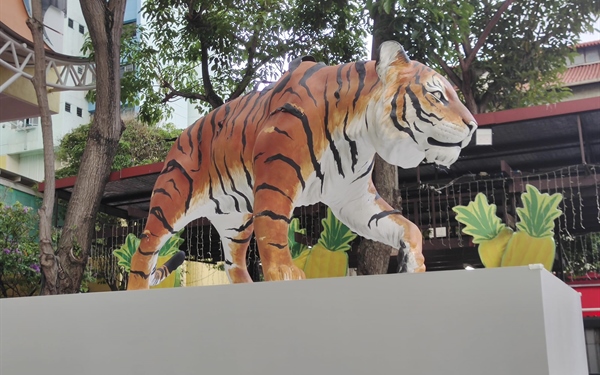 Colourful life-sized tiger sculptures are currently on display at Kreta Ayer Square, Singapore. Thanks to the initiative of World Wide Fund for Nature (Singapore) in partnership with Chinatown Festivals Committee and Temenggong Artists-in-Residence, Singaporeans can enjoy the presence of life-sized tiger sculptures as they get ready for the upcoming Chinese Lunar New Year.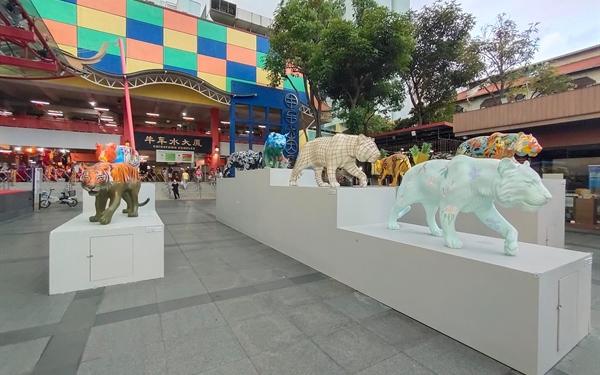 Many renowned local and international artists were invited to decorate the life-size tiger art sculptures as part of the preview for WWF Singapore's upcoming AR-mazing Tiger Trail. The trail is a 3-part islandwide mission trail that is centred around tiger conservation and other key environmental causes. Singaporeans can expect a gamified AR-venture filled with immersive AR filters, fun quizzes and other exciting activities.
Amongst the artists selected to paint the life-size tiger sculptures is talented Bhutanese artist, Zimbiri. As an ardent tiger lover, Zimbiri was thrilled and grateful to be given the opportunity to be part of the showcase. 
The significance of tigers
When Zimbiri was tasked to decorate the tiger sculpture, she put much thoughts into the message that she wanted to convey. As an artist, she was initially tempted to go wild with the decorations but in the end, she decided to paint the tiger to look just as it is — a tiger. Tigers (tak) are one of the four mythical creatures in Bhutan. They represent good luck, power, awareness, kindness and confidence. For Zimbiri, the tiger represents an animal that is full of self-love and has an independent streak, characteristics that she hopes to emulate. 
"Tigers have been a huge source of inspiration to me. I just can't imagine turning tigers into something else. Instead of creating just a pretty tiger, I want to convey a deeper message," said the 30-year-old Bhutanese artist.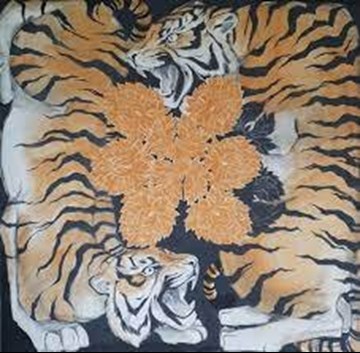 Many of Zimbiri's past artworks are inspired by tigers. View Zimbiri's gallery.
Thus, it is no surprise that Zimbiri wanted her tiger sculpture to display the true characteristics of the tiger and to bring focus on tigers conservation. Wild tigers are gradually dying due to a loss of habitat and poaching. Based on WWF report, there is an estimate of 3900 tigers remain in the wild and they are declining in number. 
"Stripes are the most recognisable trait of the tigers. On the sculptures, I created the stripes peeling off from the tiger's body to symbolise that these beautiful creatures are slowly fading away. And if we are not careful, it will become extinct," shared Zimbiri.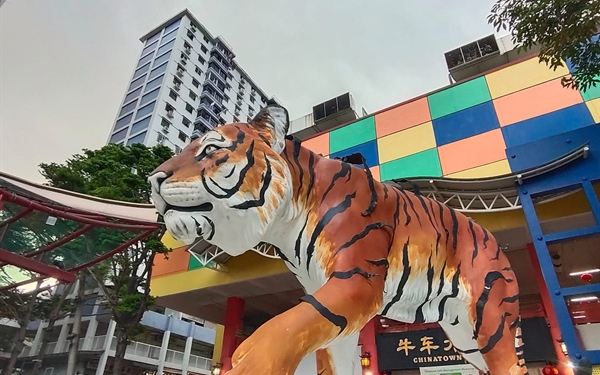 The tiger sculpture took one and half weeks to complete. Zimbiri painted the tiger using traditional Bhutanese paint (saa-tshen). Usually the paint was used on traditional canvas, but this is the first time it challenges her to apply saa-tshen on a plastic sculpture. 
The tiger sculptures can be viewed between 7 January and 15 February 2022.
Aside from the life-sized sculpture display, Singapore residents can also admire Zimbiri's artworks at a local cafe situated in Chinatown. Grids Coffee, a three-storey minimalist Japanese fusion cafe, double up as an art gallery on the second floor to provide an opportunity for young artists from all over the world to showcase their talent.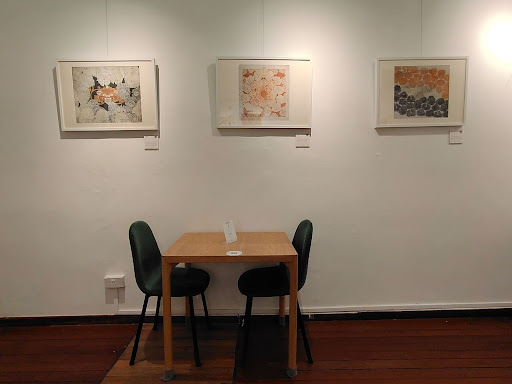 Four of Zimbiri's paintings turned into prints are currently on display there. The series feature flower or methos (in Dzongkha language). In traditional Bhutanese art, flowers are often found in the background of most of the paintings but through the Methos series, Zimbiri hopes to move the spotlight to give the humble methos their chance in the limelight. Check out Zimbiri's Methos prints.
How to get to Grids Coffee
200 South Bridge Rd (Chinatown MRT Exit F)
Mon - Thu, Sun (9am - 6pm)
Fri & Sat (9am - 5pm, 6-10.30pm)
Interview with Zimbiri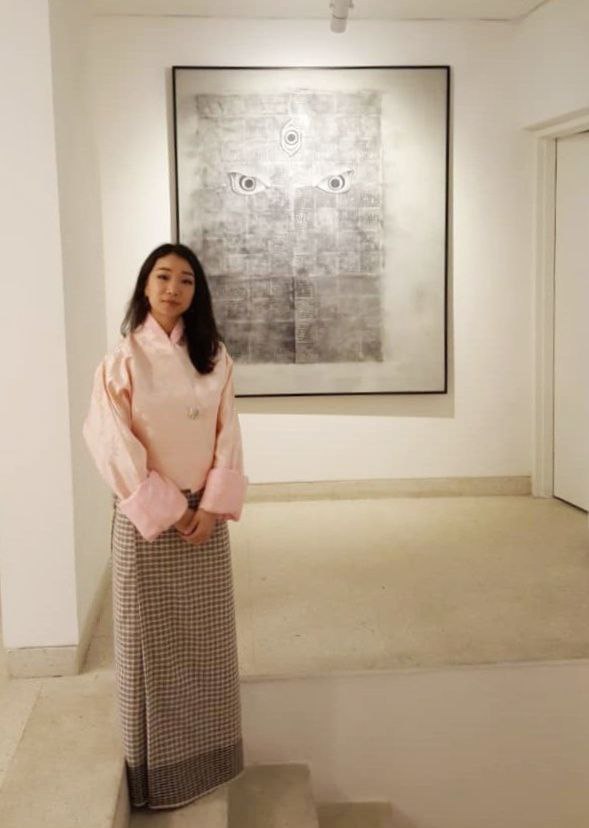 1. Who influenced you to pursue a career in the arts?
I did not expect to be an artist when I was younger. Initially, I wanted to major in econ to help out with my dad's business. But when I took an art elective in college, I really enjoyed it and in the end, I decided to do a double major in econ and arts.
2. How has the journey been for you as an artist?
Many people have the misconception that just because you are doing something that you love, it is always easy. However, that's not the case for me. I love what I do and am grateful for the opportunity and support I have, but it doesn't mean there aren't days where it's work. I remember only getting 2-3 hours of sleep in the weeks leading up to my second exhibition, to make sure I had all the pieces I wanted complete!
3. What are your biggest motivations as an artist?
A major part of my artwork is based on how I see and experience the world. A lot of the art pieces are things that I want to express from within. And what I love most about it is putting those pieces out there and seeing how other people perceive or interpret them. It's a little bit like speaking in a foreign language and having the viewers interpret what it is you are trying to say.
4. What are some projects that you are currently working on?
The United Nations has just converted one of my art pieces into NFT for a charity fundraiser. I am more familiar with traditional forms of art, so venturing into the digital world, although unfamiliar and slightly confusing, is very exciting. I also have an exhibition with Nature Mortè in New Delhi coming up soon.
About Zimbiri
Zimbiri, born and raised in Bhutan, completed her undergraduate studies at Wheaton College, MA, with a double major in Economics and Fine Arts. She held the first female solo exhibition in Bhutan with her debut exhibition titled 'Faces'. The exhibition showcases people and their way of coping with society by wearing different 'faces'. She is currently working on a series of paintings that explore the traditional Bhutanese paint (saa-tshen) and imagery. Zimbiri has exhibited her works in international art fairs in India, Hong Kong, and London. 
You can browse Zimbiri's portfolio and check out her work on her Instagram. You may also purchase her Methos artworks through Bhutan Natural.
View this post on Instagram
---
---