In Bhutan, artists use natural pigments to make paint for their art
Painters use natural sources to make paint. For example, brown paint is made from walnut cover, yellow from marijuana, light green from mint, dark green from oak leaves, and orange from madder.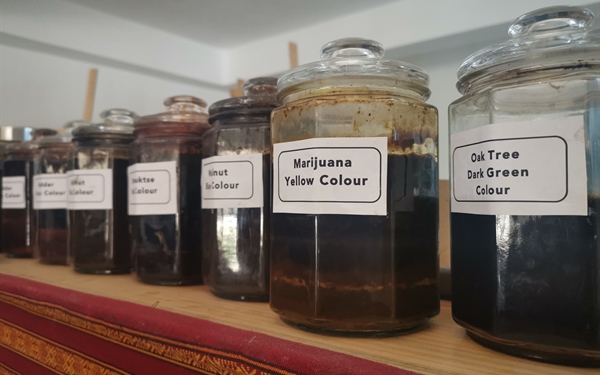 There are 13 traditional Bhutanese arts and crafts. While each of the 13 is interesting in its own rights, we shall talk about one particular art of interest today: painting (lhazo).
Painting is an old and cherished tradition in Bhutan. Nowadays, many painters use imported paint for their art, even on traditional thangkas. But it wasn't always this way. Once upon a time, during a bygone era, painters used natural pigments like soil and plants to make natural dyes. Some also used holy water and medicinal plants. Unlike imported paint, natural sources were inexpensive.
Now, some artists have decided to return to the ways of their forefathers.
Two such artists are Penjor Dorji and Norbu Tshering who founded Green Pigment Arts, an enterprise that aims to revitalise traditional paints and dyes in Bhutanese artwork.
The two graduated from the Zorig Chusum Institute and have conducted research on natural pigments.
They learned that natural soil pigments come in different colours. Black soil is sa na, white is sakar, and red lumps are known as tsag sa. Brown colour paint is made from walnut cover, yellow from marijuana, light green from mint, dark green from oak leaves, and orange from madder.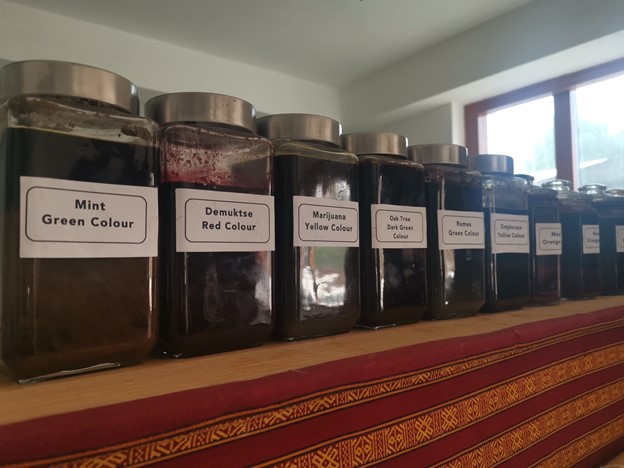 To date, about 15 colours have been documented. The artists plan to compile the information they learned into a book. They hope that the book would contribute towards the revival of this precious culture.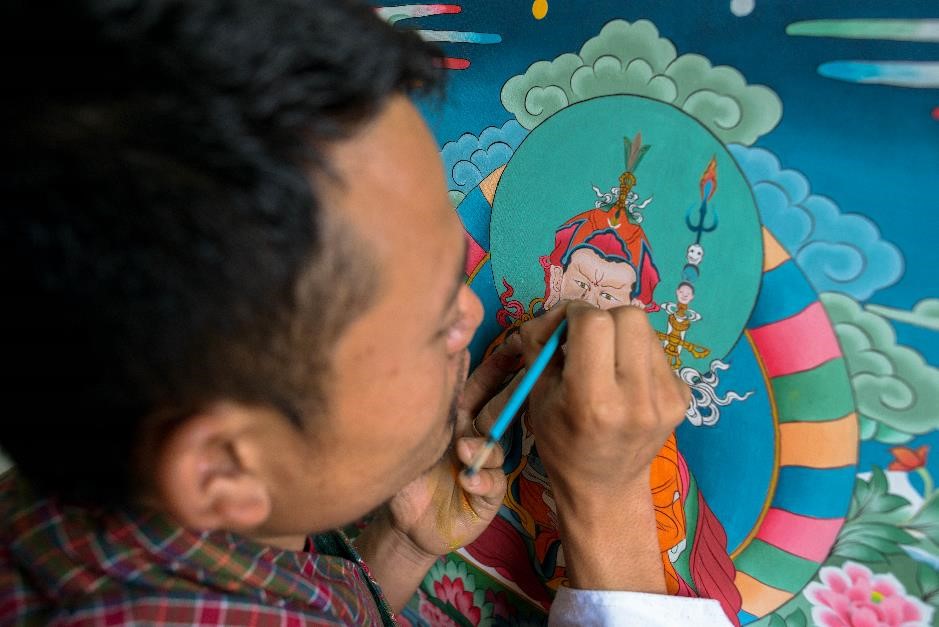 Another Bhutanese Artist Who Uses Natural Pigments
Of course, Penjor Dorji and Norbu Tshering are not the only ones. Another artist who has recently made waves is Phurba Namgay, who has created a new brand of art by fusing eastern and elements.
He showed extraordinary talent at a young age. At 13 years old, he enrolled into the Institute of Zorig Chusum and was trained in Buddhist art. He became skilled at painting the thangka, a large Buddhist painting in the form of a scroll. He also did wall paintings and painted on large canvases that were attached to the wall like wallpaper.
Later, Phurba spent time in the US where he studied western art. From that influence, he birthed a new kind of art — traditional Buddhist art in western style.
As part of Phurba's training, he learnt to make his own paint from 24k gold and natural pigments, a skill that he has maintained until today.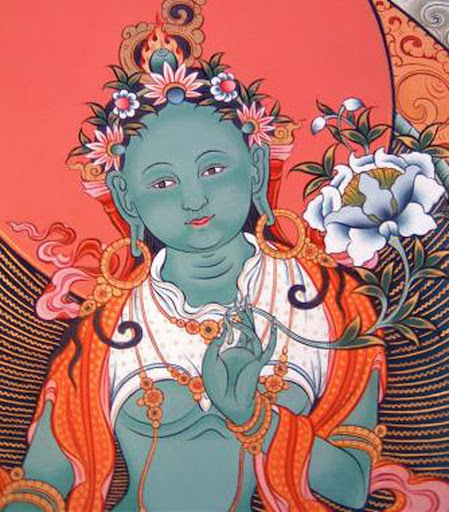 Phurba Namgay's art is a fusion of the east and the west.
Picture Credit: Linda Leaming, Culture Trip
The Process of Making Paint Out of Natural Pigments
The process of making paint out of natural sources is not easy.
In a series of videos posted on social media, the team at Green Pigment Arts shared how they made dark green paint out of leaves.
First, they gathered the leaves into a pile. Next, they chopped the leaves up with a knife, mincing them into small pieces.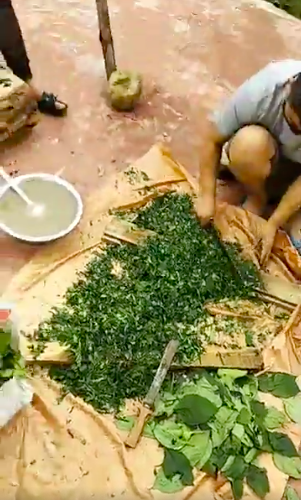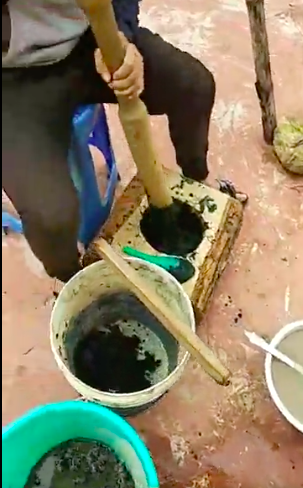 Following that, the tiny pieces were placed into a container and grinded with a long wooden stick. Slowly, the grinded leaves formed a paste.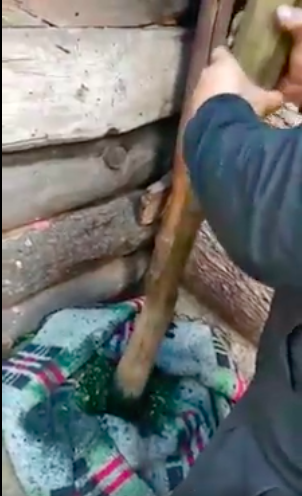 The paste was rolled into balls.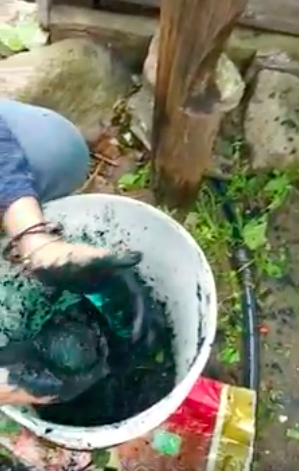 Finally, they looked like this: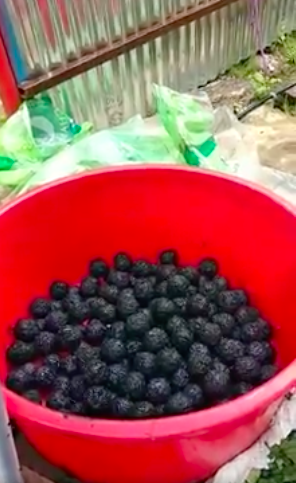 Green Pigment Arts Has Brought Traditional Bhutanese Paint to an International Audience
With the support of Bhutan Foundation, Green Pigment Arts has even managed to bring traditional Bhutanese paint to an international audience. In 2017, Penjor travelled to Kunming, China to participate in the 26th China Kunming Import and Export Fair, where he exhibited his paintings created with natural pigments.
If you wish to support Bhutanese artists…
Check out VAST Bhutan at www.vastbhutan.org.bt.
VAST Bhutan is an NGO who aims to provide Bhutanese youth with the opportunity to explore their artistic talents. They organise youth programmes that facilitate the use of art as a form of therapy or vocation.
If you wish to support VAST Bhutan, consider buying a copy of Bhutan: Travelog. For every purchase, 10SGD of the proceeds could go to the NGO of your choice.
To contribute to VAST Bhutan through the purchase of Bhutan: Travelog, click on this LINK, then scroll down and click on "I support VAST".
---
---