Can a foreigner marry a Bhutanese?
Yes, foreigners can marry Bhutanese, but there are restrictions. Nonetheless, it can be done. The Bhutanese know that nothing can stand in the way of love.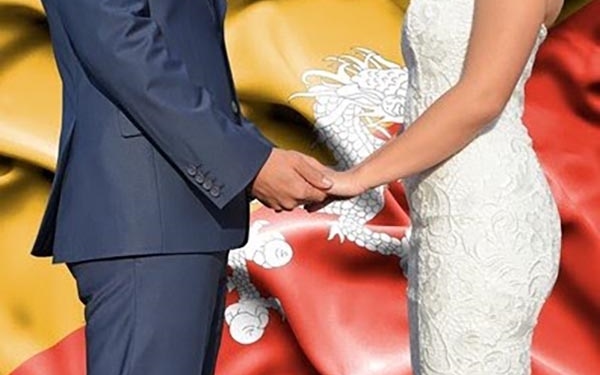 Can a foreigner marry a Bhutanese? The answer is...yes!
Bhutanese law recognises that love knows no skin colour nor borders.
According to the Marriage Bill of the Kingdom of Bhutan 2017, "Every Bhutanese national and other person residing in Bhutan has the right to marry any other person irrespective of their faith, sex, status, caste, wealth or appearance, provided the persons contracting the marriage thereof have expressly consented to their marriage and shall have to abide with the provisions laid down in this Act in matters relating to marriages."
In 2015, the Supreme Court in Bhutan ruled that Bhutanese that marry foreigners can receive a marriage certificate. 

In order to obtain a marriage certificate in Bhutan, you must first attend an interview conducted annually by the Supreme Court, whereupon successfully passing it, you may be eligible to obtain the actual certificate from the district court that your spouse has registered his or her census with. 
Upon the submission of all the necessary documents, you would receive your certificate within a year.
However, Bhutanese citizenship does not come easy for foreigners
If you wish to marry a Bhutanese, first ask yourself this: do you plan to live in Bhutan?
Unfortunately, you do not naturally become a Bhutanese citizen upon marrying a Bhutanese.
At this point, if you wish to live in Bhutan, you could:
Apply for Bhutanese citizenship through naturalisation, or
Apply for a special residence permit to reside in Bhutan
Option A is not easy. To qualify, you'll have to live in Bhutan for 10 years and own agricultural land within the kingdom, although there are instances when the King has made exceptions.
Option B, of course, is easier.
Restrictions on Bhutanese and Foreign Spouse
Following the union, you and your Bhutanese spouse are not allowed to join political parties, the military, or certain public services in Bhutan.
Should you have children, Bhutanese law stipulates that the children of Bhutanese men are naturally granted Bhutanese citizenship, but not Bhutanese women. This means that if a Bhutanese woman marries a foreign spouse, their children will not be granted citizenship. These kids would have to go through a lengthy application process to achieve citizenship.
On top of that, Bhutan does not recognise dual citizenship, so if you receive Bhutanese citizenship, it might mean that you have to give up your original passport.
The Marriage Act of Bhutan
Here's a summary of the Marriage Act in 10 points:
Two guarantors must be present before the court, one of which must be a Bhutanese citizen who is familiar with the matters of the court and the bride and groom.
The non-Bhutanese spouse may acquire citizenship and live in the kingdom.
The non-Bhutanese spouse must obey the rules and regulations of Bhutan.
A Bhutanese who is working for the government and is married to a foreigner shall not be promoted beyond the post they held at the point of the marriage.
A Bhutanese married to a foreigner shall not serve in the national defence department or Ministry of Foreign Affairs.
A Bhutanese married to a foreigner shall not be awarded a certain welfare entitlement.
A Bhutanese married to a foreigner shall not be entitled to education and training abroad.
A Bhutanese married to a foreigner forfeits the privilege of land allotment and medical treatment overseas.
The non-Bhutanese spouse is not to spread or start a new religion apart from that of the religion of Bhutan.
A non-Bhutanese spouse is required to follow the culture of the kingdom and government orders.
The Story About a Bhutanese Tour Guide and a Foreign Tourist Who Fell in Love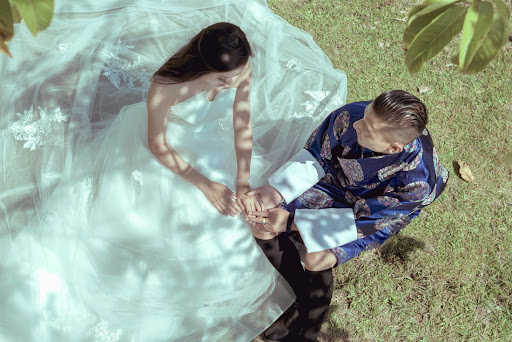 Photo credit: Karen Lim
In 2018, Karen Lim wrote a blog post titled "I Went to Bhutan on a Holiday and I Ended Up Marrying My Guide" that went viral.
She talked about the spiritual awakening she experienced in 2017, which led her to visit Bhutan. She contacted Druk Asia and booked a one-week cultural trip. She specifically requested a senior guide with a good grasp of history and culture, telling them that she was a journalist and museum guide.
And Ngawang was assigned to be that tour guide.
That week in Bhutan was magical for her — and Ngawang.
Karen made a secret wish at Tiger's Nest. Much later, she found out that Ngawang had told his friend that it was at Tiger's Nest that he fell in love with her.
She said, "Perhaps I had unknowingly fallen in love, because the two secret wishes that I made there have all come true."
After that one week in Bhutan, Karen went back to her city life, but she and Ngawang kept in touch. He visited Singapore, where Karen was based, over the new year to be with her and she volunteered as a media trainer in Bhutan.
When she received her work permit to work in Bhutan for a year, Ngawang asked her to marry him.
Read more about what Karen has to say about Bhutan in Bhutan: Travelog. Click HERE to pre-order a copy of the travelogue now!
Perhaps, upon reading the book, you'll be inspired to pay Bhutan a visit too. And maybe, just maybe, you'll fall in love.
---
---