Driglam Namzha: Why The Bhutanese Do What They Do
Many may not know this, but there is a certain code of conduct that determines the way Bhutanese are - and this code of etiquette is known as driglam namzha.
(Source: RENEW/Facebook)
By Passang Lhamo | Daily Bhutan
Have you ever wondered why the Bhutanese culture is distinct from the rest of the world? The way we dress, behave, eat and talk is uniquely different. Many may not know this, but there is a certain code of conduct that determines the way Bhutanese are - and this code of etiquette is known as driglam namzha.
Driglam means the way of maintaining order, while namzha refers to a concept or system. Therefore, driglam namzha is a system of orderly and cultured behavior, and by extension, the standards and rules that constitute it.  It also regulates a number of cultural assets such as art, the way we speak and also our internal mind too.
Introduced by Bhutan's founder and unifier
Driglam namzha was introduced in Bhutan by its founder, Zhabdrung Ngawang Namgyel, a Tibetan lama and military leader who sought to unify Bhutan not only politically but also culturally. There is no set of written rules about the driglam namzha, but it has been followed since olden days and passed down from generation to generations. It plays an important part in religion, as well as in the daily lives of laymen. This system is widely known and followed in the country.
Good mannerisms in Bhutan is to a great extent defined by the Buddhist ethics of wholesome physical, verbal and mental conducts. In this context, the concept of driglam, like beyzha (conduct) or jaluchalu (moral etiquette), in a loose sense, refers to good manners which are adopted by the individuals and heavily influenced by the concept of Buddhist good conduct. 
Basic guidelines of driglam namzha
Driglam can be categorised into three disciplines: Physical, verbal, and mental/ inner mind. Mr Kunzang Dorji, a research officer of Royal Academy of Performing Arts (RAPA) gives us a rundown on basic guidelines of driglam namzha. He was with RAPA for nine years and he did his degree and masters from College of Language and Culture Studies in Trongsa.
Physical discipline - what to wear and how to behave
The physical discipline includes the way people behave and wear clothes. The way the Bhutanese eat, behave and walk is also part of this discipline, known as zhacha dro sum. External behaviors should reflect wholesome values such as humility, self-control, calm and compassion while also displaying sensitivity and respect towards others. 
1. Clothing
Under driglam namzha, men wear a knee-length robe tied with a belt, called a gho, which is folded in such a way to form a pocket in front of the stomach. Women wear an ankle-length dress called kira with blouses called wonju and short silk jacket or tego.
Young boys in gho and wearing kabney. (Photo: bhutanstreetfashion/IG)
 2. Kabney and rachu
While visiting a Dzong (fortress), temples or office, Bhutanese people should maintain their dress code of the gho and kira.  Men who are commoners should wear a kabney, a white raw silk sash with fringes from left shoulder to opposite hip, with other colours reserved for officials and monks. Women should wear a rachu, a narrow embroidered cloth draped over the left shoulder whenever they visit a Dzong or a temple, and when appearing before a high-level official.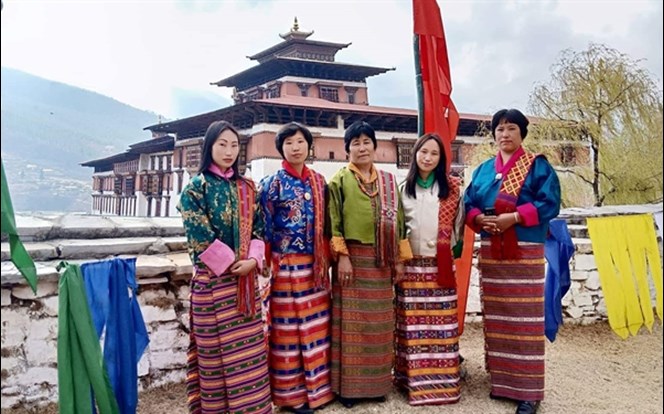 Bhutanese woman's wearing kira and rachu during Paro Tshechu. (Photo: Passang Lhamo)
3. Eating behaviour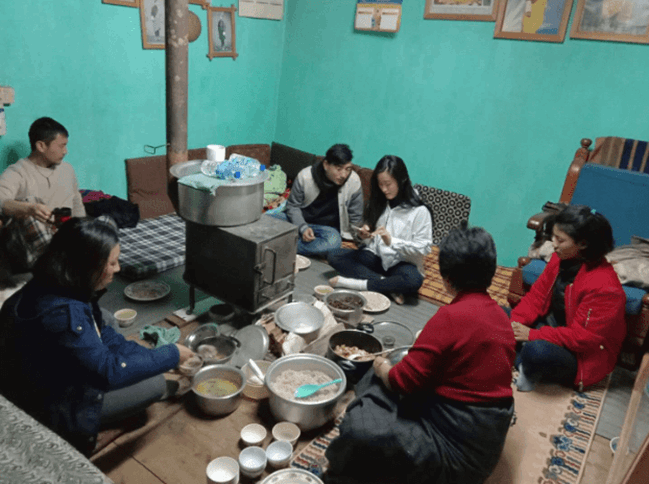 Traditional Bhutanese way of having a meal. (Photo: karen.tshering/IG)
Eating behaviour includes maintaining decorum while having a meal, be it with high officials or with family.  Before eating we should pray to god. While eating, the sound of chewing the food shouldn't be made. We should always take the right amount of food to satisfy our hunger thus not wasting any. We should also not be making facial expressions of good or bad tastes while eating.  Under driglam namzha, we should not start eating before high officials and eldest in the family eat. And also, one should not sit with crossed legs if one is seated on a chair.
4. Way of walking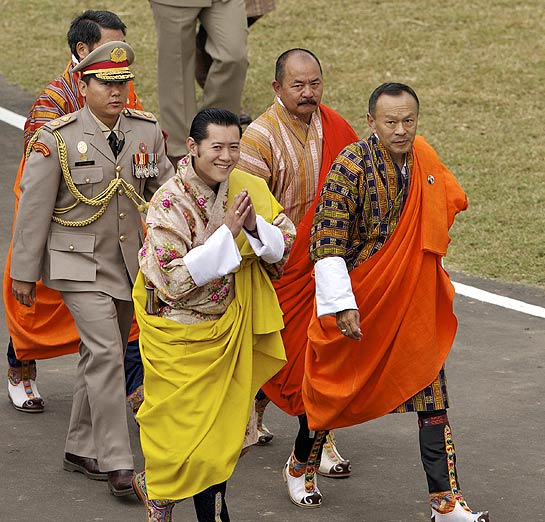 While walking with high officials, we should walk on their left and behind them. (Photo: Internet)
Walking without conscious, running while walking, making a loud noise with our footsteps, taking big footsteps, holding your hand on your hips and dashing with others, holding hand with friends and walking, and keeping your hand at your back while walking are all considered as ill-mannered.  One should walk without making noises, and while walking with high officials, we should walk on the left behind them.
5. Way of sitting
We should not cross our legs in front of superiors. (Photo: Passang Lhamo)
While sitting in front of superiors, we should maintain our posture. We should not cross our legs or lean against the wall. This kind of behaviour is considered as ill mannered. If we are sitting on the ground, we should sit with our legs crossed on the floor with our hands folded in front.  Kneeling down is also considered bad behaviour.
6. Way of looking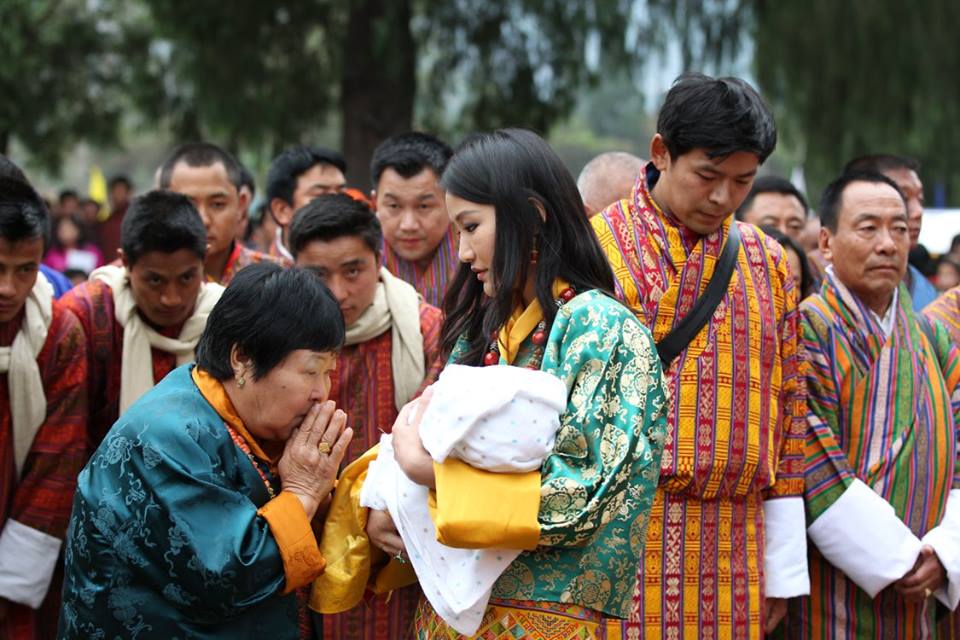 We should look at people with love and care. (Photo: Internet)
We look at people with different kinds of expressions. For example, looking with care, compassion and love, or looking with an angry face. When we are meeting people for the first time, we should not look at them with anger. Instead, we should look at them with love and care. We should not stare directly into the eyes of the high officials, and we should be lowering our gaze, towards their feet.
7. Way of bowing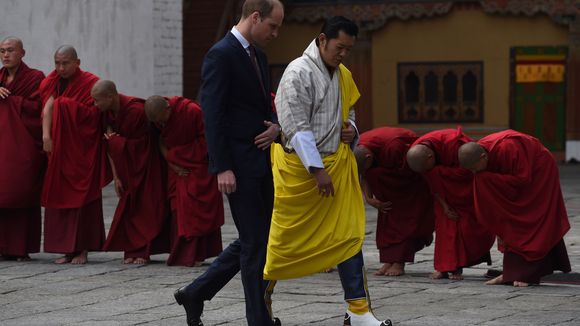 While bowing to the King or high officials, we should cover our mouth. (Photo: Internet)
We bow to the King and high officials as a means of respect for them. We should bend our back and head lower while bowing to the King. We should not bow to higher officials in front of our King. The way we bow to the King and high officials is different. While bowing to the King or high officials without a kabney or rachu, we should cover our mouth and bow.
Verbal discipline - how we talk
According to conduct defined by driglam namzha, we should maintain decorum while talking, and talk according to time and space with a conscious mind and introspection. We are also required to talk clearly so that others can understand what we mean.
The way we talk with elders: We should talk with respect to lama's, high officials, parents, and elders.
The way we talk with people of the same age: We need to talk with our friends or people of the same age as us with love and affection.
The way we talk with the younger ones:  We need to talk to younger ones with compassion, cherish them and guide them by giving good advice.
Telling lies, harsh words, spreading rumours, scandalising, backbiting, accusation and defaming, and murmuring are considered a bad way of talking and have to be avoided at all times. We need to welcome a guest, whether it is a high official or a common man, with a smile and treat them with respect.
Mental discipline - having a good mindset
The physical way we carry ourselves and a good way of talking is not enough. According to driglam namzha, we need to have a good mindset, a mind who thinks good about the welfare of all sentient beings. The inner mind, driglam, means the way Bhutanese people think: their love for the country, King and people, and the respect for the nation's rules and regulations.
Respect for our national dress is paramount, because it is a unique identity of our country and the same should be applied to the national language Dzongkha.  There must also be the willingness to serve Tsa-Wa-Sum (King, country, and people) as much as we can and to have the determination to make everyone happy. Having a good mindset helps to maintain good relationships with everyone, as well as being loyal to friends, spouses, parents and oneself.
Driglam namzha as a courteous mode of individual development
With more exposure to the outside world, Bhutanese people take pride in driglam namzha as a unique identity of Bhutan and promote it not only as a righteous code of conduct, but also as a marker of Bhutanese identity.  Driglam namzha was discussed many times in the Parliament and resolutions were passed on its preservation and promotion, mainly to counteract the invasion of Western culture.
In a nutshell, driglam namzha deals with eschewing crude and bad physical, verbal and mental behaviours and adopting civil and courteous conducts of the body, speech, and mind.
The elders and the leaders of the nation must follow the code of etiquette because they set the example for the rest of the people to follow. It is a courteous mode of individual development, as well as a civilised mechanism for the harmonious functioning of a society. Its intrinsic value lies in it being an expression of civility, tact, propriety, decorum, and elegance, and it is by seeing this value that driglam namzha can be sustained and celebrated as a unique Bhutanese heritage.  
---