Fostering Green Minds through Green Schools in Bhutan
Bhutan has been trialing a new approach to education since 2009. It's 'Green Schools for Green Bhutan' program is part of the country's attempt to integrate principles of its revolutionary Gross National Happiness (GNH) model into all areas of public policy. The concept aims to inculcate respect for the earth by conserving natural resources and learning from the earth by bringing nature into the classroom and the classroom into nature.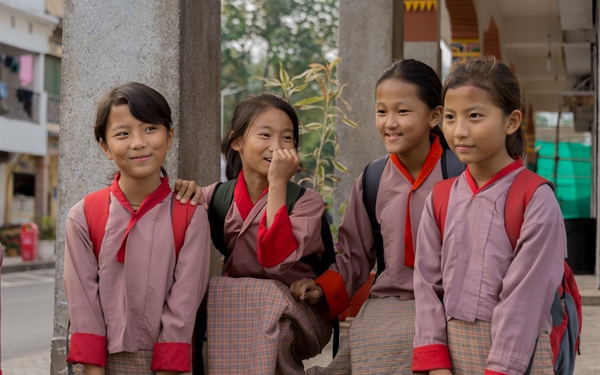 Modern Education in Bhutan
Education has been in the world for centuries. However, the first modern school in Bhutan was only established in 1913 in Haa district. Decades later, Sherubtse College became Bhutan's first college in 1983 with a bachelor's degree program. Back in 1927, the medium of instruction in Bhutanese schools for students taking the Indian Certificate of Secondary Examination (ICSE) was actually in Hindi.
Access to modern education has changed Bhutanese lives. It provided youths the best chance to lead successful lives. Every citizen who went to school had a high chance of getting a job. In the olden days, teachers had to go around the villages to enroll children into school.
Bhutan has evolved by leaps and bounds since the birth of modern education. There are currently hundreds of schools and colleges (both government and private ones) throughout the country.
Education is often known as the noble sector of public service because the primary mission for seats of learning has been the cultivation of the nobility of mind, heart, and hands. 
The nation-wide program called "Educating for Gross National Happiness" was launched in 2009 to nurture Green Schools as a means of building a Green Bhutan.
Over the past couple of years, we have seen gratifying results from across the country. There have been reports by schools of enhanced academic performance, improved student behaviors, reduction in disciplinary issues, and positive changes in the overall aspects of our institutions.
Why Green School?
Green is the primary color of nature but it is also a metaphor for life. Green represents everything that supports and sustains life in all its varied forms - human, animal, plant, and all other living beings.
In today's context, when the sustainability of life has become a global concern, green as a metaphor assumes critical significance. In the context of education, green signifies the necessary orientation of our mind, our hearts, and our hands.
The concept of a green school is not just about the environment but also about instilling a sense of green minds. At the forefront of the concept is the conservation of the natural environment. It is a values-based holistic approach beyond academic achievements to expand children's minds. It is a philosophy to teach children about what it means to be human.
The green schools aim to foster students holistically and creates the necessary space for students to bloom into their full potential in Bhutan.
Each discipline in Bhutan's schools and institutions is a treasure trove of great ideas. Green schools are a medium through which teachers and students engage in those ideas and bring them alive. They are a means to return to the heart of teaching and learning.
In an attempt to achieve those lofty ideals, various green school initiatives and practices are in place across Bhutan.  

Green schools play a vital role in nurturing the next generation of leaders to be well-rounded individuals who are at peace with themselves and the world around them.
While some good materials have been developed to help implement the elements of a Green School, there is a pressing need for more resources to support educators and students. A more profound understanding of the concepts with a clear succinct explanation of each element is required to enrich the learning process.
---
---