How to make your own ema datshi (chilli cheese) in 10 minutes
You can make your chilli cheese as spicy as you wish.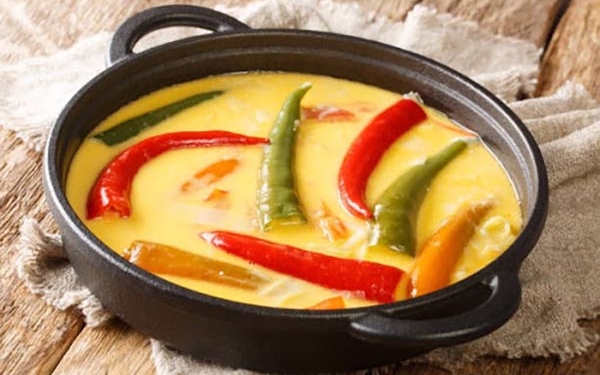 What is ema datshi?
"Ema" means chilli, and "datshi" means cheese. Ema datshi is a stew of chilli and cheese, merged to give your taste buds a fiery treat. It is the national dish of Bhutan.
The Bhutanese love their cheese. The country is cold, and dairy provides them the warmth and strength needed to survive the low temperature. Furthermore, owing to the high altitude and closed economy, many Bhutanese depend on the rearing of cows, yaks, sheep, and goats for their livelihood. The livestock led to dairy, which then led to the Bhutanese people's love for cheese. 
In equal measures to the way the Bhutanese love their cheese, they also love their chillies. Bhutanese blogger, Tashi Choden, joked that when Bhutanese are born, they might not know who their neighbours are, but they are fully aware of where the chillies are. To them, chillies are not just a seasoning; they are a vegetable. 
Chillies arrived in Bhutan through India via traders and pilgrims. Before that, olden Bhutanese used a type of herb called namda as a spice for their dishes. But once the Bhutanese tasted chilli, it became a staple — both in their cuisine and in rituals. Chillies are used to drive away spirits and omens, and as a form of good luck in ara. 
As such, it was natural when the Bhutanese fused the two — cheese and chillies — and ema datshi was born.
There was a time before Bhutan was united in the early 1600s when the area was divided culturally and geographically. But although the different communities had different cultures, practices, and territories, one thing unified them: their love for ema datshi. 
And here's some good news. All you need is 10 minutes and some simple ingredients to make your own ema datshi!
Prep time: 5 mins
Cook time: 5 mins
Ingredients
9-10 medium-sized red chillies (you can also use green chillies or white chillies)

1 onion

½ tomato

5-6 crushed/sliced garlic

3 tbsp oil

½ bowl of grated cheese

Salt to taste

½ cup water to cook

2-3 spring onion leaves (optional)

2-3 garlic leaves (optional)
Instructions
Rinse the chillies, onion, tomato, spring leaves, and garlic. 

Slice the chillies lengthwise. Chop the tomato, onion, garlic, and spring onion leaves.

Put all the ingredients into a frying pan.

Add water, oil, salt, and the cheese on top. Cover and cook for 3-5 minutes on high heat. 

Turn off the flame and leave the dish untouched for 1-2 minutes.

Then, add salt to taste. Stir and serve it with rice, chapati, or whatever you please.
Note 1: Vary the amount of cheese and chillies to your liking. If you prefer your ema datshi spicy, pile on the chillies.
Note 2: Traditionally, the Bhutanese use datshi, which is a type of cheese made out of goat, cow, or yak milk. However, feel free to use your favourite cheese, although it is advisable to avoid stringy cheese like mozzarella cheese. An option for one located outside of Bhutan is a combination of farmer cheese, blue cheese, and cheddar. 
Health and nutritional facts of ema datshi
One serving size (1 bowl)
Calories 275 cal
Fat 18g
Saturated fat 11.3g
Sodium 850 mg
Total carbohydrates 14g
Sugars 8g
Protein 14g
Chillies in ema datshi help to regulate blood sugar levels. It also improves blood circulation.
The dish is also a good source of calcium, which is especially advantageous for women. Growing children, old people, and bodybuilders can benefit from the extra calcium too.
Ema datshi is high in fats, especially saturated fats, which might cause blockage in the arteries and veins. 
The dish is high in sodium too. Thus, for those with cardiovascular diseases and hypertension, it is advisable to use less cheese or low-fat cheese. 
Variations of ema datshi
There are many versions of ema datshi now. There is a dry version, with the taste but without the stew.
Another version is kewa datshi, potato cheese. Kewa datshi is like ema datshi, but way less spicy.
Similarly, shamu datshi, mushroom cheese, is another popular version. Shamu datshi is well-liked in Bhutan for its health benefits. Bhutan is home to many mushrooms, so the Bhutanese have many varieties to choose from. 
A list of mushrooms commonly used by the Bhutanese when making shamu datshi are as follow:
Matsutake honey mushroom

Ramaria botrytis

Wood ear

Common puffball

Pink tipped coral mushroom

Short stem russula

Himalayan gypsy

Ramaria

Cantharellus

Corals

Honey mushroom

Milky mushroom

Shitake mushroom

Oyster mushroom
Meanwhile, there is a bean version, called semchung datshi, which is similar to the other versions except you use beans. They are much less spicy than the traditional ema datshi too.
You might like to have a glass of water next to you, especially if you're trying the traditional version of ema datshi. Just in case.
Bon appetit!
---
---