Thousands of Bhutanese signed up as DeSuups during COVID-19 Pandemic
While COVID-19 pandemic has brought a lot of inconveniences, challenges, and uncertainties to individuals, it did not deter the Bhutanese to step forward to play a part in being active citizens.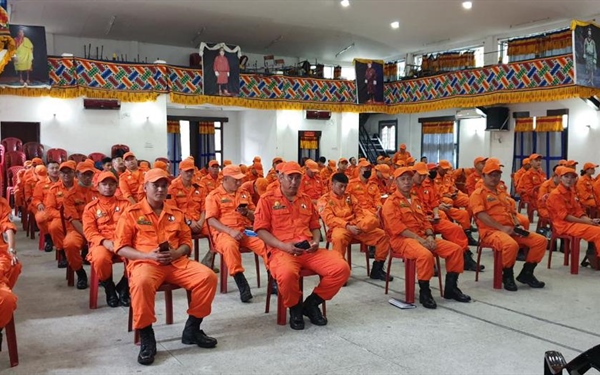 DeSuung a.k.a "Guardians of Peace", was an initiative created by His Majesty King Jigme Khesar Namgyel Wangchuck to promote the spirit of volunteerism, positive influence of ethics, community service, integrity and civic responsibility in society. It was His Majesty the King's noble vision to create a voluntary organisation for Bhutanese to support and serve their neighbours, communities, society and country at large. Since its launch in February 2011, Bhutan has trained 12848 Desuups (volunteers) in Bhutan across 7 training centres in the country. 

Don in bright orange uniforms, these reliable men and women can be found everywhere during crises and peace time - at the festival grounds, major national events, reconstruction projects, natural disasters ground, religious congregations, national borders. In a country that faces resource and manpower crunch, it is only right to focus on building the human capital to help ensure that the country will continue to progress steadily. 

"There is a higher responsibility - not written in any legal document but instead enshrined in humanity and history - a natural responsibility and duty that we all must shoulder equally, irrespective of who we are. Of paramount importance to the strength of a nation, is the ability of her people to live as one united family - a community in which interaction is marked by trust, understanding and cooperation." - His Majesty The King

DeSuups have always been at the forefront of disaster responses within the country from fire to landslides and the spirit of volunteerism transcended borders in times of needs. In 2015, upon the Royal Command of His Majesty The King, some DeSuups also went to Nepal to assist during the major earthquake. The Desuups were deployed as part of the first-ever Bhutanese Medical Response team, which operated a self-sufficient district hospital in Nepal for several weeks. It was a significant moment for the Desuung fraternity as the support and solidarity rendered generated much goodwill and appreciation for Bhutan beyond the borders.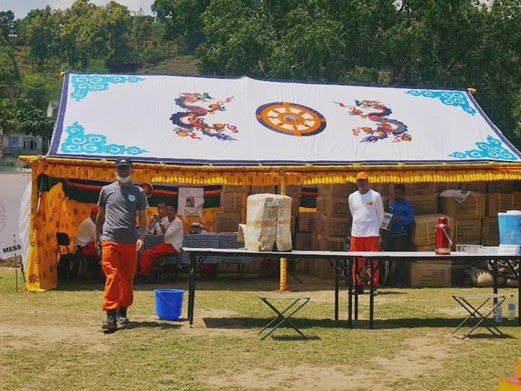 DeSuups in Nepal during the earthquake in 2015

In April this year, in view of the COVID-19 pandemic, His Majesty The King addressed the nation through a televised speech and reinforced the message on the importance of unity and cooperation during these unprecedented times. To supplement the efforts of the health professionals and armed forces, an Accelerated Desuung Programme was created. There are around 2,500 slots available for each batch and seats were said to be taken up within hours of registration opening. This spirit of volunteerism and servant leadership shown in this tiny Himalayan nation is truly remarkable. 

The DeSuups undergo an intensive and rigorous 3 weeks training that begin as early as 4am well into the night. During this pandemic that threatens the peace, security and prosperity of the nation, DeSuups truly lived up to their role of being the Guardians of Peace. They have been supporting the frontliners in various capacities such as loading and unloading of goods to help healthcare workers in quarantine centres, screening people at point of entries and carrying out surveillance and patrolling in the towns and borders.  

"His Majesty the King has been devoting himself selflessly to serve the people in all corners of the country. He has sacrificed a lot to ensure that we are safe and happy. He is really working tirelessly everyday. I think this is the time for people to do something for the country. I was really touched by the speech made by His Majesty. It inspired me to sign up to be a DeSuup," says Tobgay, a tour guide with Druk Asia. 

During this time of pandemic when tourism is on pause, Tobgay has been actively involved in DeSuup duties. The Desuung training has not only strengthened his disaster management skills which will come in handy for his role as a tour guide but it also helped him become physically fitter and healthier. From being 108kg prior to joining Desuung training, he now weighs around 88kg.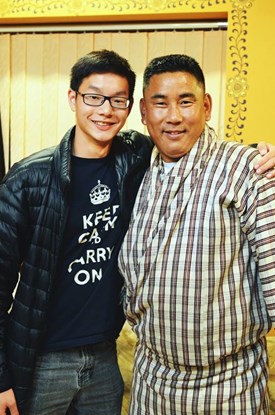 Tobgay with his guest in Bhutan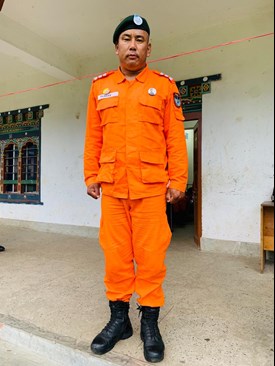 Tobgay in his bright orange DeSuup uniform
While COVID-19 pandemic has brought a lot of inconveniences, challenges, and uncertainties to individuals, it did not deter the Bhutanese to step forward to play a part in being active citizens. Being a DeSuup is one of the highest forms of voluntary service in Bhutan and it is undoubtedly that these selfless men and women in orange will continue to serve the Tsa-Wa-Sum (King, People, Country) with unwavering dedication and loyalty. There is always this unmistaken sense of pride that shines through whenever they put on the orange uniform or just in the way they speak about being a DeSuup. 

Like Tobgay, many of his peers in the tourism industry have been affected by the pandemic when tourism was put on halt upon the discovery of the first COVID-19 imported case in the country. However, many Bhutanese have rose up to the occasion to serve and to give back to their communities in different ways such as volunteering in the local clinic and cleaning up the streets. 

If the pandemic was a test to a country's resilience and unity, Bhutan would have passed with flying colours. 
----
The DeSuung fraternity is made up of thousands of volunteers from all walks of life from students to the Former Prime Minister of Bhutan coming together with a common purpose of being Guardians of Peace. 
Click here to find out all you need to know about the Desuung Programme in Bhutan.