Finding Purpose in a Pandemic
COVID-19 has spawned new farmers in Bhutan. Find out how Tshering Pelden traded her guide uniform for farmer outfit in the interim.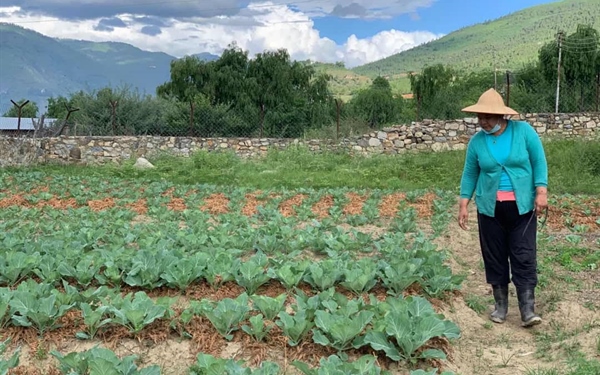 How has your life been affected by COVID-19 pandemic?
Honestly, COVID-19 didn't affect me as much as some others because I am a permanent tour guide with Druk Asia. I am very blessed that we are still being paid our monthly salary during this pandemic season. 


How long have you been a tour guide?
This is my 10th year as a tour guide with Druk Asia.


What have you been doing since there are no tourism activities currently?
Together with seven other tour guides, I was doing voluntary work serving lunch and refreshments to the healthcare workers who are engaged in the flu clinic at Paro, Bhutan. I have also been doing cleaning campaign to make use of my time. Besides that, we have also kickstarted an organic agriculture initiative to supply vegetables to the hotels and quarantine centres in Paro.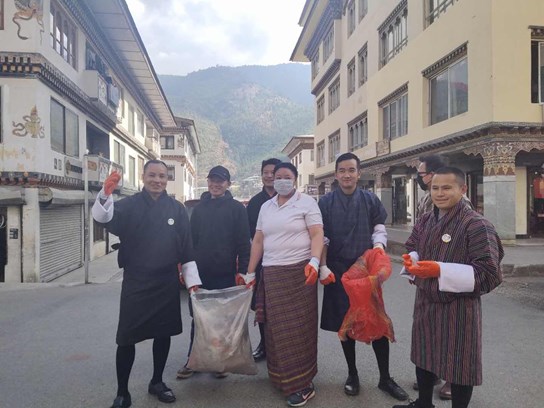 Tshering and her colleagues volunteered to clean up the streets of Paro
How did the initiatives started?
The group of tour guides residing in Paro discussed about providing voluntary services to the government during this time of pandemic since we are staying idle when all tourism activities are halted. So, we thought of doing something meaningful with our time and decided to volunteer and also started the farming activities.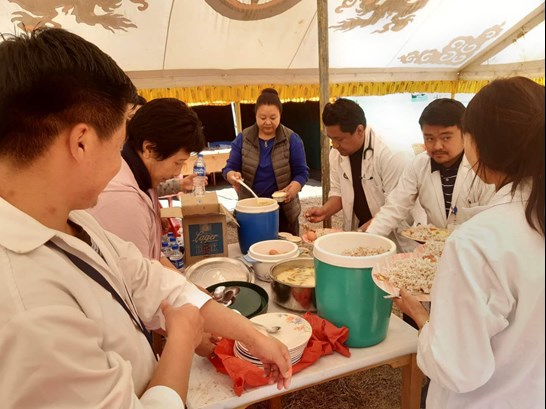 Tshering and her colleagues volunteering at the local flu clinic
What are some challenges that you face when you first started farming?
Doing farming for the first time in my life was really challenging! I have no knowledge about agriculture and don't even know what crops to grow for the season! Thankfully Executive Director of Guide Association of Bhutan, Sir Sonam Dorji managed to help us get support from the Ministry of Agriculture and Forests. The ministry helped us with the land development and the district agriculture department also provided us with seeds.
It was really funny because in the beginning, it took us (10 tour guides) two days to make one standard bed! Usually, it only takes a farmer 10 to 15 minutes to create a bed. And after raising the saplings, one is required to transplant the saplings, we have no idea what is the appropriate spacing and gap for the transplant and ended up planting three to four saplings in a row. It resulted in the crops growing too thick and some even didn't bear fruits. Haha. 
Pricing was another challenge as vendors would purchase the crops from us at really low price. We had some difficulty with finance initially but managed to get a bank loan for two years to buy and install a greenhouse and build all the infrastructure.
What are the crops that you are currently supplying and harvesting?
We are growing vegetables such as peas, beans, carrots, broccolis, chillies and radishes. We also plan to grow winter crops and medicinal plants.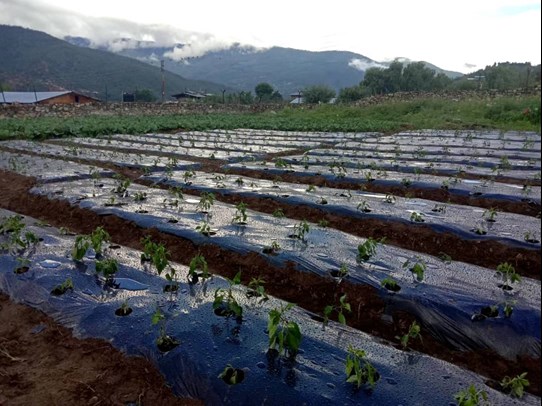 Bhutanese chillies cultivation
What are your future plans?
I am currently planning to try my hands on floriculture. I hope to grow a variety of orchids with medicinal properties as well as herbs like rosemary, basil and celery soon! Hopefully, I can make rosemary tea in the future. 


What have you discovered about yourself during this time?
I have discovered a lot during this time of pandemic. I felt that COVID-19 is a blessing for me in the sense that it has trained me into doing real hard labour. It is also a good exercise for me and I have learnt many new things. I discovered that time is so precious for me and I also learnt how to save money and sustain myself and my family even when tourism is on pause.


Do you hope that tourism in the country will resume soon?
I don't think that tourism in the country will resume anytime soon but I am keeping my fingers crossed and praying everyday for it to resume as soon as possible.


What would you like to say to those who are struggling during this time of pandemic?
Don't panic, nothing is impossible if you try. Always be positive and move forward.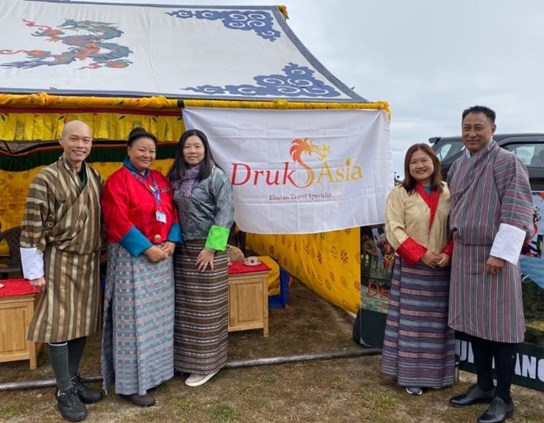 Tshering and her guests in the Dochula Festival 2019
Tshering Pelden is a senior tour guide with Druk Asia. During this time of pandemic, she initiated and rallied her colleagues to embark on meaningful initiatives in Paro, Bhutan. Throughout the past decade, in her role as a tour guide, she has forged wonderful friendships with guests from all around the world. While she awaits for the borders to re-open, she has been spending her time meaningfully in the community by volunteering and turning into a novice farmer. She also enjoys cooking and her favourite Bhutanese food is the Bhutanese red rice with ema datshi (chilli cheese).