A Gen Z's Experience Visiting the Kingdom of Bhutan
As we start to see the world around us speed up, we need to slow down and look around.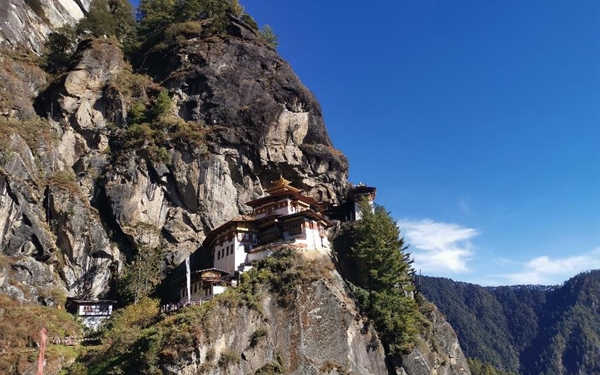 Written by: Cassie Chow
As someone who grew up in busy Singapore, the trip to Bhutan with Druk Asia in June 2018 was a breath of fresh air for me.
Since opening their doors to tourists in the 1970s, Bhutan is often deemed as an 'expensive' country to visit. Tourists have to pay a daily tariff and book their trip with licensed tour operator. This resulted in many placing a trip to Bhutan on their bucket list, but few willing to pay to go to the country for a vacation. But the daily tariff is inclusive of accommodation, three meals, tour guide and transportation.
The Kingdom of Bhutan was a country name I hardly heard of. I've only heard of it during Model United Nations conferences I attended, where a well-spoken student spoke of the country's views on various topics.
Hence, prior to my trip to Bhutan, I read up on the country's various tourist spots and interesting facts. This led me to learn of the Paro Taktsang, more commonly known as Tigers' Nest. A monastery perched on the side of a cliff, this tourist destination requires around 4 hours to climb (depending on your fitness level) and promises a beautiful scenery after arrival. I placed this as a must-visit place for my trip.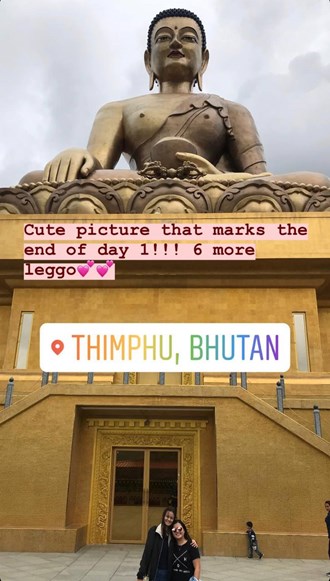 At Buddha Dordenma, Thimphu
Stepping off the Drukair plane, I could already feel the stark difference in weather between Bhutan and Singapore. While Singapore boasts of summer all year round, with harsh suns and hot weather, Bhutan was cool and smelt of fresh air.
Exiting the arrival hall, our personal guide and driver provided us with the warmest welcome with a scarf. Then, we drove off to the capital city of Thimphu.
In Thimphu, we went to many places. First, we went to Buddha Dordenma aka Buddha Point. We took a photo together in front of the large Buddha statue and prayed for blessings for the next six days. We entered the building, marvelling at all the beauties within. Being gold in colour, everything seems grander somehow. The beauty of this place is unrivalled, it was as if everything had slowed down because of the blessings from the Gods.
We also visited RSPCA Bhutan where we interacted with the dogs and the staff. At RSPCA, we got to understand their operations and learnt how they rescue the stray dogs. We even got a chance to sit in during one of the feeding sessions. Through the experience, I was able to understand and see how the way Bhutanese live affect the way they treat the world around them.
We had momos (dumplings) with various fillings at a Momo restaurant in Thimphu. I thoroughly enjoyed the overall experience of trying something new.
The days in Thimphu had been nothing but quiet and serene for me. It was a break from the hectic lifestyle in Singapore. With little to do past 5 o'clock, I often found myself on the balcony of my hotel room, overlooking the scenery and enjoying the peace and quiet this country brought. At night, the sights were beautiful, even if there was not much lights around. It seemed as if time had slowed down for this country, where Bhutanese seemed to be less affected by the hustle and bustle of life.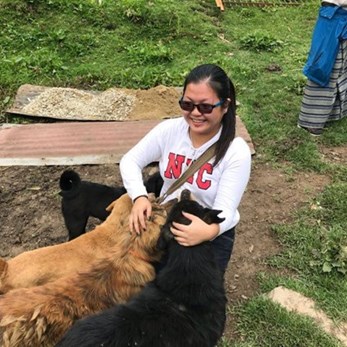 Friendly dogs in Thimphu rushing up as we were about to leave
From Thimphu, we headed to Punakha. On the way there, we stopped by Dochula Pass, where 108 memorial stupas were built. This pass boasted of cold weathers, being on a higher peak. The majestic peak of this place was a perfect place for photoshoots.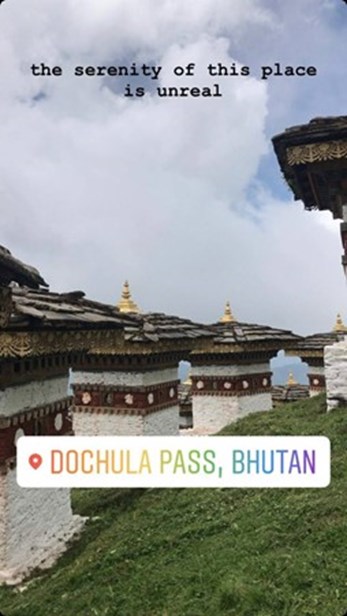 The scenery at Dochula Pass
In Punakha, we visited many dzongs, monasteries and nunneries. The most memorable being the Punakha Dzong, Khasum Yulley Namgyal Chorten, Chimi Lhakhang and the rafting experience. The Kamsum Yulley Namgyal Chorten felt like a prelude to Paro Taktsang, where we had to hike a little bit to reach the destination. The hike felt long when we were moving upwards. But when we reached the temple, everything was worth it as we were treated to a scenery unlike any other. Upon entering the temple, we marvelled at the grandeur of the designs and the temple in general. Our guide shared with us various stories and histories of Bhutan.
After that, we found ourselves at Chimi Lhakhang. Although being 19 and not expecting to be pregnant anytime soon, we were fascinated by the various stories of this sacred place. Chimi Lhakhang, also known as the fertility temple is a popular site for couples to receive fertility blessings. Many became pregnant after visiting Chimi Lhakhang, even though they were previously told that they could not conceive. Inside the temple, we also saw a book filled to the brim with couples thanking the temple for staying true to its name and blessing them with a child.
We also visited the Punakha river for rafting. On our way there, our guide explained the folklore of the male river (Pho Chu) and the female river (Mo Chu). Rafting was fun, it was a different experience rafting in Singapore or Indonesia. We were asked if we wanted to try jumping into the icy water. We looked at each other with an unmistakable mischievous glint in our eyes as we started daring each other to enter the water. Before I knew it, I was in the freezing water, where my body could feel the cold water drenching my clothes. Nonetheless, the experience felt sweet and it felt like a cleansing experience in the water. We laughed and took many photos, even bringing our guide and driver along for the ride.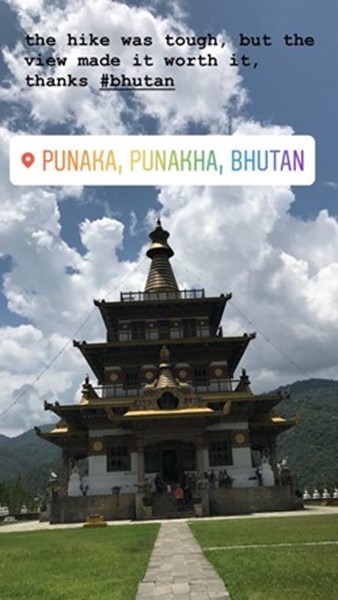 Khamsum Yulley Namgyal Chorten
Our last stop was in Paro, where we did not have much planned, except for the hike up to Paro Taktsang, followed by a hot stone bath. The climb up was bittersweet, where we laughed and talked, took many photos. We really enjoyed the hike even though it was tiring. We took a break in the middle of the hike for food, daring each other to try the new food we have not seen before.
Standing at the Tigers Nest in Bhutan, overlooking the scenery in front of me, I started reflecting on my Bhutan trip. Everything felt surreal, as if we were in another world. But it was another world. Bhutan with their slow-paced lifestyle was definitely different from what I was used to.
On the hike up, the guide also told us about the Bhutanese belief where horses are only rented to the elderly and the weak. They believed in karma, and hence, if they mistreat the horses, and expect it to make the journey for them, that will result in bad karma. We listened closely to the various traditions and stories as we climbed up the mountain, forgetting about how tired we were.
The trek down was much smoother. We continued taking photos and walking around, exploring the unfamiliar terrain, while our guide animatedly told us the various folklore the Bhutanese believe in. As I trekked down, I took several glances back at the Paro Taktsang, saying goodbye silently.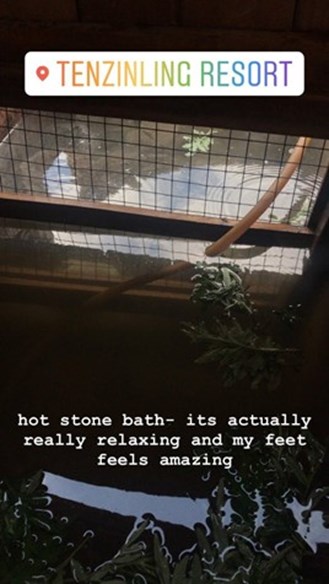 Enjoying the hot stone bath in Paro
Our guide then brought us to a hot stone bath to unwind and rest after the long hike. Laying in the hot water, I started to reflect on my trip to Bhutan. It was a slow week I had in Bhutan, being forced to be one with nature and to be away from my phone. Just like most Gen Z in Singapore, I texted quite often and my phone seems to never leave my hands. However, the sporadic connection and many mountainous terrains without data forced me to stay away from my phone and connect with nature instead. I saw myself enjoying the nature surrounding me and the peace and quiet. However, I also miss the fast-paced lifestyle I grew up with.
The hot stone bath seemed to mark a kind of end to my trip as I relaxed and reflected on the trip. Being away from family was definitely hard, even if it was only for a week. Slowing down my days needed adjusting. However, when I got used to the slower lifestyle, I started to sit and enjoy the scenery instead of just zooming to the next task after the first was completed.
Through the trip to Bhutan, it seemed that my biggest takeaway was learning that it was okay to slow down for a while. Being someone who began an internship right after my exams before the start of university, I never had a chance to slow down.
As we start to see the world around us speed up, we need to slow down and look around. Like the mindsets of the Bhutanese, we should learn to look through the lenses of things around us. We need to learn to treat animals how we wanted to be treated and to love the environment as much as we can. Looking at the world will tell us how much of the world we miss.
On the flight back, I saw myself writing about my trip and trying to internalise the many feelings Bhutan has brought to me. It helped me understand the notion of slowing down my lifestyles, looking out and also caring for those around me.
---
---