Bhutan's ICT Development Index
"Bhutan is very well advanced in terms of ICT. Despite this, I met with the authorities and identified issues. It includes satellite connectivity, the emergency telecommunications and cyber security," the Director added.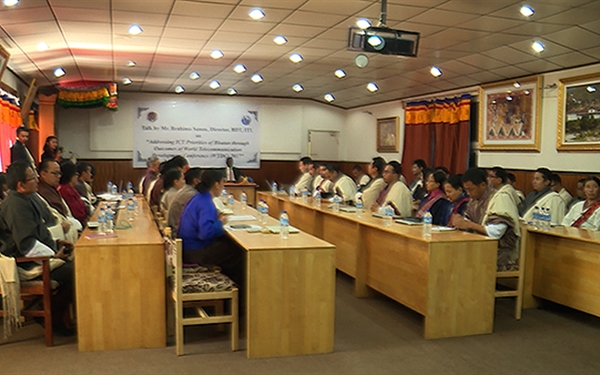 (Source: http://www.bbs.bt)
Bhutan's Information and Communication Technology (ICT) development index has moved up by five spots from 122nd in 2015 to 117th in 2016, out of a total of 193 countries. South Korea took the top title for two consecutive years in 2015 and 2016. 
Some of the areas in which Bhutan has shown progress are: the mobile-cellular telephone subscriptions per 100 inhabitants, the percentage of households with computer and internet access in Bhutan (See Table 1)
Table 1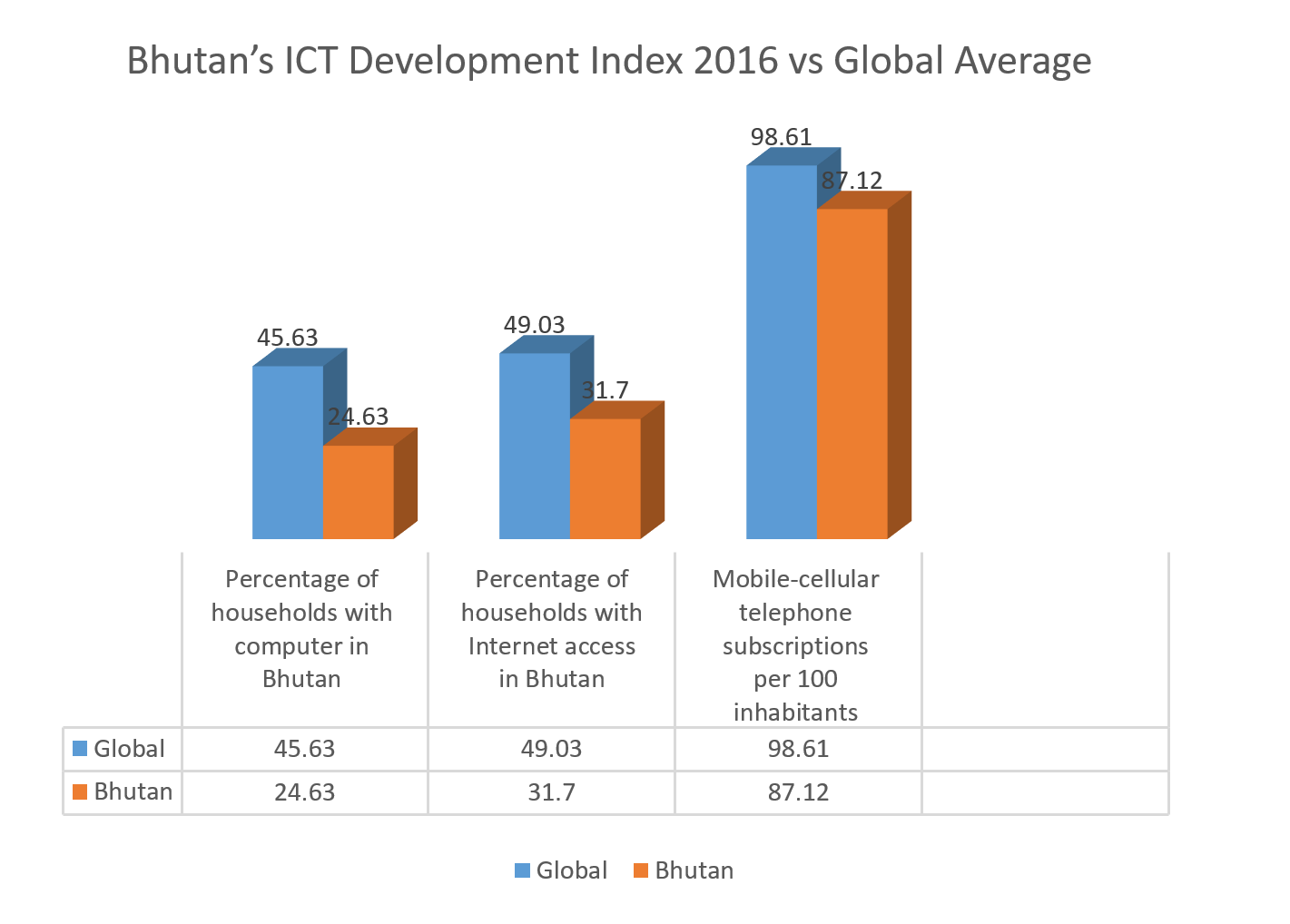 According to the Director of the International Telecommunication Unit, Brahima Sanou, the growth was impressive. The International Telecommunication Unit is the United Nations' specialised agency for information and communication technologies in which Bhutan became a member of in 1988.
Factors which contributed to the improvement in ranking
DN Dhungyel, the Information and Communications Minister said that the improved ranking in ICT is a result of the efforts put in by the government in adopting ICT to execute their overall development plans and programmes.
The ICT sector in Bhutan has also developed a consumer protection framework as well as the compliance testing of mobile base stations and broadcast stations.
Progress was also made in the implementation of the wireless broadband master plan, the broadband policy and the open access model.
Problems faced by landlocked Developing Countries (LDCs)
A landlocked country like Bhutan has its own set of challenges. Some of the barriers to connectivity include: the sparsely populated terrain, the relative difficulty in accessing certain remote villages which in turn makes it tougher to set up communications infrastructure.
What are the areas that Bhutan can work on? 
The Director of Telecommunication Development Bureau (BDT) of the International Telecommunication Union (ITU), Brahima Sanou said that it is important to seek ways to reduce the cost of internet for the least developed countries.
Moreover, Director Brahima Sanou also emphasised that the ICT policy makers and regulators of the industry need to revolutionise the way they interact with each other by revamping their mode of operation as well as strategies.
Another issue which persists is Cybersecurity. It poses as a stumbling block to a world that is more globalised and interconnected than ever.
"Any loophole anywhere in the global network would pose a danger everywhere because of interdependency," Director Brahima Sanou said.
Looking ahead
The Information and Communications Minister Lyonpo DN Dhungyel said that Bhutan has indeed made tremendous progress in ranking in a short span of time. "We need to work further and target to have our rankings in the top 50 within the next few years."
Written by Zann Huizhen Huang
---