Brand Bhutan: Deki Natural Dyes
Deki Natural Dyes is a family business that was formally established in 2011, and it holds a rich legacy spanning three generations.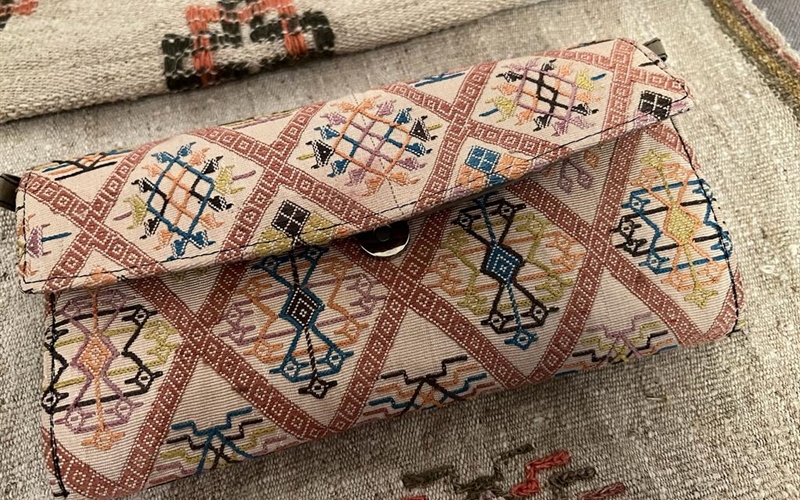 History of Deki Natural Dyes
Tshering Choden, the current torchbearer of the family tradition, took over the reins from her mother, Deki. Their mission is clear: to champion the use of natural dyes derived from medicinal plants and vegetable waste while also advocating for sustainable practices in the textile industry.
At its core, Deki Natural Dyes is an eco-conscious social enterprise that specializes in natural dyes, organic yarns, and handwoven fabrics. They are not just in the business of creating textiles; they are on a mission to challenge and counter the detrimental effects of fast fashion. Their approach involves crafting sustainable and regenerative fashion clothing, marking a significant departure from the wasteful and unsustainable practices often associated with the fashion industry.

Mission of Deki Natural Dyes
The company's mission extends beyond their product offerings. They are committed to advancing the science of extracting natural dyes from plants and vegetable waste. Their goal is to raise awareness about the benefits of natural dyes in the textile industry, promoting their use and thereby contributing to a more environmentally friendly and socially responsible approach to textile production.
In addition to their environmental objectives, Deki Natural Dyes is deeply invested in preserving Bhutan's traditional culture and techniques. They recognize the cultural significance of natural dye extraction, dyeing, and weaving in Bhutan's heritage. Thus, they strive not only to keep these traditions alive but also to pass down the art and science of extracting natural dyes and dyeing yarns and fabrics to the next generation.
Looking ahead, Deki Natural Dyes aspires to make a lasting impact. They aim to popularize the sustainable production of fibers, yarns, fabrics, and garments using natural dyes, adhering to principles of zero waste and a circular economy. Moreover, they are committed to ensuring that Bhutanese culture and tradition remain vibrant and thriving by nurturing the knowledge and skills necessary for the art and science of natural dye extraction and textile production to endure.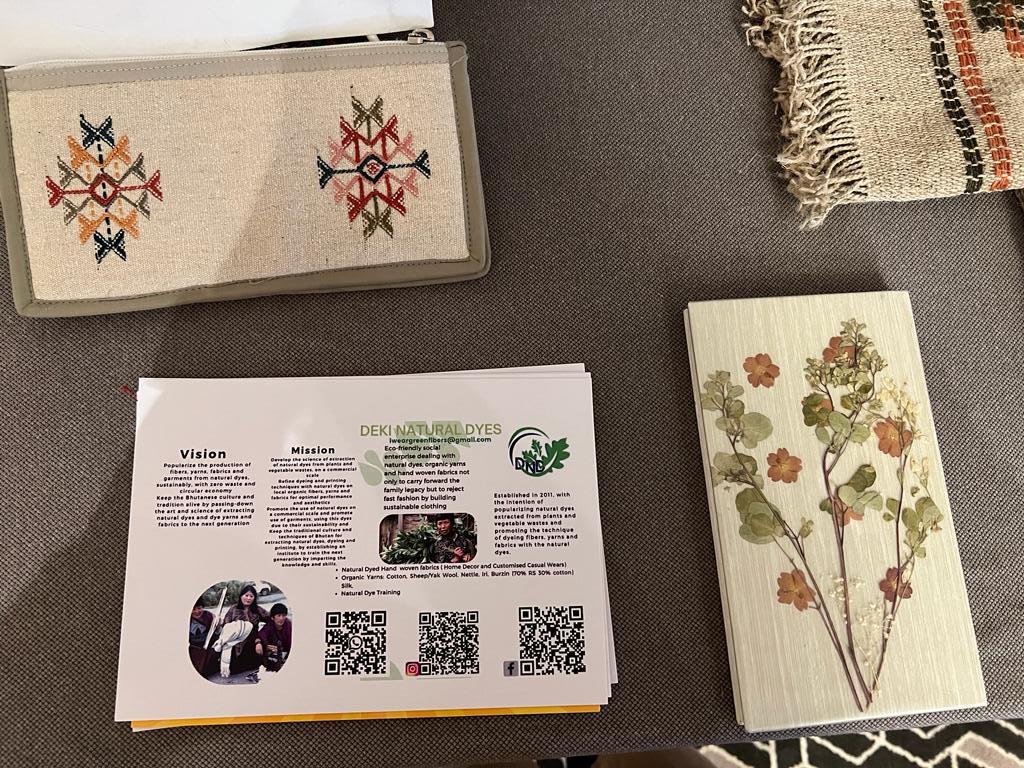 About the Co-Founders
Ms. Deki (Mother)
Ms. Deki is a Master artisan, a leader in natural dyeing, a board member of the Handicraft Association of Bhutan, an international export expert, and a dedicated educator, demonstrate her unwavering commitment to Bhutan's cultural heritage and its place in the modern world.
Ms. Deki, is a true luminary in the world of textile artistry and craftsmanship. With an illustrious career spanning decade, Ms. Deki has achieved remarkable recognition for her contributions to the field. Her journey as a Master artisan, as recognized by the Royal Textile Academy of Textiles, is a testament to her unwavering dedication and unparalleled skill in the realm of textile craftsmanship.
Her craftsmanship and creativity have left an indelible mark on Bhutan's textile heritage, ensuring that traditional techniques and designs continue to flourish in a modern world. Ms. Deki's passion for preserving Bhutan's rich cultural heritage extends beyond her artisanal mastery. She proudly serves as a board member of the Handicraft Association of Bhutan, where her visionary leadership has played a pivotal role in the growth and preservation of the nation's rich handicraft traditions.

Notably, Ms. Deki has been at the forefront of the natural dyeing movement since 2008. Her expertise in this eco-friendly approach to textile production has made her an invaluable resource to the community, and she has generously shared her knowledge, training over 600 weavers in the art of natural dyeing. Her commitment to passing on by establishing Institute of Bhutanese Arts and Management (I-AM) the invaluable skills, ensures the continuity of Bhutan's textile traditions.
She is a recognized expert in export training and packaging, having received training from the prestigious International Trade Centre (ITC). Her insights and guidance have been instrumental in introducing Bhutanese textiles to international markets, carrying with them the essence of Bhutan's cultural identity. The Bhutan Seal of Excellence and Quality has been bestowed upon Ms. Deki every year from 2010 to the present (2023). This is a testament to her unwavering commitment to producing textiles of the highest quality and her enduring dedication to excellence.

An enthusiastic educator, Ms. Deki inspires and empowers those around her. Her teaching extends beyond the technical aspects of her craft, delving into the cultural significance of textiles and their role in preserving Bhutanese traditions. Her enthusiasm is contagious, igniting a deep passion for textiles and craftsmanship in all who have the privilege of learning from her.
Tshering Choden (Daughter)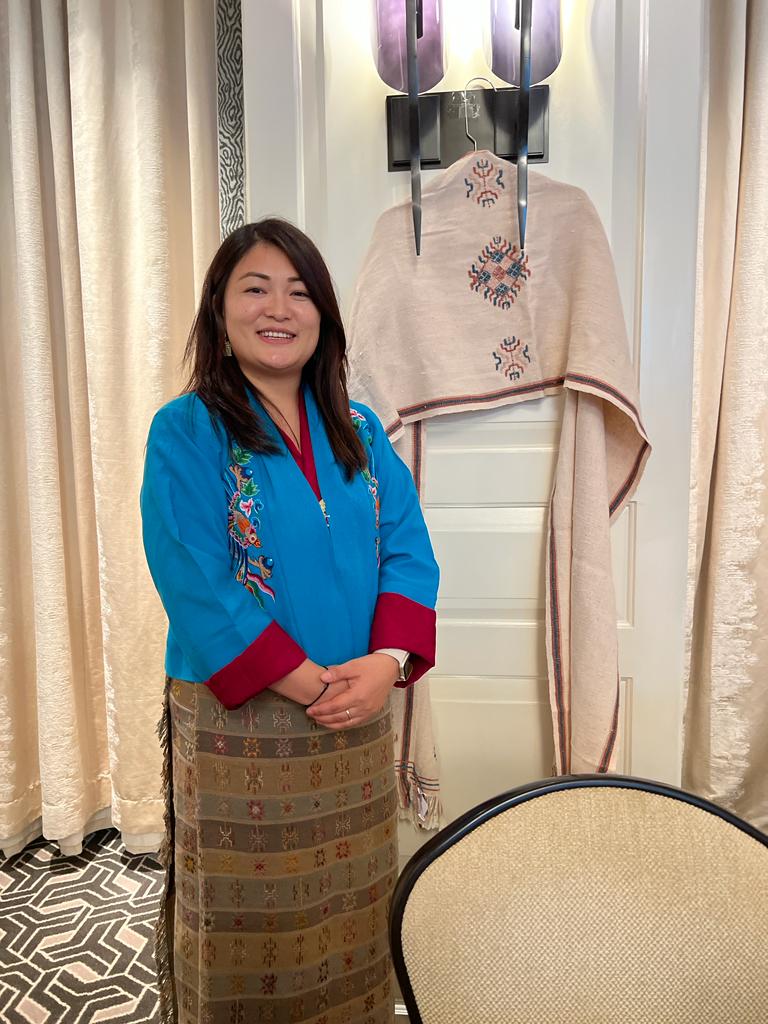 Tshering Choden is a prominent social entrepreneur, community leader, and educator from Bhutan. She is the Training Director and Co-Founder of Deki Natural Dyes and the Institute of Bhutanese Arts and Management located in  Paro, Bhutan. Tshering is renowned for her work in promoting and preserving the art of natural dyes and is 3rd generation carrying it forward, which is an integral part of Bhutanese culture.
Tshering Choden has a rich background in community development and leadership. She participated in the Community Solutions Program in the USA, a prestigious leadership program that focuses on community development and capacity building. She has also worked as a Project Coordinator at the Youth Development Fund (YDF) and as a Teacher at Kelki High School in Bhutan.
Tshering Choden holds a Post Graduate Diploma in Education (PGDE) from Samtse College of Education and an undergraduate degree in Environmental Studies. She is a lifelong learner in Regenerative Agro Food Forest, an innovative approach to farming that focuses on restoring the balance between people and the environment. 
Through her work at the Institute of Bhutanese Arts and Management, she is empowering Bhutanese youth to become leaders in their communities and to carry forward the country's rich cultural heritage.
She is also the team lead of a self-help group working towards Natural dye and pigment supply chain known as Women Integrated Self-help Group (WISH-G)
Her long term vision is to help/ mentor and create more green entrepreneurs and create an ecosystem for the entrepreneurs specially women, to realize their dreams as a way of giving back to the society.
Where to buy Deki Natural Dyes Products
Check out their show rooms at:
​
Show room
1. Babesa, Thimphu Bhutan
+97517600459
[email protected]
​
2. Institute of Bhutanese Arts and Management
Paro, Bhutan
+97517600459
[email protected]
​
3. Showroom
CSI Market
2nd floor, room no. 2
Thimphu, Bhutan
+97517600459
[email protected]
You can also follow them on Facebook and Instagram.
Deki Natural Dye Accolades
Winner of Energy Globe National Award 2022
ICIMOD:
- Business pitching training
- One of the most climate friendly business mitigating air pollution
MoICE:
- Seal of Excellence
- Seal of Quality
- Brand Bhutan
RTA:
- Master Artisan 2023 (weaving category)
- 1st Prize winner 2023 (Designer )
- Royal Patron of the textile Museum
EU:
- Trainer and coach for export of High End textiles
& Export Pack
- 600+ trained in natural dyeing
- 300+ natural dye and organic fabric weaver
This feature is a part of the Brand Bhutan series to promote Bhutanese entrepeneurs. 
---
---