Sturgeon and Trout: Bhutan's Emerging Aquaculture Industry
Fish farming in Bhutan has been on the rise, but the country still relies heavily on fish imports to meet the growing demand.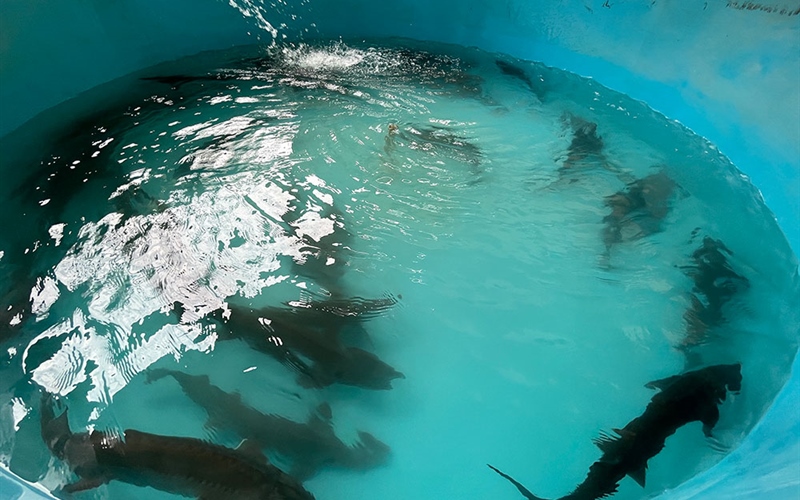 (Source: Kuensel)
According to the National Statistics Bureau, fish prices have surged by more than 21 percent in recent years. To address this issue, the National Research Centre for Riverine and Lake Fisheries in Haa began rearing trout in 2015 with the aim of reducing fish imports and meeting local demand. However, even after six years, the center is struggling to meet the demand.
Trout farming in Bhutan
In 2011, the same research center in Haa started studying fish species suitable for cold climates and found that trout was a highly productive option. The Department of Livestock in Haa currently produces about two tonnes of fish weekly, supplying Haa, Paro, and Thimphu. However, this output falls short of the demand across the country.
Singye Tshering, the Programme Director of the center, explained that the lack of private trout farms is a major obstacle to nationwide fish supply. To encourage more private farms, the center is offering financial support for constructing fish ponds and providing fish roe and feed for a year.
Trout farming has faced challenges in Bhutan, including religious sentiments, but efforts are being made to promote it through various business models. The center imports fish eggs from Denmark and produces fingerlings, which are then supplied to the Department of Livestock for further rearing and consumption.
Out of approximately 75 fish farms in Bhutan, only a few in Haa and Paro rear trout. The National Research Centre for Riverine and Lake Fisheries in Haa, established in 2005, has been working to promote and develop cold water fishery resources in Northern and Central Bhutan.
Rainbow trout farming in Haa has become a successful initiative, providing high-value products and nutrition to the local community and beyond. The center supports trout producers with affordable fingerlings and premium feed imported from Denmark and the Netherlands.
Deo Kumar Gurung, a principal livestock officer at the center, emphasized the potential of trout farming in Bhutan, including the production of red caviar, a high-value product. He also mentioned the importance of trout's omega-3 fatty acids for nutrition.
Challenges of trout farming in Bhutan
While the trout farming industry faces challenges such as religious stigma and limited demand in some regions, it holds promise for Bhutan's economy. High-end hotels, wealthy customers, and health-conscious consumers are the main buyers of trout products.
The Minister of Agriculture and Livestock's spokesperson praised rainbow trout farming as a sustainable and environmentally responsible initiative in Bhutan. The center aims to expand its production and market connections in the future.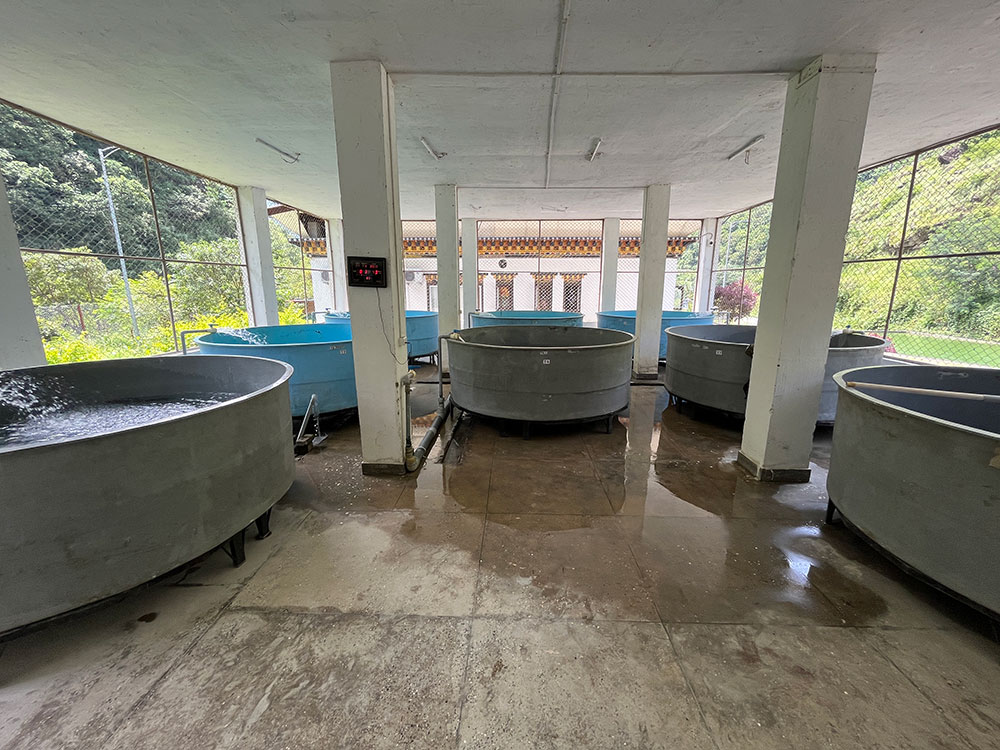 Photo credit: Kuensel
Sturgeon farming in Bhutan
In addition to trout farming, Bhutan is exploring the potential of sturgeon farming for valuable caviar production. The Bhutan Sturgeon Farm in Harachhu, initiated by the Department of Livestock, aims to tap into the lucrative caviar market. Sturgeon, known for its valuable caviar and meat, is being reared at the farm. The farm has seen promising results, with sturgeon growing twice as fast at the Harachhu location compared to Haa.
Sturgeon, a type of fish belonging to the Acipenseridae family, is highly prized for its valuable caviar and meat. These fish have a long lifespan, averaging around 60 years, and they mature late. Sturgeon caviar is considered one of the world's most expensive delicacies, with Serbian Sturgeon caviar fetching USD 1,500 per kg in the global market.
Bindiya Sharma, in charge of the Harachhu Sturgeon farm, mentioned that until 2020, the fish were kept in Haa and were then transferred to Harachhu after the completion of the sub-station.
"At first, we transferred only 11 fish. We noticed that the fish are growing twice as fast at the Harachhu farm compared to Haa," she said. In Haa, the fish had an average growth rate of between 1.5 kg to 2 kg, while at the Harachhu farm, they have grown from 2.5 kg to 11 kg, currently the largest size on the farm.
With the potential to produce high-value caviar and export it, the sturgeon farm is poised to positively impact Bhutan's trade balance. Despite the lengthy maturation process for sturgeon, the farm is working towards producing significant quantities of caviar in the future.
Fish farming in Bhutan, particularly trout and sturgeon farming, presents opportunities for meeting local demand, reducing imports, and contributing to the country's economy through high-value products like caviar. Efforts are underway to address challenges and promote sustainable aquaculture practices in the region.
Golden Mahseer fishing in Bhutan
Aside from an evolving aquaculture in Bhutan, golden mahseer are also thriving in the idyllic Himalayan Kingdom. Known as known as the tiger of the river, the golden mahseer benefits — like other endangered species in the country, including actual tigers, white-bellied herons, and golden langur monkeys — from strong environmental protections and the religious reverence bestowed upon it.
Golden mahseer is one of the world's most prized catches. Up to nine feet long and golden-hued with big scales, it has a reputation as one of the world's hardest fighting fish. In Bhutan, it has long been forbidden to fish for mahseer, both golden and chocolate, a smaller but equally sparkling species. Not only are the rivers, which run from breathtaking elevations in the north to almost sea level in the south, considered sacred in the local culture, but the mahseer is also one of eight auspicious signs in Tibetan Buddhism, representing good luck. In the 1970s, the king at the time commanded his guards to protect mahseer spawning areas from poachers, who targeted it as a source of food. In 1995, the mahseer was listed as a protected species under Bhutan's Forest and Nature Conservation Act.
Research on the Golden Mahseer
Since then, mahseer populations in Bhutan have remained relatively undisturbed. There has been, however, very little scientific research on the fish. "It's always been talked about in this almost mythical sense," says David Philipp, a fish biologist and chair of the Fisheries Conservation Foundation in Champaign, Illinois. "People haven't looked at it from an empirical or research perspective."
That changed in 2015 when the Bhutanese government and the World Wildlife Fund contacted Philipp's organization, on a directive from King Jigme Namgyel Wangchuck, who wanted to learn more about the little-studied but much-revered mahseer.
Experts, including Philipp, Claussen, and Dorji, also warn that Bhutan should avoid stocking its rivers with mahseers bred in hatcheries, a common practice in neighboring countries such as India that are trying to replenish their populations. Stocked fish may spread disease and dilute the gene pool of wild populations. "The genetic imprint of the mahseer in Bhutan is very strong," says Philipp. "Once you mix them with fish from hatcheries, those imprints are gone."
Fishing for Golden Mahseer in Bhutan is legal
Bhutan has identified objectives and strategies to conserve the Mahseer and its ecosystem. Some of them are securing the habitats and ensuring viable wild populations of golden mahseer, increasing science-based information on its ecology and enhancing community livelihoods through the promotion of high-end catch-and-release (Mahseer) recreational fishing, and strengthening education on the conservation of the fish.
Once strictly prohibited, fishing for golden mahseer has now been legalized in Bhutan through the amendment of forestry regulations. All major rivers of Bhutan that sustains the golden mahseer has been delineated as high-end recreational fishing sites and should be accessed using rafts, unless stated otherwise. Use of single-barbless hook with artificial lures is allowed and it is exclusively "catch-and-immediate-release". Possessing golden mahseer dead or alive is an offence.
In order to boost ecotourism revenue, recreational fishing in Bhutan is permissible with strict guidelines. The Royal Government of Bhutan has strictly prohibited the use of any kind of live bait, whereas fly fishing and spin fishing is always permitted and fishes are released back into the river after catching it (Catch and Release basis). However, you're required to apply for a valid fishing license and permit.
International anglers should always be guided by a nationally certified fishing guide. Considering the strong taboo of catching fish by the Buddhist, fishing is prohibited on auspicious days of the Buddhist calendar.
Fishing permits in Bhutan
On the major high-end mahseer waters such as Mangde chhu, Drangme chhu, Punatshang chhu and Manas, no more than two launches shall be allowed in a week during the prime fishing seasons, and groups which book the launch dates by paying non-refundable weeklong permits on first come first basis shall remain valid.
Fishing permits are issued online through an Online Forestry Services. 
Contact Druk Asia for more information about fly fishing and travel to Bhutan.
---
---