Bhutan, with a leading vaccination rate in the region, commenced its second vaccination drive
Bhutan's second nationwide vaccination campaign will be held from July 20 - July 26, 2021.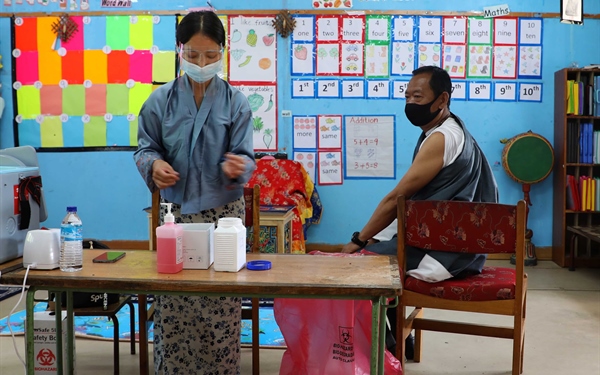 (Source: WHO Bhutan)
On July 20, Bhutan commenced its second nationwide vaccination drive for individuals above 18 years old. The vaccination campaign is scheduled to end on July 26. Children aged between 12 - 17 years are not included in the second round of mass vaccination. The government will announce the vaccination programme for children at a later date.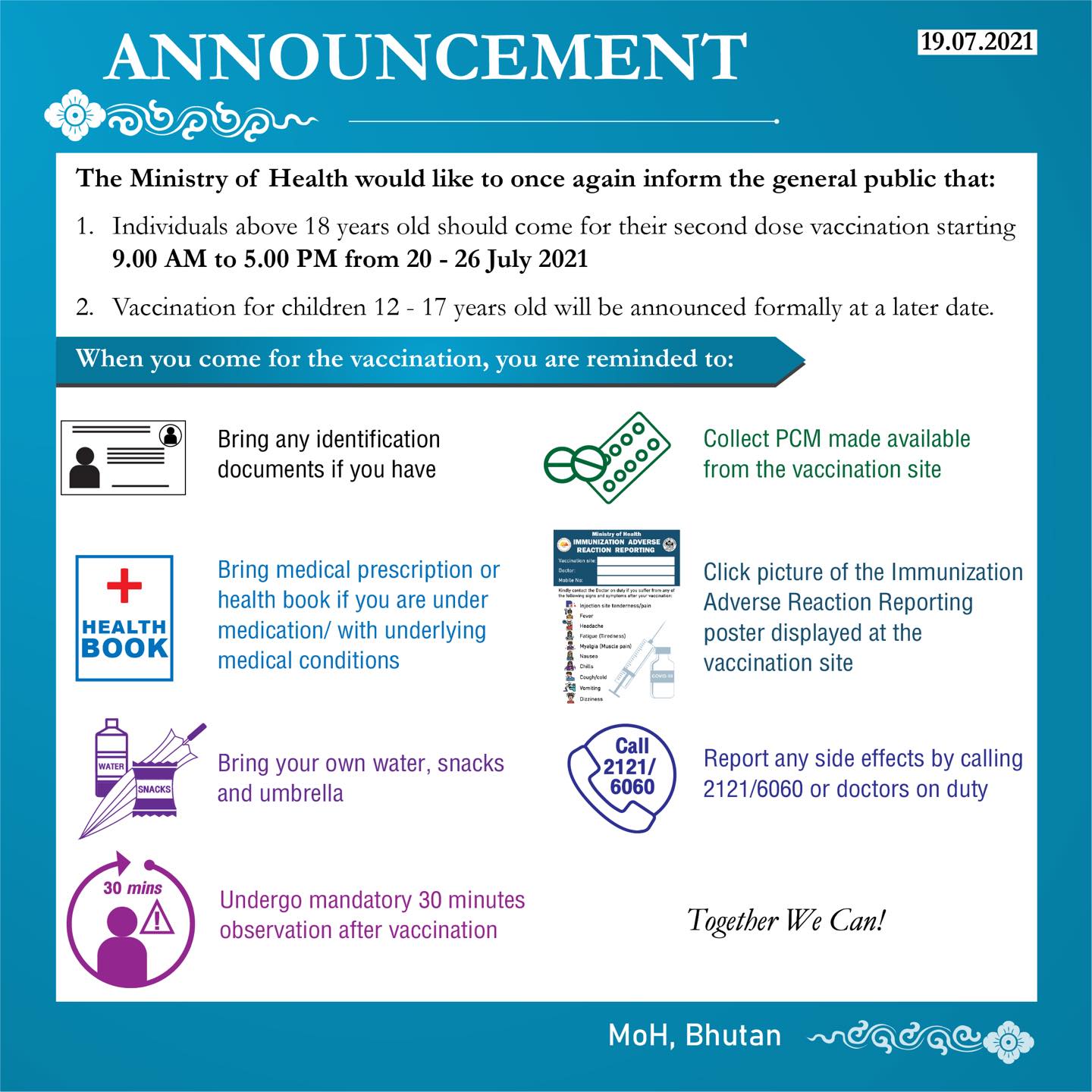 On July 17, Prime Minister Dr Lotay Tshering, along with more than 200 people of diverse age groups, took the Moderna vaccine ahead of the second nationwide vaccination drive as part of the heterologous approach (mixing the first shot of AstraZeneca vaccine with a different vaccine for the booster shot) for the country's vaccination campaign.

As of July 20, Bhutan records the highest vaccination rate at 64.2% amongst all the South Asian and Southeast Asian countries.

All eligible citizens are highly encouraged to receive the vaccination as part of the nation's efforts to achieve herd immunity. Government agencies and authorities have been working round the clock to educate the public about the importance of vaccination, answer queries, and instil confidence.

Bhutan has adopted a heterologous approach where individuals will be given the Moderna vaccine for their second dose unless otherwise indicated. Bhutanese received the AstraZeneca (Covishield) vaccine as their first dose of vaccination.
Many countries have stepped forward to provide Bhutan with sufficient vaccines for the entire eligible population. 
From July 20 - July 26, all registered people can get the second vaccination dose.
Below are the common side effects of vaccination:
Pain at the injection site
Fever
Headache
Fatigue/tiredness
Myalgia (muscle ache)
Nausea
Chills
Cough/cold
Vomiting
Dizziness


You will undergo 30 minutes observations after vaccination. 
You should get medical help should you experience any severe side effects. Call the doctor on duty at your vaccination site, visit the nearest health centre or call  2121 or 6060.
You should not go for vaccination if you are sick or experiencing flu-like symptoms. Symptomatic individuals will be vaccinated once the symptoms subside, towards the later part of the campaign.
Patients admitted to the hospital will be vaccinated after they are discharged from the hospital.
Individuals with mobility issues will receive home-based vaccination after the completion of the vaccination drive.
Vaccination drive for children will be formally announced at a later date, but priority will be given to children in high-risk areas.
Even if you are vaccinated, it doesn't mean that you are completely protected from COVID-19. You are still encouraged to follow precautionary measures such as mask-wearing, physical distancing, and staying home as much as possible. 
Recognising that 'no one is safe until everyone is safe', it's all the more important and urgent for everyone to get vaccinated.
---
---