Bhutanese Students Get Ready to Compete In First Global Robotic Competition
Five students from Bhutan will compete in the First Global Robotic Competition in Singapore, which is themed Hydrogen Horizons, next month.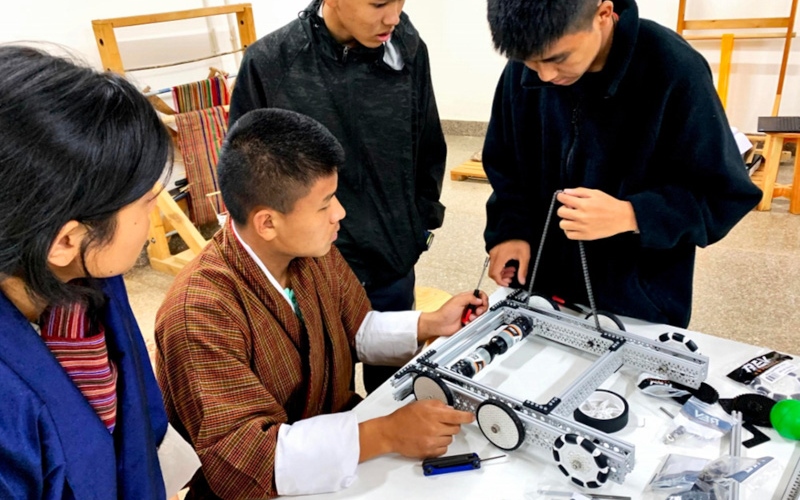 They were selected based on their performance in the National Coding Competition held on July 1, 2023.
Another 26 students will accompany them and the two mentors, Yonten Chophel of Daga Central School (CS) and Sonam Dorji T of Kuzhugchen Middle Secondary School.
FIRST Global Robotic Competition is an international robotics competition for high school students from around the world, designed to inspire young people to pursue careers in Science, Technology, Engineering, and Mathematics (STEM). The competition intends to promote international understanding and cooperation, which is held every year, said one of the mentors, Yonten Chophel.
The goal of this year's competition is to highlight the importance of renewable energy, promote international understanding and cooperation, and encourage innovation and creativity in problem-solving. "It is also a chance for them to showcase their skills and creativity to the world."
The travelling team members are Dawa Norbu of Tashitse HSS, Pema Choden of The Royal Academy, Dema Lhamo of Tshenkharla Central School, Karma Kelzang of Dechentsemo Central School, and Sangay Tenphel Dorji of Jakar HSS. The accompanying team comprises of students from The Royal Academy.
The team started its preparation on September 3 at the Royal Academy and wants to learn as much as they can about STEM and robotics, represent Bhutan well in the competition, inspire other youths in Bhutan to pursue careers in STEM, and make new friends from around the world.
The five students are from Class 10 and 11 and the two mentors were nominated based on the recommendations from dzongkhags and their research. Yonten is a chemistry teacher and Sonam Dorji T is an IT teacher, which perfectly aligns with the competition's theme.
Dawa Norbu said, "I am inspired by the generosity of His Majesty the King and motivated to make his investment worthwhile by giving our best and learning from this journey."
Dema Lhamo of Tshenkharla CS said that she was interested in the competition as it was her dream to one day represent Bhutan in some field.
"I was motivated to get into this competition when I knew that I was going to represent my country in the field of robotics, and getting to learn about the skills and logic helping me to broaden my understanding in robotics", she said.
The team faced several challenges in preparing for the competition. They lack expertise in robotics, so the team is reaching out to other 180 countries for help every day. They are also working with a dedicated advisory team from FIRST Global.
Students' engagement with building and testing their robot disrupted their classes, so they made an arrangement with the Royal Academy to attend classes in the morning.
Sangay Tenphel Dorji said that he was inspired by the fact that STEM is the future, and is confident that participating in global competitions would be a great way to get exposure to different STEM fields and learn how things work.
"I'm excited to meet STEM peers, collaborate, and see our robot compete," he said.
As the competition is themed Hydrogen Horizons, the participants not only have to look at coding and robotics but also other areas of science, helping them to learn STEM education.
Education and skills development ministry (MoESD) is planning to visit schools and showcase the robot to some of the schools after the competition. The team will also do a presentation on Hydrogen Horizon said the MoESD programme officer, Sonam Wangchuk.
He said the team is also researching hydrogen energy and renewable energy, and how other countries are using renewable energy. "This experience will help the Bhutanese team prepare for future competitions, where they will mentor the next year's participants and promote STEM education in Bhutan."
Karma Kelzang of Dechentsemo CS, said, "I am eagerly awaiting the chance to witness different strategies for problem-solving and robot design. The exchange of ideas and cultural perspectives with teams hailing from various backgrounds promises to be an invaluable and enlightening experience."
"I hope that we will make a positive impact on the competition, paving the way for future Bhutanese participants," said Pema Choden of The Royal Academy.
"The FIRST Global Challenge attempts to find solutions, such as hydrogen fuel, to reduce global carbon emissions and create a low-carbon future," said Yonten.
The team is excited about the opportunity to compete against the best teams from around the world, and share knowledge and experience. Hoping to inspire young individuals in Bhutan to pursue STEM and raise awareness of Bhutan's commitment to renewable energy, he said.
The project was sponsored by the Royal Society for Science Technology Engineering and Mathematics and the MoESD.
Article first appeared on Kuensel.
---
---