Bhutan's national women cricket team won ICC Women's T20 World Cup Asia Qualifier 2021 opening match
The United Arab Emirates is currently hosting the ICC Women's T20 World Cup Asia Qualifier. The two ICC Academy grounds in Dubai Sports City will be hosting Bhutan, Hong Kong, Kuwait, Malaysia and Nepal.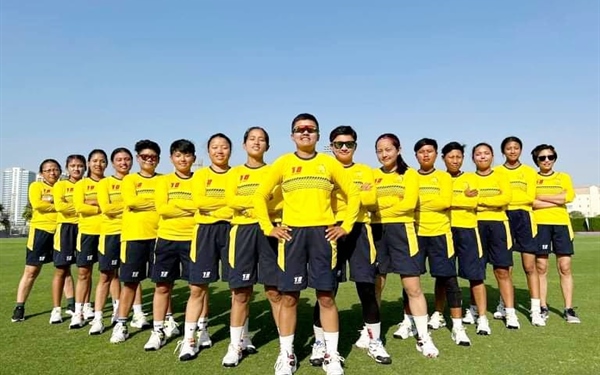 (Source: cricketbhutan.org)
ICC Women's T20 World Cup Asia Qualifier:
When: November 22-28
Where: ICC Academy grounds, Dubai
Teams: UAE, Bhutan, Malaysia, Kuwait, Nepal, Hong Kong
Bhutan captain Yeshey Choden is hoping to put behind the challenges posed by the COVID-19 pandemic as they get to play in an ICC event.
"Playing in the ICC Women's T20 World Cup Qualifiers is a dream come true. We had to train under strict COVID-19 protocols, which was challenging, as most of us were in-country service as volunteers. We worked hard to get match fit and I am very thankful to our Board for giving us the opportunity and investing in us.
"Till now we had been playing Asian Cricket Council (ACC) tournaments where only teams from Asia compete. But playing in ICC events gives us a chance to play against teams from around the globe. So, winning this tournament gives us more opportunities to showcase our talent and we are looking forward to it." - Yeshey Choden
On 22 Nov, Bhutan's national women team played against Kuwait. Choosing to bat first, the Bhutanese team amassed 114 runs for six wickets. Bhutan beat Kuwait by 40 runs. Bhutan 113 for 6 in 20 overs; Kuwait 74 in 19.3 overs.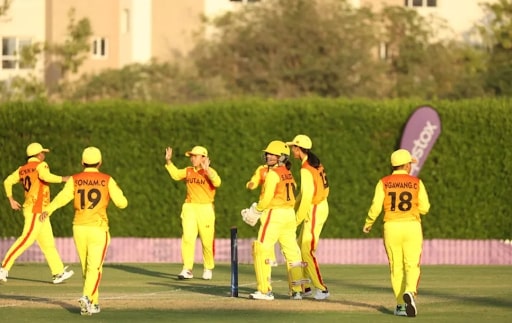 Photo: International Cricket Council

Bhutan will be playing Nepal today at 3.30pm (BST)
The winners of this six-team tournament will qualify for the Women's T20 World Cup Qualifier 2022, the final round of qualifiers from which the top team can book their places for 2023 Women's T20 World Cup in South Africa.
About National Cricket Team in Bhutan
Bhutan currently has two national cricket teams, male and female that compete in international cricket. Both teams are organised by the Bhutan Cricket Council Board, which became an affiliate member of the International Cricket Council (ICC) in 2001 and an associate member in 2017. 
Bhutan's male team, The Dragons, made its international debut in 2003, at the Emerging Nations Tournament organised by the Asian Cricket Council (ACC). The team has since regularly participated in ACC tournaments, and also in two World Cricket League events, WCL Division Eight in 2010 and 2012. Bhutan women's national cricket team, The Lady Dragons, made its international debut at the 2009 ACC Women's Twenty20 Championship in Malaysia.
Dechenpu Lhakhang in Thimphu is the spiritual home of Bhutan Cricket where players will visit before every tournament. "We do not pray for victory", said national captain Damber Singh Gurung, "we pray for each other to give our best and to emerge complete from the competition."
ICC Criiio Cricket Programme
The ICC criiiio cricket programme is an easy to deliver 8-week lesson plan which will introduce the fundamentals of batting, bowling, and fielding as well as the basic rules of the game. It provides a fun first experience of cricket to participants who are new to the game.
The ICC criiio cricket programme helped take cricket to Merak and Sakteng and was led by officials from head office and coaches from other districts. The programme was unique as it takes three days of travelling by road from the capital city of Thimphu to reach Merak Primary School and Sakteng Lower Secondary School. These two schools are some of the few remotest schools in Bhutan where such programmes are rarely conducted.
After the programme, each participant was given a plastic bat and ball which was sponsored by UNICEF Bhutan. A total of 484 Students and 26 teachers were involved from both schools during the programme.
---
---