Contributing to the country through the love for football
It's been a month since the conclusion of Bhutan Premier League 2020. Daily Bhutan interviews Paro FC to find out more about the club. Below are the summary and league table for BPL 2020.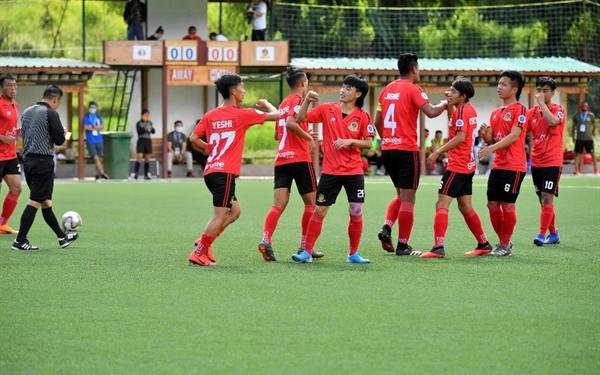 It's been a month since the conclusion of Bhutan Premier League (BPL) 2020.
Daily Bhutan followed up with Paro FC's General Secretary, Pema Dorji and President, Karma Jigme to find out more about the club's journey in the season.
Paro FC was BPL's 2019 Champions and represented Bhutan in the AFC cup 2020 preliminary round early January this year. Even though they had been preparing hard for the BPL amidst the COVID-19 pandemic, Paro FC did not manage to defend the champion title at this year's BPL.
Interview with Paro FC's General Secretary, Pema Dorji
What do you think of the BPL results this season?
The 2020 season for Paro FC did not ended as expected amid COVID-19 situation. The season without doubt has not gone ac-cording to plan but not for lack of effort or commitment from the management, players and coaching staff. Initially, we planned to bring in few international players to field in the gaps, but due to COVID-19 borders restrictions, we had to adapt. Due to last minute arrangements, we did not manage to field any quality local players for crucial positions. As with all other clubs, we had to field in a full Bhutanese squad this year. So, we tried our best to train up the local players that we have. And they did well, it's just because we lost few crucial matches and could not catch up the league leaders.
Were there any memorable happenings for the club this BPL?
For the BPL, we gave a chance to some of our academy youths from the junior squad that came from our academy programmes. They were promising and young enough to fit into senior squad with proper exposure in a few years.
What are the future plans?
For now, the senior players were on break with the plan to resume training as soon as possible. However, Paro FC academy is busy with youth and grassroots programmes.
In the future, we want to focus on strengthening our core team consisting of all Bhutanese players. Hence, we have been focusing a lot on our grassroots programmes. Quality international players will be considered to bring sense of competitiveness in the squad.

Our future focus is also on infrastructure improvement at our home ground - Woochu Sports Arena.
What has been happening since the completion of BPL?
Post BPL, we are engaged in grassroots and youth training programs. We have organized and hosted academy matches against Thimphu City FC Academy and CG7 Football Academy. We are planning to host football festivals and other grassroots programmes during the winter vacation.
We have also sent our very first Paro FC Women Team to compete in the Women's National League. The league started on December 16 and is currently put on halt due to nationwide lockdown. So far, our team has played only one match with a win.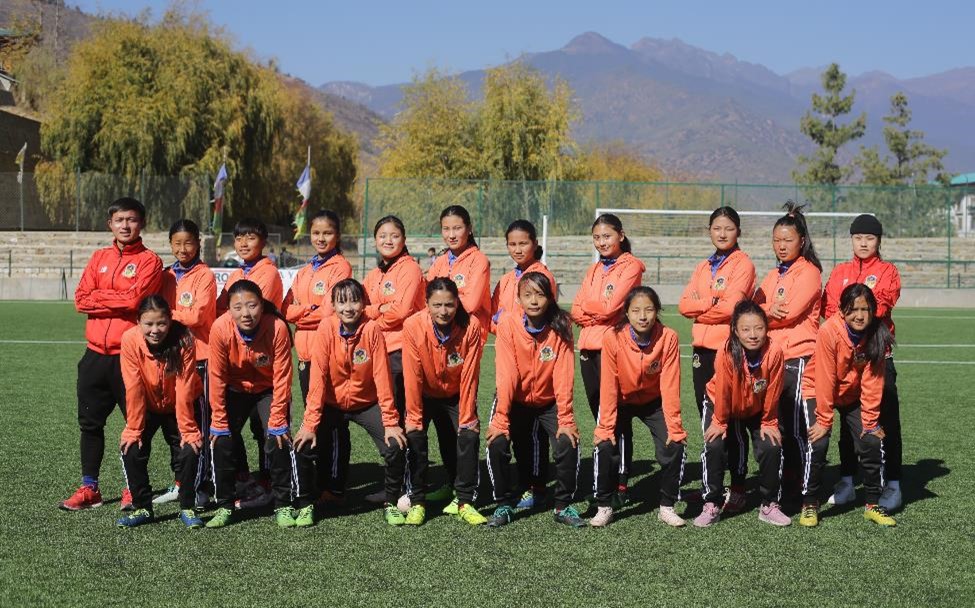 Interview with Paro FC's President, Karma Jigme
How was the morale of the team upon knowing that they did not manage to defend the title?
Initially it affected all of us, but gradually we managed to get over it and realized it is a part of football. Honestly, with such an effort finishing third feels like a failure, but since Paro FC is here to stay for many years, we take this setback as a lesson and opportunity to prepare for 2021 season. Everyone in Paro FC is deter-mined to come back stronger and better than ever.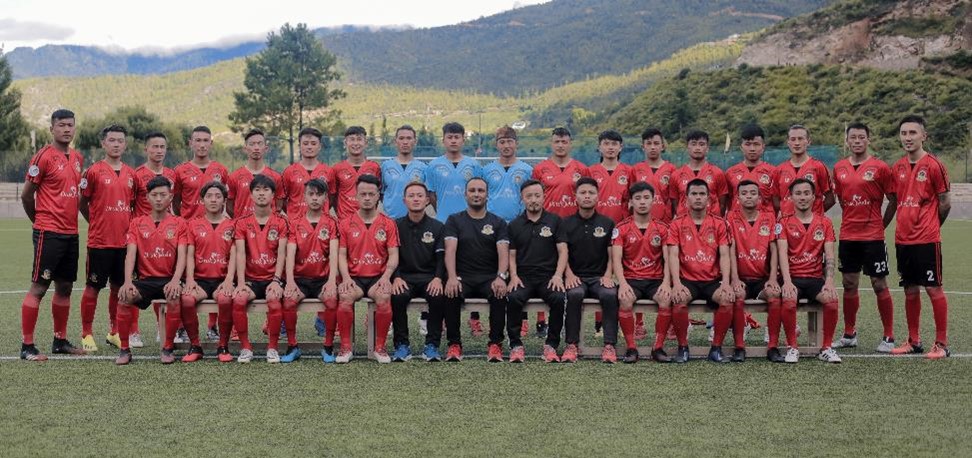 What are the areas that you think need to be strengthened in the club?
One of the aspects is the team itself. We don't have a huge pool of talented players in Bhutan. The limited quality players are actually distributed between the top clubs in the country. So, you can hardly get a team of all the good players in different positions. My personal view on Paro FC this season was that we lacked strength in defense and creativity in the midfield. For the reason that we couldn't bring in foreign players in these positions due to travel restrictions.
Were there any lessons learnt from BPL 2020?
One important aspect to consider is to plan pre-season properly and organize good number of friendly matches to build team chemistry. We must also have a core Bhutanese team on full time so that none will have any excuses to miss training and tactical planning. Also having a professional core Bhutanese team will reduce dependency on foreign players and financial burden on the club.
Moving forward, we would like to build an ever-ready Bhutanese squad that can be activated within a short time to participate in national gold-cups and other regional tournaments.

What are your aspirations for Paro FC club?
Paro FC should be able to contribute in nation building through sports. I feel that football is the best way to contribute to the country as many Bhutanese love football. We want to give platform and opportunities to Bhutanese youths to become a professional footballers. Football clubs should be able to create job opportunities for the Bhutanese in the near future. We enjoy what we love doing and through our passion, we want to contribute to the country. Even though there are no returns in football, it is a form of giving back to the people and to the country.
How do you think the sports industry in Bhutan can be improved or advanced?
Yes, over the years the government has put in lots of focus in sports in Bhutan. I think, with more coordinated effort amongst government organizations, sports federations, sports associations and private sport's clubs and organizers, a lot could be achieved within short span, that too with quality. Federations should organize more tournaments both for senior and youths beyond Thimphu. Aside from that, I think for the sports industry to grow professionally and sustainably in Bhutan, we need favourable sports policies, better media coverage and sponsorships from the corporates.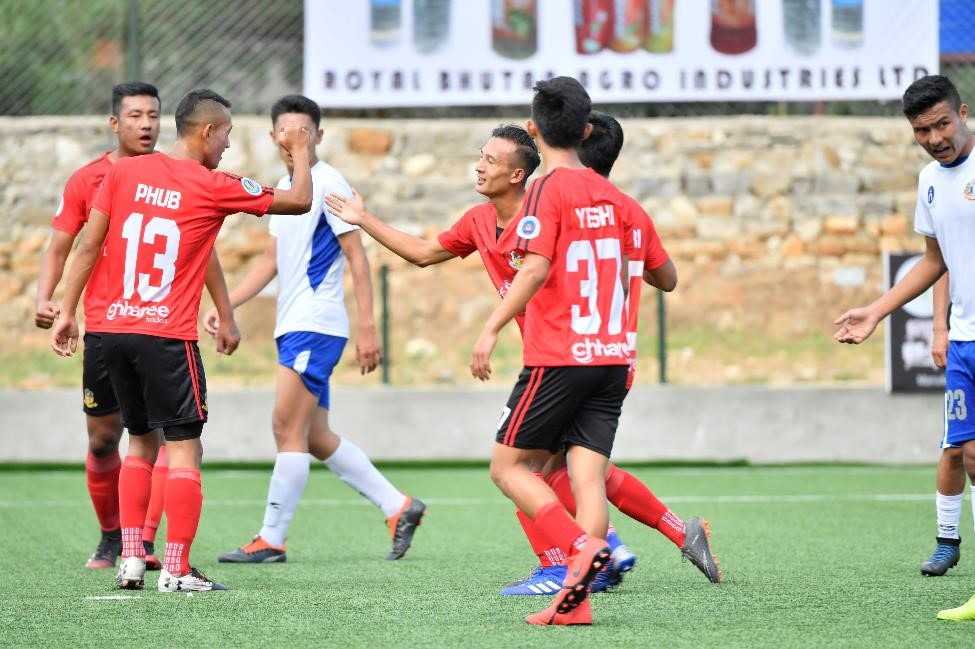 Check out https://www.parofc.com/ for more details on the club or download Paro FC app on your mobile for the latest news. 
----------
Summary of BPL 2020
Source: Bhutan Premier League
Ugyen Academy FC and Thimphu City FC were through to the finals at UA Ground in Punakha on 20 November 2020. Ugyen Academy won the finals with 3 - 2 against Thimphu City.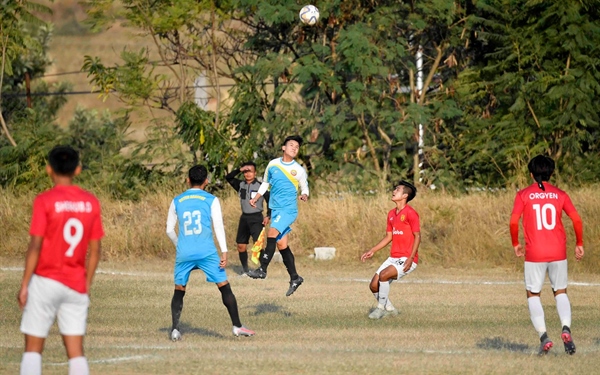 Despite losing the match to Ugyen Academy FC, Thimphu City FC emerged as the Champions of the 2020 Bhutan Premier League after defeating Tensung FC.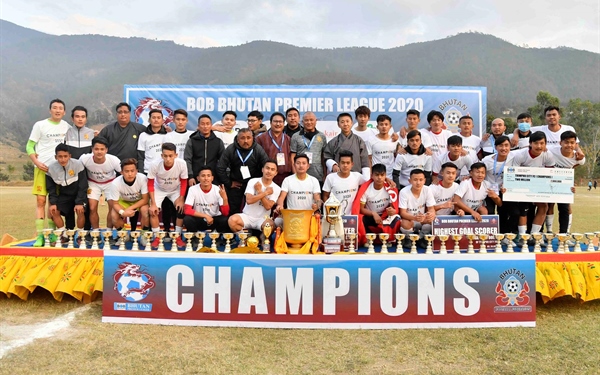 Prior to the final match, Thimphu FC's 6 - 2 win against Tensung FC brought them to 37 points, making them the champion and Ugyen Academy FC, the 1st runner up.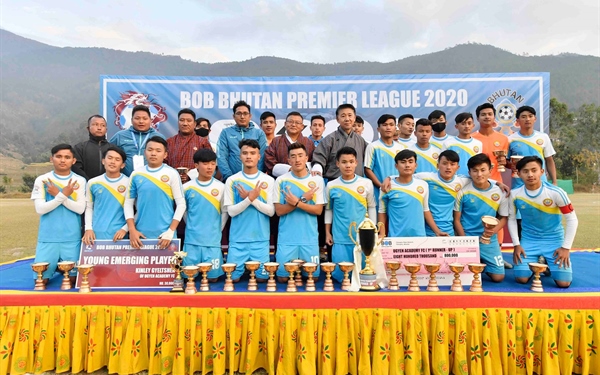 Whereas, Paro FC, 2019 Bhutan Premier League Champion won the 2nd runner up spot.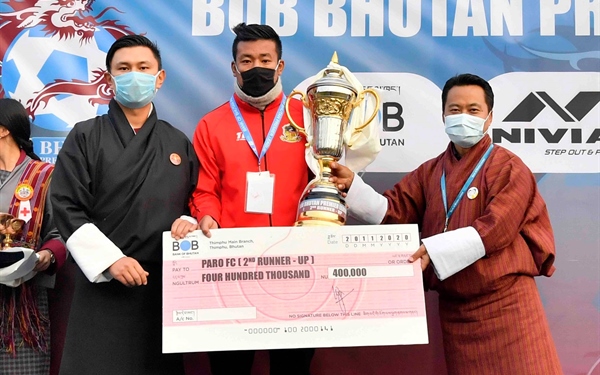 Tshering Dorji from Thimphu City FC bagged the Most Valuable Player (MVP) Award and the Highest Goal Scorer Award.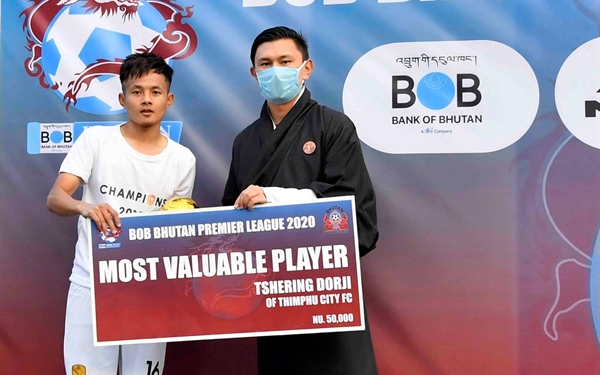 While Kinley Gyeltshen of Ugyen Academy FC won the Young Emerging Player Award.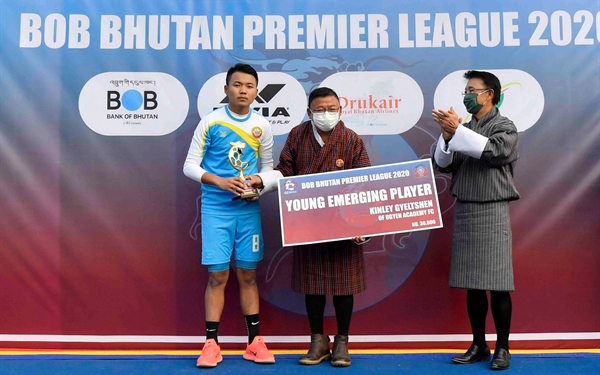 Transport United FC bagged the Fair Play Award.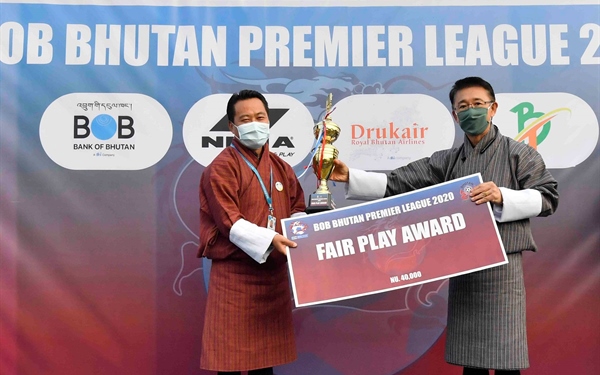 BPL League Table 2020
| | | | | | | | | | |
| --- | --- | --- | --- | --- | --- | --- | --- | --- | --- |
| POS | Team | Pld | W | D | L | GF | GA | GD | Pts |
| 1 | Thimphu City (C) | 14 | 12 | 1 | 1 | 44 | 17 | +27 | 37 |
| 2 | Ugyen Academy  | 14 | 11 | 1 | 2 | 28 | 15 | +13 | 34 |
| 3 | Paro | 14 | 9 | 0 | 5 | 47 | 20 | +27 | 27 |
| 4 | Transport United | 14 | 6 | 3 | 5 | 23 | 19 | +4 | 21 |
| 5 | Paro United | 14 | 4 | 2 | 8 | 23 | 29 | -6 | 14 |
| 6 | High Quality United | 14 | 4 | 1 | 9 | 28 | 32 | -4 | 13 |
| 7 | Tensung | 14 | 3 | 4 | 7 | 18 | 32 | -14 | 13 |
| 8 | Druk Stars | 14 | 1 | 0 | 13 | 5 | 52 | -47 | 3 |
---
---