Bhutan's 'unofficial ambassadors': Here's what it's like being a tour guide
In this series, Bhutan Times speaks to licensed tour guides and drivers on what it's like working in the tourism industry in Bhutan.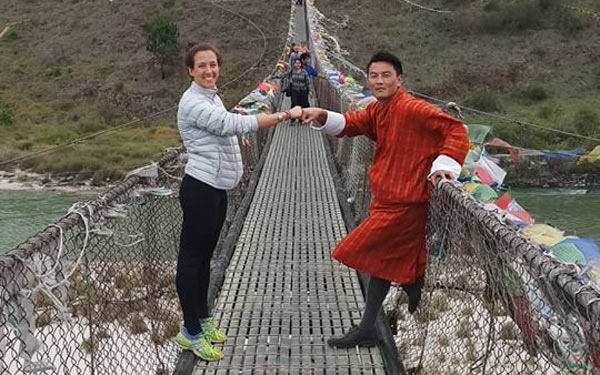 (Source: Sonam Thai)
By Kinley Yangden | Bhutan Times
They are the unsung heroes and unofficial ambassadors of Bhutan. Tour guides in Bhutan are among the first Bhutanese faces you see when you arrive as a tourist and also your personal chaperone, luggage handler, concierge, historian, trekking guide and companion all lumped in one.
Without them, a trip to Bhutan will be vastly different.
In this series, Bhutan Times speaks to licensed tour guides and drivers on what it's like working in the tourism sector in Bhutan, their ups and downs, and finding happiness in what they do.
We speak to Sonam Thai from Druk Asia in part one of "Bhutan's unofficial ambssadors".
Sonam Thai, 26, cultural guide with Druk Asia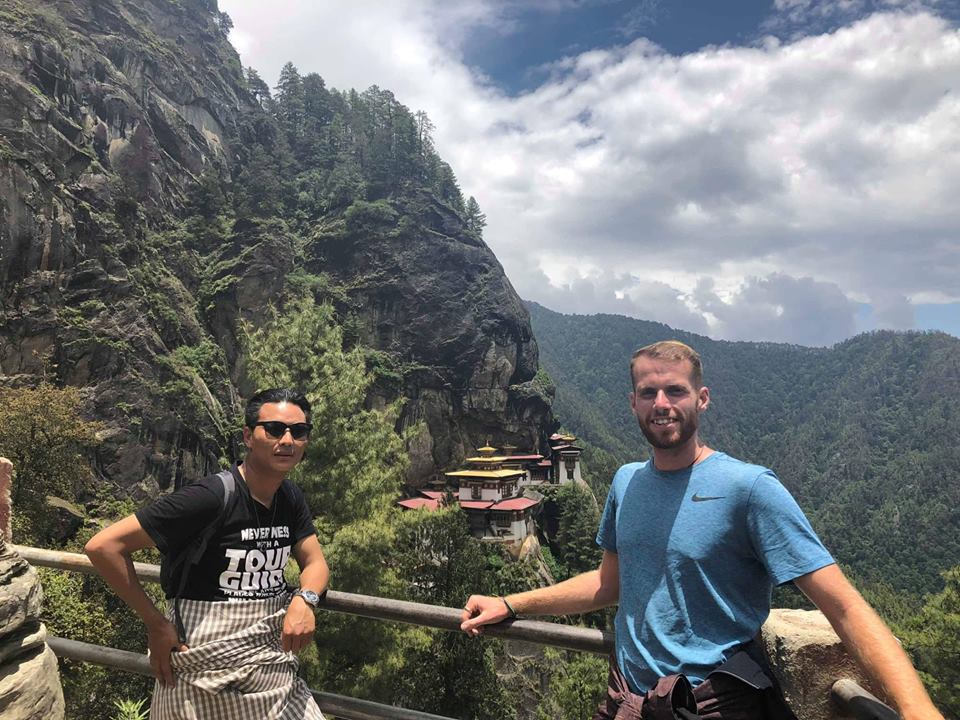 Photo: Sonam Thai
Before Sonam became a freelance permanent cultural guide in 2015, the 26-year-old was helping his mum run a business. The decision to become a tour guide was a natural one for him as most of his family members are in the tourism sector.
"My hobby is to go around new places, and I like to communicate with foreigners and know about their world," said Sonam, who receives visitors who are mostly from Singapore and Europe.
As a cultural guide, Sonam is responsible for taking his guests to main attractions around Bhutan, such as Tiger's Nest, dzongs or fortresses in the various districts, temples and so on.
During visits, he explains the culture and history of Bhutan to his visitors, while also ensuring their lodging, food and other needs are taken care of. Sometimes, visitors request to check out the nightlife in Bhutan and Sonam will end up working "overtime" to take them out to a bar or club.
Most of his tours last for around a week but his longest tour was up to 18 days. His visitors are either solo travellers or couples, and the largest group he's had so far was a group of four visitors.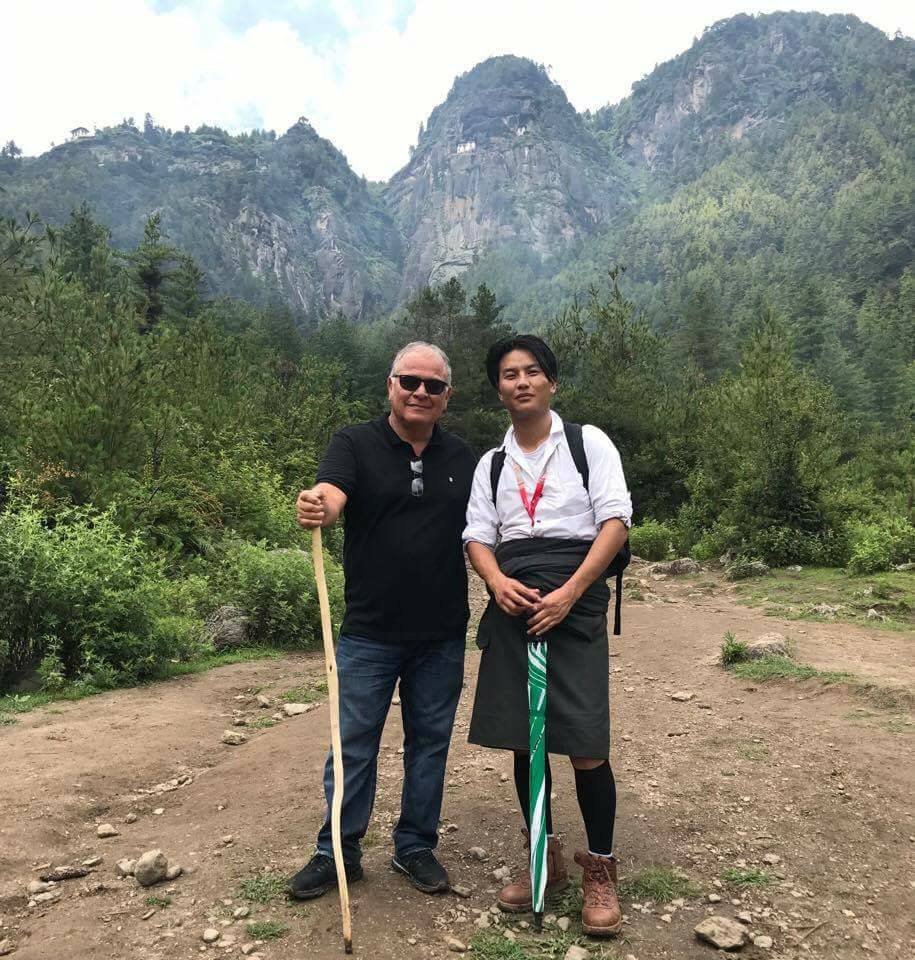 Photo: Sonam Thai
Sonam said he earns around 6,000 Nu (US$83) to 10,000 Nu monthly, excluding tips that he receives from his guests and daily allowances while on duty. According to him, this amount is about 25 per cent lesser than what other tour operators are paying their guides, but he chose to remain as an employee with Druk Asia because of the "good bosses" that he claims the company has.
Is it boring to go back to the same locations again?
When asked if it was boring to keep visiting the same attractions over and over again, Sonam replied "no".
"Every time you go back, it's (the attraction is) different. I learn more each time I go back and I see more things too. The attractions also look different during different seasons, so it's never the same," he said.
How interesting or fun a tour is also depends on the visitors.
"If the visitor is fun, happy and looks like he's enjoying himself, it becomes more interesting. If he is moody, then the tour becomes a little boring," said Sonam.
Keep calm and carry on
While Sonam is considered a senior guide among his newer proteges, it wasn't that easy in the early days of being a guide. Nerves took over and receiving tourists while still unexperienced posed a challenge in itself.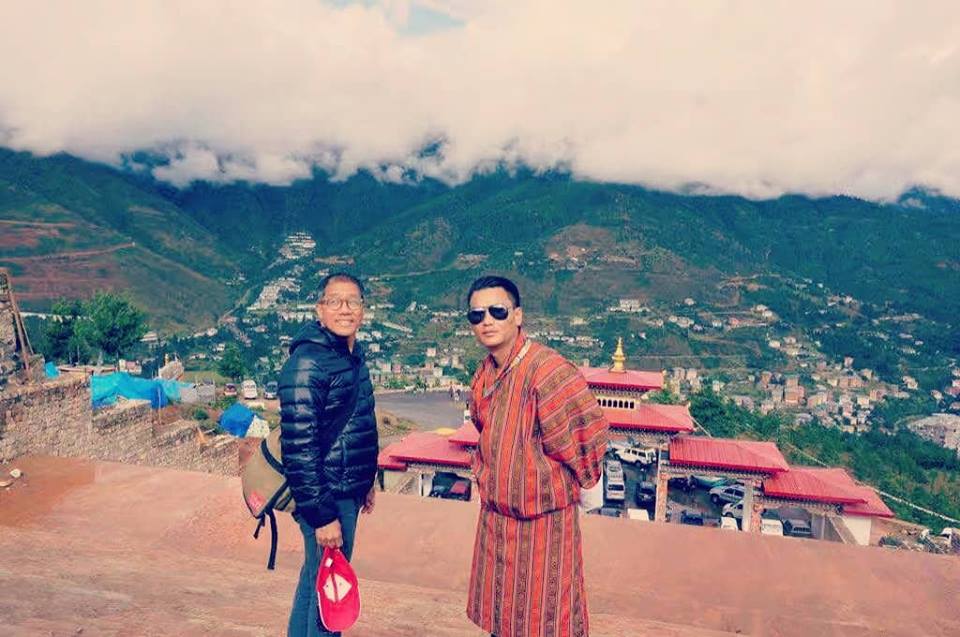 Photo: Sonam Thai
However, he took things in his stride. He said: "At the beginning, I wasn't so confident, but I eventually got used to it.
"I got along well with one group, then another and another. I also kept receiving visitors. I talked more and more, and that helped to build my confidence."
Nightmare clients
Being in the service line, Sonam has received his share of nightmare clients. While most of his visitors do not normally pose any major problems, Sonam has faced visitors whom he claims "spoke down" to him or were outrightly rude.
"Some foreigners tend to treat us like their servants," he said.
During one of his trips in 2016 to Bumthang, he and his guest encountered a roadblock. According to Sonam, his guest yelled at him, blaming him for the landslide that caused the block.
"I had earlier advised him to take a domestic flight instead because the road conditions weren't good, but he insisted on taking the road and said that it was okay.
"But when we came to the roadblock, he started getting angry and shouted at me. I told him it was not my fault."
Sonam then called the Druk Asia office and told them to speak to the guest. This seemed to help appease the situation and they managed to continue their journey towards Bumthang after an half-hour delay.
So how does he cope with situations like these?
"Just keep doing what I need to do but I will talk lesser with them. I'll still remain professional and do my part as a guide," said Sonam.
Remaining on their toes and reacting to emergency situations is also something that guides are required to do.
Sonam said he had a guest from Ecuador who fell very ill on the way from Punakha to Thimphu, so he had to call an ambulance. The man was admitted to the hospital for observation and was discharged after four hours. They then continued with sightseeing after.
"That was a big scare for me," said Sonam.
'Chillip gi jaro'
Sonam also shared the reactions he got from some Bhutanese when they knew about his occupation.
"Some Bhutanese call us 'chillip gi jaro' (foreigners' servants). But I just ignore them and don't take it too personally," said Sonam, who added that there are actually many advantages of being a guide.
"You get to meet new people, go everywhere and visit lots of places in the country itself.
"I love my job now. I think it's fun. I've been to every corner in Bhutan and I've learned so many new things," said Sonam, who added that his dream is to start his own tour company one day.
Advice to new guides?
Sonam's advice to new guides who are just starting out is to take on cultural tours first, then consider doing trekking tours next time. Knowing a foreign language is a plus point too, said Sonam.
"And don't tell lies or cook up stories that aren't true. Because your guests will read up or refer to Google, and they'll know," laughed Sonam.
---