Chillies, a spicy affair in Bhutan
The Bhutanese love it hot.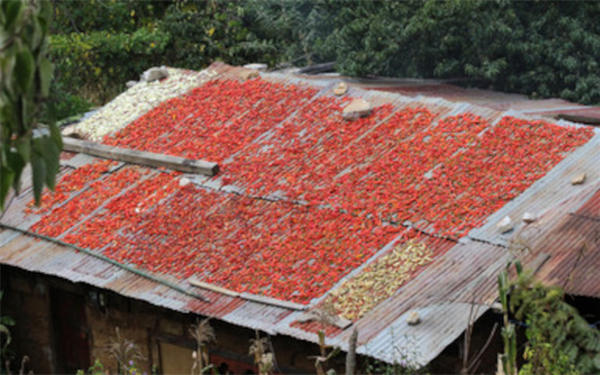 No one knows when were chillies first introduced in Bhutan. There isn't any written records, and thus, that fact is lost to the pages of history. Unlike the potatoes, which we know were introduced by Scottish adventurer George Bogle during his 18th-century expedition to Bhutan. We can only assume that Bhutan being tucked between India and China, both major trading hubs in the past, chillies might have found their way to the Bhutanese palate through the trade of goods. Whatever the history may be, chillies are now a major part of the Bhutanese diet.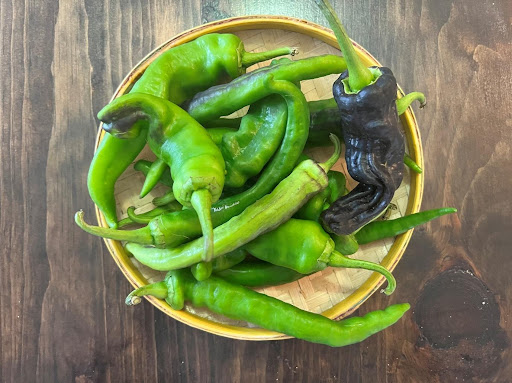 Ema-Hoem, Fresh Green Chillies
A visit to the local farmer's market in Thimphu will greet you with multicolour display of the nation's favourite vegetable, the chilli pepper. Fresh green chillies, blanched and dried yellow chillies, and dried red chillies are seen in almost every stall. During fall, the roofs of traditional Bhutanese houses can be seen covered with the fiery red peppers set out to be dried for the oncoming winter months when fresh chillies are out of season. Even in urban areas, you will see strings of chillies being dried out in the autumn sun outside the apartment windows.
For the rest of the world, chillies are considered more of a spicing agent to add some heat to a dish, but here in Bhutan, chillies get the unique distinction of being a vegetable used to make a variety of dishes. Almost all Bhutanese dishes require chilli as an essential ingredient. With chilli being one of the main ingredients consumed daily, it would make sense that the peppers themselves are not very spicy, but one couldn't be more wrong as some of the peppers contain serious heat.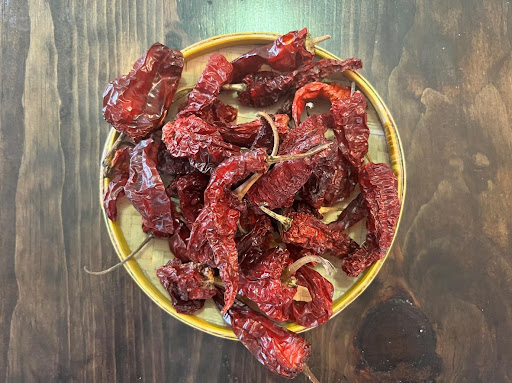 Ema-Kam, Dried Chillies
The national dish of Bhutan is "Ema-Datsi" which literally means "chilli with cheese". The dish is prepared with local chillies, onions and a generous helping of some fresh cottage cheese. It is best enjoyed with a bowl of red rice or with some buckwheat pancakes if you are in central Bhutan. 
Many variations ema datsi exist. If you add in some mushrooms, it becomes shamu-datsi (mushroom with cheese); add in some beans, it is called Semchum-datsi (Beans with cheese); cook it with potatoes, and it becomes Kewa-Datsi (Potatoes with cheese). A non-vegetarian version can be prepared by adding some dried beef jerky to create shakam-datsi. 
If you feel that's not enough chilli for your meal, you can rejoice as chillies are served as a side dish in the form of "ezay". It is more of a rustic dip prepared with finely chopped raw chillies, tomatoes, and red onions and then garnished with some salt, a sprinkling of cottage cheese and some crushed Sichuan pepper. Ezay is often served with red rice and butter tea as breakfast during traditional gatherings and ceremonies.
The Bhutanese joke that good chillies burn you in three places: the mouth, the stomach and the last in an area that is best left out of polite conversation. To accommodate tourists, the hotels usually serve a milder version of Bhutanese dishes. However, every now and then, an adventurous gastro-curious visitor will request for an authentic Bhutanese food experience that ends with the unfortunate diner in tears at the local restaurant. So, remember to exercise caution while starting your journey into Bhutanese cuisine if you are not used to spicy foods.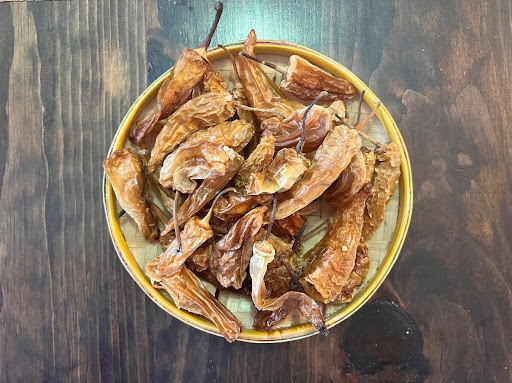 Ema-Shukam, Blanched Dried Chillies
Apart from being consumed, chillies also used to play a role in Bhutanese rituals. Like the esoteric practice of burning sage to purify an area, chillies were burned in the house to chase away unwelcome malevolent spirits that caused illnesses and misfortune to family members. 
(Warning!) We would like to caution you to stick to sage should you ever find yourself doing a cleansing ritual as burning chillies on an open flame creates a smoke that burns the eyes and causes episodes of violent sneezing; this will cause not only the exit of spirits from your house but also your pets, spouse and everybody else. 
As per the statistics, data collected from 2016 to 2020 show that the average chilli production in Bhutan per year is around 9350 metric tonnes (MT). However, this number falls short of the country wide demand for chillies; according to the Ministry of Agriculture and Forests' Vegetable Research and Development Strategy 2023 to 2017, there is a deficit of 1124 MT of chillies. This deficit is covered by importing chillies from neighbouring India. It is evident that the burning demand for chillies won't be going away anytime soon, and Bhutanese will be locked in this spicy affair for the foreseeable future.
---
---