Crafting dreams in Laya: The carpenter settlers of the highlands
Laya, nestled in the Bhutanese highlands, is known for its stunning natural beauty and unique cultural heritage.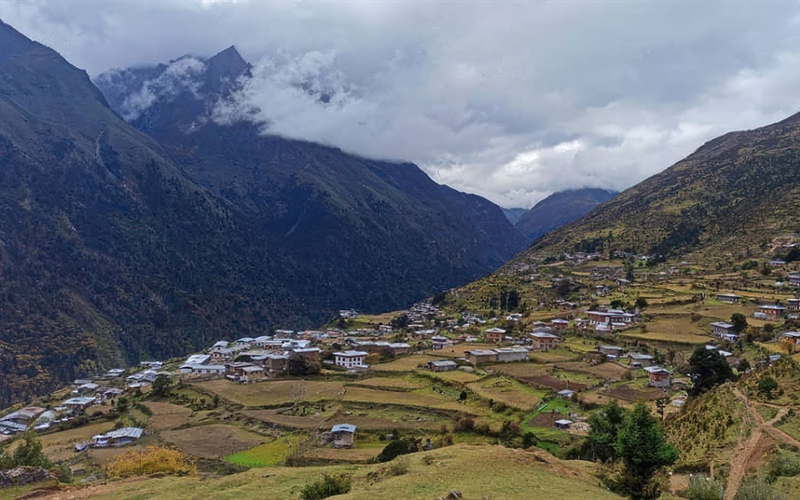 (Source: Kuensel)
Nine years ago, Minjur Dorji accompanied his uncle to Laya, and since then, this father of two from Trashigang has spent nine months annually in the scenic valley, which has grown to feel like a second home to him.
He was among the pioneering carpenters from Radhi who discovered a source of income in the highlands, where the indigenous population dedicates their time to venturing into the remote mountains to collect the highly valued cordyceps and herbs.
Over time, 21 of Minjur Dorji's friends from Radhi have also settled in Laya, with some even forming marital unions with families from the highlands. They work in teams of three, comprising a combination of carpenters and construction workers. Their earnings surpass Nu 500,000 for constructing a two-story house.
One of them humorously likened Laya to their own "Australia." Satisfied with their income, they appreciate the direct financial gain. Despite the harsh cold, they find joy in their lives there. The homeowners provide them with sustenance and lodging for several months.
Assuming construction materials are readily available, they can complete around five houses within nine months. Minjur reveals that the earnings from house construction financed his children's education. With pride, he shares that they are now studying in colleges, which offers relief from the challenging cold of the mountain air, increasingly taxing on his aging body.
Carpenters like Minjur are in high demand. "Before we finish one project, we are already booked for the next," Minjur notes. Due to significant revenue from cordyceps sales, residents of the mountains manage to construct new houses in just a few years.
These traditional houses prominently feature the use of stone in their construction. During the paddy cultivation season, the men hurriedly return to their villages. Radhi is renowned as the "Rice Bowl of the East," famous for its Sorbang rice variety. Some of the locals point out that agriculture is equally vital for supporting their families back home.
On average, farmers yield 40 kilograms of rice per acre of cultivated land. With a combined rice cultivation area of 1,239 acres, completing the transplantation process takes them 90 days.
Increasing incidents of human-wildlife conflict have compelled numerous residents to explore alternative income sources outside of farming. While some have engaged in community contract work, the earnings are minimal, and the endeavors involve significant risks.
As the availability of cordyceps diminishes annually, some Layaps might face challenges in maintaining the financial capability to construct houses frequently. Namgay from Lungo suggests they might need to build their own houses. However, Minjur Dorji disagrees, stating that the local residents lack the necessary expertise.
"The craft takes time to perfect," he concludes with a grin.
Article first appeared on Kuensel.
---
---