Going Against The Tourism Crush: Here's Why Bhutan Charges Tourists US$250 A Day
Attractions around the world are being destroyed by tourism, so much so that countries are starting to imposing taxes and restrictions - a move Bhutan pioneered years ago.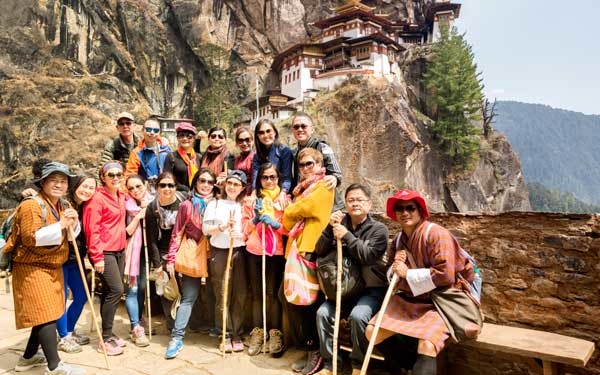 (Source: DrukAsia)
By Kinley Yangden | Bhutan Times
Tourism is a boon and bane. While it drives the economy of many countries that are reliant on tourism dollars, its effects are detrimental.
According to a report from the World Travel and Tourism Council, in partnership with McKinsey, tourism already accounts for 10.2 per cent of the world's GDP and 292 million jobs.
Overcrowded tourist attractions are not something new. With a rapidly expanding middle class, as well as digital and physical connectivity, travellers are finding out more places to go. McKinsey's report states that by 2020, the 20 most popular countries such as France, United States and Spain will add more international arrivals than the world combined.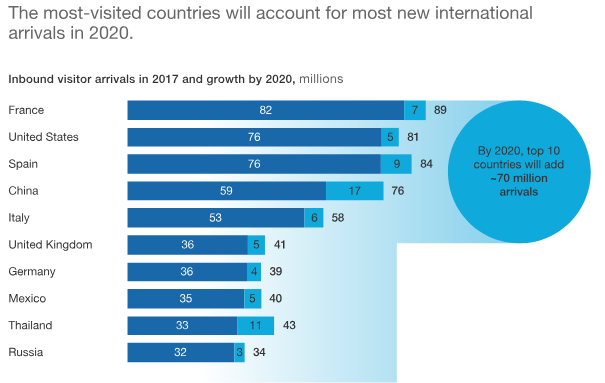 Source: McKinsey & Company
Tourism crush around the world
Large tourism numbers overloads a country's infrastructure and damages the environment. In Barcelona, locals have reached breaking point and even held anti-tourism protests last year.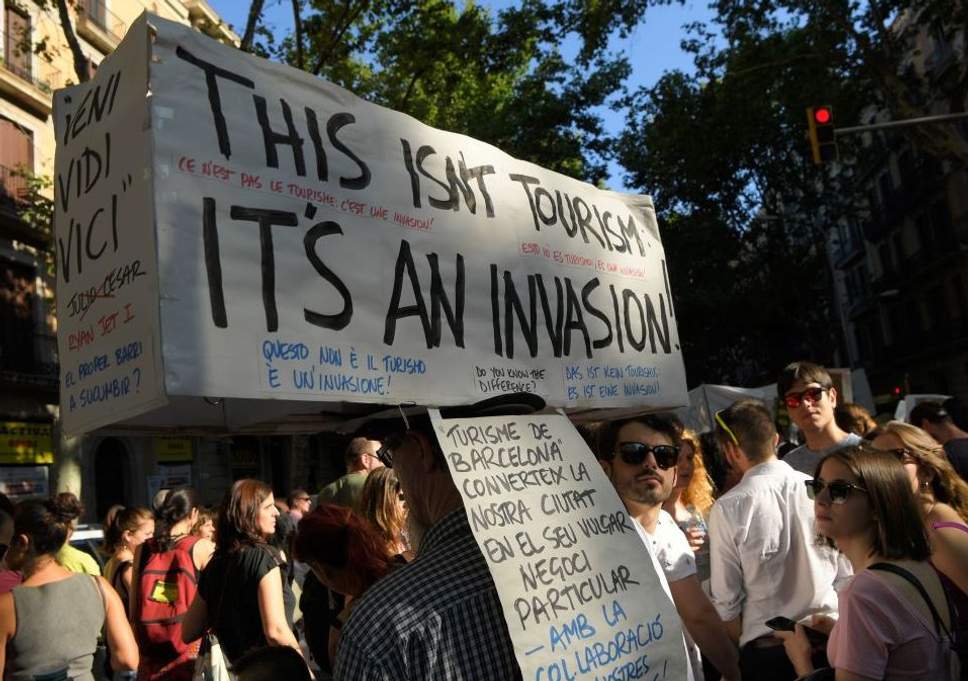 Photo: AFP
Venice is another example. The Economist reported that the city is "not drowning, but suffocating" with its average flow of 80,000 tourists a day. Tourists not only crowd out the locals, they jostle among themselves too.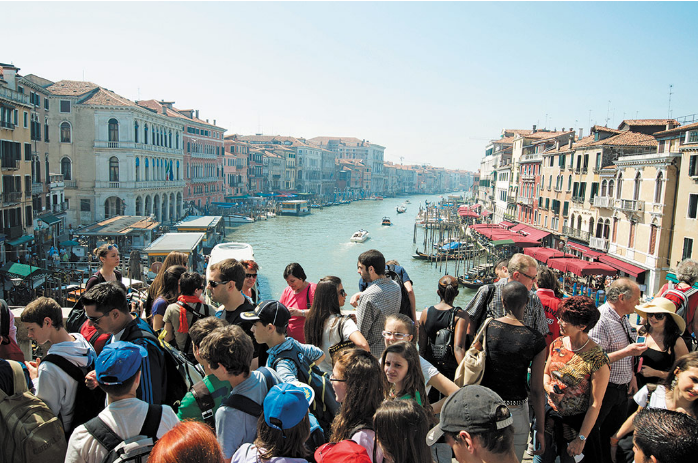 Tourists on the Rialto in Venice. (Photo: The Economist)
The situation is the same around touristic destinations: Versailles in France, Trevi Fountain in Rome, Buckingham Palace in London, Angkor Wat in Cambodia, the Forbidden City in Beijing, and the list goes on.
Not only are these tourists making lives difficult for the locals, they are also damaging the structures and environments of the attractions. The uppermost sanctums of the ancient Angkor Wat temple in Siem Reap have been vandalised with carvings into the stone pillars and even the Colosseum in Rome is not spared from tourists wanting to leave their mark.
Stemming the tide: Bhutan as a shining example
Then there's Bhutan. The Himalayan kingdom saw only 254,000 visitors in 2017 - a pin drop in a vast ocean of tourists who travel in the millions to other destinations. This means that the attractions in Bhutan are hardly ever crowded.
Tiger's Nest is one of the must-visit sites when in Bhutan and even during peak season, you won't see hordes of tourists lining up to enter the temple.
When it comes to managing mass tourism and overcrowding, Bhutan is a pioneer in implementing bold steps to prevent a complex situation that has yet to be resolved by many countries.
How so? By charging a daily tariff that costs US$250 (during peak season). Sounds hefty? Wait till you see what it includes and it might change your perception.
The notion of having to pay a "daily tariff" is not usual practice for many tourists. Many people are put off by this somewhat "hefty fee" without knowing in full detail what it entails.
So this is what you get in Bhutan with the daily US$250 rate: 
- A minimum 3-star accommodation
- All three meals each day
- A licensed Bhutanese tour guide for the extent of your stay
- All internal ground transport and entrance fees
- Camping equipment and crew for trekking tours (if you opt to go trekking)
- A portion of your daily fee (US$65) goes to the Bhutan government to provide free education, healthcare and environmental conservation
Effectively, you're paying less than US$100 for your hotel, all three meals, guide and transportation. To me, this is a pretty good deal. This also means you don't have to fork out a single cent unless you're buying alcohol beverages, souvenirs or snacks, and tips for your guide and driver.
Other countries starting to implement policies too
Much has been written about Bhutan's unique tourism policy that encourages "High Value, Low Impact", which promotes the destination as unique and exclusive, yet also safeguarding its rich culture, heritage and natural landscape.
Looking at the examples of overcrowded destinations above, perhaps charging tourists a daily rate isn't a bad idea after all.
In fact, Barcelona is now planning a new tourism tax, Venice is in talks to implement new policies, Rome is considering limiting numbers to parts of the city, and Croatia is planning to limit the number of cruise ships. All this to stem the influx of tourists.
Perhaps Bhutan has got it right all along, seeing how countries are now struggling to impose restrictions on tourists. Without its cautious approach to tourism, we'd be seeing droves of visitors clambering up Tiger's Nest daily.
Bhutan still needs to be cautious, says conservation expert
According to ecotourism and conservation expert Karma Tshering, Bhutan's conservative tourism policy has been effective thus far "in shielding the country from detrimental impacts".
However, he cautioned that Bhutan is seeing an increase in number of visitors, posing a threat to the country's sustainable tourism. Karma said the country is now at a crossroads and must consider other sustainable tourism development policies.  
"Bhutan has all the attributes and opportunities to remain a top end sustainable tourism development destination, yet allowing increase in tourist arrival numbers could lead to mass tourism," explained Karma.
---
---