Here's What It's Like Inside Asia's Best Hotel - COMO Uma Punakha In Bhutan
Luxury resort COMO Uma Punakha was awarded best hotel in Asia and third best hotel in the world, by Conde Nast Traveler's Readers Choice Awards in 2018.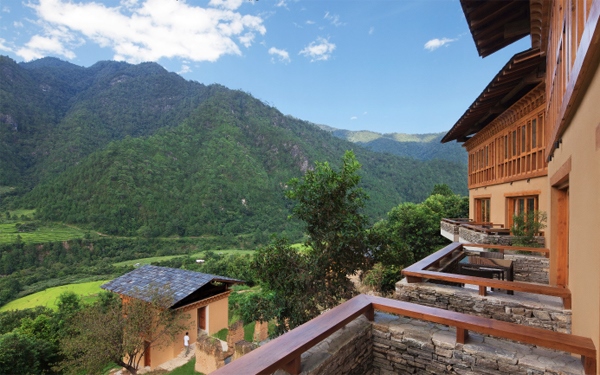 (Source: COMO)
By Kinley Yangden | Daily Bhutan
It's not often that a hotel gets voted, not once, but twice for being the best.
In Conde Nast Traveler's 31st Readers Choice Awards in 2018, luxury resort COMO Uma Punakha was awarded two accolades: Best hotel in Asia and third best hotel in the world.
According to COMO Uma Bhutan's general manager James Low, the awards are considered the "most significant" in its 25-year history for COMO Hotels and Resorts.
The luxury chain has 14 five-star hotels, resorts and residences around the world and in Bhutan alone, there are two COMO resorts. Besides one in the valley of Punakha, the sister lodge can be found in Paro. COMO Uma Paro was also acknowledged by Conde Nast Traveler as the second best hotel in the world.
What does the best hotel in the world has to offer its guests? Here is what it's like to stay at this exclusive lodge.
Minimalism at its best, so there's no service desk
Forget service desks and receptionists. Upon arriving at the resort, you're immediately greeted by the staff as soon as you get off your car. You are then ushered to the hotel's outdoor patio and this is where you get a first glimpse of how beautiful its surroundings are, while sipping on tasty herbal mint tea.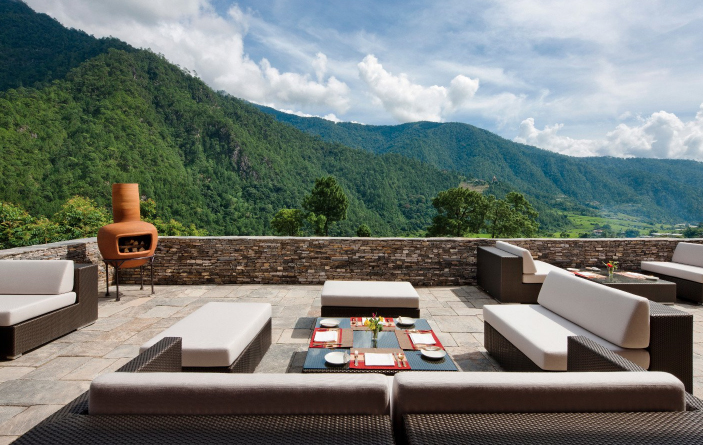 Uma Punakha's outdoor seating, which offers a picturesque view of Punakha valley. (Photo: COMO)
While the staff proceed to register our stay, we started looking around for a reception or concierge, and then we realised that this wasn't your typical five-star hotel - COMO staff know exactly who their guests are and check-in is handled seamlessly with no fuss.
COMO Uma Punakha's architecture is minimalism at its best. Designed by Malaysian architect Cheong Yew Kwan, the boutique resort is seemingly modelled after a traditional Bhutanese house, located on top of rice terraces. These rice terraces provide a backdrop to the scenic view and are used by the hotel to grow its own vegetables and produce.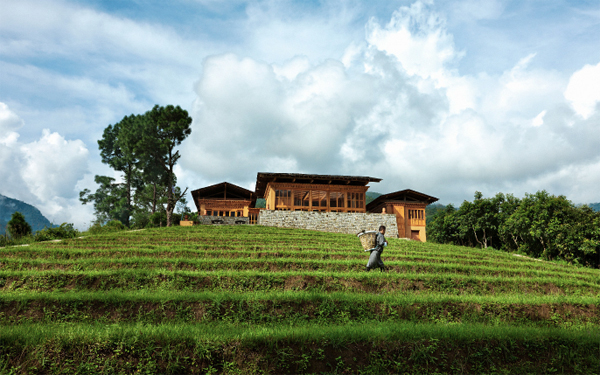 Exterior of COMO Uma Punakha. The hotel uses the rice terraces to grow their own produce. (Photo: COMO)
The rooms are large, clean and simple. There is a total of 11 rooms at COMO Uma Punakha, of which eight are deluxe rooms that offer a view of the valley. There are also two villas: a one-bedroom villa and a two-bedroom villa for families who prefer to stay together under one roof.
Keeping the number of rooms to a minimal allows COMO to offer personal attentiveness and exclusive service to all its guests, which we experienced immediately upon arriving.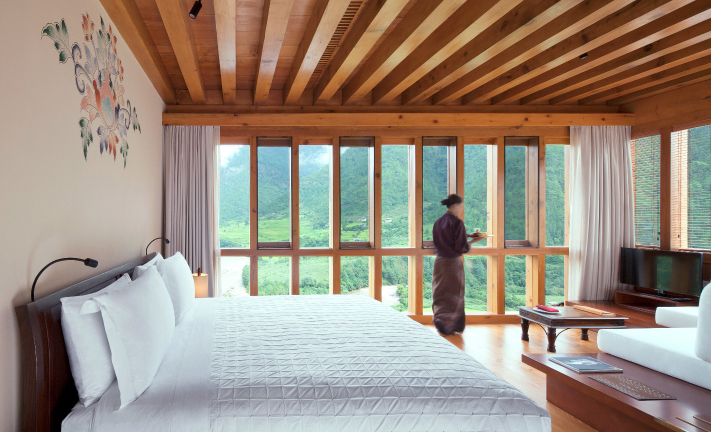 Valley View Deluxe Room. (Photo: COMO)
Eco-friendly move
A welcome gesture by COMO Uma Punakha is its effort in preserving the environment. Instead of providing bottled water to guests on a daily basis, the hotel does filters its own drinking water into reusable glass bottles. A staff told us that they started doing this after receiving feedback from guests on plastic bottles.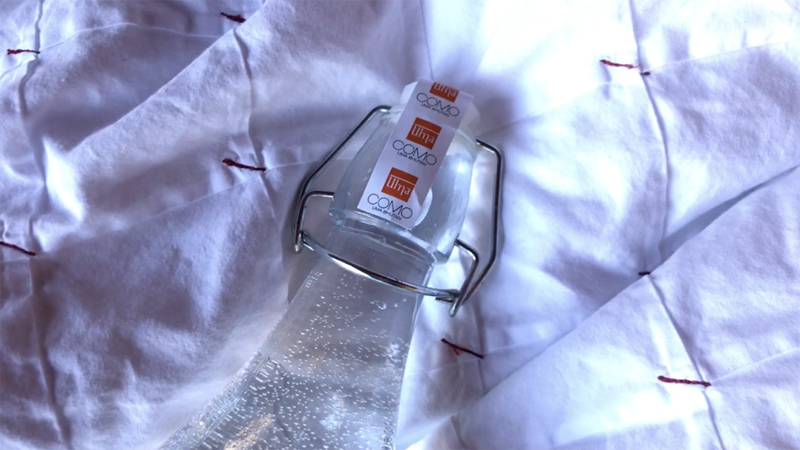 A bottle of COMO filtered water in the room. (Photo: Daily Bhutan)
This is a move that not just hotels should endeavour to do, but tour operators should also consider providing to their guests filtered water in reusable bottles rather than plastic bottled water. 
Pampering sessions
COMO prides itself in its yoga and wellness offerings, and one of the available treatments at COMO Uma Punakha is the traditional hot stone bath and massage package (US$250 for singles; US$350 for couples) that is available at the COMO Shambhala Retreat.
The private spa is a two-level hut that faces the Mo Chhu river. On the lower level is the hot stone bath room where you will be treated to a nice view while soaking in an artemisia infused bath. According to the Bhutanese, artemisia helps to relieve aches and pains, especially after an intense workout or hike.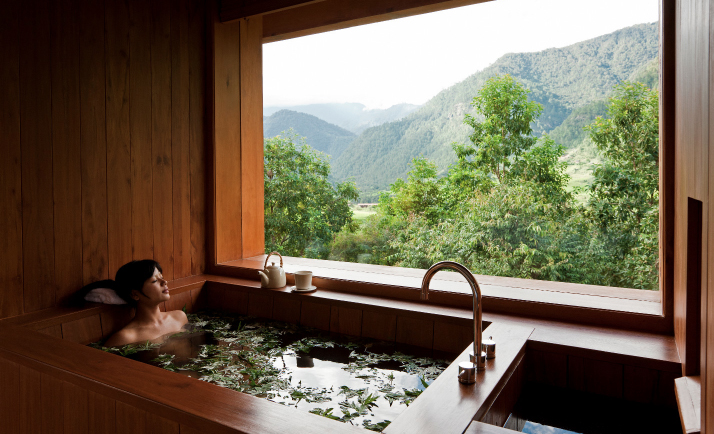 Hot stone bath at COMO Shambhala Retreat. (Photo: COMO)
After a good soak, guests are then ushered to the massage bed for a COMO Shambhala signature massage to ease all the muscle tension that we tend to gain while on holiday.
COMO's pride and joy: Its food
One thing that COMO takes pride in is its cuisine, and it is evident in the ingredients used and care taken to offer nothing but the best meal to its guests.
The lunch menu at the Bukhari Restaurant includes an international spread, ranging from buckwheat fettuccine pasta to beef steak and also a colourful House Charcuterie platter consisting of a selection of imported cheeses, cured meats and tangy pickles.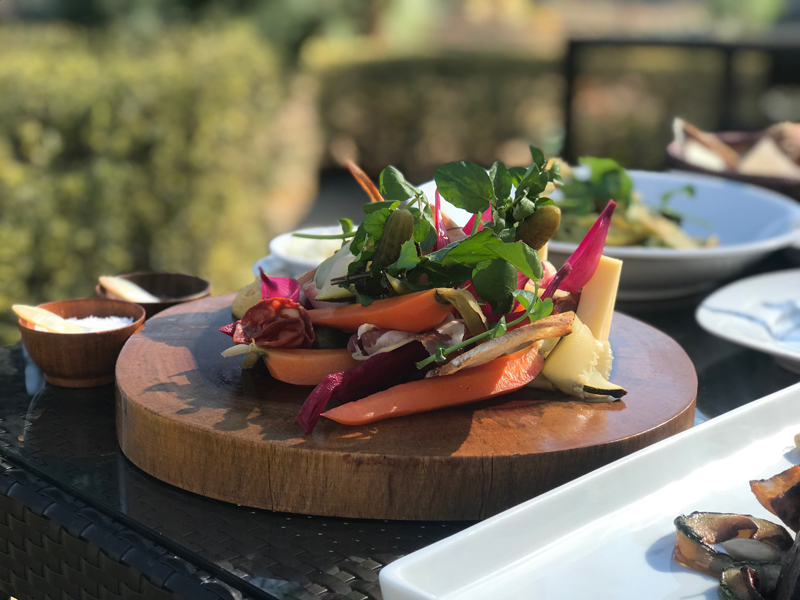 House Chacuterie platter. (Photo: Daily Bhutan)
As part of the COMO Shambhala wellness offerings, the restaurant also serves a variety of COMO Shambhala Extractions, a concoction of freshly-squeezed juices.
The dinner menu is a selection of international cuisine and Bhutanese cuisine. You had better make room in your belly for additional servings of food, because for the dinner selection, the sides such as homemade bread, parmesan rocket salad and roasted Gasa baby potatoes, were not part of what we ordered, but came as a dinner package anyway. So we ended up with more food than we had initially ordered.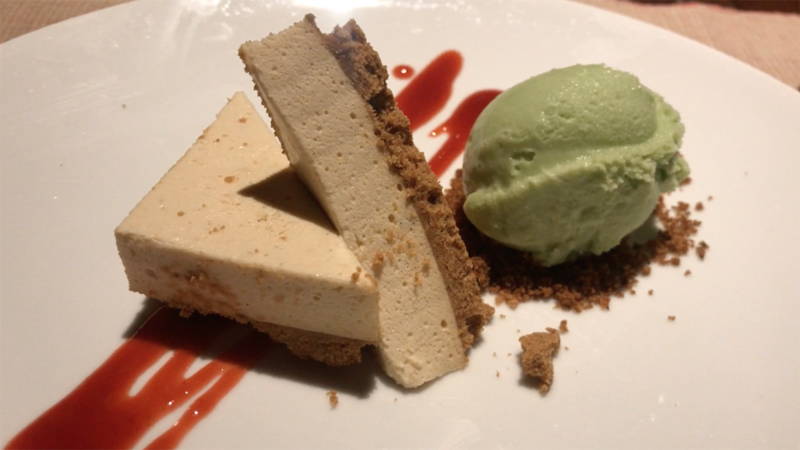 Guava mousse cake with kale ice cream. (Photo: Daily Bhutan)
Desserts are also a must try as they are hard to come by in Bhutan and is a welcome refreshment to a heavy dinner prior.
Having breakfast at the restaurant's outdoor seating area is worth the stay alone. Over here, you won't experience the bone-chilling cold in the mornings during winter as it is situated at a lower altitude compared to Paro and Thimphu. We listened to the birds chirping away as we sipped coffee and bit into COMO's homemade muffins and croissants.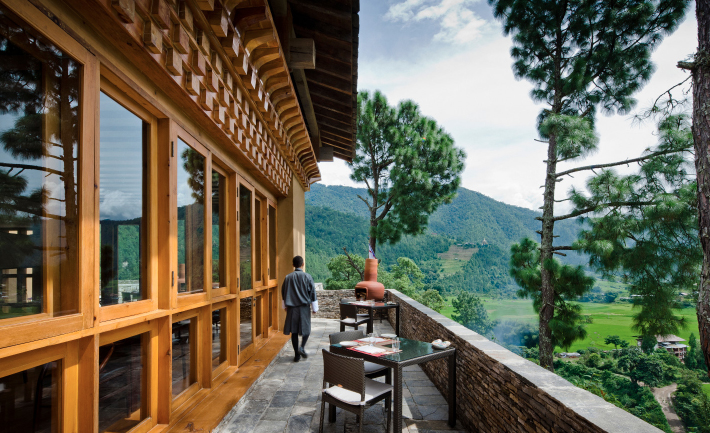 Outdoor dining area at Bukhari Restaurant. (Photo: COMO)
Special excursions within Bhutan
Apart from the breathtaking view, food, room, and excellent service and location, guests who stay here can also take part in a game of archery and khuru (local dart game). Most Bhutanese love to take part in archery and tournaments can take up to a few days.
Besides activities within the resort, guests can package their stay with a 5-night "Himalayan Explorer" itinerary, where you get to stay two nights in COMO Uma Punakha and three nights at COMO Uma Paro. The package includes day walks and sightseeing around Punakha and Paro, as well as a hike up Tiger's Nest.
But what's special about staying at COMO is the scenic helicopter rides that it offers to its guests at a price (starting at US$24,711 for two pax during low season, all excursions, food, guide, taxes and service charge inclusive). The 90-minute helicopter excursion takes guests to places not usually explored by other travellers, such as Laya Valley, the roof of Bhutan.
Of course, the resort is able to personalise tailor-made itineraries for guests to best explore Bhutan.
Now if that's not five-star treatment, I don't know what is.
Valley View Deluxe Room starts at US$620 plus taxes. Visit COMO Uma Punakha's website for more information.
---
---