My first Jomolhari Base Camp Trek experience, a journey within and beyond
Find out what to expect on a 5-day Jomolhari Base Camp Trek itinerary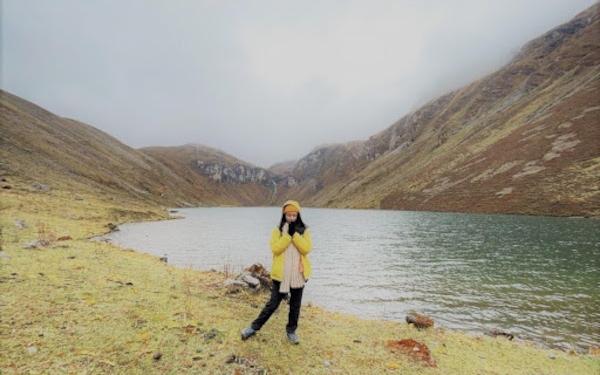 With elevations that reach almost 5,000 meters above sea level and the trekking route passing through exquisite alpine scenery, several semi-nomadic villages and grassy meadows, Jomolhari Trek is one of the most premier and popular treks in Bhutan. 
When my friends invited me for the Jomolhari Trek, it was the easiest yes I have responded to.
Although an avid and a regular hiker, I had never done any trekking before. Jomolhari Trek was my first experience and we were doing the Jomolhari Base Camp Trek (from Shana in Paro to Jomolhari Base camp and back via the same route to Paro in 5 days). I felt ecstatic mixed with a fair share of anxiety in anticipation of the unknown.
If you're contemplating to embark on a Jomolhari Trek, here's what to expect on the 5-Day Jomolhari Base Camp Trek:
Day 1: Shana Zampa, Paro Valley to Thangthangkha 
We were picked at the wee hours of the morning from Paro town. After 2 hours drive, we reached Shana Zampa. We breakfasted on fried rice and ezay (chilli sauce ) with hot suja at a simple restaurant in Shana while our horses were loaded.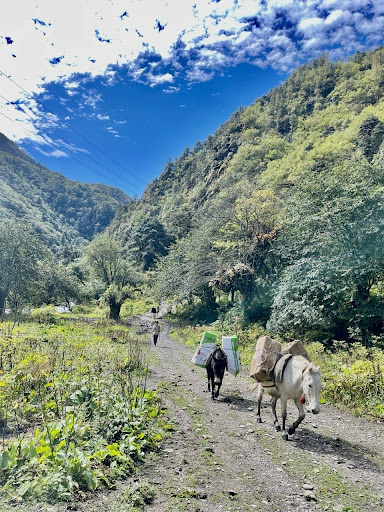 Figure 1: The trail after Shana with horses carrying our load
The thick forested trail was along the banks of a swift-flowing Paa Chu river. We kept walking over numerous wooden bridges crossing and recrossing the river till we reached Thangthangkha – no steep climbs. There was no specific attraction on this trail but the gentle walk with the continued sound of the cascading river in the background put us in a meditative stance giving us ample time to think and reflect.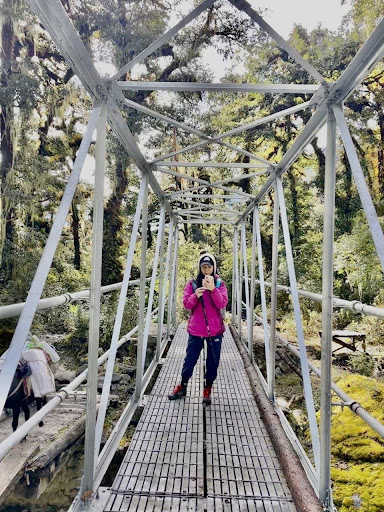 Figure 2: The many bridges we had to cross
After about six hours (the most we would walk on this trek), we reached Thangthangkha. A single house with many mini sheds in a meadow greeted us. It was a shop where it had a guest house – a two-room wooden cabin.  
Thangthangka gave us the first peek at Mount Jomolhari – snowcapped and sneaking at us from a distance with that sunset glow. It was spectacular!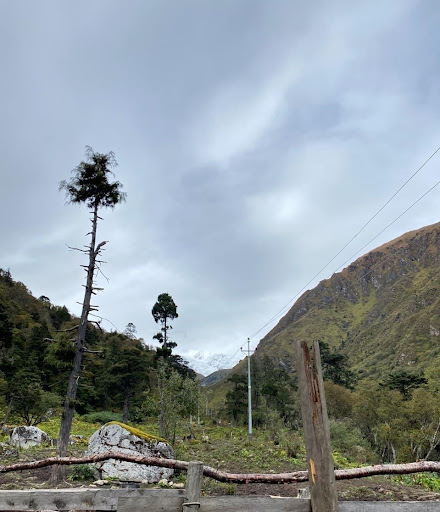 Figure 3: First view of Jomolhari peak from Thangthangkha
The night sky brimmed full with stars and spread far and beyond – it was so starry that it was almost magical. 
Day 2: Thangthangkha to Jangothang 
On the second day, we set off to Jangothang via the Gewog Center of Soe Valley. This part of the trek gave us the first glimpse of the nomadic lifestyle. We passed villages of traditional houses – sending smoke into the day sky from their chimneys giving a warm fuzzy feeling from within to a cold weathered body. Yaks and horses were a common sight. The highland kittens were extremely adorable.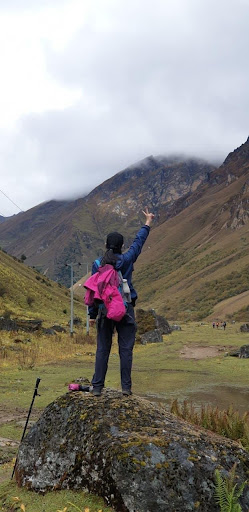 Figure 4: View on route Thangthangkha to Jangothang
It was a relatively short but rugged trek of four hours in open pastureland and then we arrived at Damgochang. This appeared the center stage of Soe Valley: the gup's office, the hospital and the school were here. Called the 'School Among Snow Leopards', there were a total of nine students and a teacher.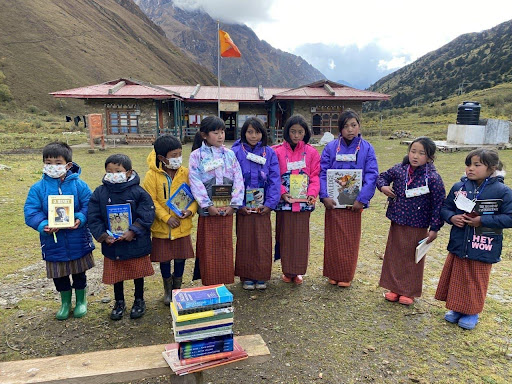 Figure 5: Soe School Students
Another 30 minutes walk from here, and we reached the Jomolhari base campsite, where we would pitch our tent below the sacred peak of Jomolhari. Enclosed in a valley, the ground is levelled for camping. The left side had ruins – said to be of the Dzong in which a king lived. The right side had a lifted spot with chortens from which you could see the sunrise and its golden rays fall first on Mount Jomolhari and then on Mount Jichu Drakey in the early (lucky!) mornings. A photographer's paradise for pictures.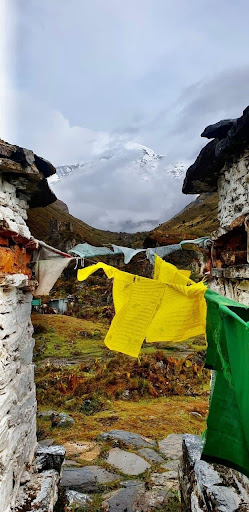 Figure 6: View of Mt Jomolhari from the sunrise spot in Base Camp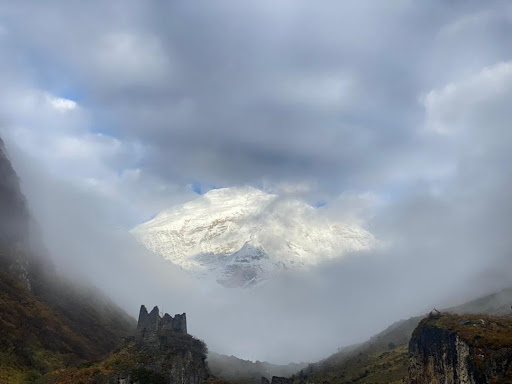 Figure 7: The ruin and the view of Mt Jomolhari from the Base Camp
10 minutes walk beyond the camping site and we were in a village – a village of three houses. We were there for two nights. We settled in with a hot serving of suja and scrumptious fresh yak cheese.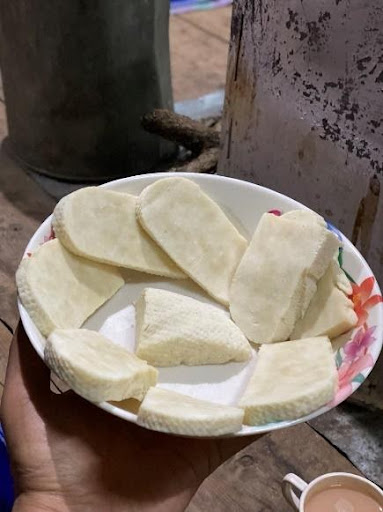 Figure 8: Yak cheese
Day 3: Jangothang Halt: Sightseeing 
The third day was the rest and rejuvenating day with sightseeing.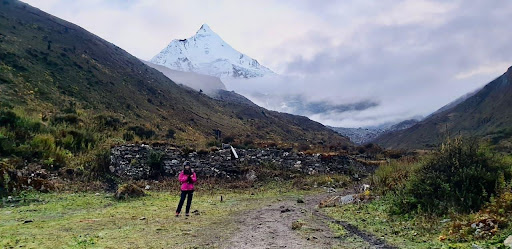 Figure 9: Mt Jichu Drakey View
We started the day early with an hour and a half of steep climb before it melted into meadows cupped on each side by glistening sharp rocky ridges. Half an hour through this picturesque pasture leads you to the first of the Twin Lake (Tshophu Lakes). With its glassy still surface, it showcased water's most mesmerizing quality.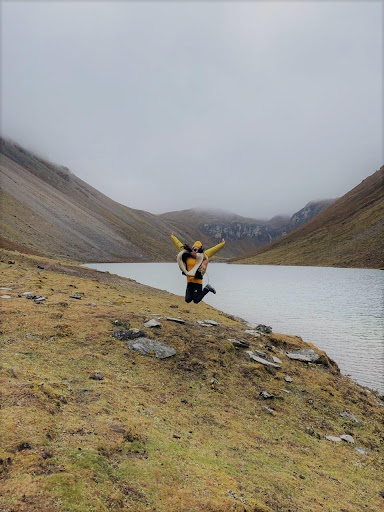 Figure 10: First of the Twin Lakes
About 20 minutes further up was the second lake. With a sitting area and a camping place, it was no less awe-inspiring. The lakes were filled with brown trouts. We were told that the lake completely freezes in winter giving a heavenly ice skating image. 
If you were lucky, you could spot Himalayan Snow Leopard and other Himalayan animals like Blue Sheep and Marmots in the area.  
This was also the time the altitude heat me and tired me than the 7 hours of the day before!
In the afternoon, our guide took us on short hikes into the upper slope of the mountain to view Jichu Drakey from the glacier lake which is the source of Pachhu river.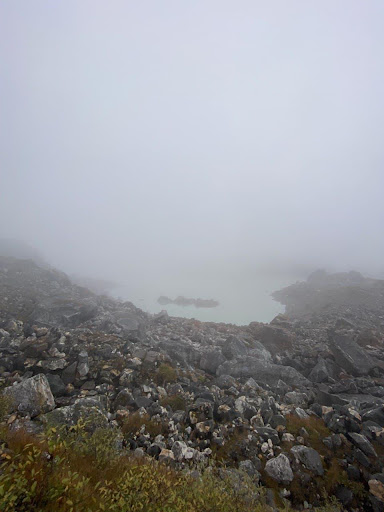 Figure 11: Source of Pachu river lake
Day 4 & 5: Back to Paro via Thangthangkha
On the fourth day, we started our return to Paro. We halted the 4th night in Thangthangkha and the fifth day back to Shana where a car was waiting for us to be dropped at Paro town. 
One of the most sought-after trekking destinations in Bhutan, this thrilling trekking adventure takes you to the base camp of Mount Jomolhari – one of the most sacred Himalayan mountains in the country. Treated to the views of majestic mountains, myriad flora and fauna and stunning lakes the experience took me a little closer to what Bhutan stood for and my roots in the country. 
The cool mountain breeze blowing on my face awakened in me a sense of serenity. The vastness of the landscape humbled me to accept that I am just a small part of the universe and that we are all interconnected. Jomolhari Trek is indeed 'a perfect package to explore Bhutan to its fullest' and the base camp trek is not as strenuous. It could be done by anyone if you were a regular hiker. 
---
---