Not only is Bhutan carbon negative, Bhutan is leading the world's fight against climate change
The environmental conservation efforts in Bhutan is a role model to the world.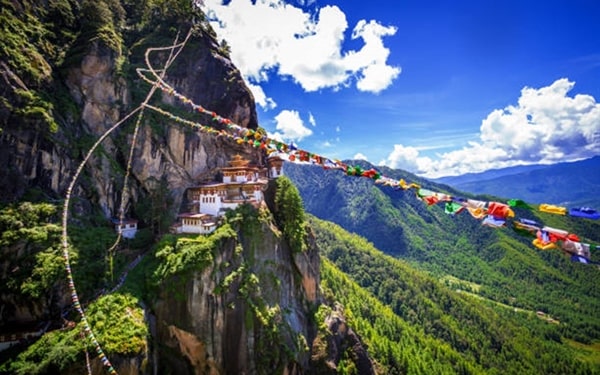 More than 60% of Bhutan is under pristine forest cover.
Impressive, right?
In fact, more than 51% of the country is protected land—the largest of any Asian nation.
This is thanks to Bhutan's Gross National Happiness (GNH). GNH is a metric to measure the Bhutanese's quality of life with focus on holistic wellbeing. The people's happiness, and not economic gains, is the compass that guides the country's policies.
GNH has 4 pillars, one of which is environmental conservation. The government recognise that a sustainable environment is crucial to Bhutan's happiness.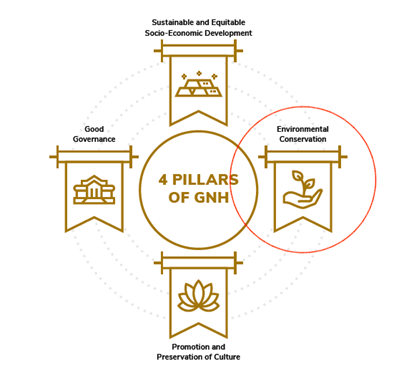 And hence it is mandated in Article 5 Section 3: Constitution of the Kingdom of Bhutan that "The government shall ensure that, in order to conserve the country's natural resources and to prevent degradation of the ecosystem, a minimum of 60% of Bhutan's total land shall be maintained under forest cover at all times."
Because of this policy, Bhutan is carbon negative.
Bhutan generates 2.2 million tons of carbon dioxide every year. Carbon dioxide, as the primary greenhouse gas, gets trapped within the atmosphere, which in turn leads to climate change.
However, the large number of trees in Bhutan sequester more than 3 times that amount of carbon dioxide. As a result, they are negative by more than 4 million tons of carbon dioxide each year.
The large forest area has turned the country into a carbon sink, absorbing more carbon dioxide than it produces.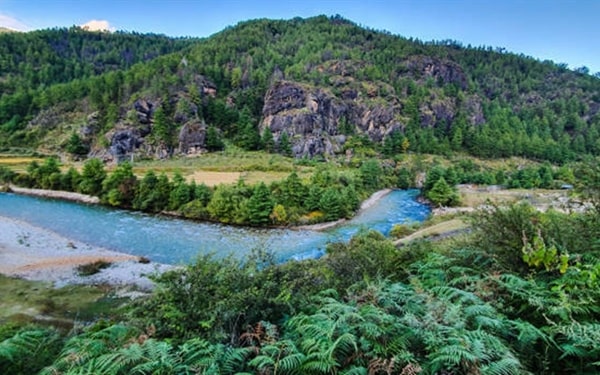 But for the country to be sustainable, they must rely on renewable energy. For that, Bhutan turned to their fast-flowing rivers.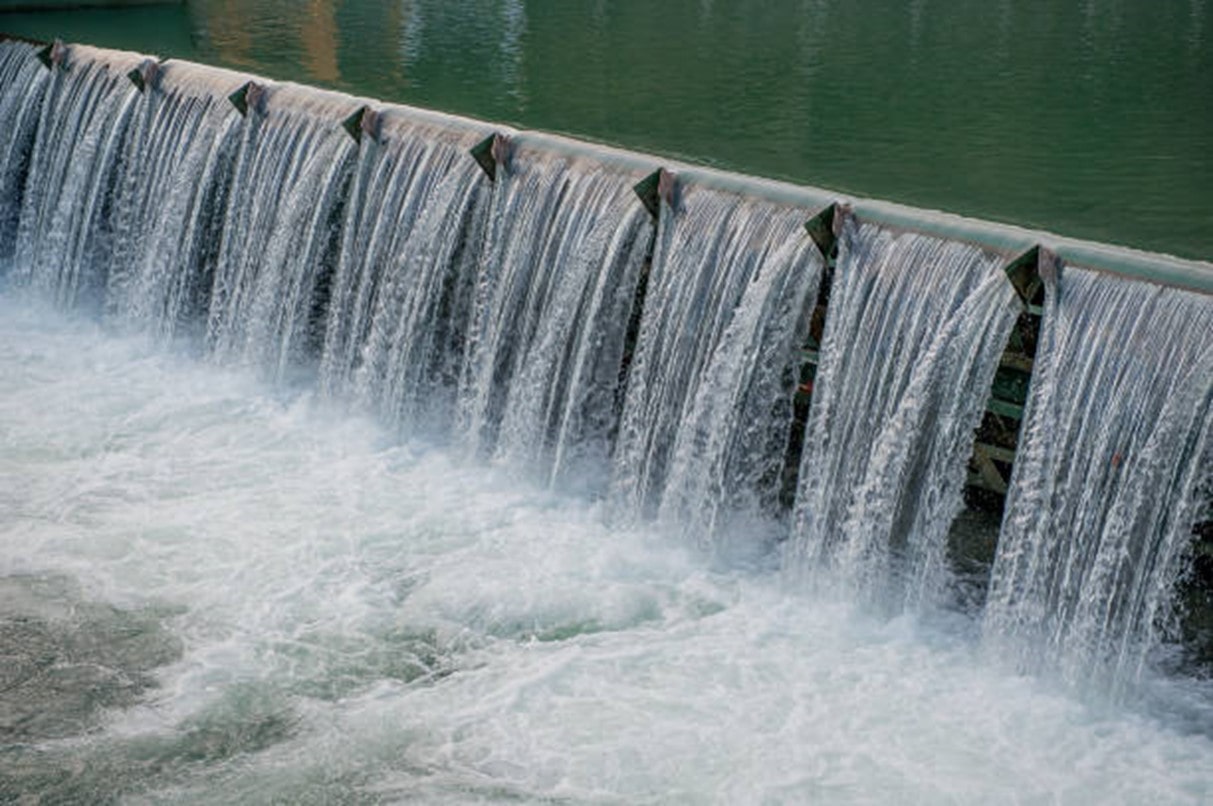 Under the reign of the fifth king, Jigme Khesar Namgyel Wangchuck, Bhutan has seen significant investment in hydroelectricity.
Hydroelectricity contributes heavily to the GDP. In fact, Bhutan has a goal of generating 10,000 megawatts of hydropower.
Currently, the clean energy they export offsets about 6 million tons of carbon dioxide in the world.
So on top of being negative carbon themselves, Bhutan also counteracts carbon in the world.
The Effect of Global Warming on Bhutan
But although Bhutan has done nothing to contribute to global warming, global warming has been hard on them.
Bhutan is a small country, landlocked between two large nations and covered in high altitude topography. The nature of their landscape means that they feel the full brunt of global warming.
Glaciers are melting, forming glacier lakes.
If any glacier lake breaches its dam, flash floods and landslides ensue, causing disaster and widespread destruction.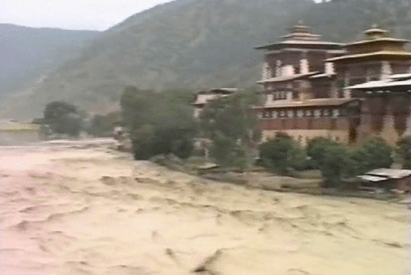 And this is exactly what has happened. One single glacier lake can wreak havoc, so imagine the threat Bhutan faces from having 2700 of them. 
But the Bhutanese are not sitting on their hands. They are doing their part to combat climate change.
A Promise to Stay Carbon Neutral
At the 2009 United Nations Climate Change Conference in Copenhagen, Bhutan first promised the world to stay carbon neutral. 
But the world didn't notice then.
Then again, at the same conference in 2016 in Paris, Bhutan reiterated the promise. This time, the world noticed. The press was intrigued. Who is this tiny country leading the efforts in environmental sustainability?
Bhutan proved to the world that those were not empty promises. Since then, the country has done plenty to maintain their carbon-neutral status.
For one, Bhutan has a 'high-value, low-volume' tourism policy to ensure that their environment (on top of other things) is protected from external influence. Also, the government provides free electricity to rural farmers to prevent the use of firewood.
Furthermore, the people are encouraged to invest in sustainable transport, an initiative forwarded by the government through the subsidy of electric vehicles. There is also a subsidy of LED lights, and the whole government is working towards paperless operation.
Moreover, they launched Clean Bhutan, an initiative that aims to "change the mindset of every Bhutanese to be responsible citizens and practice sustainable consumption lifestyle by using available resources most efficiently".
On top of that, through Green Bhutan, they planted trees throughout the country. On 2 June 2015, Bhutan sets its first-ever Guinness World Records title for planting 49,672 trees in one hour. 82,000 households in the kingdom planted a tree, while another 26,000 were planted by volunteers around the country. All in an hour.
But most important to the green efforts of Bhutan are the "lungs" of the country—the protected zones.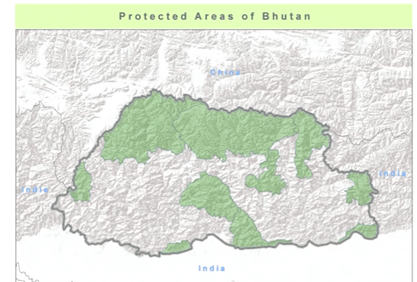 The protected zones are the cornerstone in the efforts of keeping Bhutan carbon negative.
These zones are connected via corridors so animals can roam freely throughout the country. They can travel between lower altitudes and the highlands.
Today, Bhutan is one of the few remaining biodiversity hotspots in the world. The unspoiled environment supports thriving populations of endangered animals.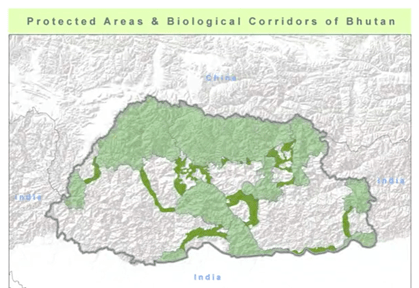 Bhutan's Hope for the Future
Every year, Bhutan set aside resources to avoid poaching, mining, and pollution in the parks. They also seek to help communities who live in the parks to care for the forest and manage the effects of global warming.
This does not come cheap.
For a small economy like Bhutan, this proves to be a challenge. But determined to persist in the conservation efforts, Bhutan launched Bhutan for Life, a mechanism to fund the parks until the government is finally equipped to take over. Think of it as a Kickstarter project.
The government, partners, and donors contribute to Bhutan for Life that has outlined a clear timeline and objective. Should things go as planned, the Bhutanese government will assume full responsibility for sustainable financing by 2032.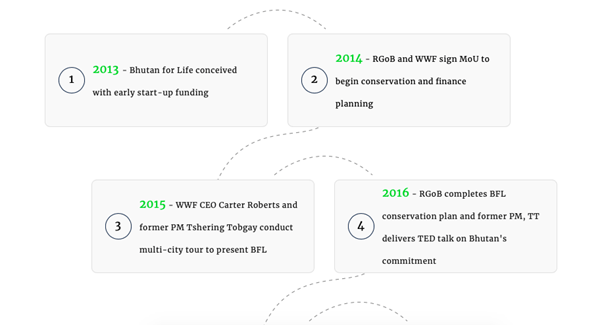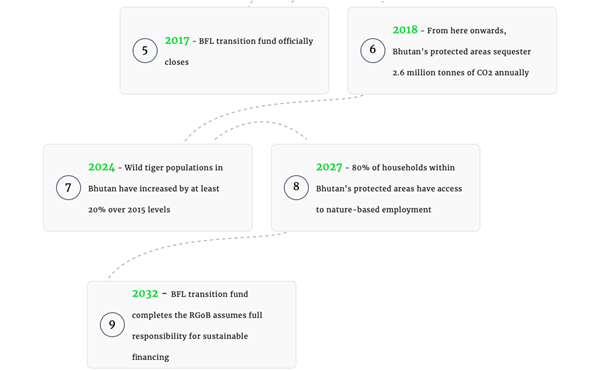 It's a good plan, and Bhutan invites the rest of the world to participate.
"What if we could mobilise our leadership and our resources, our influences, and our passion to replicate the Bhutan for Life idea to other countries," suggested former Bhutanese prime minister Lyonchhen Tshering Tobgay at a TED talk, "so that they too can conserve their protected areas."
"After all, there are many other countries that face the same issues that (Bhutan) faces. They too have national resources that can win the world's fight for sustainability, only they do not have the ability to invest in them now. So what if we set up Earth for Life? A global fund to kickstart Bhutan for Life throughout the world?"
He continued, "I invite you to help me to carry this dream beyond the borders to all those who care about our planet's future. After all, we're here to dream together, to work together, to fight climate change together, to protect our planet together. Because the reality is that we're in it together."
In an interview with CNA last year, Prime Minister Lotay Tshering compared the global effects of climate change to cancer that without urgent action will become an incurable disease.
 "Historically, traditionally, culturally and emotionally, we have been climate champions. Not because of all these climate issues. For centuries we have been very environmentally friendly," he said.
"There is no Bhutan stand on this. If world leaders all agree on the fact that this is inevitable, if they agree that this is real, if they all agree that a stage-one cancer if not treated will go on to progress onto stage two or three and will be incurable one day, if they know they have no choice, then they will act now. 
---