Oyster mushroom farming is all the rage in Bhutan now
Farming oyster mushrooms is complicated but worth it.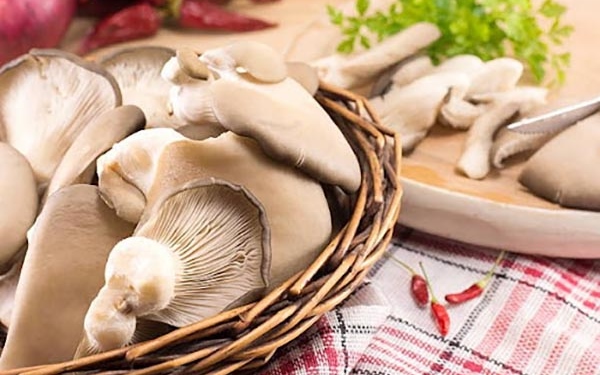 If you haven't heard, oyster mushroom farming is all the rage in Bhutan now.
Oyster mushrooms are a type of mushroom that have thin oyster-like caps with frills around the edges. They have a mild, savoury flavour and delicate texture.
Oyster mushrooms work like a sponge and soak up whatever liquid they come into contact with, so they are a popular cooking ingredient. The Bhutanese sometimes cook shamu datshi with oyster mushrooms.
Furthermore, oyster mushrooms have amazing health benefits. They are rich in nutrients, are a great source of antioxidants, and have immune-supportive benefits.
The Bhutanese government recognises this, hence promoting oyster mushroom farming.
When compared to other types of farming, mushroom farming has its advantages. For one, it does not require hard labour. It also does not require large plots of land. On top of that, it grows throughout the year as long as the temperature is suitable. 
The pandemic has shown the Bhutanese how important it is for Bhutan to be self-sufficient when it comes to food, which partly led to the GNH Farmers Project.
The GNH Farmers Project
The Bhutanese government has launched a two-year GNH Farmers Project. As of October 2021, eleven young farmers have registered to participate in the project. 
The project, held in Nasiphel, Bumthang, gives the young farmers hands-on experience in mushroom cultivation. The programme is held in partnership with Sterling College, USA under an initiative called EcoGather. 
The project aims to combine GNH leadership and ecological farming. Recognising agricultural activities as a viable means to provide livelihood opportunities, Bhutan is looking to train their youth in farming. As part of the first phase of the initiative, an oyster mushroom farm has been established in Bumthang.
The participants, who are high school graduates, learned to perform the cultivation process, which includes soaking, draining, and steaming straw, followed by hygienic treatment and packing. 
They were also taught the preparation process of fruiting and harvesting of oyster mushrooms. They learned about the various pests and diseases that can impact mushroom farming.
Furthermore, the curriculum encourages the practice of the 9 domains of GNH. This is done through basic mindfulness practices, team assignments, community-based living, and volunteer activities. 
The process of mushroom farming
The process is complicated. 
First, cut the straw and soak it for 20 minutes in clean water. Next, drain the excess water and steam the straw so that it is 80% dry.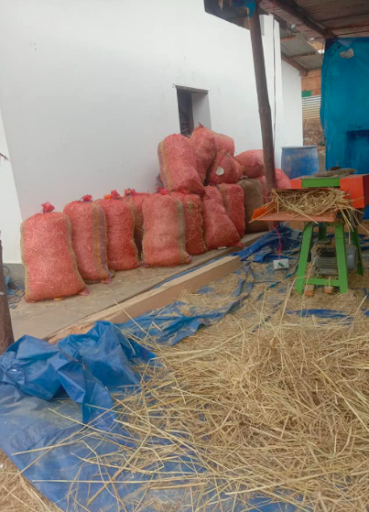 Straw is a big component of oyster mushroom farming
Picture credit: Bhutan Mushrooms Technology Facebook
Following that is the spawning. A mushroom spawn is anything that has been inoculated with mycelium, which is the vegetative growth of a fungus.
Make holes in the bag with the mushroom spawn to allow air circulation, then hang the bag in a clean and dark room. 
After the incubation process is completed, cut the mushroom bag with a clean blade in 12 to 16 places. Water the mushrooms regularly. After about a week, the mushrooms will grow and are ready for harvesting. 
During the incubation process, if the temperature is high, it is wise to spray some water on the bag. Nonetheless, water is not required for incubation.
Commercial farming of oyster mushroom
Apart from the GNH Farmers Project for young farmers, there are others who have looked to farming oyster mushrooms to earn a living.
Chencho Tinley is one such farmer. He is from Toebesa, Punakha. He worked as an IT personnel in India until the Covid-19 pandemic caused him to return. In July 2021, he started a commercial oyster farm.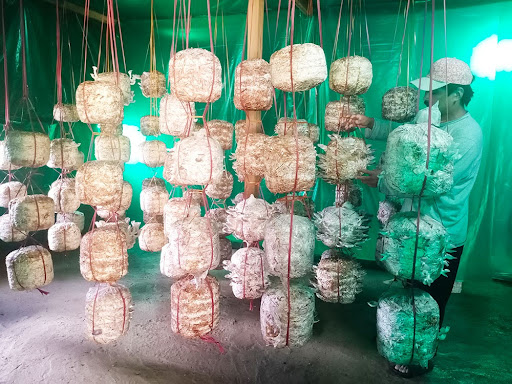 Picture credit: Kuensel
Chencho had attended an entrepreneurship programme organised by the Bhutanese government. He then received a loan of Nu 500,000 (approximately 6,700 USD) from the national bank.  
In less than a month, Chencho prepared 200 mushroom bags, selling them at Nu 400 per kilogram. 
Chencho does face challenges in his business. To grow the mushrooms, he needs moderate temperature and clean surroundings. Thus he has plans to invest in equipment such as a heater, air conditioner, and humidifier to prepare for winter and summer times. 
Another mushroom farmer, Dechen Dema, makes about nine bags in a day. One particular month, she managed to make 200 bags and sold 100 bags. She is considering hiring a helper as it would increase her income. Right now, she does all the manual work herself, which includes the cleaning. Cleaning is crucial as failure to do so would cause bacteria to grow and affect the bags.
Yet another farmer named Karma Thinley has prepared around 200 bags and sold 80 at Nu 280 per bag. He says that business has been picking up.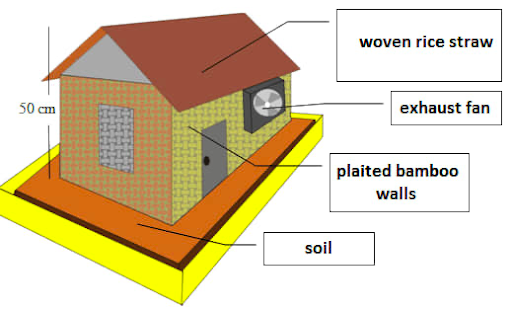 An incubation and fruiting house model for oyster mushrooms
Picture credit: Bhutan Mushrooms Technology
To read about another type of mushroom found in Bhutan, click HERE. Hint: it is one of the world's most expensive mushrooms.
---
---