Thangtong Gyalpo is more than just a legendary iron bridge builder of Bhutan
He is most notably known for being the first to construct a suspension bridge with iron chains. On top of that, he also founded Tibetan opera, amongst other things.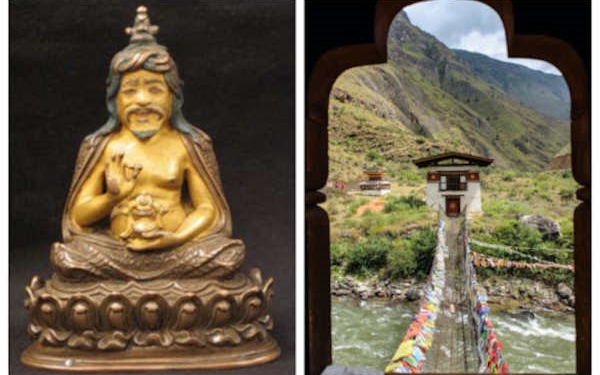 (Source: Himalayan Mart)
Statues depict him as stocky, shirtless, and with a beard. In the portrayals, he has curly hair and a top knot. A link of chain sits limply in his hands.
This man is both a legend and a historic figure. His name is Thangtong Gyalpo, which means the 'King of the Empty Plains', a Tibetan saint, civil engineer, blacksmith, architect, artist, opera writer, and dispeller of epidemics.
Thangtong Gyalpo was born in Tibet in 1385. Some sources claim he instantly became 60 years old as soon as he was born. Yet other sources note that he achieved the secret of longevity through prayer and lived till the ripe old age of 125. 
Bhutanese lama Dzongsar Khyentse Rinpoche even said during a teaching that Thangtong Gyalpo lived till the age of 900.
"Visualise in front of you a vajra made of meteoric iron. At its centre is Thangtong Gyalpo, 900 years old, very beautiful, with red rosy cheeks, dark red, healthy, with a big belly and muscles. But to symbolise the nonduality of youth and age, he should have white hair, moustache and beard, a long white beard. He is the one who built Tibet's bridges..."
Although we might be hesitant to claim absolute knowledge about his age, we do know that Thangtong Gyalpo was an eccentric character. He would ride horses into shrine rooms. He feasted on rotting horse meat, enjoying it like a delicacy. Over time, he earned the nickname "the madman of the empty land".
Due to his madman-ness, a ferryman denied him a ride when he wished to cross a river to a holy site. From that incident, he envisioned an iron-chain suspension bridge for pilgrims to travel on. To achieve his vision, he studied metallurgy, learning to create durable links. He learned engineering to build structures that could span rivers and gorges.
To create the chain links, he developed his own method of smelting iron. He became the first to construct suspension bridges with iron chains. He went on to build a total of 58 bridges in Tibet and Bhutan, including the Chakzam Bridge across Yarlung Tsangpo. The bridge is 150 yards (approximately 140 metres) long, the longest unsupported bridge in the world at that time.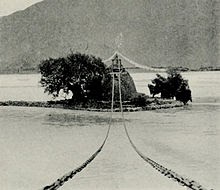 Photo source: Wikipedia
The feat earned him the nickname Lama Chakzampa, which means "Iron Bridge Lama." 
In 1433, Thangtong Gyalpo first arrived in Bhutan in search of iron ore. While he was meditating along Paro Chhu (Paro River), he had a vision. A spiritual horse had compelled him to build a temple, Tachog Lhakhang, which means "temple of the hill of the excellent horse". To this day, his descendants run Tachog Lhakhang as a private monastery.
For easy access to the monastery, Thangtong Gyalpo built the famous iron bridge that spans across Paro Chhu. The bridge links the highway to Tachog Lkhakhang.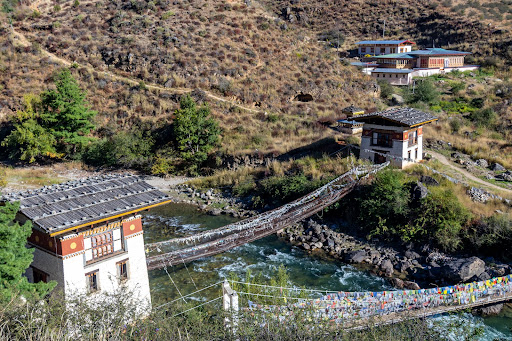 Eight suspension bridges in Bhutan have been credited to him. You can see the original iron links he used to construct the bridges at the National Museum of Bhutan in Paro.
In fact, according to reports, Thangthong Gyalpo's bridges were said to have influenced the construction of suspension bridges in Europe and Asia. 
"The bridges introduced by Thangtong Gyalpo in the beginning of 15th century with 80 to 130 metres of length in Tibet with all materials were achieved in Europe and America only after 400 after years in the 19th century" - Manfred Gerner, author of Chakzampa Thangtong Gyalpo, Architect, Philosopher and Iron Chain Bridge Builder
Thangtong Gyalpo is also said to have introduced blacksmithing to Bhutan. Blacksmithing (Garzo) is one of the 13 traditional Bhutanese arts and crafts.
Thangtong Gyalpo's other achievements
Thangtong Gyalpo is a man of many talents and his skills go beyond bridge-building. Here are some of his other achievements that have gone down in the annals of history.
He founded the Gonchen Monastery, a Sakya monastery in Derge. 
He also composed many folk songs, some of which are still sung today by the Bhutanese. 
On top of that, he was an important terton (treasure revealer). He attained the title Drubthob, which means Great Magician.
Furthermore, his résumé includes the designing and construction of many large and unusual stupas in Tibet and Bhutan, including the chorten-shaped Dumtse Lhakhang in Paro and the great Kumbum Chorten at Chung Riwoche.
One of his most significant achievements is creating the Acme Lhamo, Tibetan opera, a means through which he raised money for the iron bridges. He founded Tibet's first dharma theatre troupe. They performed operas and recited mantras. Their storytelling was usually on the theme of subduing demons and enlightening sentient beings. 
Present-day, we still see performances that celebrate Thangtong Gyalpo's defeat of an epidemic-causing demon by trapping the demon in a stone. He had carried the stone to the marketplace and split it open with a ritual dagger.
Speaking of epidemic-causing demons, the ability to eradicate sickness is also part of Thangtong Gyalpo's legacy. According to Dzigar Kongtrul Rinpoche, Thangtong Gyalpo's Refuge Prayer is one of the most powerful prayers for all kinds of circumstances, "The Outer, Inner, and Secret Refuge Practice of the Mahasiddha Thangtong Gyalpo prayer is very helpful. I do it all the time, day and night, whenever there's a need."
After Thangtong Gyalpo passed away, his lineage was established. The saint's current tulku (reincarnation) is in his 20s. He has undergone intensive studying under Rinpoche's watchful eye. Currently, he oversees a nunnery in Thimphu.
---
---