Thimphu's Centenary Farmers Market Back in Business After Year-Long Revamp
The newly renovated market was inaugurated on 18 September 2023.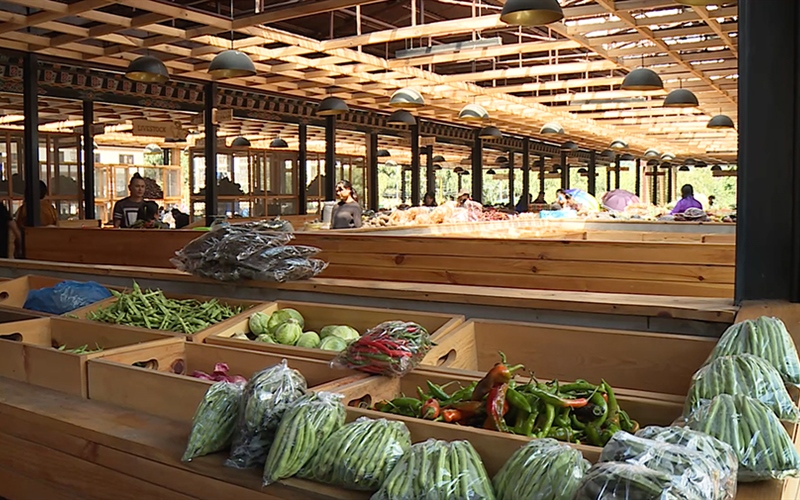 After remaining closed for more than a year, the Centenary Farmers Market (CFM) in Thimphu has finally reopened its doors. This bustling center, catering to both farmers and consumers, perfectly encapsulates Bhutan's commitment to preserving its traditions while embracing modernity and economic growth.
The completion of the market is not just a milestone in terms of infrastructure development; it also plays a pivotal role in strengthening the nation's agricultural foundation and promoting sustainable livelihoods.
What was once a cold and aesthetically poor structure has now been transformed into a symbol of Bhutan's unwavering dedication to nurturing sustainable agriculture and supporting local farmers. Its contemporary design seamlessly integrates with traditional elements, showcasing Bhutan's unique cultural heritage.
Offering a diverse array of fresh, locally-sourced produce such as fruits, vegetables, grains, and dairy products, the market is a true embodiment of Bhutanese flavors and traditions. Unlike the previous farmers' market, it now has a stage for recreational activities and an exhibition hall for showcasing artwork.
The market has played a significant role in the lives of residents, vendors, and farmers alike. For many residents, it was a longstanding one-stop destination for all their agricultural needs. Other vendors in the city used to source their goods from wholesalers, and farmers would make quick stops to sell their produce to vendors. Over time, with various similar facilities sprouting up around the town, these visits became less frequent. However, the revamped structure has seen a resurgence of interest and foot traffic.

The vendors from the Kaja Throm have occupied the renovated section which is the upper part of the market. Whereas, the vendors on the lower floor of the CFM will move to the Kaja Throm so that the section can be renovated.
"Besides improving the facilities, we have also increased the rental charges. Vendors will now have to pay Nu 4,500 per month which will be a little more than what it was before. The reasons are improvement of the market, and to keep the area clean and safe," said Tshering Tenzin, Manager of CFM.
The market isn't just a local attraction; it has also become a top tourist destination in Thimphu. Visitors are drawn to the market to observe how locals conduct their businesses and engage in social interactions. It provides an immersive experience into Bhutan's rich culture. The market's success has the potential to bolster Bhutan's position as an appealing tourist destination, contributing to its economic growth and promoting cultural exchange.
While the market represents substantial progress, it's crucial to address the challenges that lie ahead. Climate change poses a significant threat to agriculture, with unpredictable weather patterns and natural disasters already impacting farmers and their livelihoods. To ensure the market's sustainability and the well-being of our farmers, investments in climate-resilient farming techniques and infrastructure are imperative.
Furthermore, embracing technological advancements, such as online platforms for produce sales and digital payment systems, can enhance market accessibility and efficiency. The integration of these solutions can modernize the market while preserving its core values.
The Centenary Farmers' Market stands as a testament to Bhutan's commitment to its people, culture, and future. It exemplifies the harmonious coexistence of tradition and progress, embodying the essence of Bhutan's distinctive development philosophy.
This transformed CFM sends a powerful message about how well-planned reforms, when executed effectively. It has undoubtedly set a high standard for future construction projects.
The Centenary Farmers Market is anticipated to be transformed into a market that operates around the clock for 24 hours. Currently, its operating hours extend until 10 p.m.
Check out the popular tour packages to Bhutan and don't forget to include the Centenary Farmers Market in your itinerary.
---
---