New Riverside Market opens in Thimphu
As the old centenary farmers market undergoes its much-awaited renovations, the vendors of the first floor have now set up shop at the new riverside market, also known as Kaja Throm.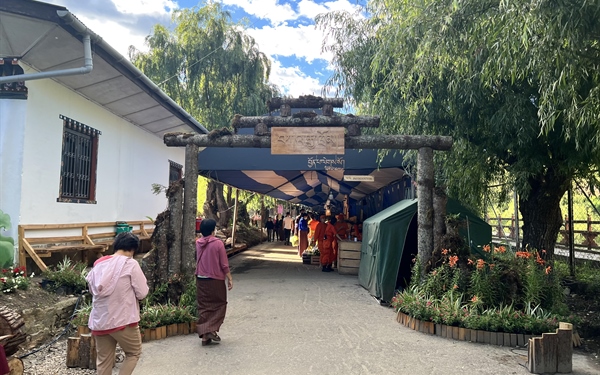 A line of stalls selling fresh seasonal fruits, vegetables and incense begins from the parking area of the old market and extends all the way to the VAST building. You can also see some stalls selling cereals, animal products and flowers. The covered pathway provides shelter for both vendors and shoppers alike from the natural elements. Even the sides of the footpath have various art installations by VAST Bhutan that seem to bring excitement to the little ones accompanying their parents. A small crepe station is also situated along the pathway next to wooden benches.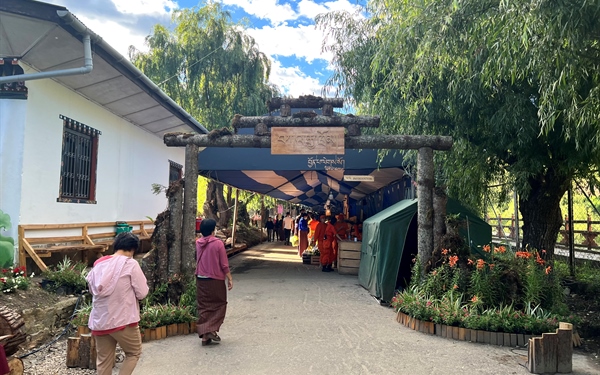 To provide some nourishment and refreshments for the shoppers, there are various stalls run by Desuups who have been trained in various culinary arts under the Desuung skilling programme. "Flavours by DSP" is an open area food court with a large traditional cloth gazebo overhead multiple stalls that sell everything from burgers to ramen. 
The aroma of meat grilling and the sizzle of deep-fried food fill the area. Wooden picnic benches have been set up in the centre of the food court, and there is also a small stage in the corner where live music performance happens in the evening.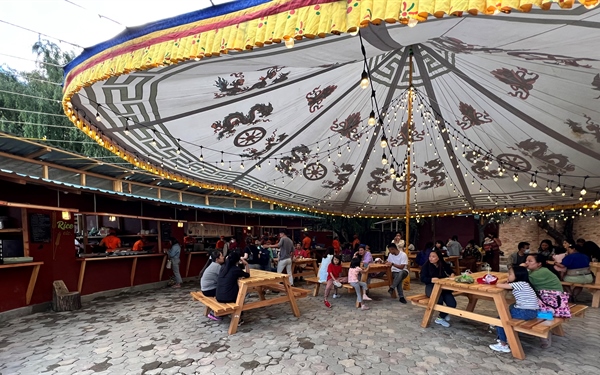 For visitors who managed to reach all the way to the end of the market by the VAST building, a small quaint café decorated by flowers of all shapes and colours awaits. The café named "Hidden Gayul Garden" offers a little getaway from the shopping crowd so that you can sip your coffee and enjoy a light snack in the middle of flowers by the Wangchhu river. This area also has multiple art installations surrounding the café.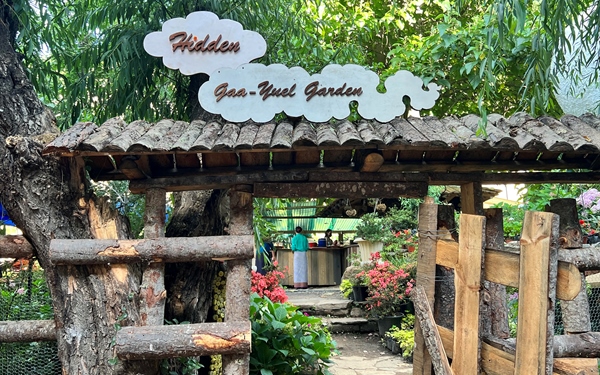 To provide children with some entertainment and knowledge, a small Dinosaur Park was inaugurated along with the Riverside Market. Various figures of these prehistoric creatures dot the park, from the tyrant lizard king Tyrannosaurus Rex to the gigantic herbivorous such as the Apatosaurus. Brief descriptions and information on the creatures are displayed on wooden placards for the intellectually curious.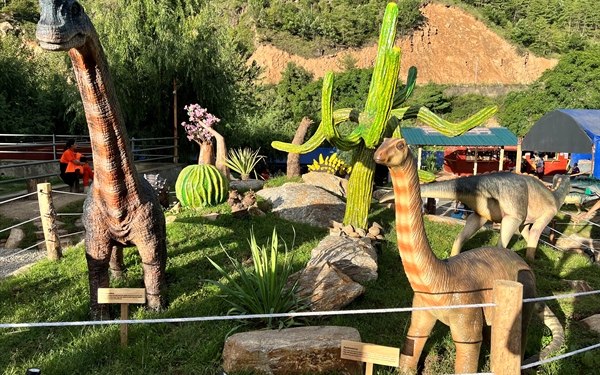 The Riverside market is a popular spot in Thimphu for families; locals can now do their weekly grocery shopping and, at the same time enjoy the various facilities available at the market. It tends to get more crowded towards the evening on the weekends, so plan accordingly.
---
---